Multifunctional Weight Bench Set incl. Weights
Manufacturer: Gymrex | Item number: EX10230003 | Model: GR-WB50S
Product highlights
Complete set – incl. weights
Adjustment range, backrest: 90°
Dimensions, backrest: 24 x 68 cm
Adjustable range, leg curler: 0 - 18 cm
Dimensions, sitting / lying surface: 68 x 25 cm
Basic exercises like bench presses and biceps curls are the foundation for a strong musculature. The weight station is great for chest exercises, as well as offering numerous options for working other muscle groups as well. The quick-change connections allow you to easily change the leg curler and curl bench, for example. With this fitness station, you can work out your legs, triceps, latissimus and back and shoulders to your heart's content.
Show more
Show less
The position of the backrest, the arm rest and the leg curler can all be adjusted with just a few motions. The backrest can hold up to 150 kg and has five different positions with an angle of up to 90° for seated exercises like dumbbell shoulder presses. The maximum load for the arm rest is 75 kg, and it has four positions for perfect positioning. The height of the barbell rest can be adjusted between 90 and 112 mm. The butterfly arms can hold up to maximum 30 kg per side. The height of the leg curler can be adjusted and has five positions.
Show more
Show less
The seat and backrest of the workout bench are comfortably upholstered and covered with PVC leather, a material which stands out for being long-lasting and easy to clean. The cable is suitable for even heavy weights, and the ergonomic handle improves your workout. The frame of the bench is made of sturdy steel and can hold up to 280 kg. The bench also comes with a large selection of weights so you can get started on your training right away. When calculating the load, make sure to include the weight of any dumbbells or training weights along with your own body weight.
Show more
Show less
Incl. weights so you can get started right away
Multifunctional – Adjustable backrest, leg curler, arm rest and barbell rack
Sturdy steel construction – long service life
Comfortable – optimum padding
High-quality workmanship – very safe
Multifunctional Weight Bench Set incl. Weights
A full-body workout with just one device? The multifunctional weight bench set GR-WB50S has a complex design that combines various fitness machines to create an ideal training experience in relatively little space. With the weight bench, now you can do a wide variety of exercises at home. Adjust the different parts of the device to fit your needs. You can adjust the angle of the backrest and other components. This multifunctional bench offers the benefits of both a flat bench and an incline bench, providing a wide selection of exercise variations for the entire musculature. It also comes with a large selection of different weights. Fitness and health are becoming ever more important in our lives – whether for balance or for prevention. That's why Gymrex offers high-quality fitness equipment.
Material
Q235 / PVC, wood, EPE
Dimensions, sitting / lying surface
68 x 25 cm
Dimensions, backrest
24 x 68 cm
Adjustable range, backrest
0 - 90° (5 stages)
Max. load, backrest
150 kg
Adjustable range, leg curler
0 - 18 cm (5 stages)
Max. load, leg curler
45 kg
Adjustable range, arm rest
4 stages
Max. load, arm rest
75 kg
Max. load, butterfly arm
30 kg
Adjustable range, barbell rack
90 - 112 cm
Dimensions (LxWxH)
194.00 x 118.00 x 120.00 cm
Shipping dimensions (LxWxH)
109.50 x 49.00 x 16.00 cm
Shipping weight
122.65 kg
Multifunctional Weight Bench Set GR-WB50S
2 M8 nylon nuts
2 M8x45 hex screws
29 M10 nylon nuts
16 M8 washers
58 M10 washers
3 M10x55 hex screws
2 M10x120 hex screws
4 M8x20 hex screws
4 M10x20 hex screws
4 M8x40 hex screws
16 M10x65 hex screws
2 weight pins
4 weight plates 1.25 kg each (diameter 16.5 cm x 3.3 cm W)
4 weight plates 2.5 kg each (diameter 21 cm x 4.3 cm W)
2 weight plates 5 kg each (diameter 25.5 cm x 5 cm W)
2 weight plates 10 kg each (diameter 33 cm x 5.7 cm W)
2 weight plates 15 kg each (diameter 41 cm x 7 cm W)
Barbell 170 cm (weight 10 kg) - pick-up area per side: 31.1 cm
EZ bar 120 cm (weight 8 kg) - pick-up area per side: 18 cm
2 dumbbells 35 cm (weight per 2.5 kg) - pick-up area per side: 10.4 cm
8 star locks
Instruction manual
Multifunctional weight bench for comprehensive physical training
Robust construction for a load of up to 280 kg
Ideal for home use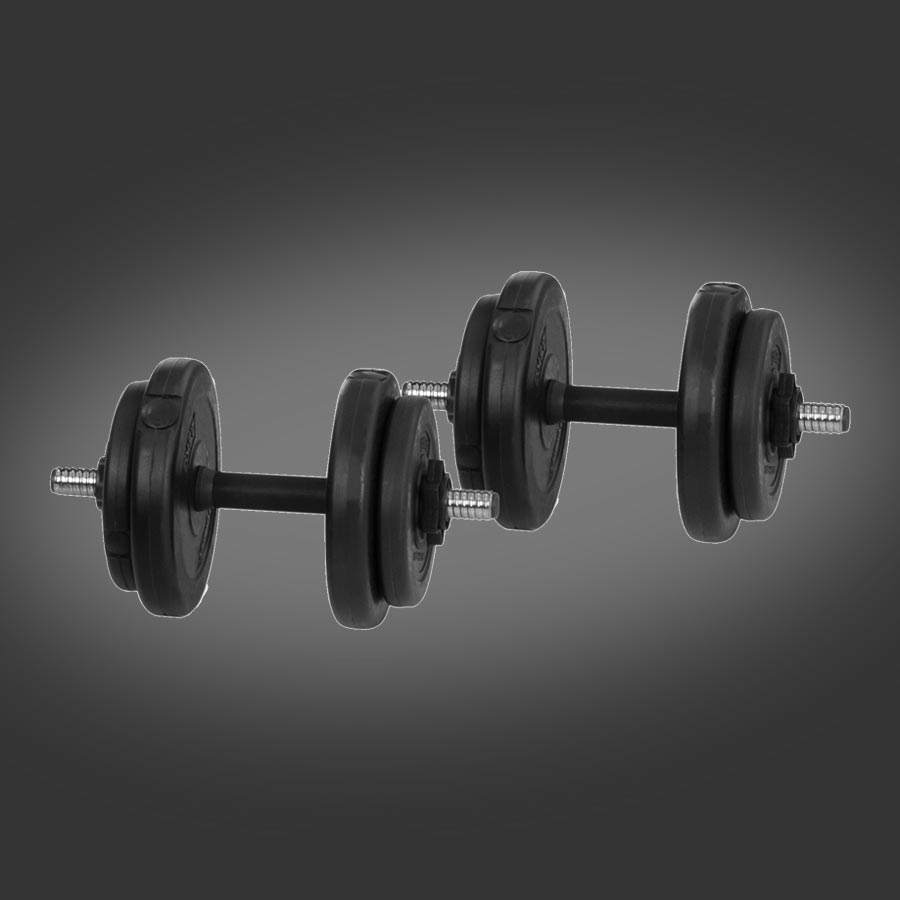 Incl. large selection of weights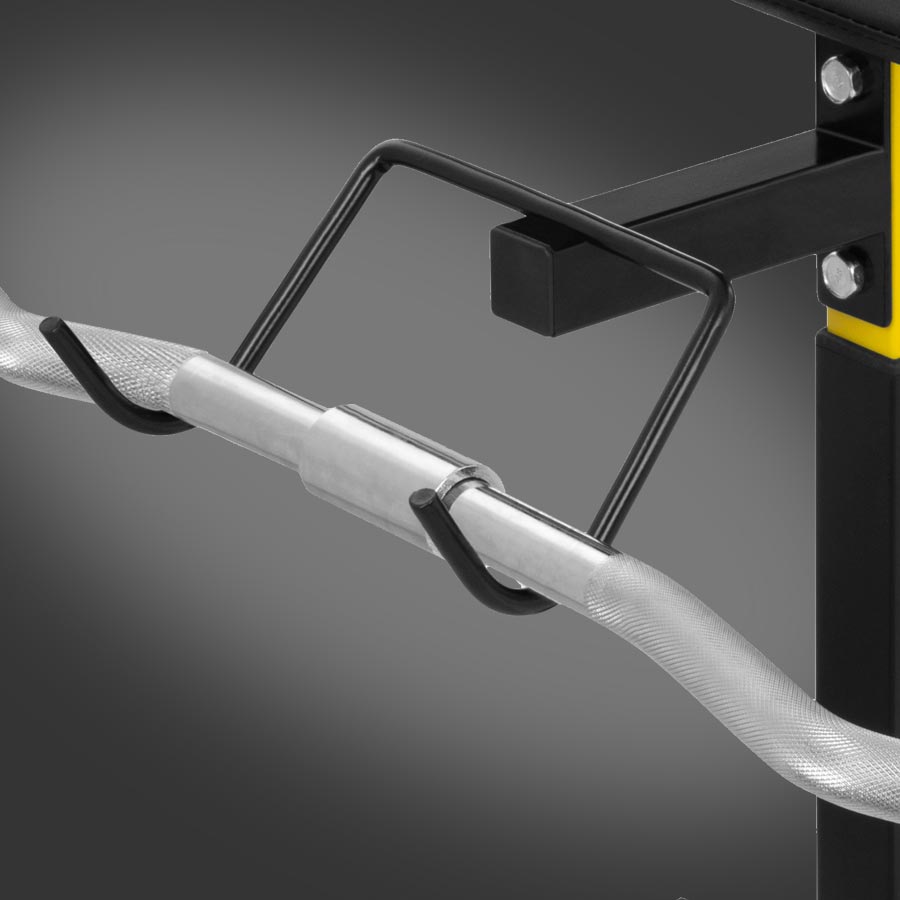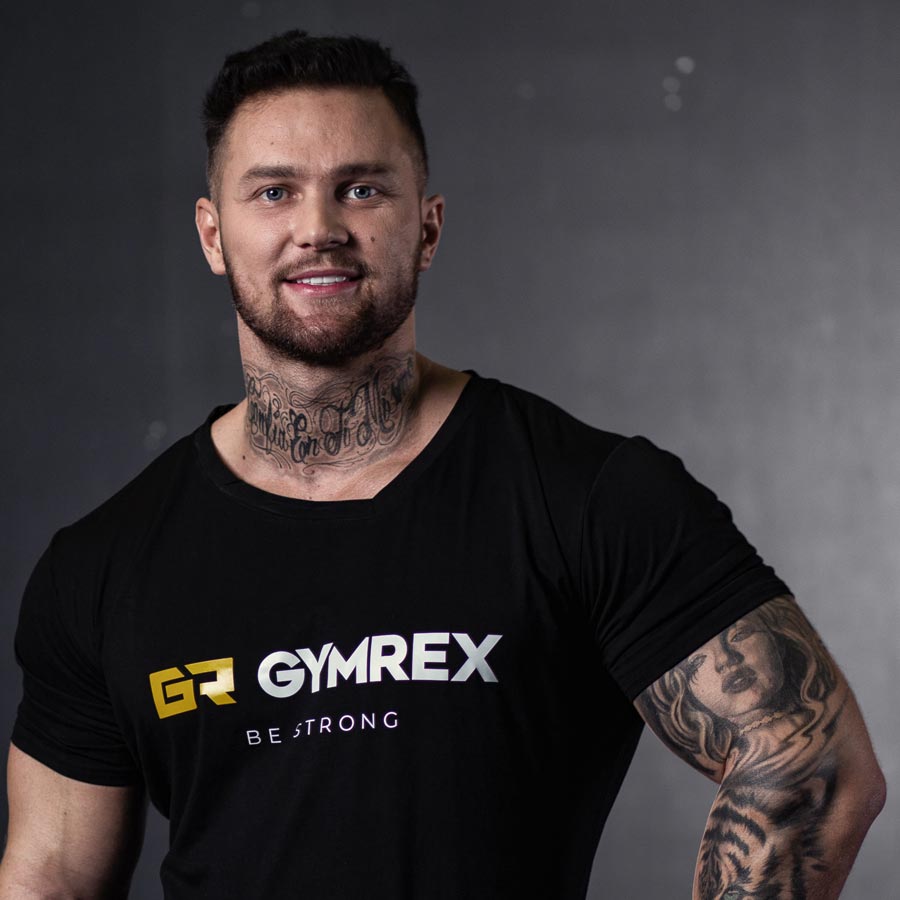 Tested by Nico Paul, bodybuilder and fitness trainer. He has been featured as a fitness model in the magazines FLEX, Muscle & Fitness and Muscle & Fitness Hers.
Non-slip feet for increased stability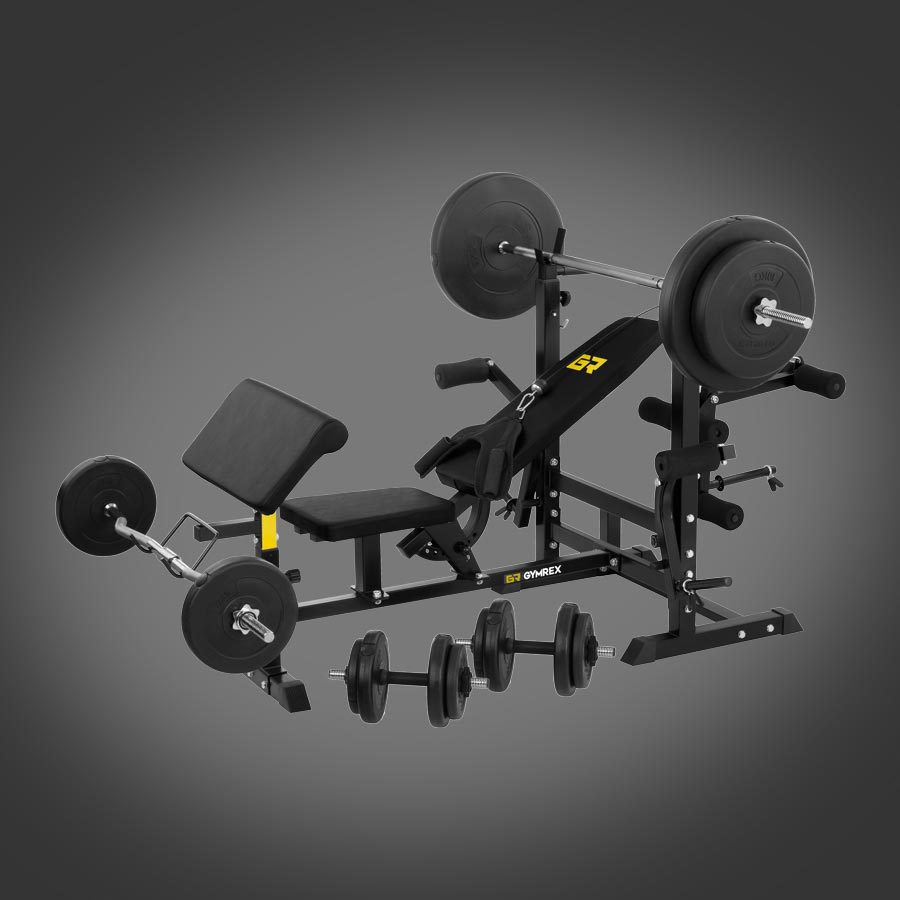 Butterfly arms can hold max. 30 kg per side
Leg curler has a maximum load capacity of 45 kg
Load limit for armrest 75 kg
PRO TIP
I recommend this device because it is easy to assemble, long-lasting and multifunctional.
You can complete the majority of your workout at home with this set—no need to go to the gym!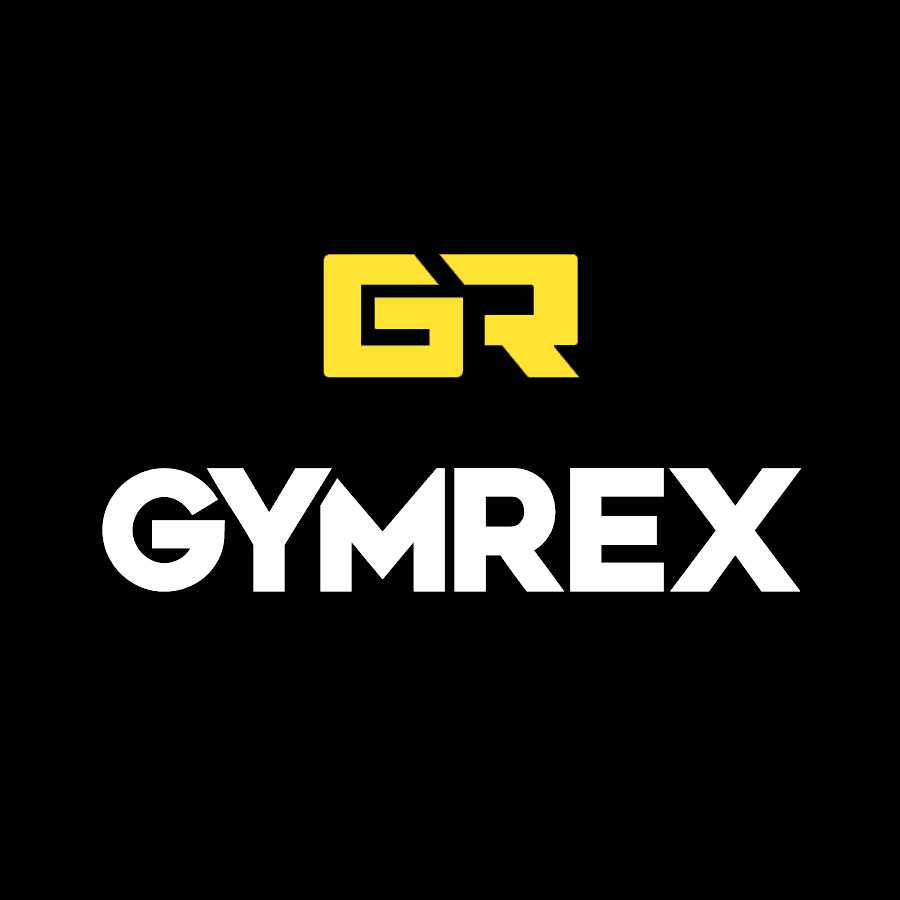 Multifunctional device for working different muscles
Can be comfortably adjusted for body size and build
Excellent support thanks to 0 - 90° backrest adjustment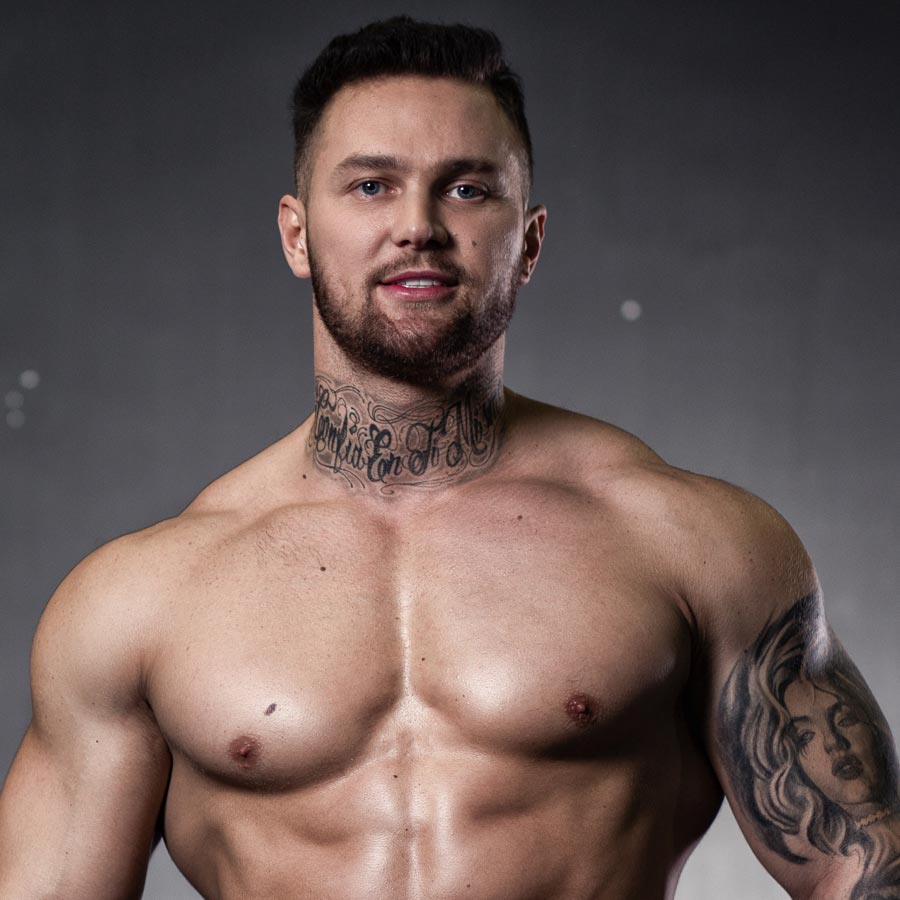 Is the bench easy to put together, or will I need help?
No, assembly is relatively simple. Just make sure to use the assembly accessories correctly.
I have a full-body workout plan, can I use this multifunctional weight bench set for all of my exercises?
Theoretically yes, as you can use this fitness device to perform a lot of different exercises. Just make sure that all of the exercises in your workout plan can be performed on this multifunctional weight bench.
★
★
★
★
★
Write the first review for this product
---
---
Evaluations will be activated after verification.
Still not sure?
Our experts are ready to help!
Mon - Fri 09:30am - 04:30pm