Commercial Fryer - 16 litres - 6,000 W - drain tap - cold zone
Manufacturer: Royal Catering | Item number: EX10011172 | Model: RCEF-16EHB
Large capacity of 16 litres and 6,000 watts of power for large quantities of fried foods - make multiple portions in a single batch
Temperature range between 60 - 200 °C can be easily adjusted using the thermostat and is ideal for various types of foods like fish and chips
Cold zone prevents sinking food particles from burning, maintains the natural flavour of the oil and helps to lower costs
Stainless steel resists corrosion and is low-maintenance
The drain tap enables you to cleanly and easily empty the oil
Commercial Fryer - 16 litres - 6,000 W - drain tap - cold zone
The electric commercial fryer RCEF-16EHB from Royal Catering is the perfect equipment. The tank capacity of 16 litres and 6,000 watts of power make the device ideal for professional use in restaurants, snack bars and food trucks. Royal Catering, your online retailer for food service equipment and cooking appliances, stands by this deep fryer for its well-conceived functionality, simple operation and maintenance, and practical design.
Dimensions, container
33 x 26 x 20 cm
Dimensions, basket
25 x 23 x 12 cm
Heating temperature
60 - 200 °C
Dimensions (LxWxH)
69.00 x 35.00 x 38.50 cm
Shipping dimensions (LxWxH)
59.50 x 42.00 x 44.00 cm
Download PDF
Electric commercial fryer RCEF-16EHB
Basket with handle
Cover
Instruction manual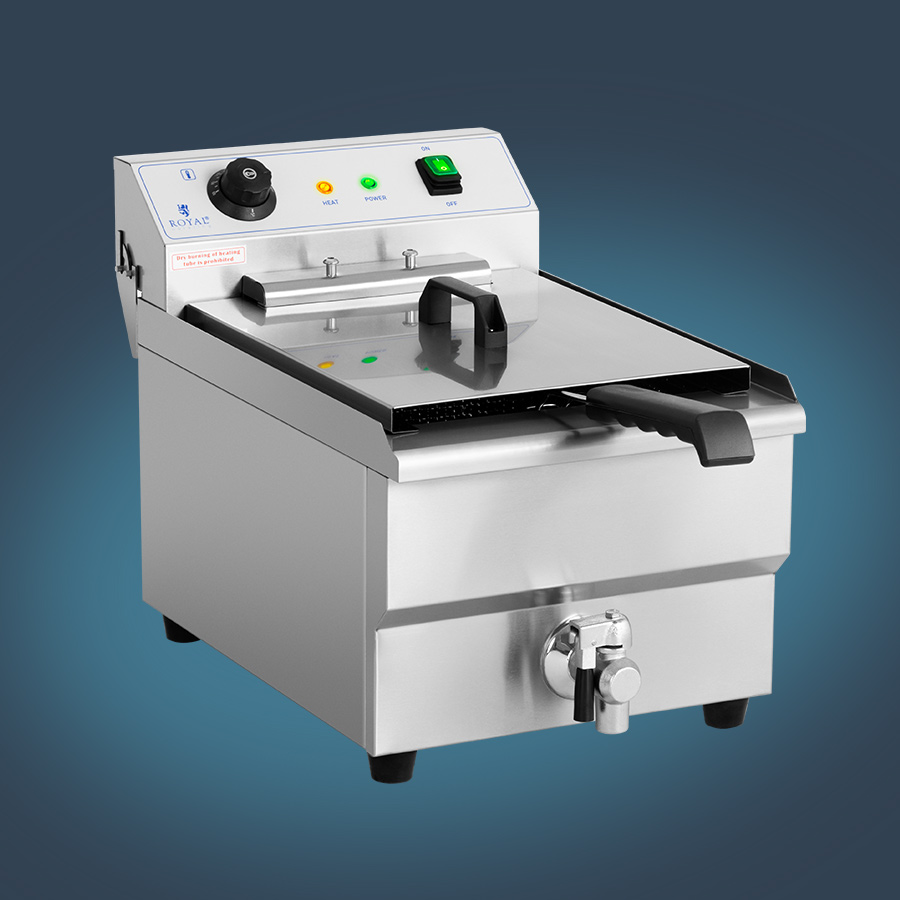 16 l Fassungsvermögen ideal für kleine Restaurants
schnelle Erhitzung des Öls durch die Leistung von 6.000 W
perfekt für Pommes frites, Nuggets, Zwiebelringe, Fisch etc.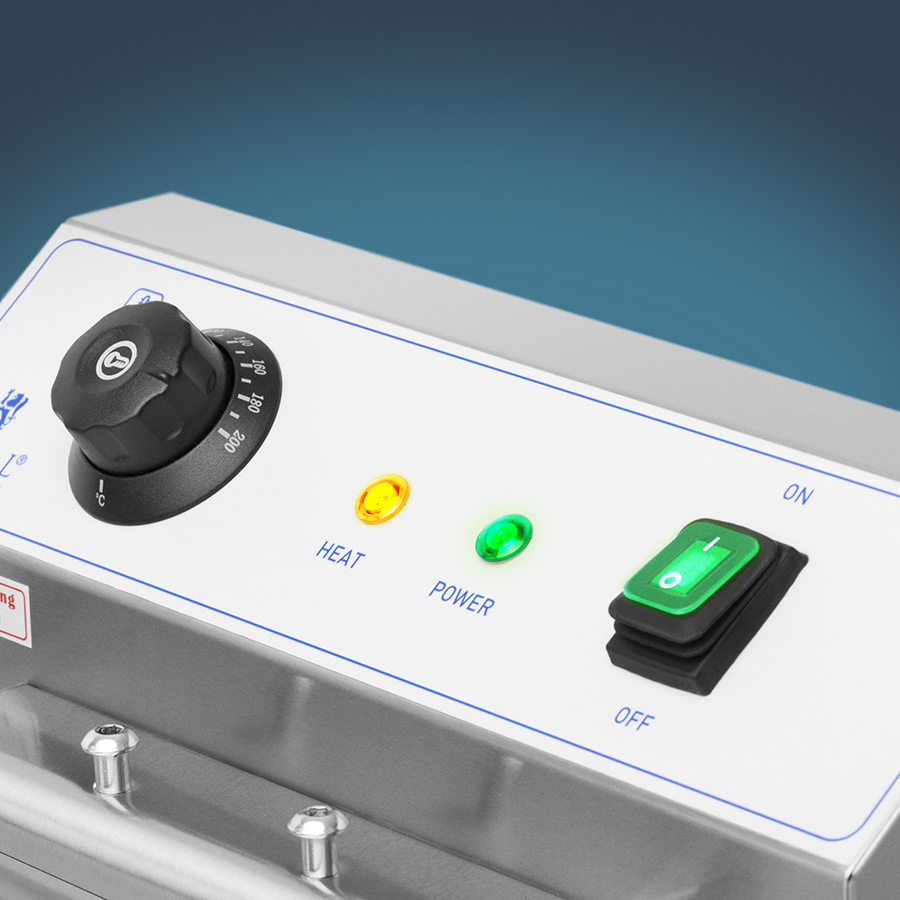 einfache Bedienung dank intuitivem Bedienfeld
Hahn zum Ablassen des Öls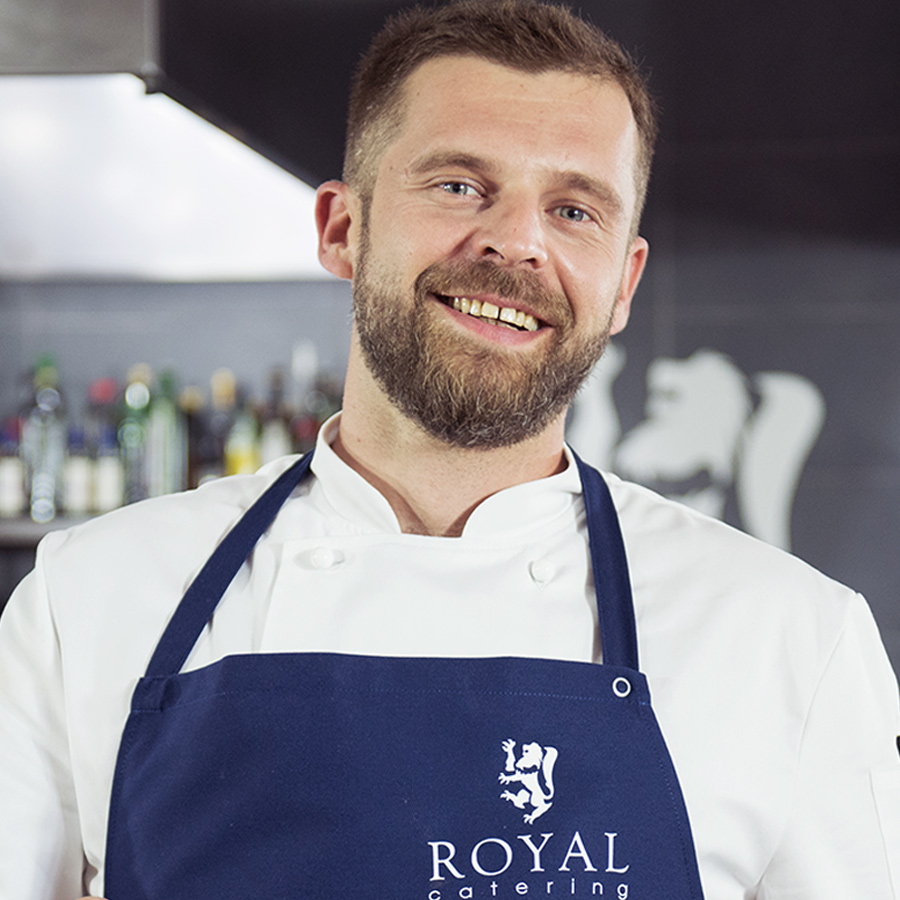 Getestet von Michał Orłowski , Chefkoch renommierter Restaurants in Sydney und Warschau. Ein professioneller und erfahrener Gastronom, genau wie unsere Kunden.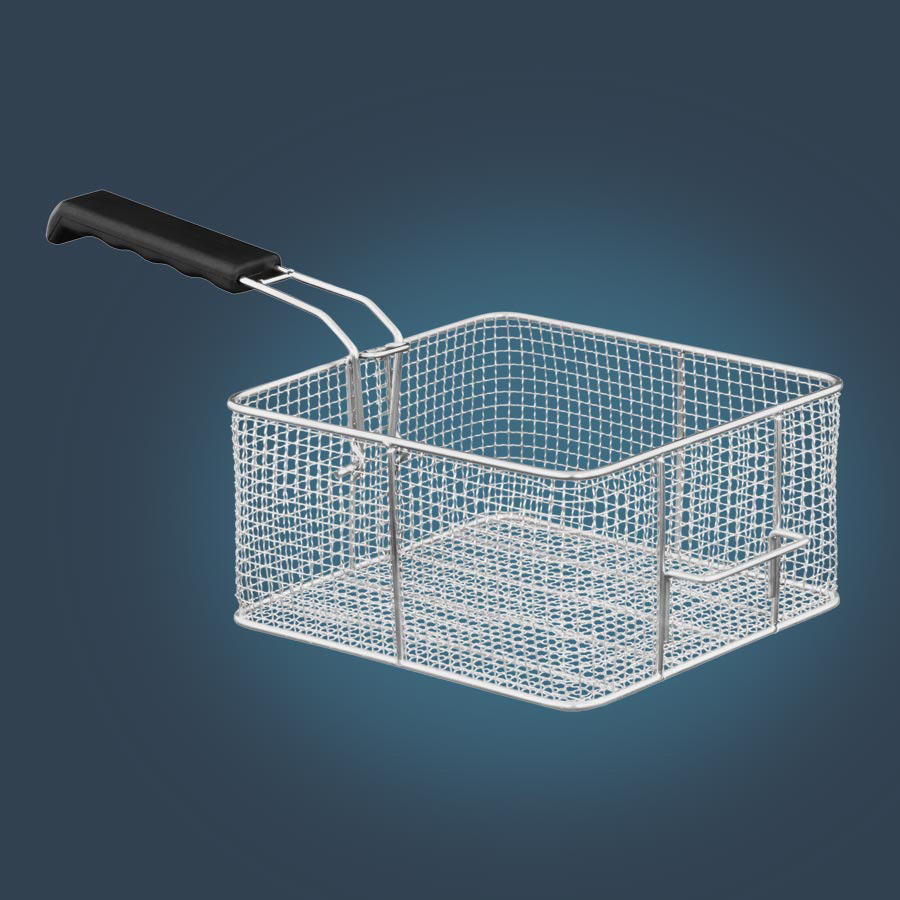 inklusive Korb mit hitzeresistentem Griff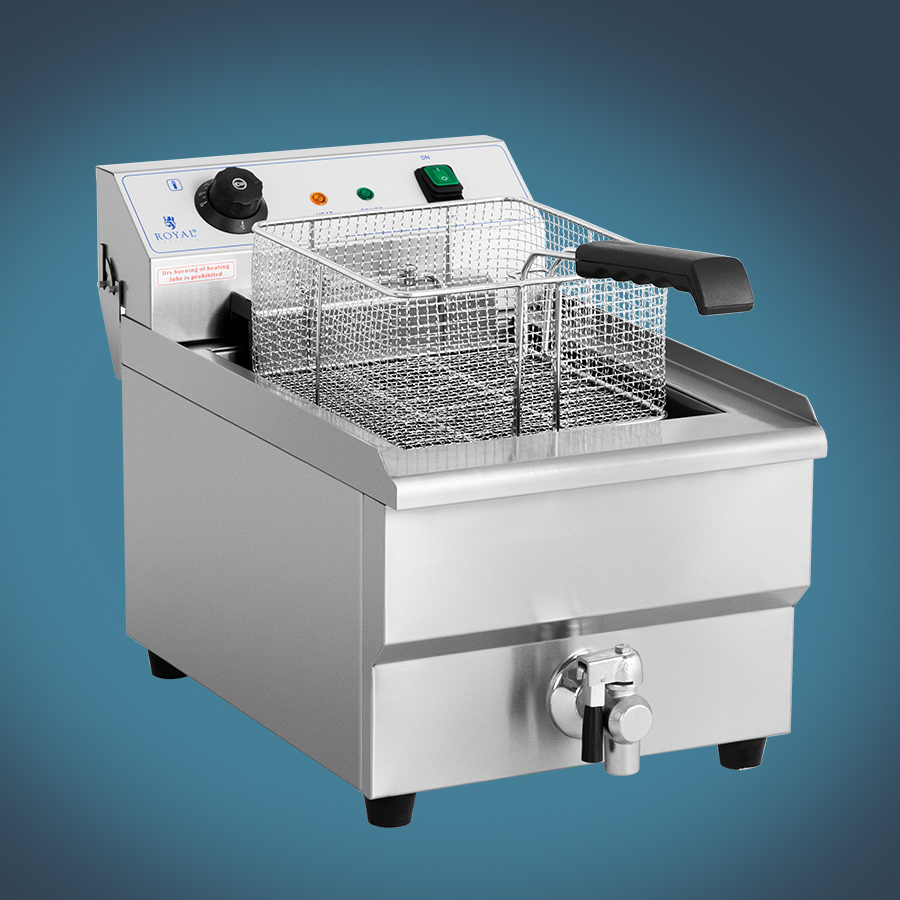 Sicherheit: Schutz vor Überhitzung
Kaltzone verhindert das Verbrennen von Essensresten und verlängert die Lebensdauer des Öls
glatte, leicht zu reinigende Oberflächen
PRO TIP
Eine gute Fritteuse garantiert gute Ergebnisse. Verwenden Sie kein gewöhnliches Öl, da es die Speisen sehr schnell verbrennt und gar verdirbt.
Um das beste Ergebnis zu erzielen, d.h. goldene und knusprige Pommes frites, sollten Sie sie zweimal frittieren.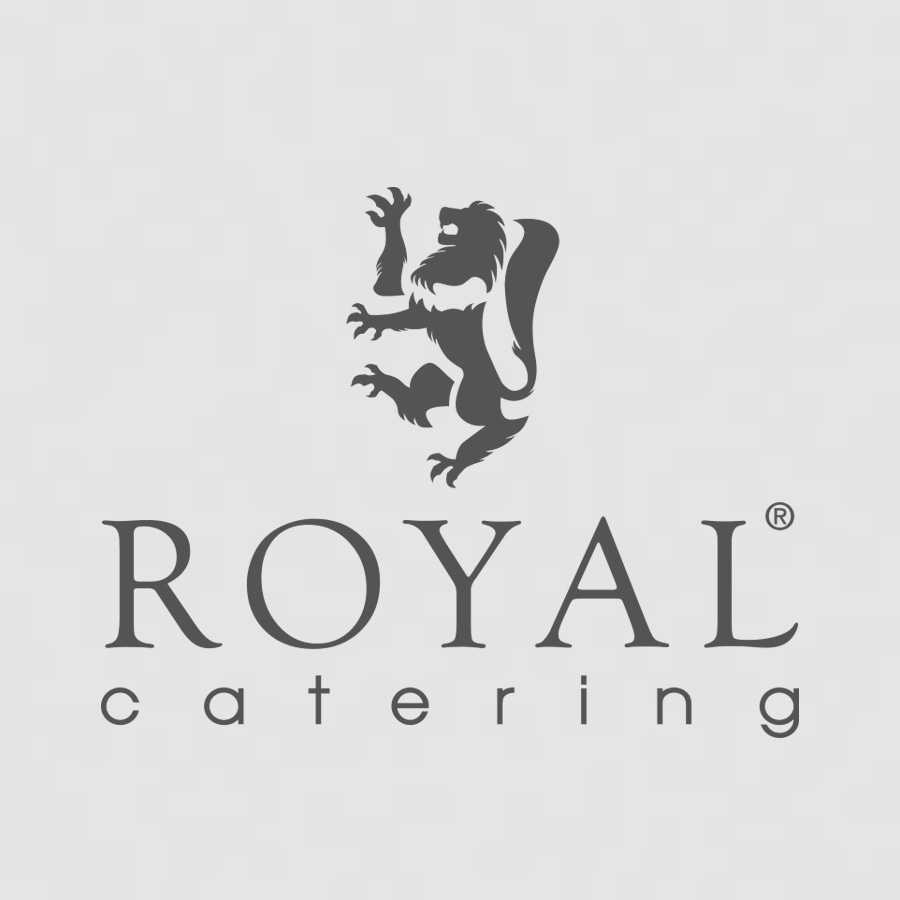 Thermostat hält die gewählte Temperatur von 60 - 200 °C
bequeme Innenreinigung durch aufklappbares Heizelement
lebensmittelechte Edelstahlausführung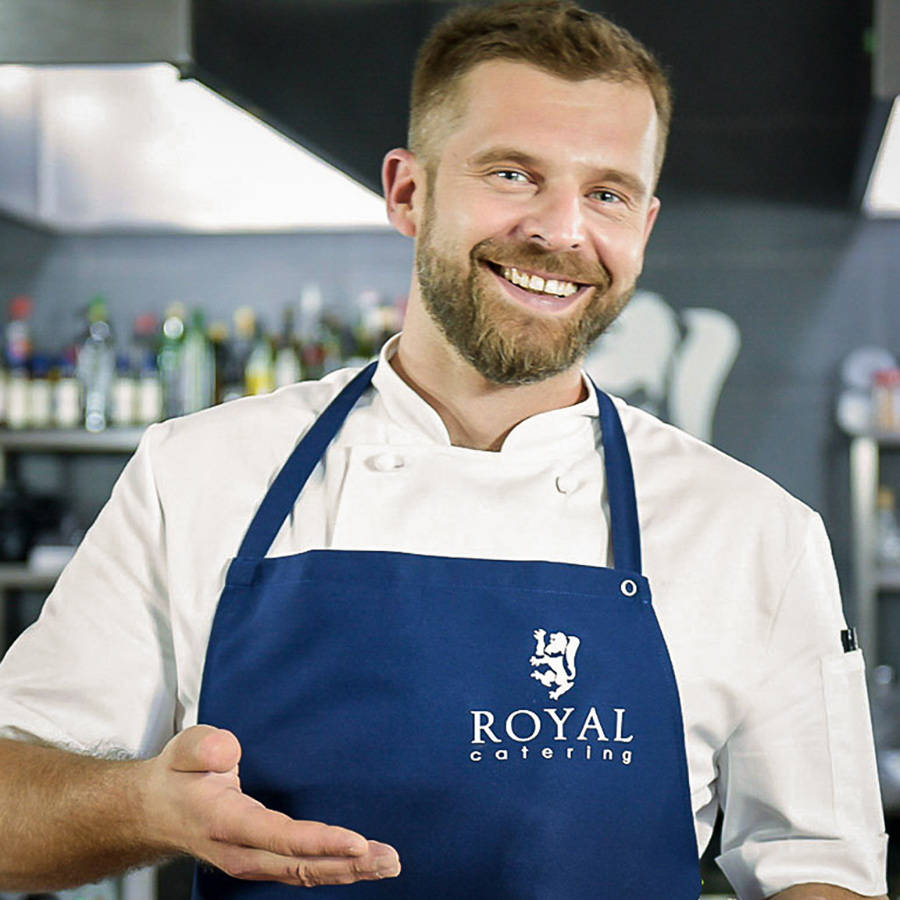 What kind of oil should I use with this fryer?
The best and healthiest oils for frying are oils with a high smoke point due to their high-temperature cooking parameters.
Does the fryer maintain a constant temperature so that it doesn't overheat during long-term use?
The thermostat consistently maintains the fryer's temperature at the value that you set.
---
Sort by...
---
Evaluations will be activated after verification.
Reviews from Anonym (25 Aug 2020)
Reviews from Anonym (25 Aug 2020)
Nummer 1
Reviews from Anonym (19 Jun 2020)
Reviews from Anonym (19 Jun 2020)
Fritteuse mit Leistung
Still not sure?
Our experts are ready to help!
Mon - Fri 09:30am - 04:30pm
This product
Power: 6,000 W

Capacity: 16 L

Temperature: 60 - 200 °C

Cold zone

Drain tap
Ready to ship today, Delivery time appr. 6-8 working days
Commercial Fryer - 16 litres - 6,000 W - drain tap - cold zone
Ready to ship today, Delivery time appr. 6-8 working days
Power: 6,000 W

Capacity: 16 L

Temperature: 60 - 200 °C

Cold zone

Drain tap