Crêpes maker - 2 heating plates - 40 cm - 3,000 W
Manufacturer: Royal Catering | Item number: EX10012216 | Model: RCEC-6000-E-UK
Easy to use because of the temperature regulation
Comes with UK plug
2 large high-quality cast iron plates with enamel coating
Quick heating with 2 x 3,000 W
Low-maintenance stainless steel casing with a pull-out compartment
Crêpes maker - 2 heating plates - 40 cm - 3,000 W
The crêpes maker RCEC-6000-E by Royal Catering is ideal for restaurants, cafes or home kitchens. The simple baking device makes it easy to prepare delicious round crepes, which can then be served sweet or savoury. Two heating plates allow you to prepare two crepes at the same time. Its simple design and easy operation characterise this high-quality device, which is ideal for your catering needs.
Diameter of hotplate [mm]
400
Housing material
Stainless Steel
Temperature range [°C]
50 - 300
Material of heating plate
Enamelled Cast Iron
Dimensions (LxWxH) [cm]
86 x 48 x 25
Shipping dimensions (LxWxH) [cm]
99 x 64 x 35
Shipping weight [kg]
30.2
Download PDF
Crêpes maker RCEC-6000-E
2 batter spreaders
Instruction manual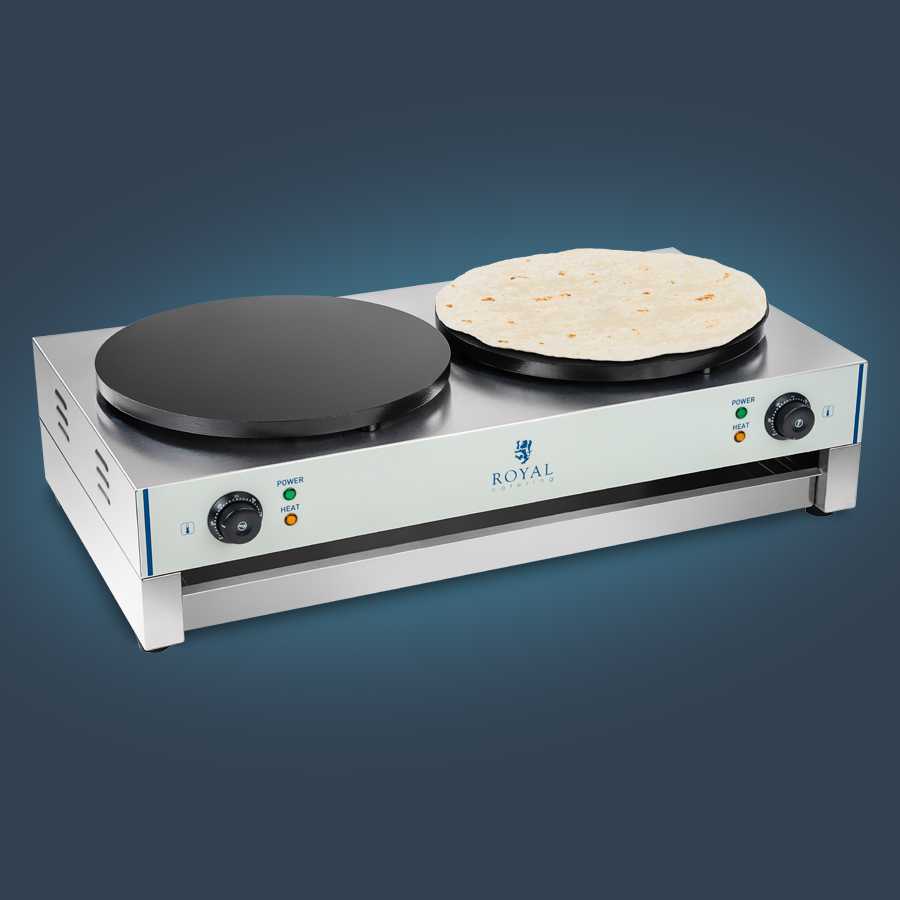 Two powerful heating elements with 3,000 W each make for short baking time
40 cm diameter plate for preparing popular large crêpes
Ideal baking temperature thanks to temperature range between 50 - 300 °C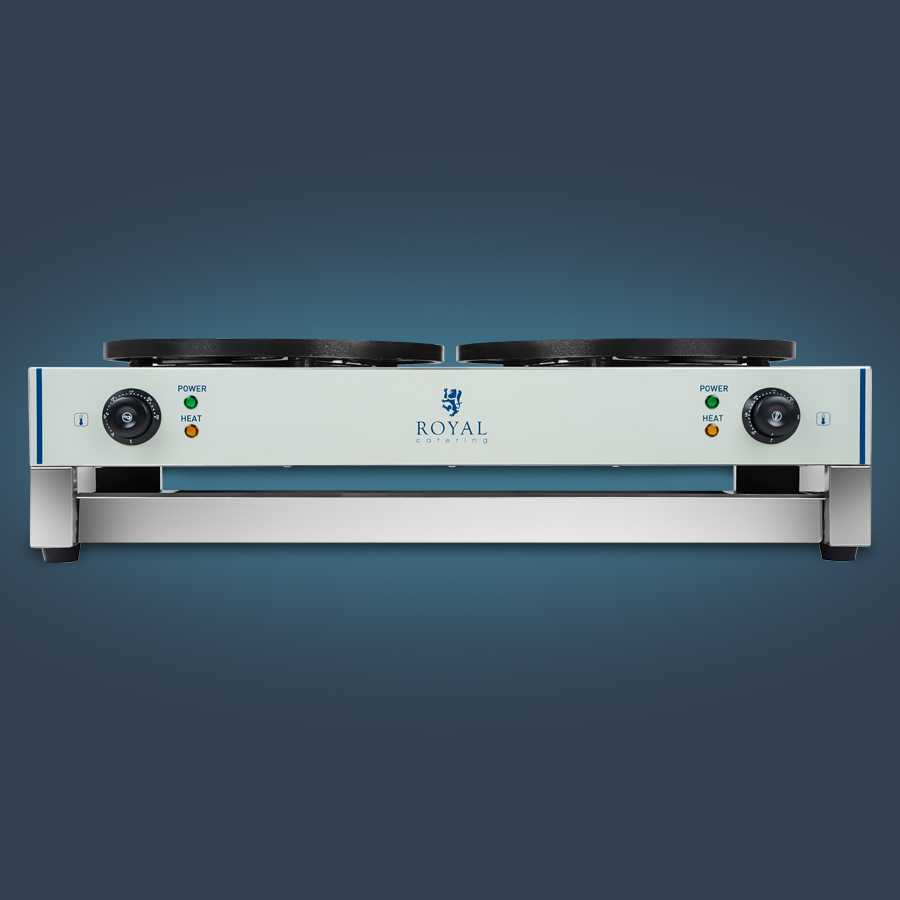 Stainless-steel housing and high-quality enamelled cast-iron plates guarantee a long service life for the crêpe maker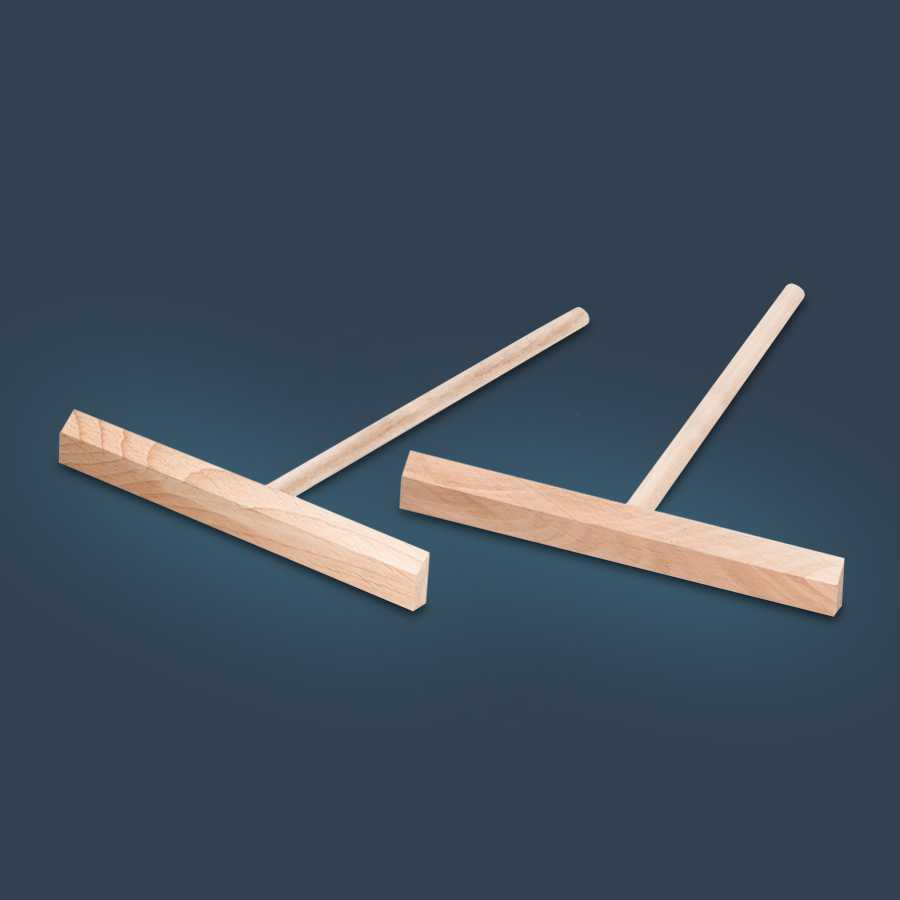 Incl. two traditional spreaders for spreading the batter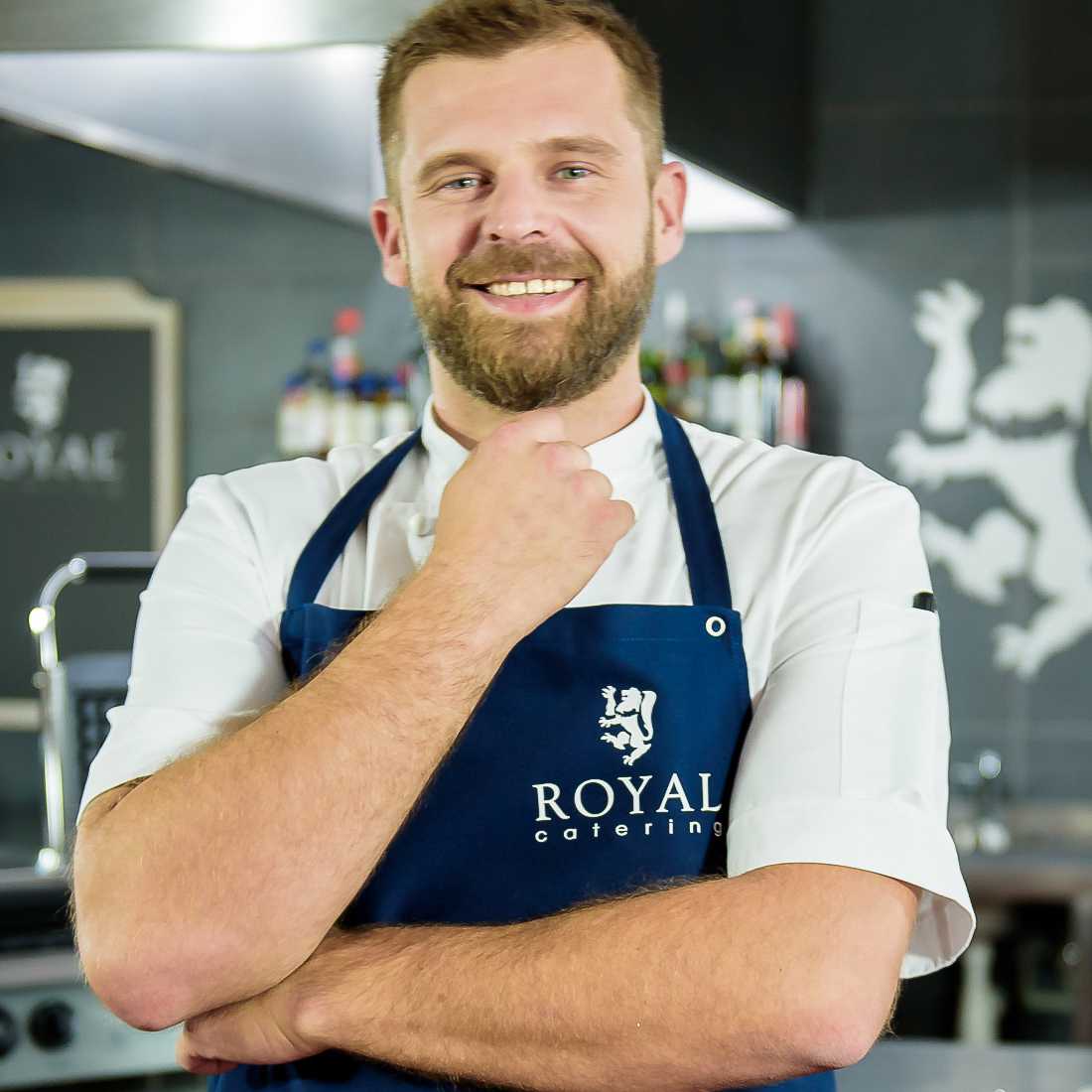 Michał Orłowski
Culinary expert, head chef of prestigious restaurants in Sydney and Warsaw. A professional, just like our customers.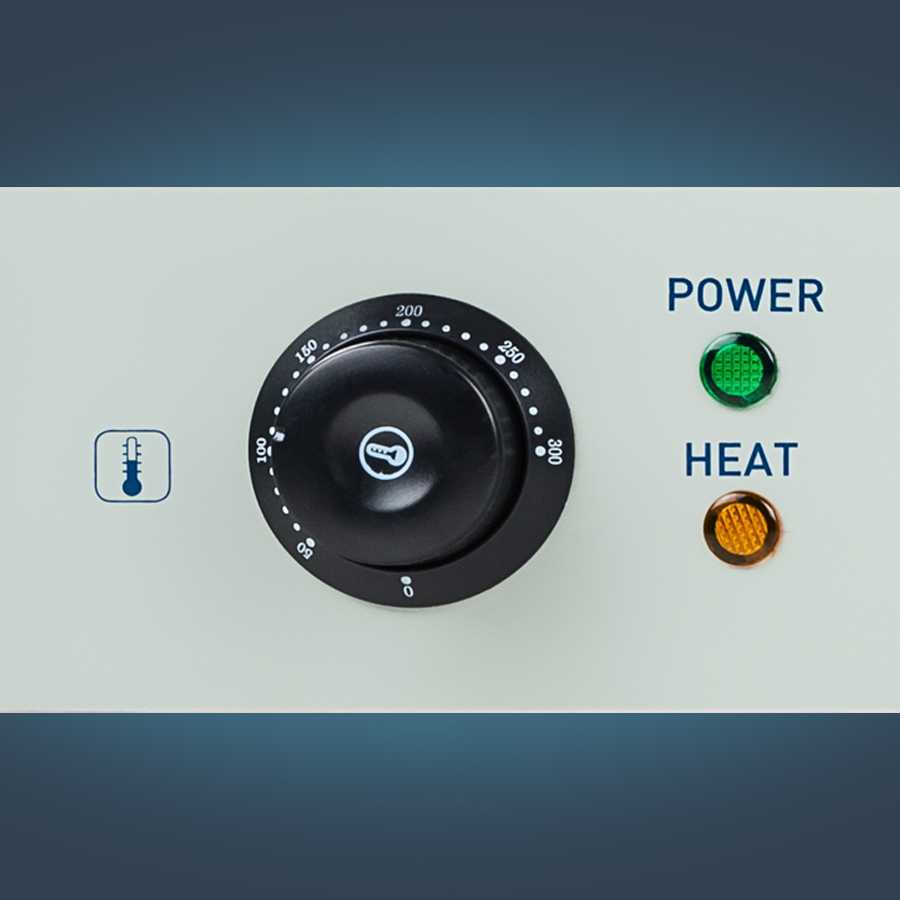 Large control knob allows for precise temperature adjustments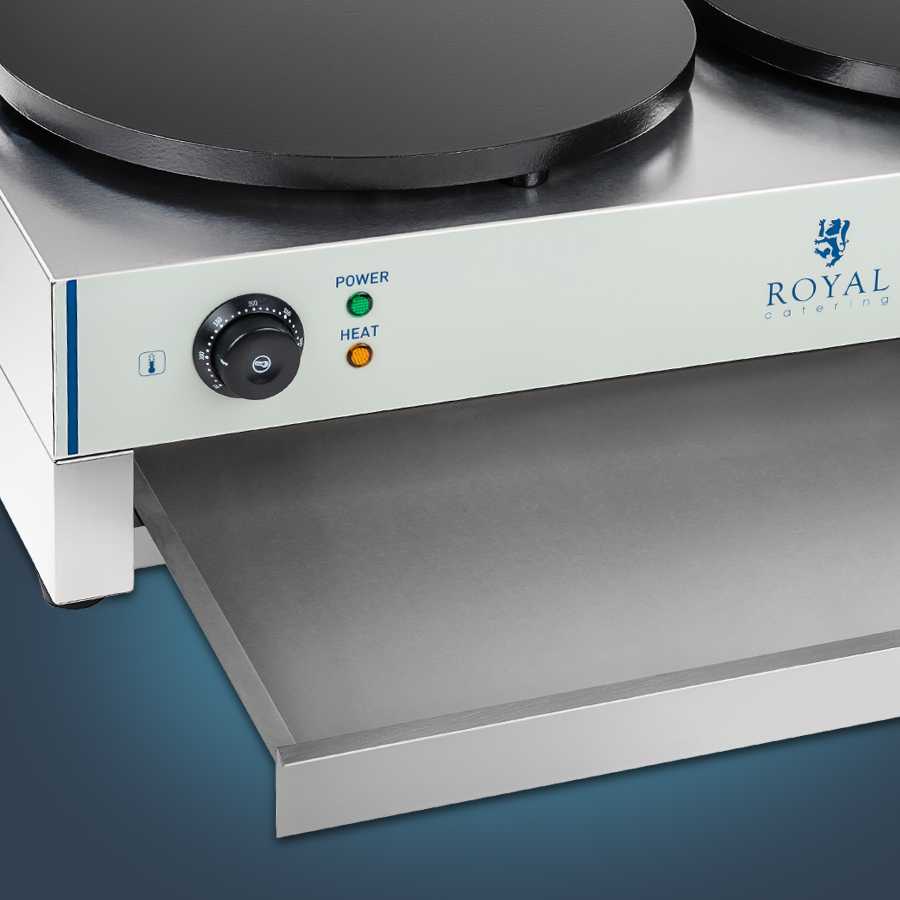 Practical drawer for storing accessories and finished crêpes
Indicator light informs you when the crêpes are done baking
Versatile crêpe maker can be used for making blini, pancakes, tortillas, etc.
PRO TIP
The batter needs to be very smooth so that it can be evenly spread over the baking plate for the best crêpe results.
Use minimally-invasive compunds for cleaning the heating surfaces to avoid scratching the surfaces. Scratches will cause the batter to stick.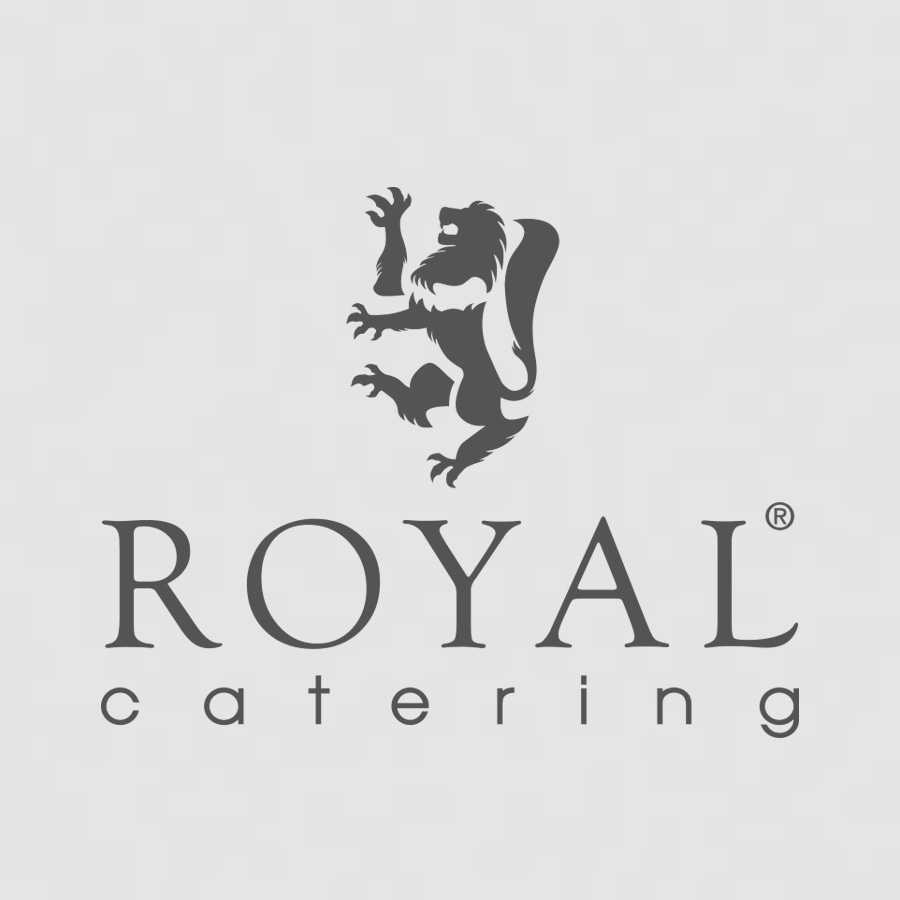 Non-stick baking surfaces heat quickly and evenly
Two baking surfaces enable you to prepare multiple crêpes at once
Thermostat maintains the desired temperature and ensures optimal baking as well as conserving energy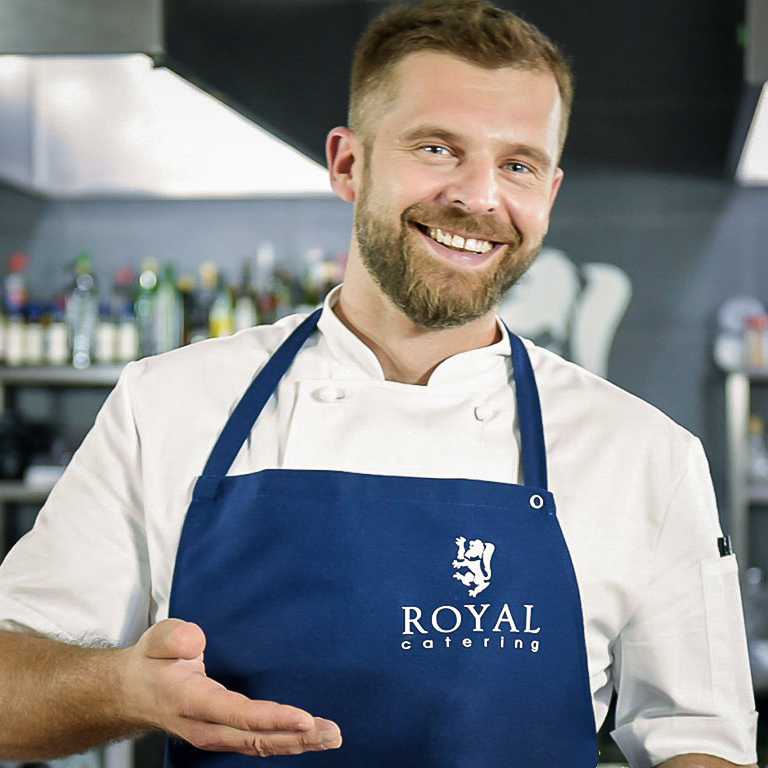 I work with professional products every day. For this video, I made sure to test the device thoroughly. You can take a close look at how this product works and then decide which model is best for your business. I hope my video and tips will help to make your business even more successful.
Head chef of prestigious restaurants in Sydney and Warsaw. An experienced and professional restaurateur
Can I heat the two heating plates at different temperatures?
The cast iron heating plates can be heated individually via the temperature regulation. This allows you two prepare different kinds of food at the same time.
What material is the device made of?
The crêpes maker by Royal Catering has a stainless steel casing that is very low-maintenance and resilient. The cast iron heating plates quickly heat up and keep the desired temperature.
★
★
★
★
★
Write the first review for this product
---
---
Leave a review (5 stars is highest, 1 is lowest)
★
★
★
★
★
Click on the link sent to your e-mail address and confirm your opinion! It will be published after verification.
Still not sure?
Our experts are ready to help!
Mon - Fri 09:30am - 04:30pm
This product
Dimensions 48 x 86 x 24 cm

Power: 2 x 3,000 W

2 Heating plates

Diameter, heating plate: 40 cm

Low-maintenance stainless steel
Ready to ship today, Delivery time appr. 6-10 working days
Crêpes maker - 2 heating plates - 40 cm - 3,000 W
Ready to ship today, Delivery time appr. 6-10 working days
Dimensions 48 x 86 x 24 cm

Power: 2 x 3,000 W

2 Heating plates

Diameter, heating plate: 40 cm

Low-maintenance stainless steel
Dimensions 48 x 45 x 23.5 cm

Power: 3,000 W

Diameter, heating plate: 40 cm

Low-maintenance stainless steel

Pull-out compartment
Ready to ship today, Delivery time appr. 6-10 working days
Crepes maker - 40 cm - Pull-out compartment
Instead of: £269.00
£189.00
Ready to ship today, Delivery time appr. 6-10 working days
Dimensions 48 x 45 x 23.5 cm

Power: 3,000 W

Diameter, heating plate: 40 cm

Low-maintenance stainless steel

Pull-out compartment