Home Brew Mash Tun - 30 litres - 2,500 Watts
Manufacturer: Royal Catering | Item number: EX10010891 | Model: RCBM-40N
Product highlights
Working capacity: 30 litres
Power: 2,500 W
Digital LCD display with touchpad
Automatic: 9 storable programs
Stainless steel and tempered glass
Complete beer brewing set with manual and automatic operation with up to 9 selectable programs
Automatic mode and storage function - top features for brewing beginners
User friendly LCD display with touchpad to set temperature, power and brewing time
Efficient 2,500 Watt powerful heating element, which can precisely be regulated by 0.1 degrees up to 100 °C
Simple handling - removable grain container, circulation pump and drainage tap as well as stainless steel utilisation
Home Brew Mash Tun - 30 litres - 2,500 Watts
Do you want to brew refreshingly tasty beer? A brewing master title is not required for this as you can simply purchase the RCBM-40N brewing kettle from Royal Catering's gastronomy product range! Whether light or dark beer, wheat beer or rye - with this beer brewing kettle, you can create your own personalised beers according to your own recipes or try out one of the device's default recipes. The unit includes an intuitive LCD display with thermostat and timer as well as the easy handling and cleaning features. Therefore, the 30 litre mash tun with its impressive 2,500 Watt power rating is the optimal product for hobby brewers as well as well-trained brewers.
Material
Stainless steel, tempered glass
Power setting range
From 100 W to 2,500 W in 100 W steps
Temperature setting range
From 30.0 °C to 100°C in 0.1 °C steps
Time range
From 1 min. to 180 min. in 1 min. steps
Number of storable recipes
9
Brewing kettle diameter
350 mm
Dimensions (LxWxH):
50.00 x 50.00 x 67.00 cm
Shipping dimensions (LxWxH)
45.00 x 45.00 x 69.00 cm
Download PDF
Download PDF
RCBM-40N brewing kettle with MP-10RN magnetic circulation pump
Grain container
Glass cover
2 sieve inserts for grain container
2 mountable overflow pipes for sieve inserts (with 100 mm and 170 mm in length)
Curved overflow pipe
Bazooka filter
Handle for grain container
Assembly accessories
Operating instructions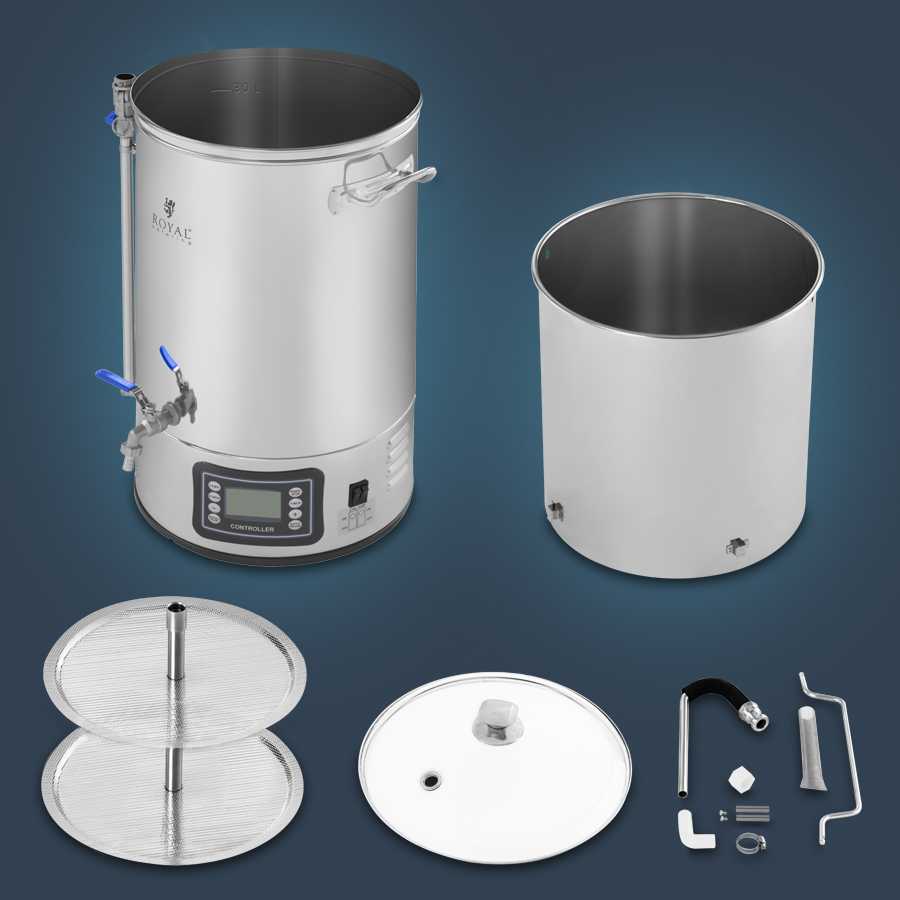 A complete set for brewing beer with a large volume of 40 Litres
wide temperature range between 30 and 100 °C, precisely adjustable by 0.1 °C, ideal for the subsequent brewing steps
perfect for producing different types of beer: dark, light, wheat beer, etc.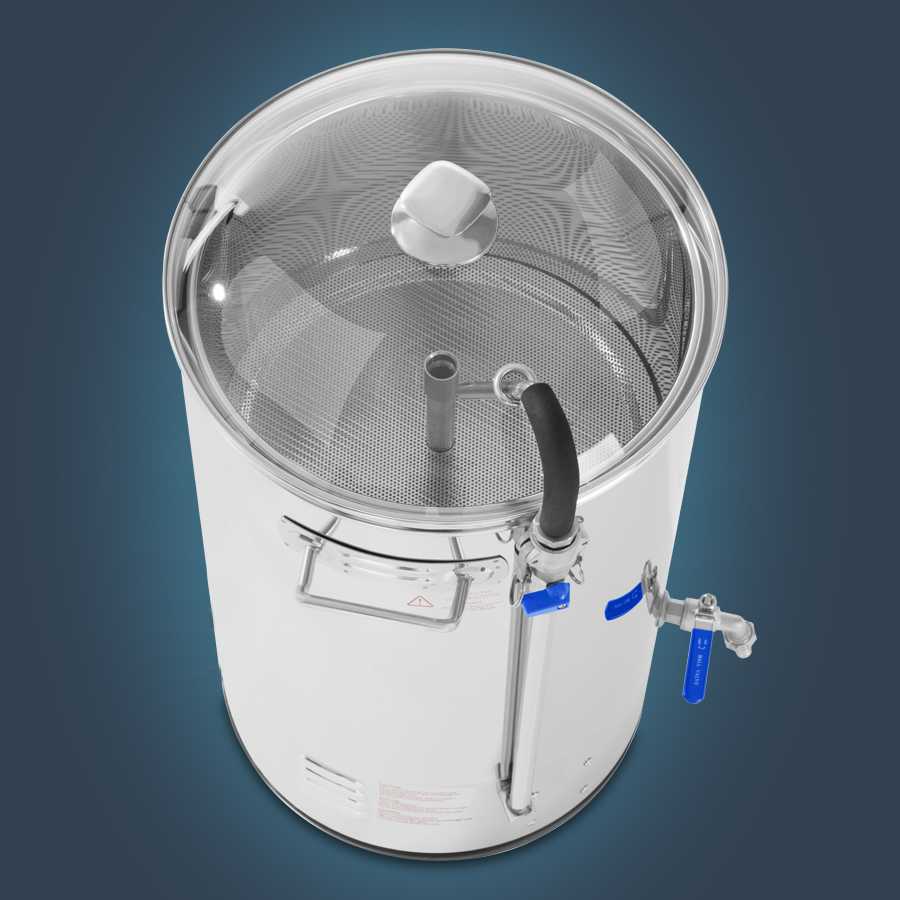 the transparent lid made of hardened glass offers you great control over the brewing process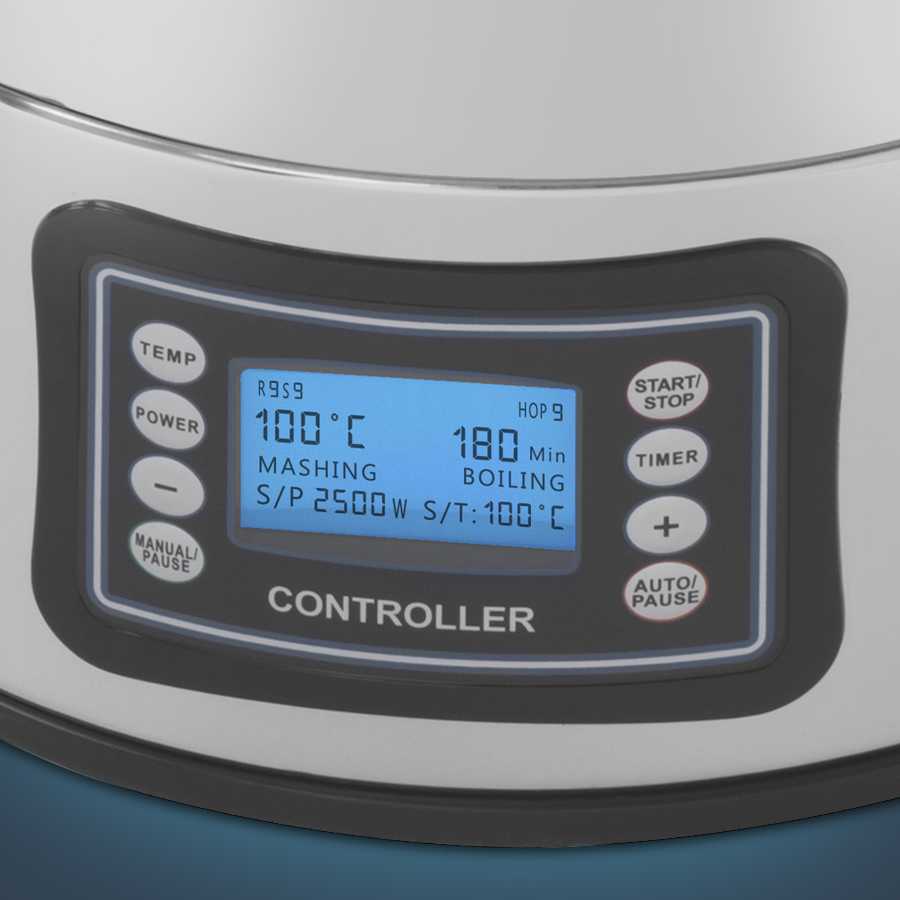 the digital control panel allows for an intuitive use and more control over the brewing process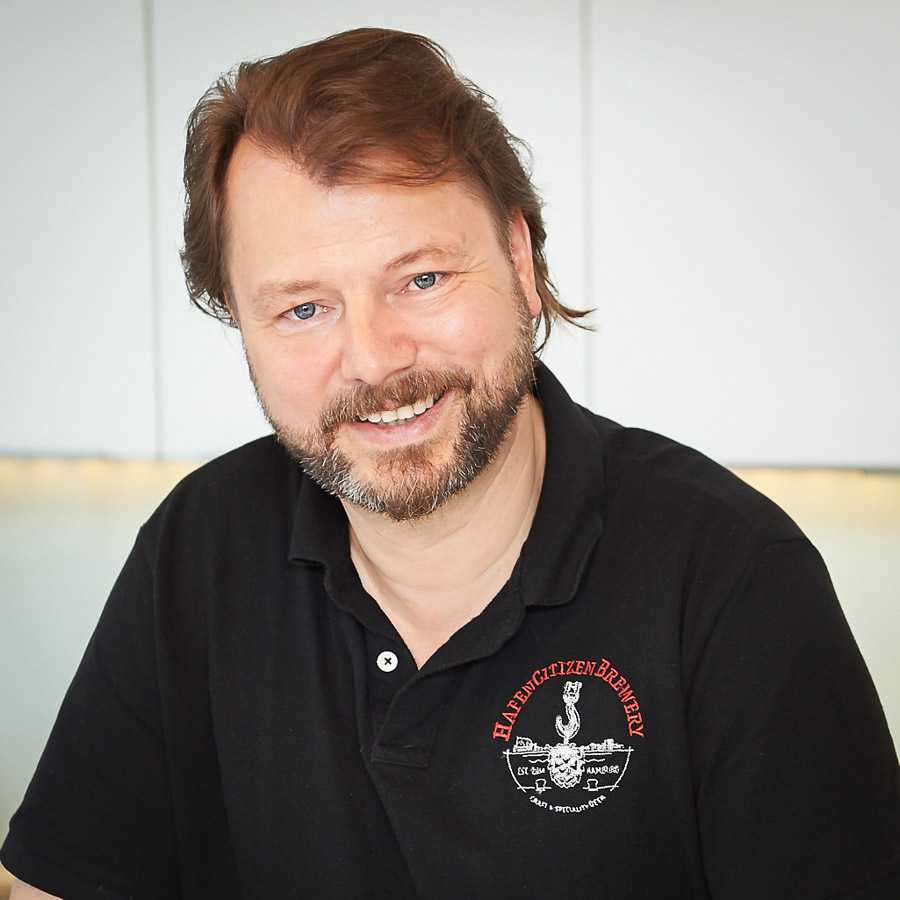 Master brewer, director of the Hamburg HafenCitizen Brewery. Beer culture enthusiast and populariser.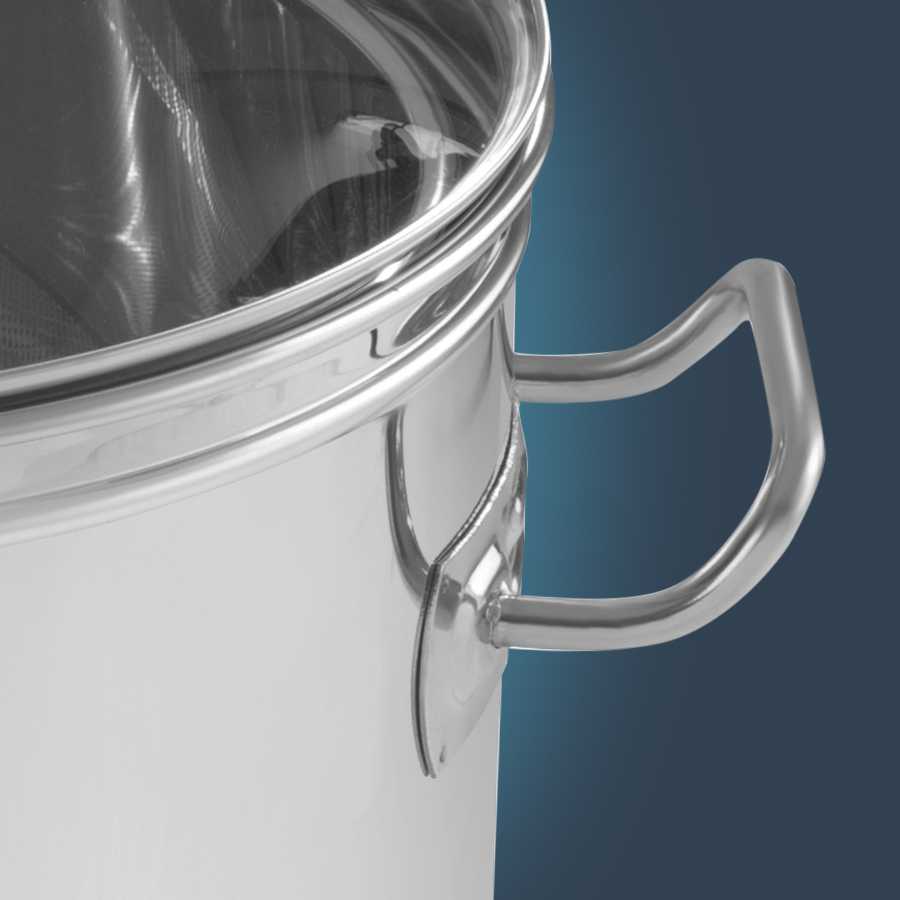 the practical handle makes transporting the kettle easier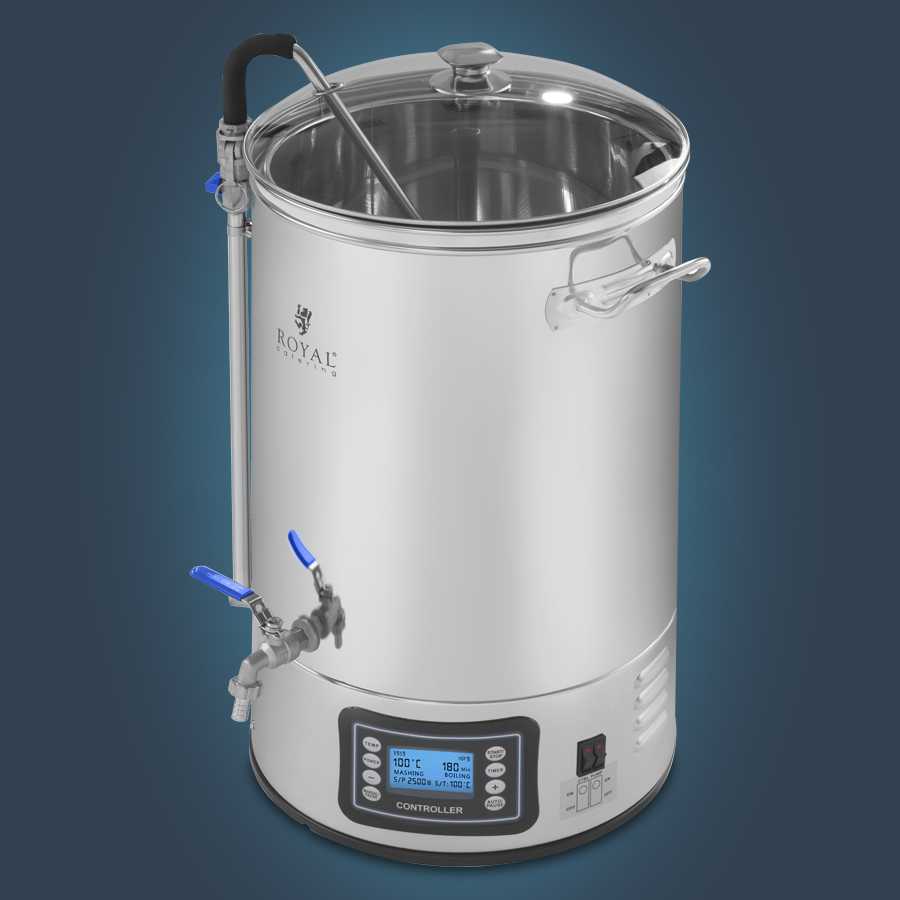 high power of 2.500 Watts to heat up your spices to the desired temperature
up to 9 pre-programmed brewing steps and storage functions
comfortable choice between the manual mode for experienced brewers and the automatic mode for beginners
PRO TIP
Using good water is the bedrock of proper brewing. Cristal clear spring water is excellent. You can even find it bottled for sale in shops.
The right choice of hops is decisive for the taste. We differentiate between three types of hops: universal, aromatic and bitter. Aromatic hops do not confer drinks any bitterness, but they strengthen their taste and smell.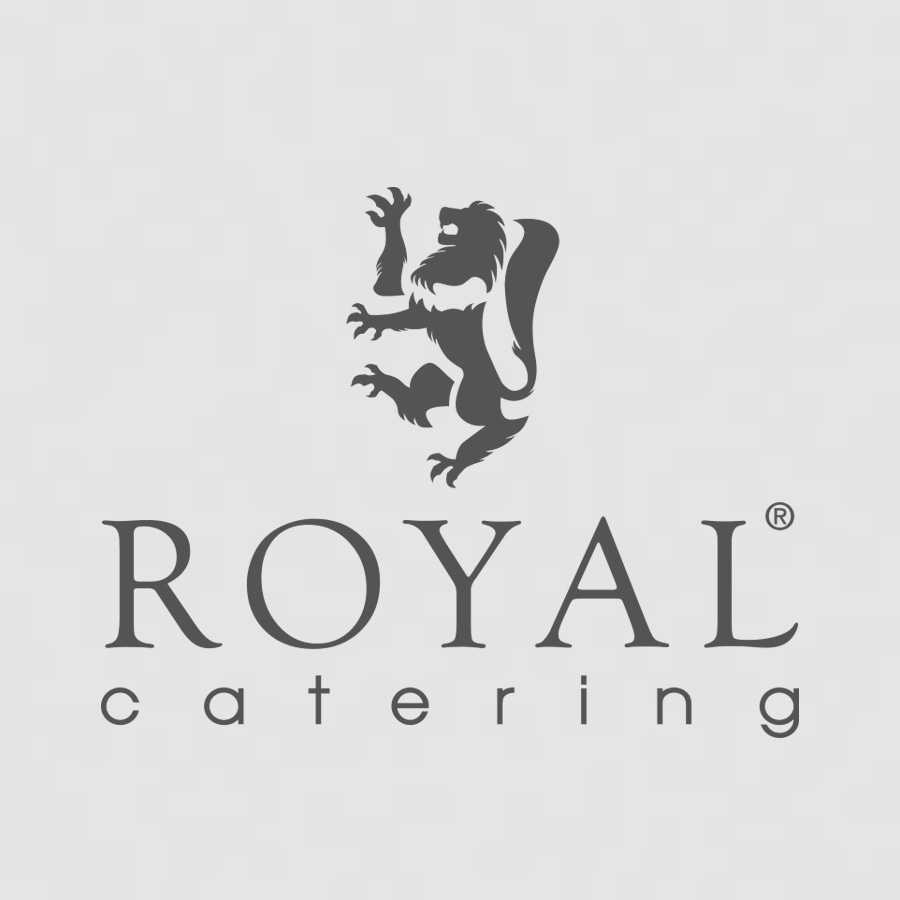 the practical strainer guarantees thorough maize filtering
a durable stainless steel grain tank
the drain tap with a strainer enables you to bottle clear beer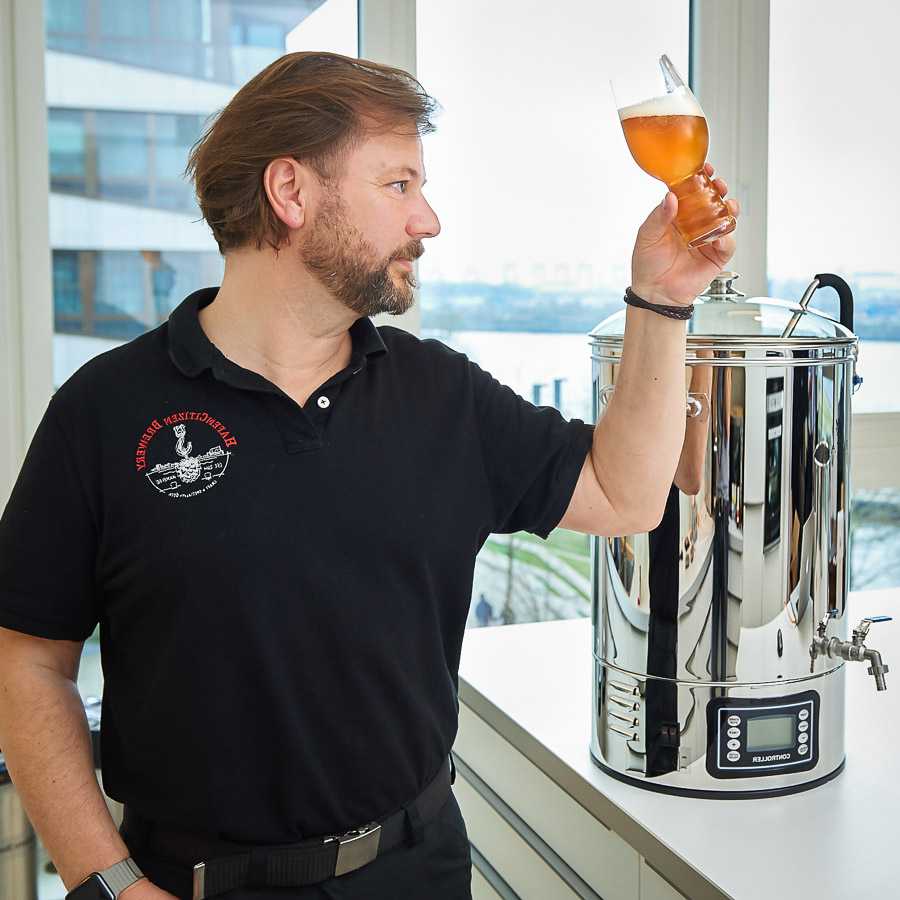 ---
Sort by...
---
Leave a review (5 stars is highest, 1 is lowest)
★
★
★
★
★
Click on the link sent to your e-mail address and confirm your opinion! It will be published after verification.
Reviews from Wiesław (26 Jul 2022)
Reviews from Wiesław (26 Jul 2022)
Jestem bardzo zadowolony z zakupu.
W porównaniu z tradycyjnym zacieraniem w garze, na palniku, to warzenie w tym kotle to sama przyjemność. Jedynie filtr typu bazooka jest mało wydajny, szybko ulega zatkaniu i należy zmodyfikować sposób filtracji po chmieleniu, zwłaszcza gdy stosujemy granulat. Polecam produkt.
expondo experts reply
29 Jul 2022
Dziękujemy za Twoją opinię.
DObry pomysł to jest to, co bardzo lubimy!
Przyjrzymy się mu i zrobimy co w naszej mocy, aby wprowadzić go w życie!
Reviews from Jörg Eggers (6 Jun 2021)
Reviews from Jörg Eggers (6 Jun 2021)
Grosse Erleichterung beim Bier brauen
Einleitung

Ich habe Anfang 2021 begonnen Bier für den privaten Gebrauch dann und wann zu brauen.

Anmeldung beim Zoll

Dazu habe ich das Vorhaben zunächst beim Zoll angemeldet. 200 Liter sind in Deutschland für den privaten Gebrauch steuerfrei. Man meldet das beim zuständigen Zollamt an.

Motivation

Das habe ich mit Topf und Gäreimer begonnen. Das geht auch gut, aber jetzt wollte ich es bequemer haben. Ich habe mich mit verschiedenen Braukesseln beschäftigt und die Wahl viel auf diesen Kessel.

Da wir nur für private Zwecke dann und wann brauen, reicht die 30 Liter Version aus.

Verkackung

Der Kessel kommt sehr sicher verpackt zu Hause an. EInige Montageteile wie das Maischerohr liegen oben unterhalb des Deckels. Hier liegt auch die Bedienungsanleitung (mehrsprachig).

Die Montage ist einfach erledigt.

Technisches

In den Kessel ist für Einfüllmenge in Liter und Gallonen (US) eingeprägt. Das erleichtert das gezielte Einfüllen des Wassers.

Der Inneneimer, in dem sich der Treber befindet kann mittels Drehbewegung in einen Ring am oberern Rand eingehängt werden. Das erleichtert das Läutern.

Die Würze wird im Boden abgesaugt, und kommt dann seitlich wieder im Rohr heraus. Am oberen Ende befindet sich ein Ventil, über den der Durchfluss eingestellt wird. Die Würze wird dann über einen Schlauch durch ein Loch im Glasdeckel gepumpt und alles ist permanent in Bewgegung.

Welche Brauschritte übernimmt der Kessel?

Der Kessel übernimmt den gesamten Brauprozess vom ersten Erhitzen bis zum Ende des Würzekochens.

Für den Prozess nutzt man die Programmiereinheit. Hier kann man 9 Rezepte mit je 9 Schritten abspeichern. Die Rezepte haben Nummern und man schreibt in einer Liste mit welche Nummer was bedeutet. Man kann auch alternativ auch manuell brauen. Der Automat meldet sich ab dem Maischekochen automatisch für die Hopfenzugabe.

Ist das Würzekochen beendet, dann setzt man eine Kühlschlaufe in den Kessel ein. Unsere hat 10 Schlaufen. Dann kühlt die Würze bei größter Füllmenge auf 30 Grad auf 20 Grad in ca. 30 Minuten ab.

Jetzt lässt man die Würze über den Hahn in den Gäreimer ablaufen und beginnt mit der Gärung.

Man hat also die Hände frei und der Prozess läuft automatisch.

Die Temperatur kann in 0,1 C/F Grad Schritten und die Heizleistung in 100 W Schritten eingestellt werden. Die Parameter mit denen man arbeitet sind also Heizleistung, Zeit und Temperatur. Die Regelung arbeitet dabei sehr genau und man bekommt so ein repetitives Brauergebnis.

Man muss den Kessel nicht unbedingt immer voll bestücken, man kann auch kleinere Mengen brauen.

Folgekosten

Zusätzlich zu dem Kessel benötigt man eine Kühlschaufe. Wir haben hiezu eine mit 10 Schlaufen und 26 cm Durchmesser.

Hopfensack oder -sieb. Man füllt hier beim Maischekochen den Hopfen ein. Das spart den Hopfenschlamm im Kessel und erleichtert die Reinigung.

Ggf den Kessel noch von Aussen mit einer Isoliermatte verkleiden. Das hält die Kesseltemperatur konstanter.

Fazit

Man bekommt eine Brauanlage nach Hause, die bis zu 25 l Bier einem Rutsch brauen lässt. Der Brauvorgang wird bis zum Gären automatisiert. Die Verarbeitung ist sehr sauber, alles ist in bester Ordnung.
Reviews from Christian (20 Apr 2020)
Reviews from Christian (20 Apr 2020)
Ein sehr gutes Gerät zum erschwinglichen Preis
Ok, ich hab zwar das Gerät bis jetzt erst 2 mal benutzt, aber da tat Er genau das was er sollte. Super!

Da ich anfänglich ein Paar Schwierigkeiten mit dem Gerät hatte und ich es dann tauschen musste, kann ich auch hier sagen, dass der Support tadellos und freundlich funktioniert.

Alles in allem eine runde Sache.

Ich freu mich jetzt schon auf weitere Brautage, da dieses Gerät sie doch sehr erleichtert und ich es dann auch weiter testen kann.

Aber dennoch kann ich jetzt schon sagen, dass das Gerät gut bis sehr gut verarbeitet ist, die Pumpe gut läuft und die Temperatur gehalten wird.
Still not sure?
Our experts are ready to help!
Mon - Fri 09:00am - 04:00pm
This product
Working capacity: 30 litres

Power: 2,500 W

Digital LCD display with touchpad

Automatic: 9 storable programs

Stainless steel and tempered glass
Ready to ship today, Delivery time appr. 6-10 working days
Home Brew Mash Tun - 30 litres - 2,500 Watts
Instead of: £389.00
£319.00
Ready to ship today, Delivery time appr. 6-10 working days
Working capacity: 30 litres

Power: 2,500 W

Digital LCD display with touchpad

Automatic: 9 storable programs

Stainless steel and tempered glass
Load capacity: 72 kg

Tray spacing: 410 mm

Tray dimensions: 70 x 38 x 3 cm

4 swivel castors with 2 brakes

Stainless steel
Ready to ship today, Delivery time appr. 6-10 working days
Serving Trolley - 2 shelves - 70 x 38 x 3 cm - 72 kg - Royal Catering
Ready to ship today, Delivery time appr. 6-10 working days
Load capacity: 72 kg

Tray spacing: 410 mm

Tray dimensions: 70 x 38 x 3 cm

4 swivel castors with 2 brakes

Stainless steel