Home Brew Mash Tun - 30 litres - 2,500 Watts
Home Brew Mash Tun - 30 litres - 2,500 Watts
Manufacturer: Royal Catering | Item number: EX10010891 | Model: RCBM-40N
Ready to ship today, Delivery time appr. 1-2 weeks**
Product Highlights
Working capacity: 30 litres
Power: 2,500 W
Digital LCD display with touchpad
Automatic: 9 storable programs
Stainless steel and tempered glass
Homebrew has never been so delicious yet so easy to do - with the innovative brewing kettle from Royal Catering!
The RCBM-40N comes as a complete set and consists of: A high polished kettle with an external circulation pipe, grain containers with an overflow pipe, two sieve inserts which function as a false bottom, a model type MP-10RN circulating pump and a lid made from tempered safety glass. Virtually all metal parts are made from high quality stainless steel, through which a food-safe as well as a uniformly heated brewing procedure and easy cleaning are guaranteed.
Show more
Show less
The stainless steel kettle has a comparably high capacity of 40 litres for private use. Usually, home brewing kettles have a maximum mash capacity of 30 litres. The brewing kettle further stands out by meeting high safety standards, through which use is additionally made easier and more secure. The built-in modern circuit board, through which you can precisely control the program settings is safely hidden at the bottom of the kettle behind a locked cover. Therefore, the circuit board cannot be unintentionally damaged during brewing procedure.
Show more
Show less
The easy to use touch control panel is securely activated thanks to a toggle switch. Professionals as well as beginners can select various functions via the panel. Beginners can rely on the automatic mode as professionals can use the manual mode to test out their own recipes. Thanks to unit's storage function, even up to nine recipes can be stored in the unit for future brewing procedure.
Show more
Show less
The selectable automatic mode via the control panel consists of up to nine individually programmed brewing steps. As part of this, the temperature, power and brewing time can be separately pre-set for every program. The remaining time can be read from the display at any time, on which time is displayed in a countdown format. The set brewing parameter and current brewing operation status are also found on the display, such as "Boiling" for cooking.
Show more
Show less
Desired temperature, brewing time and power can also be manually set via the digital LCD display. Temperature is precisely adjustable thanks to 0.1 °C steps in a temperature range between 30 and 100 °C - the boiling point. This ensures that the mash is heated precisely and kept warm.
Show more
Show less
Furthermore, temperature can quickly be reached with the high performing heating element and maintained over a long period of time. Power is highly adjustable in 100 Watt steps up to 2,500 Watts. The mash is therefore set at a pleasant temperature during all steps as perfect taste is created.
Show more
Show less
The RCBM-40N brewing kettle further impresses with the functionality of accessories included in delivery, which also help you to brew beer with ease. The overflow pipe, which is made from two individual materials varying in length, can be screwed into the sieve insert and be adjusted to applied amount of water and grain. It also particularly easy to separate the brewer from the first wort - the grain container can be placed on the support ring for purifying in the kettle thanks to side holders.
Show more
Show less
The highly efficient, industrial MP-10RN pump takes over mash stirring during use and later takes over the first wort. Through this, the brewing procedure requires you to put in very little effort. The circulation pump is operated via a separate toggle switch. Its flow rate can be adjusted via the valve at the circulation pipe. Thanks to the integrated drainage tap and the bazooka-filter included in delivery, beer wort can be securely transferred into a fermentation tank at the end of the brewing procedure.
Show more
Show less
The brewing kettle comes with two comfortable handles attached at the side. They allow you to transport and store the unit with ease thanks to their good size. You can therefore use the brewing kettle in any place convenient for you at any time. Allow yourself to be impressed by high quality and great service and buy the brewing kettle from Royal Catering today!
Show more
Show less
PLEASE NOTE: Please note that if you are brewing beer in Germany you must inform the responsible main customs office.
Highlights
Complete beer brewing set with manual and automatic operation with up to 9 selectable programs
Automatic mode and storage function - top features for brewing beginners
User friendly LCD display with touchpad to set temperature, power and brewing time
Efficient 2,500 Watt powerful heating element, which can precisely be regulated by 0.1 degrees up to 100 °C
Simple handling - removable grain container, circulation pump and drainage tap as well as stainless steel utilisation
Home Brew Mash Tun - 30 litres - 2,500 Watts
Do you want to brew refreshingly tasty beer? A brewing master title is not required for this as you can simply purchase the RCBM-40N brewing kettle from Royal Catering's gastronomy product range! Whether light or dark beer, wheat beer or rye - with this beer brewing kettle, you can create your own personalised beers according to your own recipes or try out one of the device's default recipes. The unit includes an intuitive LCD display with thermostat and timer as well as the easy handling and cleaning features. Therefore, the 30 litre mash tun with its impressive 2,500 Watt power rating is the optimal product for hobby brewers as well as well-trained brewers.
Material
Stainless steel, tempered glass
Power setting range
From 100 W to 2,500 W in 100 W steps
Temperature setting range
From 30.0 °C to 100°C in 0.1 °C steps
Time range
From 1 min. to 180 min. in 1 min. steps
Number of storable recipes
9
Brewing kettle diameter
350 mm
Dimensions (LxWxH):
50 x 50 x 67 cm
Shipping dimensions (LxWxH)
45 x 45 x 69 cm
Download PDF
RCBM-40N brewing kettle with MP-10RN magnetic circulation pump
Grain container
Glass cover
2 sieve inserts for grain container
2 mountable overflow pipes for sieve inserts (with 100 mm and 170 mm in length)
Curved overflow pipe
Bazooka filter
Handle for grain container
Assembly accessories
Operating instructions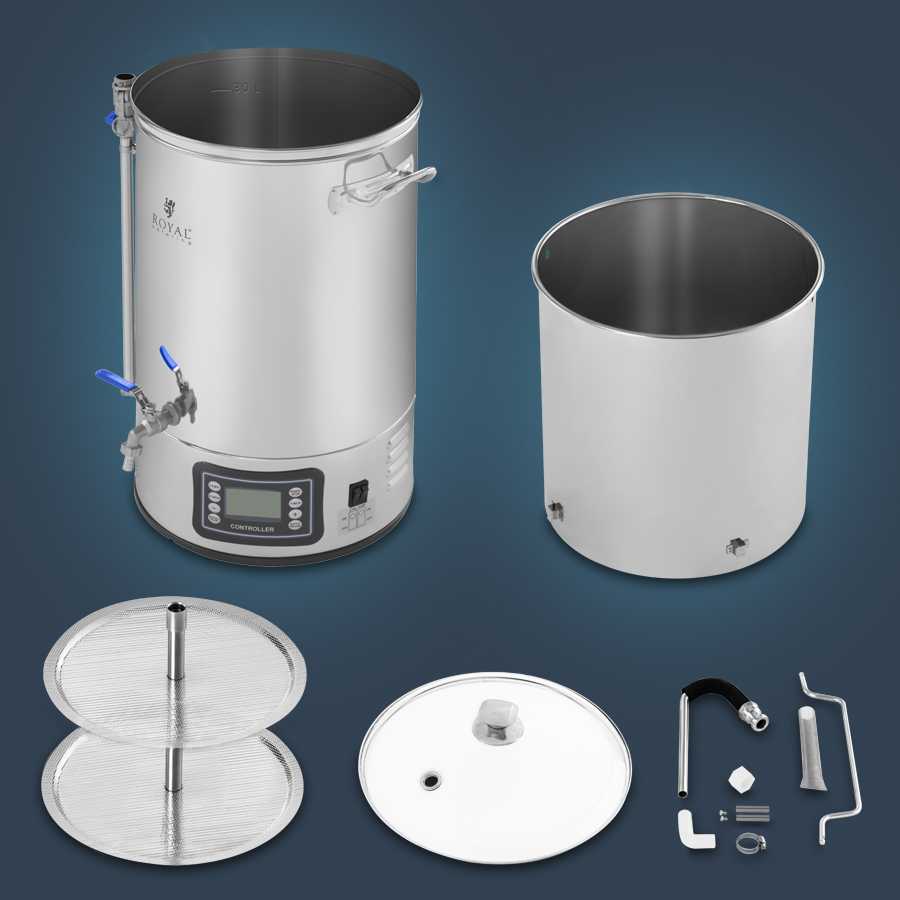 A complete set for brewing beer with a large volume of 40 Litres
wide temperature range between 30 and 100 °C, precisely adjustable by 0.1 °C, ideal for the subsequent brewing steps
perfect for producing different types of beer: dark, light, wheat beer, etc.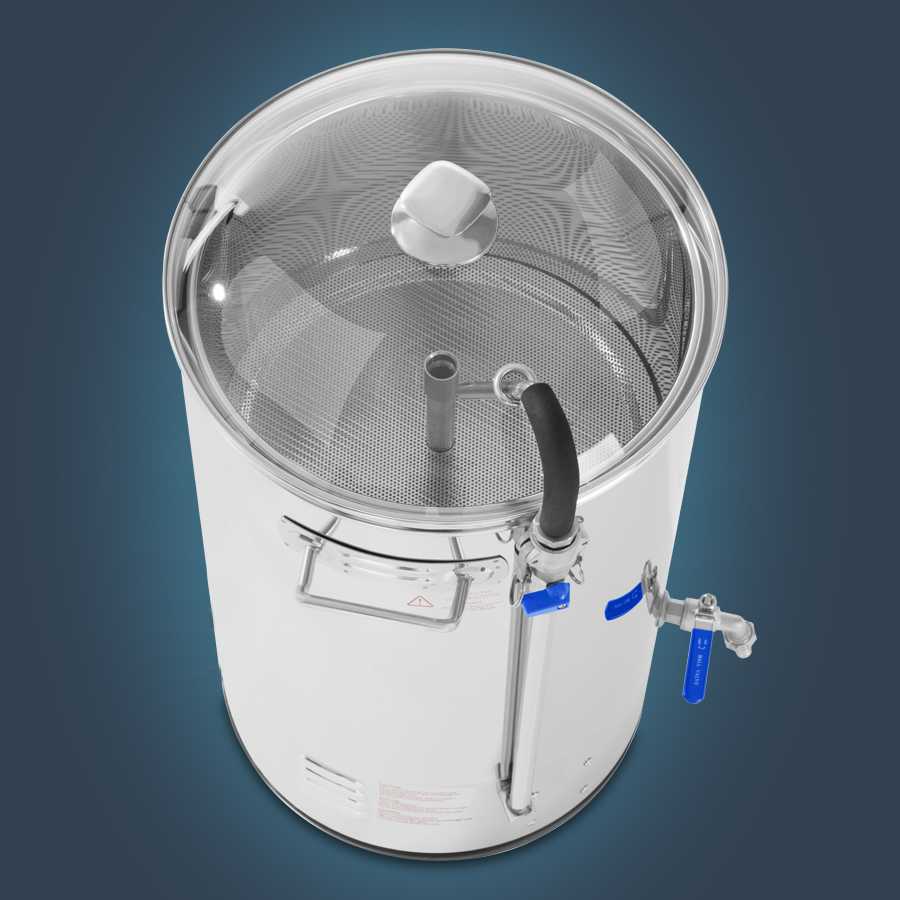 the transparent lid made of hardened glass offers you great control over the brewing process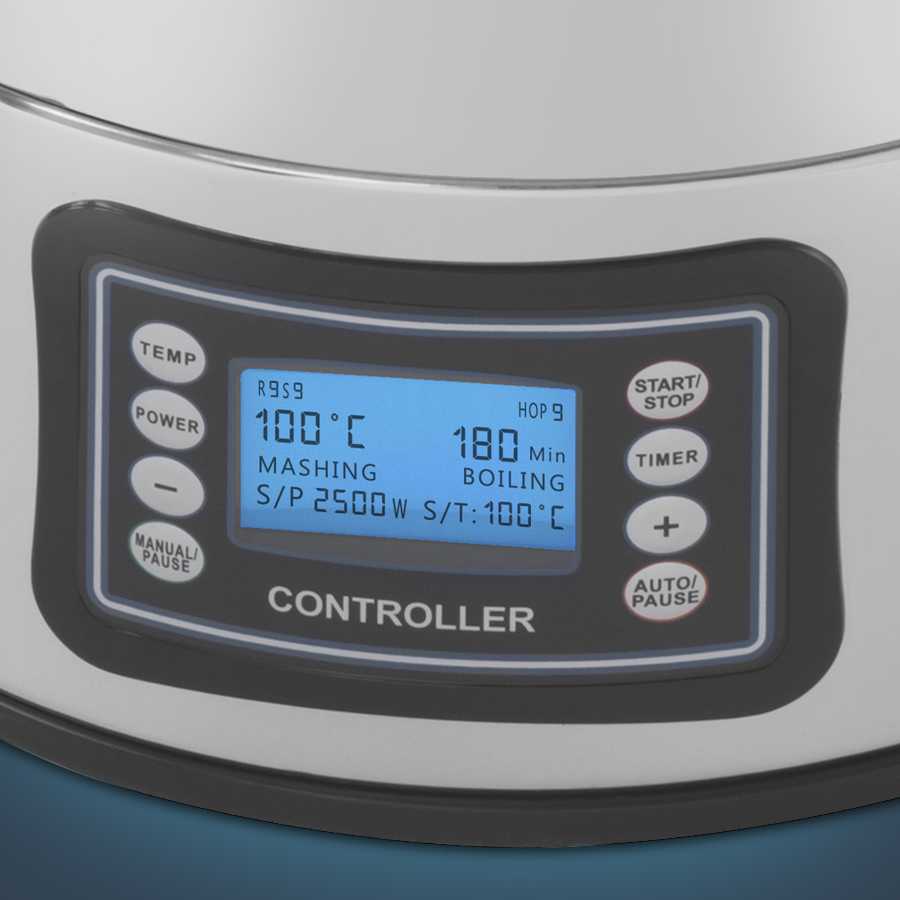 the digital control panel allows for an intuitive use and more control over the brewing process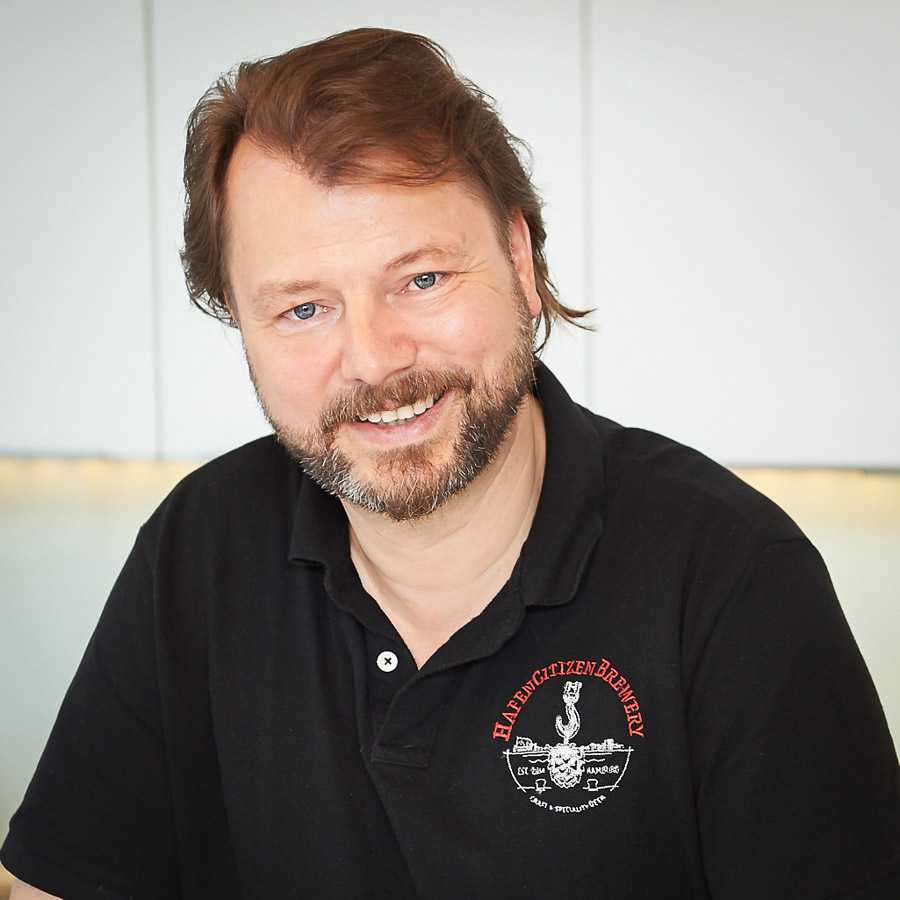 Master brewer, director of the Hamburg HafenCitizen Brewery. Beer culture enthusiast and populariser.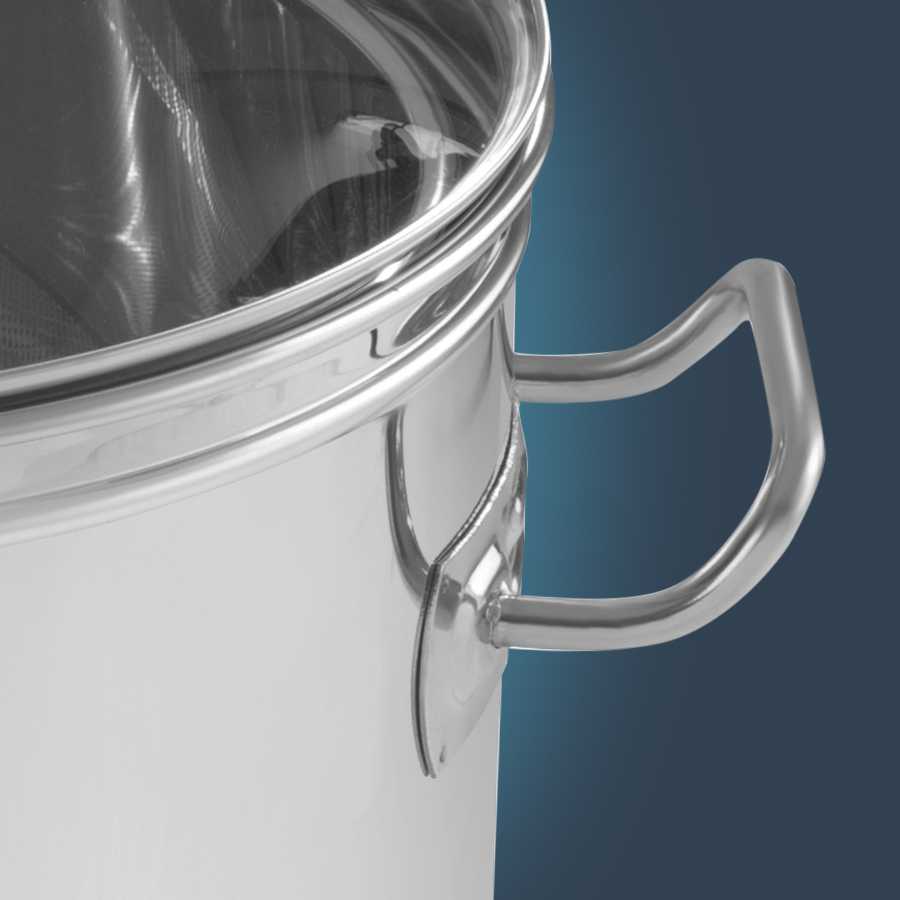 the practical handle makes transporting the kettle easier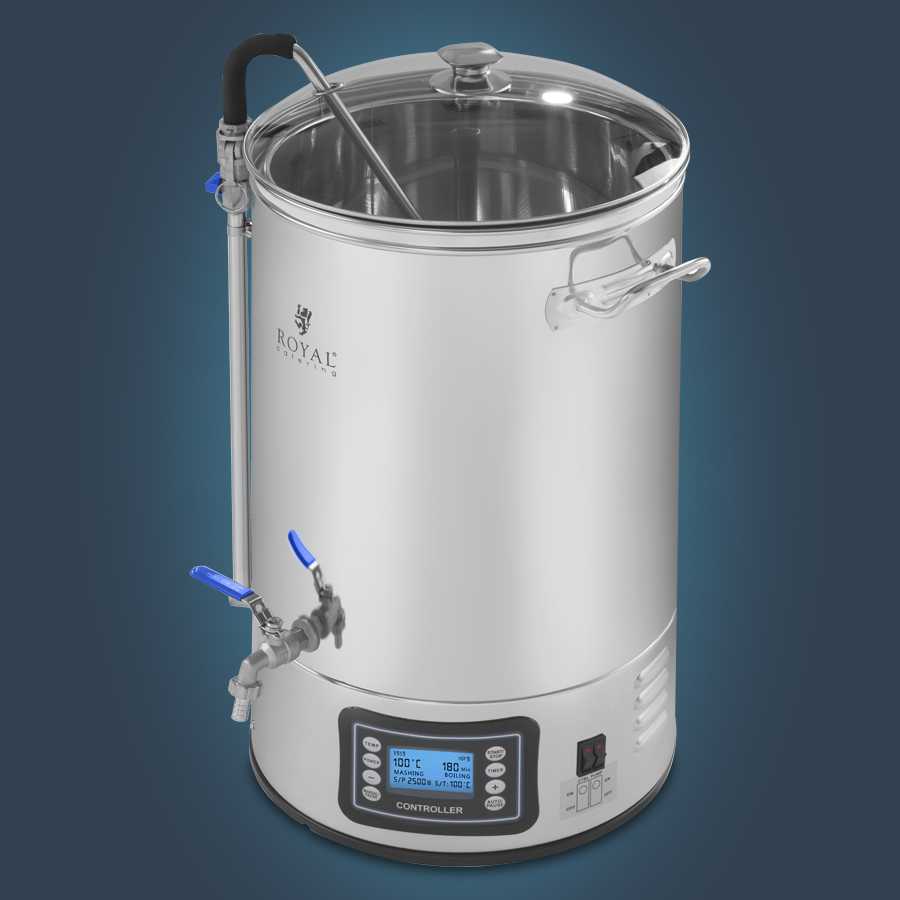 high power of 2.500 Watts to heat up your spices to the desired temperature
up to 9 pre-programmed brewing steps and storage functions
comfortable choice between the manual mode for experienced brewers and the automatic mode for beginners
PRO TIP
Using good water is the bedrock of proper brewing. Cristal clear spring water is excellent. You can even find it bottled for sale in shops.
The right choice of hops is decisive for the taste. We differentiate between three types of hops: universal, aromatic and bitter. Aromatic hops do not confer drinks any bitterness, but they strengthen their taste and smell.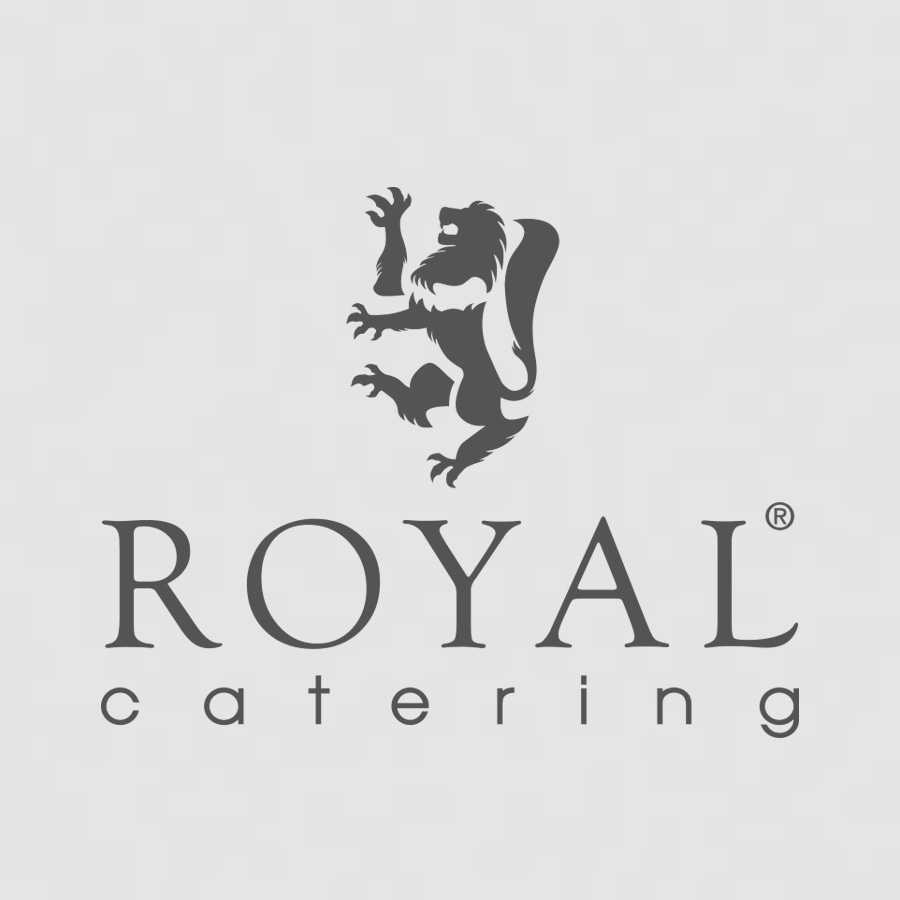 the practical strainer guarantees thorough maize filtering
a durable stainless steel grain tank
the drain tap with a strainer enables you to bottle clear beer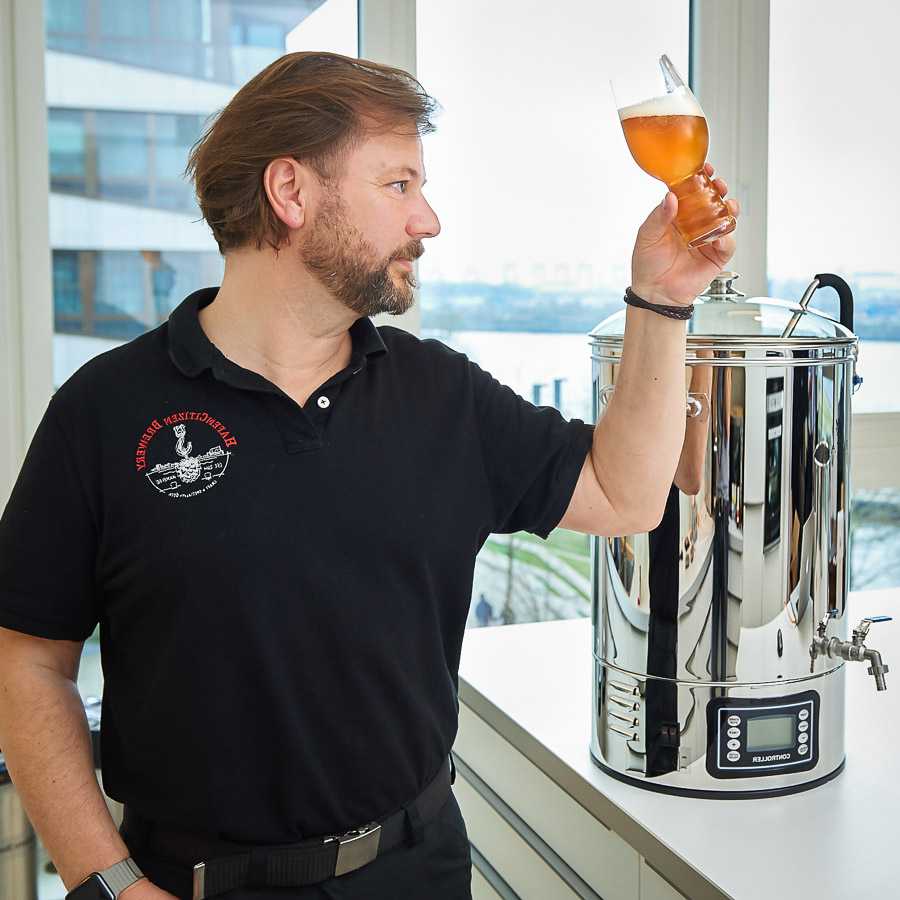 ---
Sort by...
---
Evaluations will be activated after verification.
Reviews from Christian (20 Apr 2020)
Reviews from Christian (20 Apr 2020)
Ein sehr gutes Gerät zum erschwinglichen Preis
Ok, ich hab zwar das Gerät bis jetzt erst 2 mal benutzt, aber da tat Er genau das was er sollte. Super!

Da ich anfänglich ein Paar Schwierigkeiten mit dem Gerät hatte und ich es dann tauschen musste, kann ich auch hier sagen, dass der Support tadellos und freundlich funktioniert.

Alles in allem eine runde Sache.

Ich freu mich jetzt schon auf weitere Brautage, da dieses Gerät sie doch sehr erleichtert und ich es dann auch weiter testen kann.

Aber dennoch kann ich jetzt schon sagen, dass das Gerät gut bis sehr gut verarbeitet ist, die Pumpe gut läuft und die Temperatur gehalten wird.
Still not sure?
Our experts are ready to help!
Mon - Fri 09:30am - 04:30pm
This product
Working capacity: 30 litres

Power: 2,500 W

Digital LCD display with touchpad

Automatic: 9 storable programs

Stainless steel and tempered glass
Ready to ship today, Delivery time appr. 1-2 weeks**
Home Brew Mash Tun - 30 litres - 2,500 Watts
Ready to ship today, Delivery time appr. 1-2 weeks**
Working capacity: 30 litres

Power: 2,500 W

Digital LCD display with touchpad

Automatic: 9 storable programs

Stainless steel and tempered glass
10 coils

Coil: Ø 26 cm

Rapid cooling

High-quality stainless steel

Low-maintenance
Ready to ship today, Delivery time appr. 1-2 weeks**
Immersion Wort Chiller - Ø 26 cm - 10 coils - stainless steel
Ready to ship today, Delivery time appr. 1-2 weeks**
10 coils

Coil: Ø 26 cm

Rapid cooling

High-quality stainless steel

Low-maintenance