Hot Dog Grill - 7 rollers - Teflon
Item number: EX10010470 / Model: RCHG-7T
Hot Dog Grill - 7 rollers - Teflon
Item number:

EX10010470

Model:

RCHG-7T

In the product range since:

2008
Ready to ship today, Delivery time appr. 4-6 workdays**
Your benefits at a glance
Hot Dog Grill - 7 rollers - Teflon
The hotdog grill RCHG-7T from Royal Catering has a sturdy construction and high-quality components. It has been specially designed for professional usage in gastronomical companies like restaurants or snack bars. It is energy-efficient and has a low weight of only 11.35 kg. This transportable and economical device is a must for every cook.
Hotdog grill RCHG-7T from the catering supplies from Royal Catering
The RCHG-7T has seven high-powered heating rods that are powered by 1400 Watts and quickly and efficiently prepare up to 12 hotdogs. The seven Teflon-coated rods have their own heating elements and automatically rotate by 360 degrees in order to evenly heat up the hotdogs. The temperature can be adjusted at 250 °C.
The two heating areas of the hotdog maker are located at the back and the front roller. They are regulated by two separate thermostats, which allows you to simultaneously grill hotdogs and keep those that are already done warm. The drip tray collects excess fat and can be easily removed.
The device is made from stainless steel and is very robust and durable. The sturdy construction is protected against scratches, corrosion damage or mechanical defects. Due to its material, the hotdog maker is very easy to clean.
The cover is made from tempered glass and protects the food from debris, especially when outdoors. The glass cover ensures that your working space is hygienic and free from grease. It can be easily removed for cleaning and reassembled after.
Features of the hotdog grill RCHG-7T
For an even grilling of hotdogs
Extremely versatile, can be used at events, restaurants, hotel bars, takeaways, …
Stainless steel casing with a transparent cover made from tempered glass
Thermostat for controlling the temperature
Temperature can be kept on a constant level
1400 watts heating power
Two separate heating zones
7 rotating, Teflon coated heating rods for up to 12 sausages
Drip tray ensures cleanliness
Mobile
Highlights
Extremely versatile
Easy to clean
Efficient temperature control
Continuous heating with two heating zones
Hygiene and protection
Max. sausages (normal size)
12
Distance between rollers
1.2 cm
Dimensions (LxWxH)
34.5 x 58 x 40.5 cm
Shipping dimensions (LxWxH)
60 x 38 x 21 cm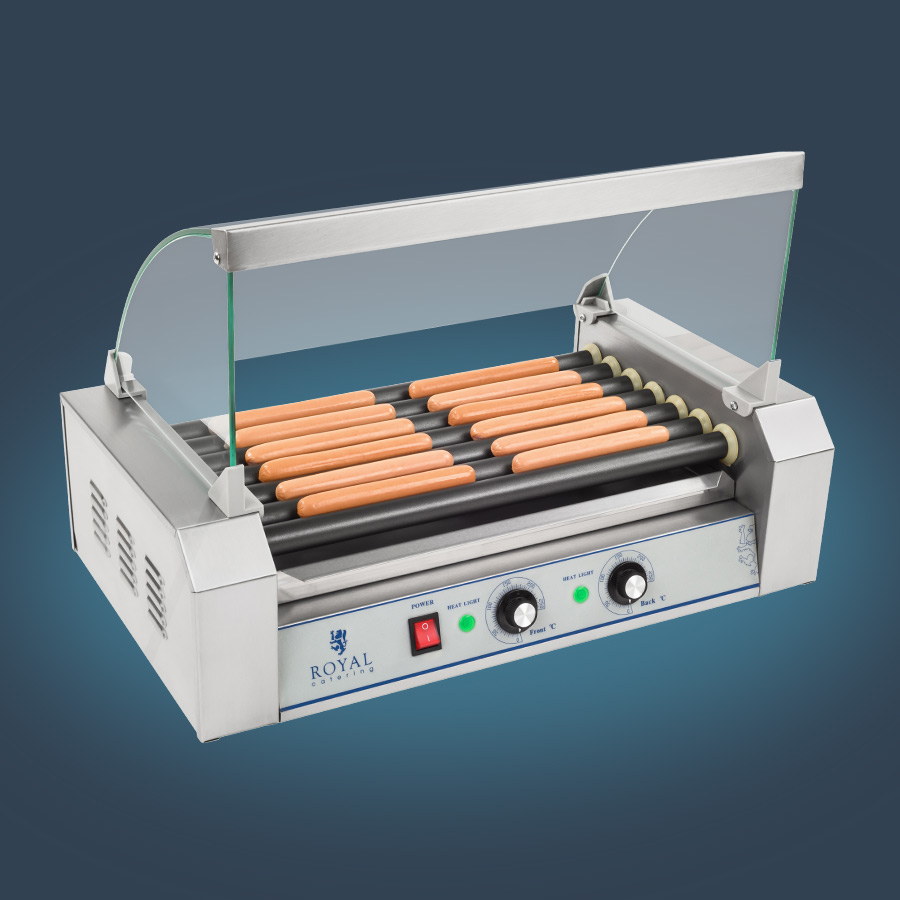 High output of 1,400 W for quickly heating hot dogs
Heat up to 12 hot dogs at once
Ideal for small restaurants, food trucks, petrol stations, etc.
Separate temperature controls for each heating zone up to 250 °C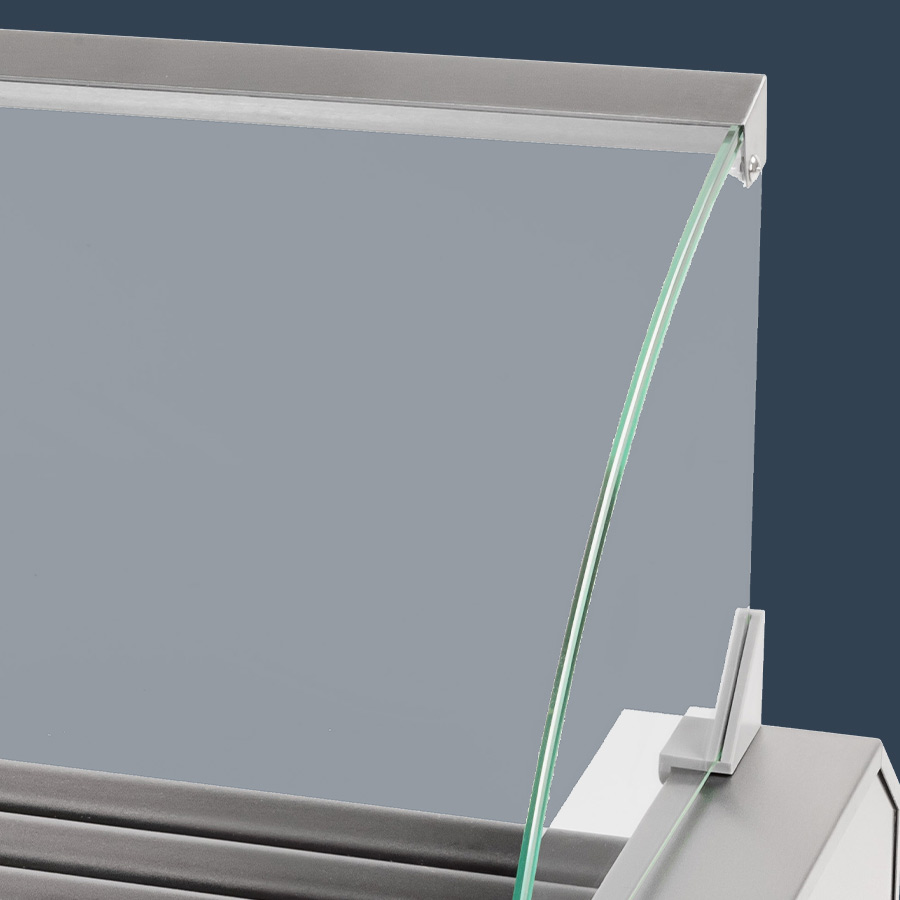 Glass protection against dust and dirt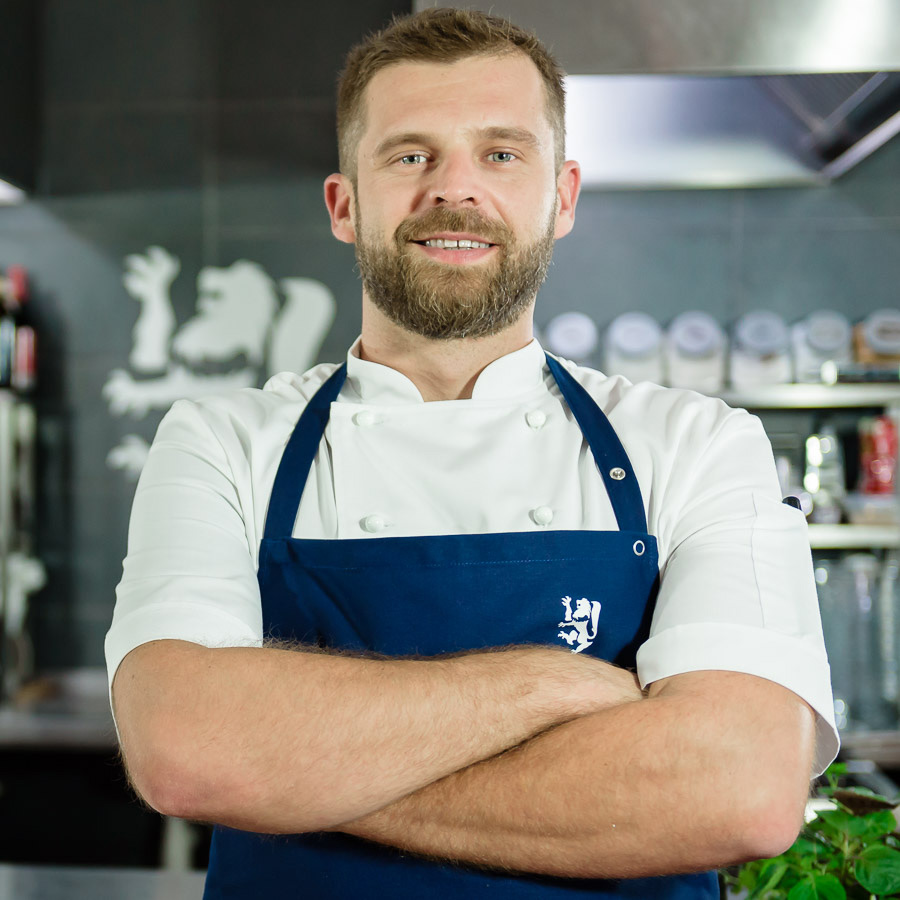 Tested by Michał Orłowski, head chef of prestigious restaurants in Sydney and Warsaw. An experienced and professional restaurateur, just like our customers.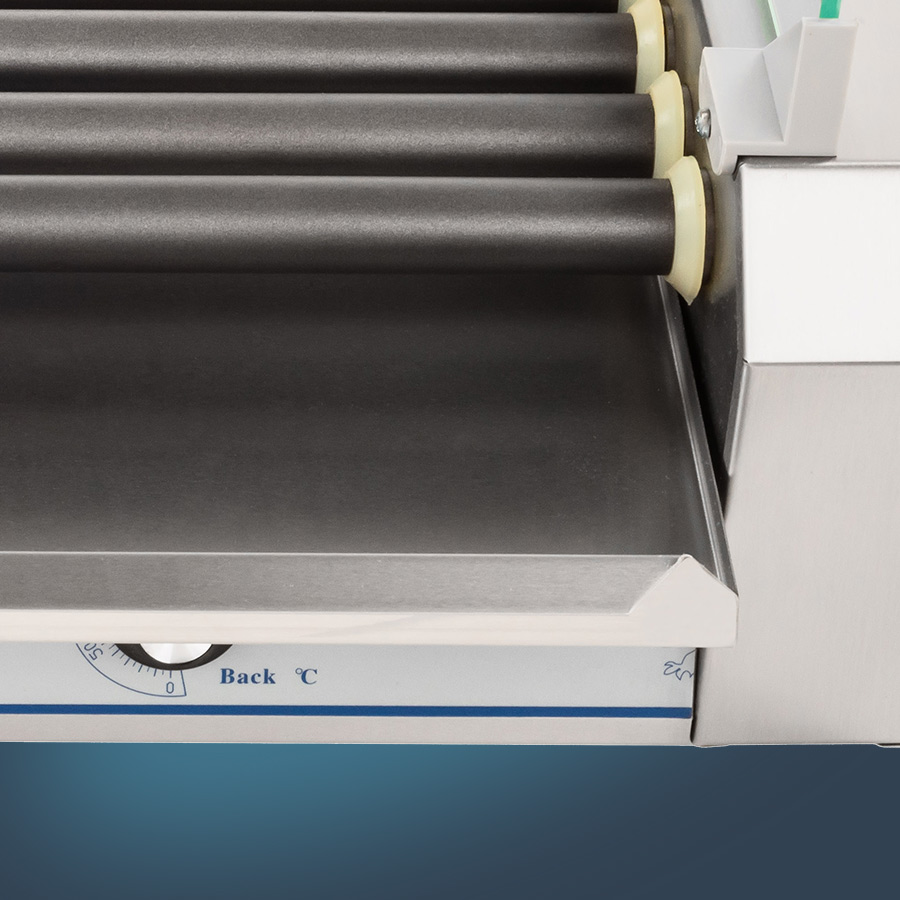 Removable grease drawer for hygienic operation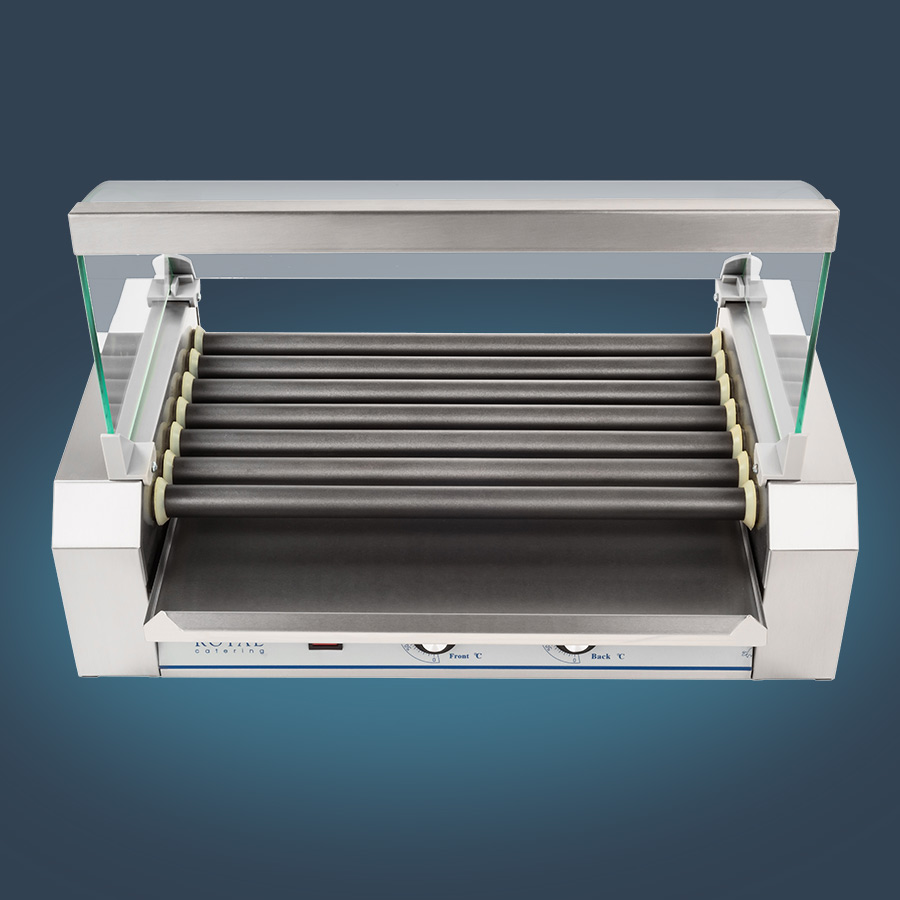 Durable, easy-to-clean stainless steel housing
4 rubber feet stabilise the device
Compact, easy to transport device
PRO TIP
I always set two different temperatures: I set the rear area to 100 °C to quickly heat up the hot dogs. I keep the front at 70 °C to keep the already-cooked hot dogs warm.
This device is ideal for hot dogs, but you can also use it for Polish sausages and any other, thicker sausages, such as bratwurst.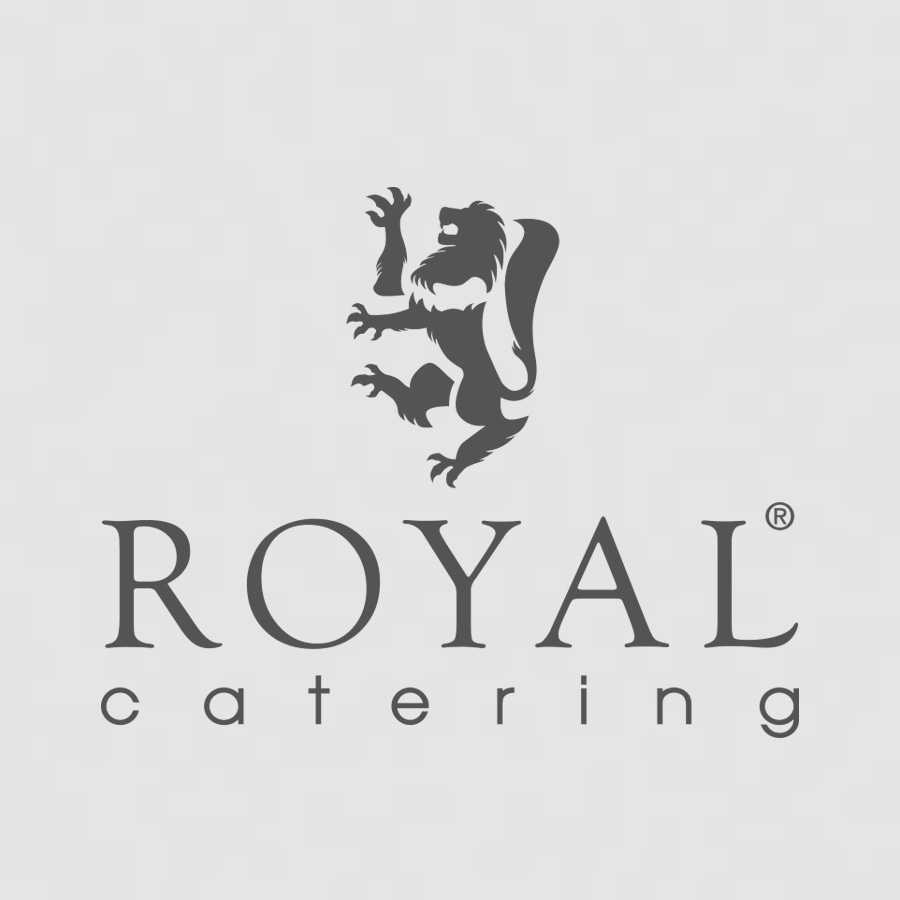 Teflon coating prevents hot dogs from sticking
Rotating rollers ensure even roasting
Can simultaneously heat up sausages and keep them warm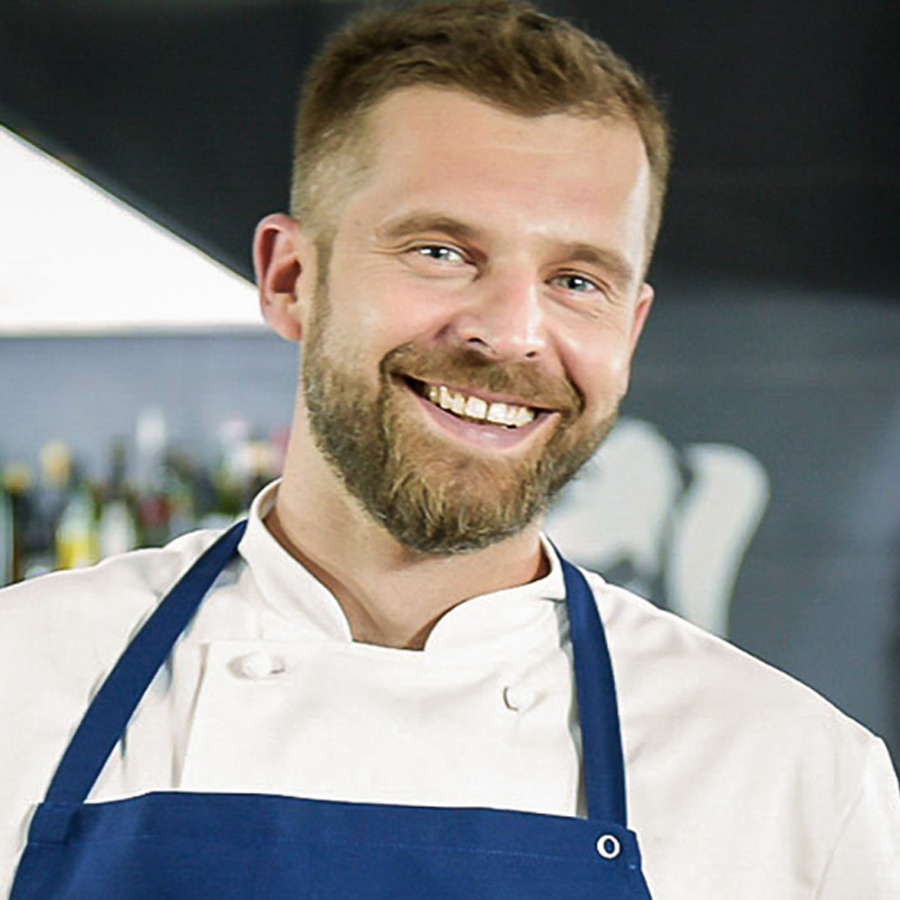 I work with professional products every day. For this video, I made sure to test the device thoroughly. You can take a close look at how this product works and then decide which model is best for your business. I hope my video and tips will help to make your business even more successful.
Head chef of prestigious restaurants in Sydney and Warsaw. An experienced and professional restaurateur
Hotdog grill RCHG-7T
Instruction manual
★
★
★
★
★
Write the first review for this product
---
---
Evaluations will be activated after verification.