Hot Food Display - 70cm
Item number: EX10010136 / Model: RCHT-1200
Hot Food Display - 70cm
Item number:

EX10010136

Model:

RCHT-1200

In the product range since:

2008
This product is currently not available.
Your benefits at a glance
Hot Food Display – 70cm
The Hot Food Display RCHT-1200 from the catering supplies of Royal Catering is well-suited for presenting various dishes and keeping them warm. The counter provides fresh and instantly available dishes to your guests, be it at a hotel buffet, in a restaurant or at a café. The light at the top of the counter allows for a good view of the displayed products.
The rectangular shape of the counter results in additional space for your dishes compared to other, slanted models. The case is made of sturdy, stainless steel with sides made of glass. The counter is fitted with two glass doors and a handle for taking dishes out and putting them in.
There are 3 shelves inside the counter on which you can present your products. The shelves, which have a gap of 11 cm, can be pulled out comfortably just like a drawer. A metal mechanism prevents the shelves from tilting and falling. They are also fitted with an edging on the sides which keeps your products from slipping out. Each shelf provides plenty of space with an area of 58 x 30 cm.
Warm and fresh dishes inside of the Hot Counter from Royal Catering
The inside of the Hot Counter can be heated to a maximum temperature of 85° C using the quick and efficient 1.200 W heater element. By using the control dial you can smoothly set a temperature, which will then be held exactly by a precise thermostat. The built-in digital display will always show the current temperature.
The heating system is fitted with a water bowl, which can provide a mild moistening of your dishes via evaporation. This effect prevents a heat induced drying up of your culinary delights. Additionally, there is a removable drawer for catching food debris in the bottom of the case.
Cleaning the Hot Food Display is remarkably easy: thanks to its smooth glass and stainless steel, no special detergents are needed. The rack, shelves and drawer can be removed from the counter for cleaning.
Highlights
for presenting various dishes and keeping them warm
spacious with 3 shelves
precise thermostat up to 85 °C
fresh dishes because of mild moistening
easy to clean
Temperature range
0 - 85 °C
Case
Stainless steel and hardened glass
Shelf dimensions
58 x 30 x 3 cm
Clearance between shelves
11 cm
Dimensions (LxWxH)
71 x 38.5 x 52 cm
Shipping dimensions(LxWxH)
84 x 48 x 61 cm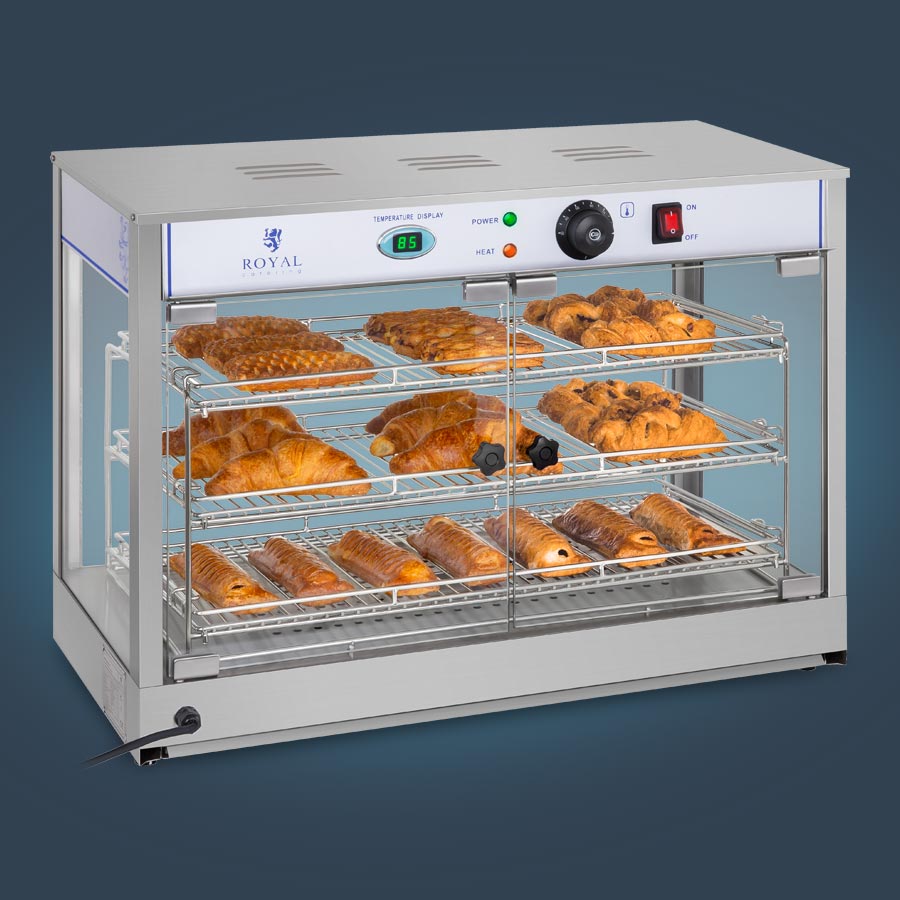 Thermostat maintains a temperature range of 30-85 °C
Large capacity is ideal for professional food service
Ideal for presenting doughnuts, pizzas and various hot desserts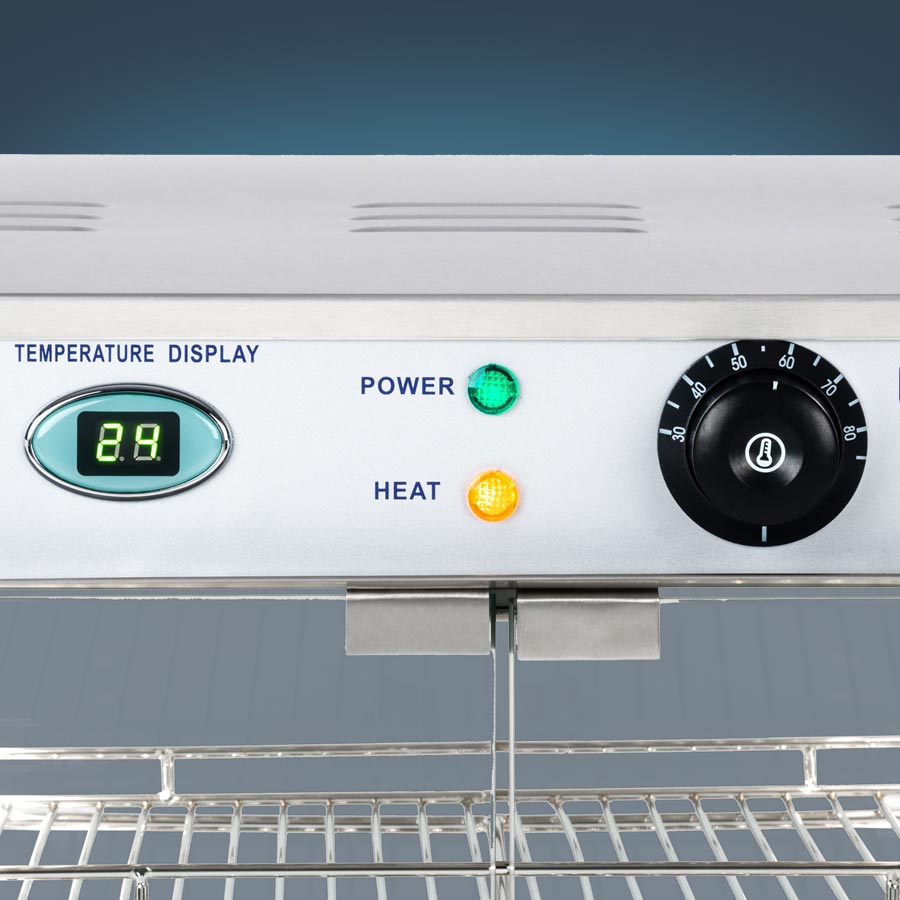 Intuitive control panel with digital display
3 shelves measuring 58 x 30 cm each provide plenty of space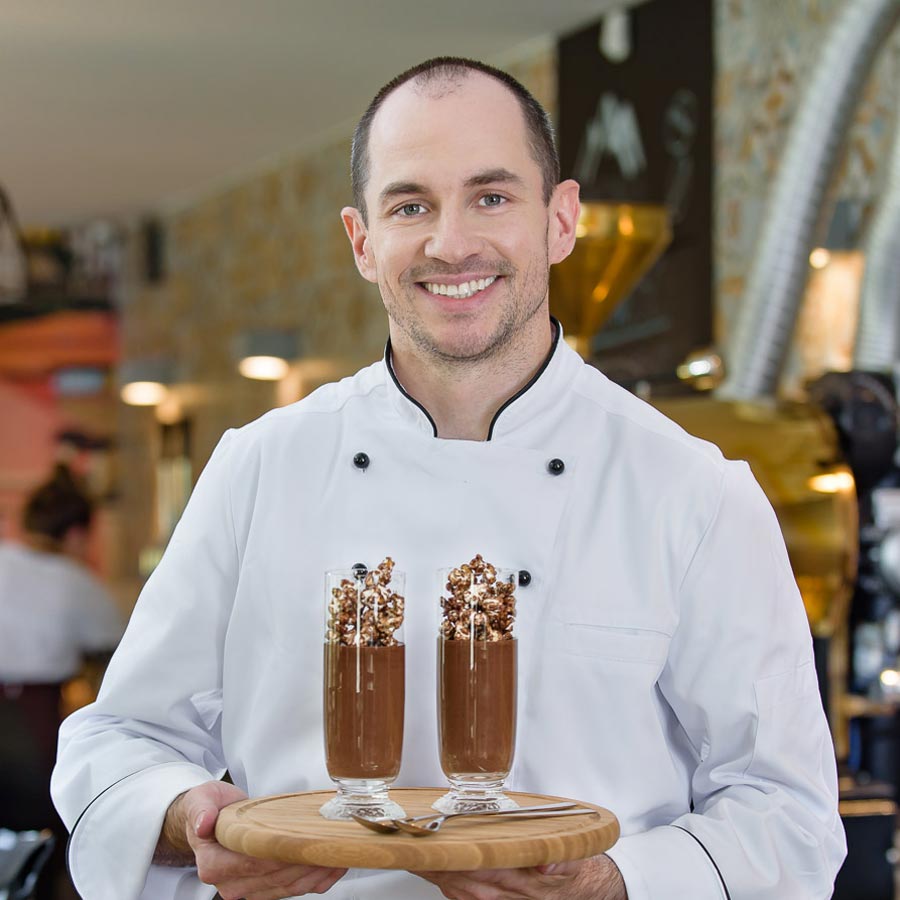 Tested by Artur Siwiec, head pastry chef of prestigious hotels and restaurants in Berlin and Warsaw. A professional with 20 years of career experience.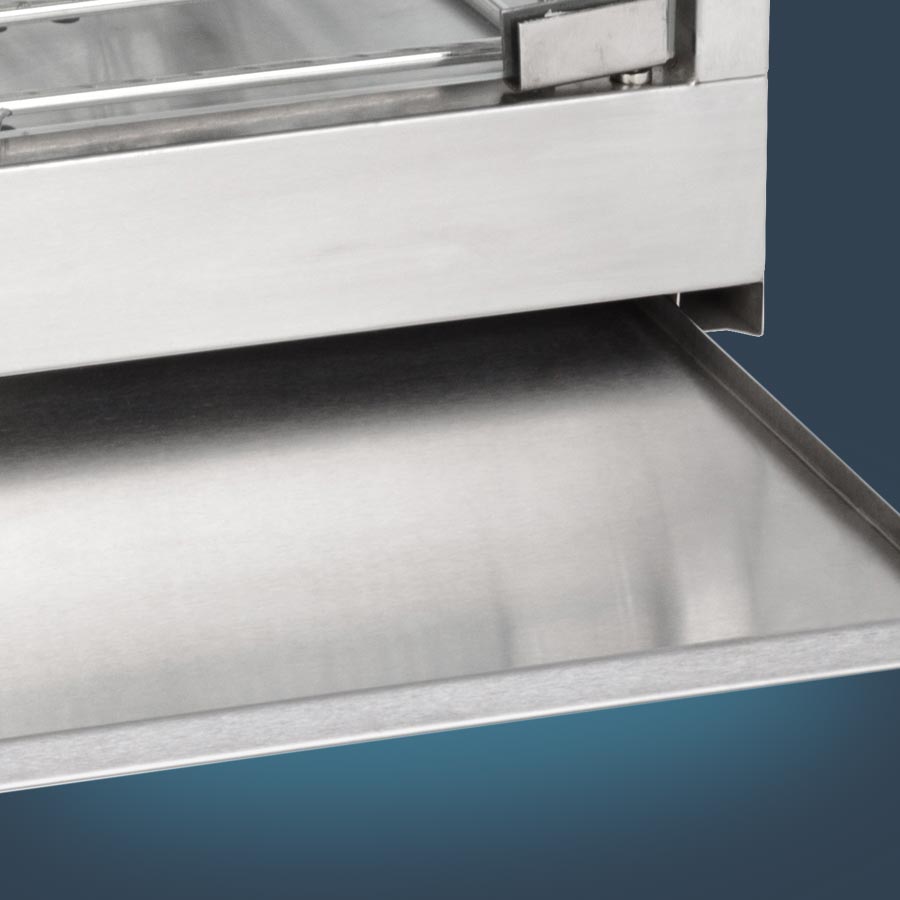 Optimum humidity thanks to water tray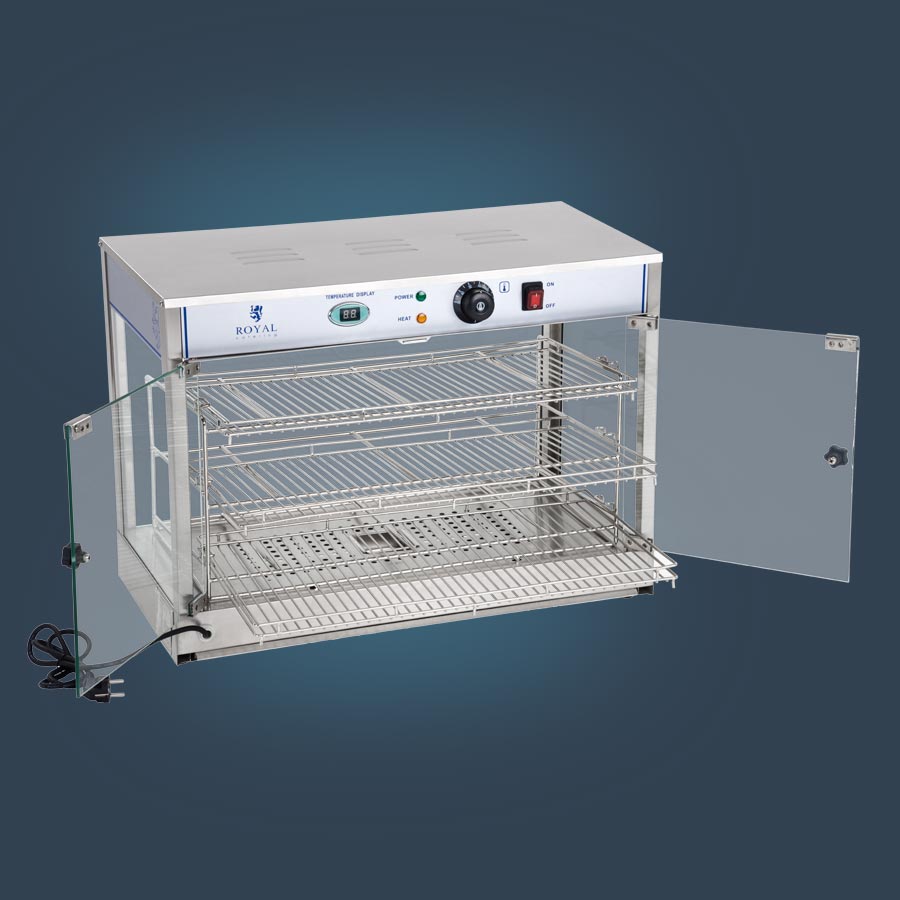 Swinging doors for easy service
Adjustable shelf heights
Non-slip feet stabilise the device
PRO TIP
It is best to use containers made of stainless steel or porcelain for presenting dishes.
You should refill the water container daily before use to ensure optimum humidity inside the oven.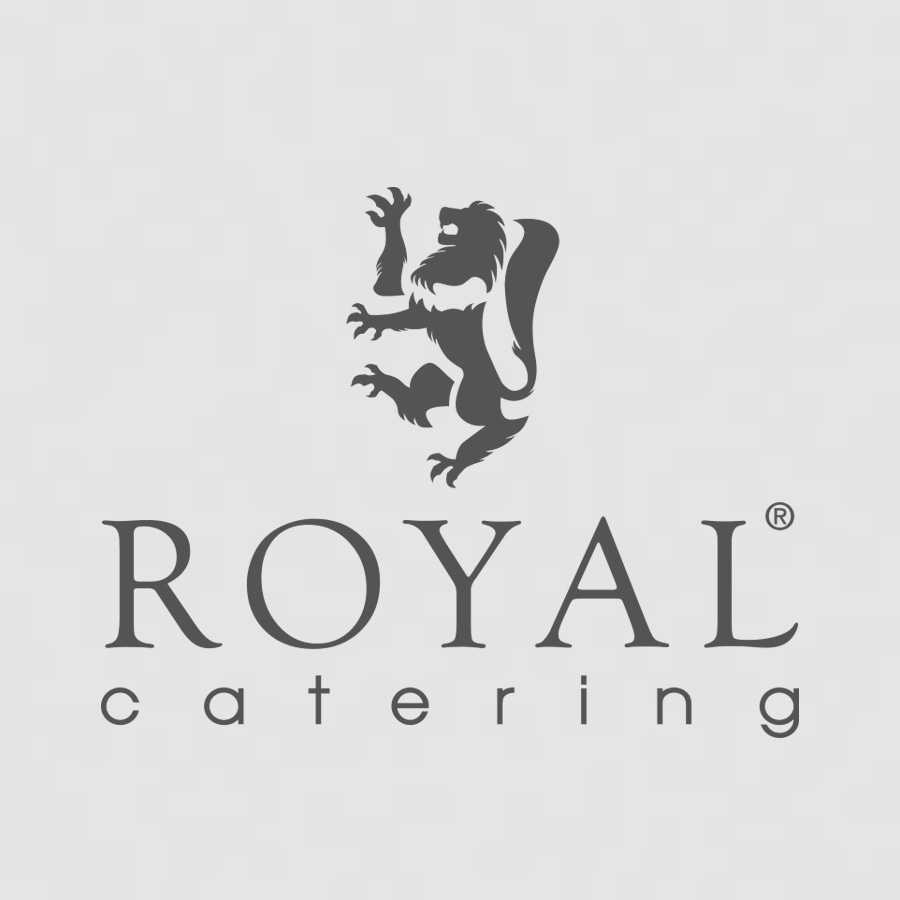 1,200 W output quickly heats interior
Made of food-safe, long-lasting stainless steel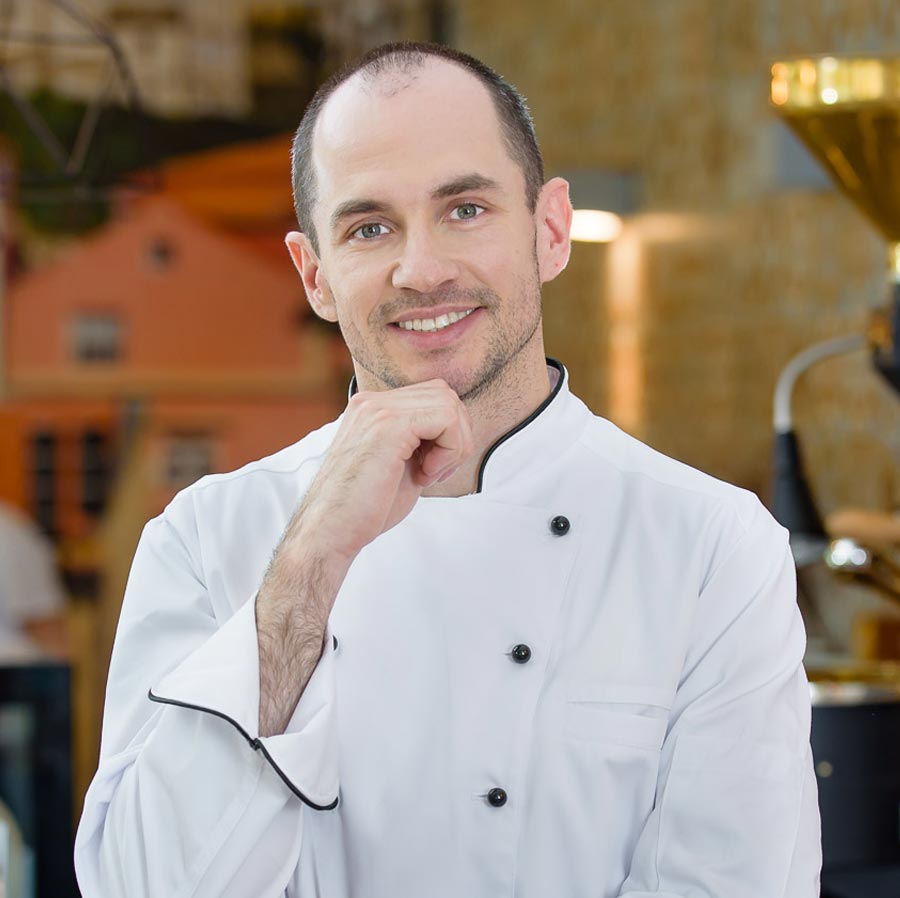 Hot Counter
1x rack for shelves
3x shelves
1x water bowl
1x Drawer for collecting food debris
★
★
★
★
★
Write the first review for this product
---
---
Evaluations will be activated after verification.