Immersion circulator - 1,100 w - 22 L
Manufacturer: Royal Catering | Item number: EX10010401 | Model: RCSV-02
perfectly suitable for gentle cooking vacuum-sealed food in restaurants, hotels, bistros and home
powerful, fast heating element with 1,100 Watts
high energy efficiency with maximum heating power
Integrated LED display
Temperature can be adjusted in 0.1 degree steps up to 0 - 90 ° C
Minute timer for up to 99 hours cooking time
Easy to clean stainless steel housing
5 - 22 litres capacity
Immersion circulator - 1,100 w - 22 L
No matter whether in the hotel industry, catering, or simply cooking at home: Vacuum-packed foodstuffs are gently and gently cooked with the Sous-Vide-Stick RCSV-02 from Royal Catering. After the airtight closure of the food for storage, they are ready and prepared for consumption at any moment with the help of a low temperature immersion circulator.
In the Sous-Vide process, meat, fish and vegetables are gently heated in a vacuum bag and with the aid of a low temperature cooker over a period of several hours, so that vitamins, vital substances and aromas are retained. The sous-vide immersion circulator stick is adjustable between 0-90 ° C with its efficient 1,100 W power in which the performance can maintained to 0.1 degree. The temperature control system ensures that the food to be cooked can be prepared evenly and without water loss.
This slow cooker is particularly suitable for commercial use in restaurants, bistros or hotel kitchens because of its large working capacity from 5 to 22 litres. This ensures that even larger quantities can be accurately prepared to the point. Thanks to the mounting placed on the backside, the garment can also be easily attached to many top styles. The timer, which can be set to the minute, can be set to up to 99 hours via the large LED display. If there is too little water in the pool during this time, the device will warn you with an acoustic signal.
The housing of the low-temperature Immersion circulator is made from easy-to-clean stainless steel. The rear handle is used not only as a holder, but also for transport. With its compact, elongated design, its practical size and low weight of only 2.2 kg, it is easy to transport and store.
Material
Stainless steel (housing)
Plastic (Mount)
Temperature range
0 - 90 ° C / adjustable in 0.1 degree steps
min. Working Capacity
5 L
Max. Working Capacity
22 L
Timer
0 - 99 hours / minute adjustable
Dimensions (LxWxH)
12.00 x 9.00 x 36.00 cm
Shipping dimensions (LxWxH)
20.00 x 14.00 x 41.00 cm
Download PDF
Sous-Vide-Stick RCSV-02
Power cable
User manual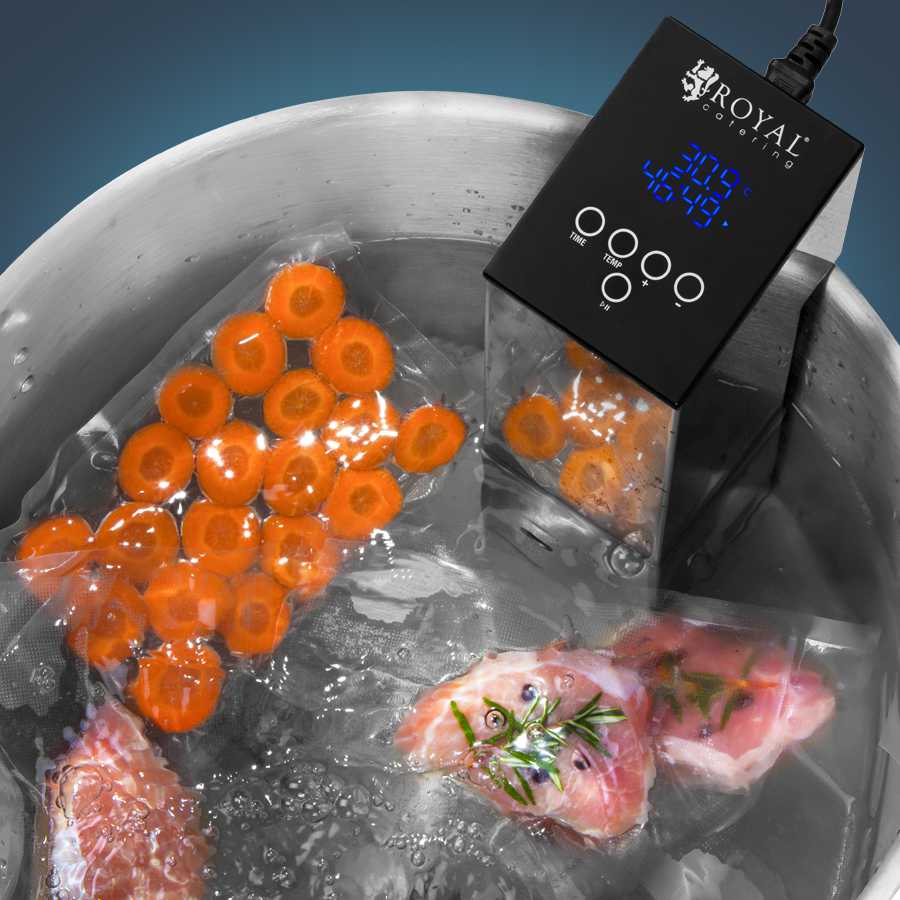 Suitable for pots and roasting pans with 5 - 22 L volume
1,100 W power quickly heats water in a range of 0 - 90 °C
Healthy preparation of vegetables, fish, meat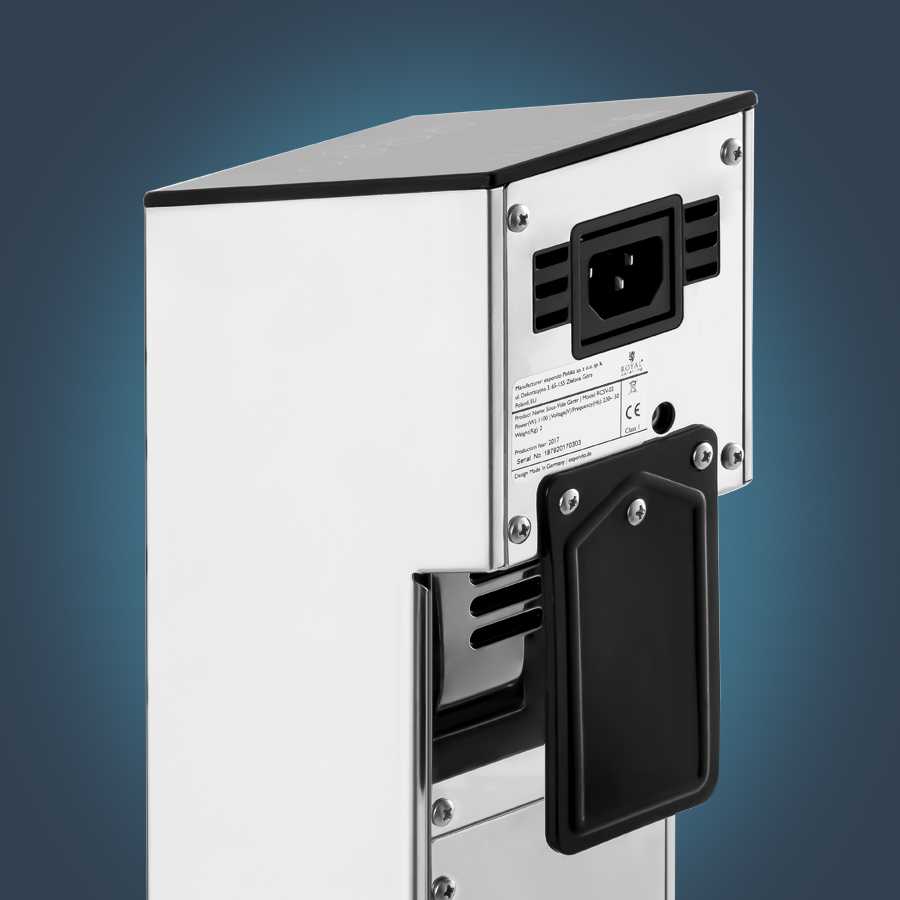 Heat-resistant carrying and hanging handle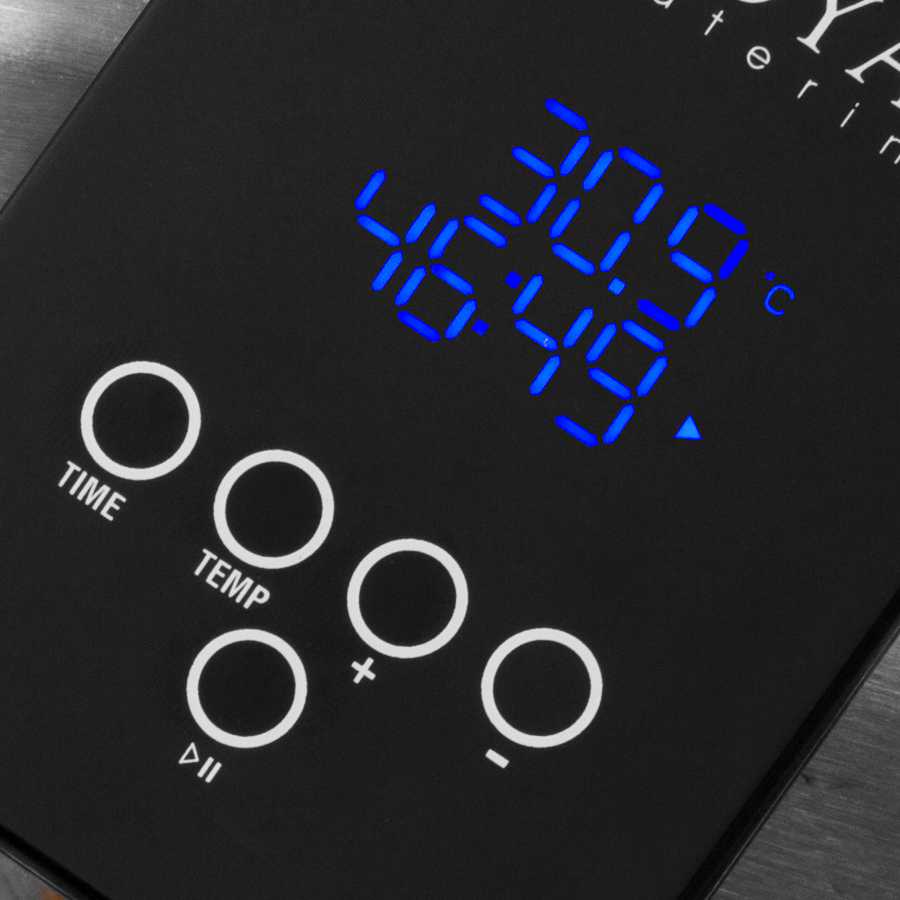 Easy-to-read control panel for easy operation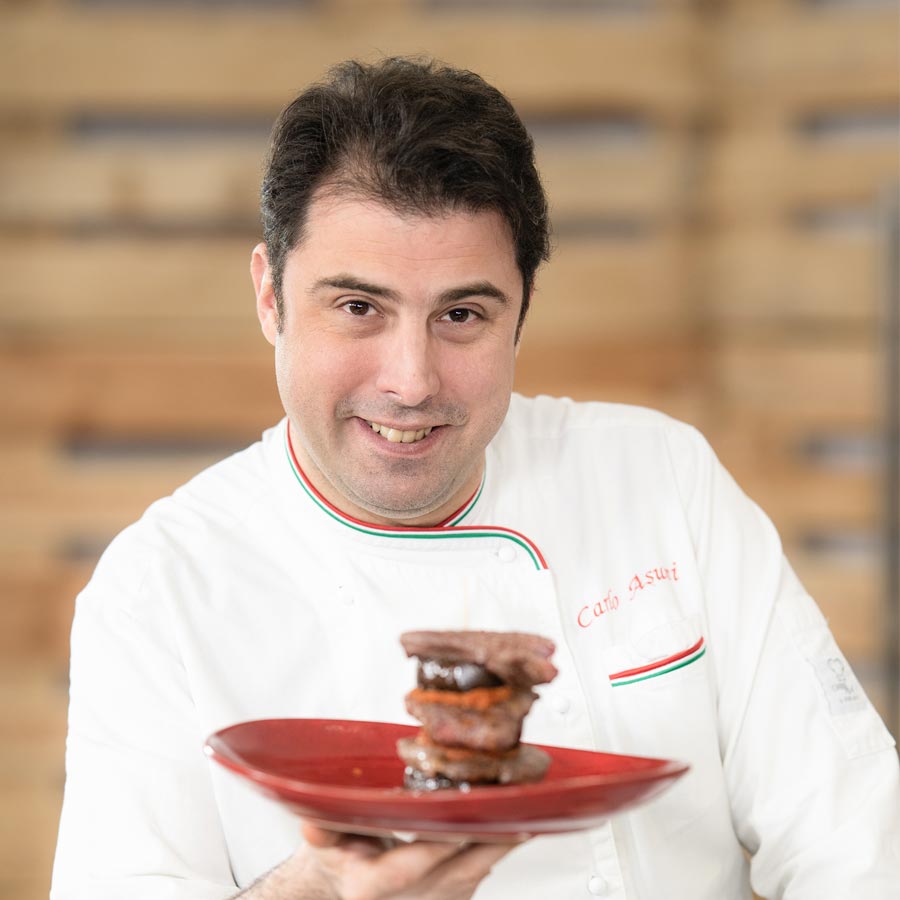 Tested by Michał Orłowski, head chef of prestigious restaurants in Sydney and Warsaw. An experienced and professional restaurateur, just like our customers.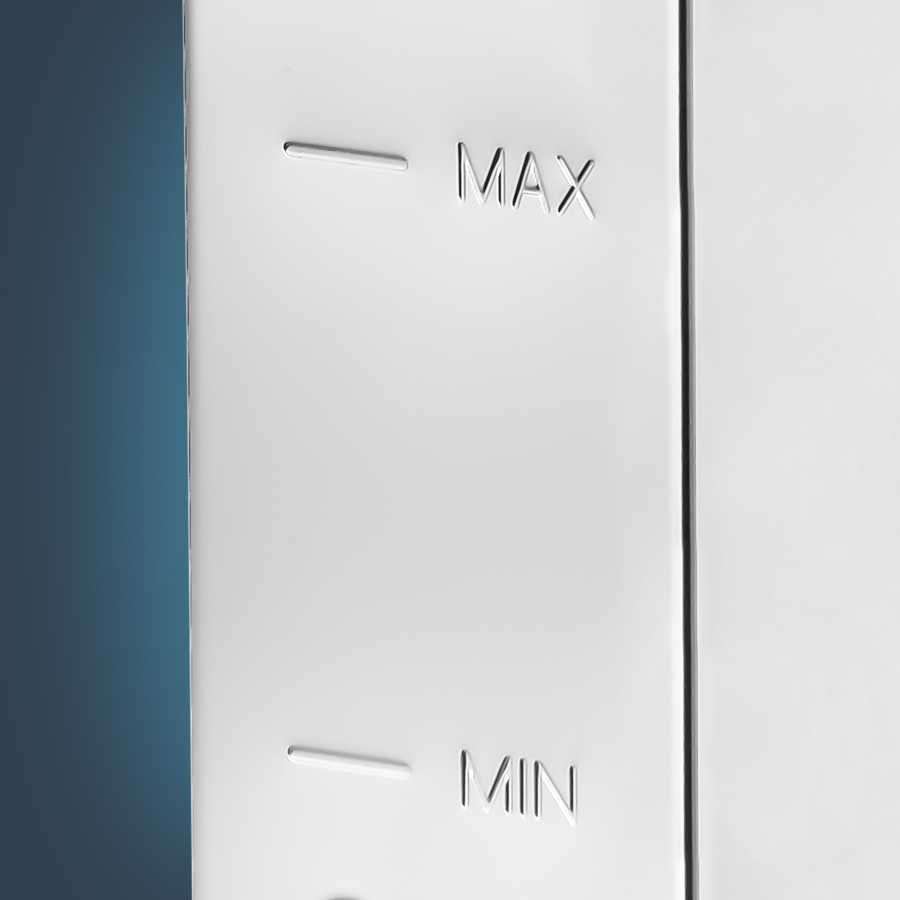 Practical filling level markings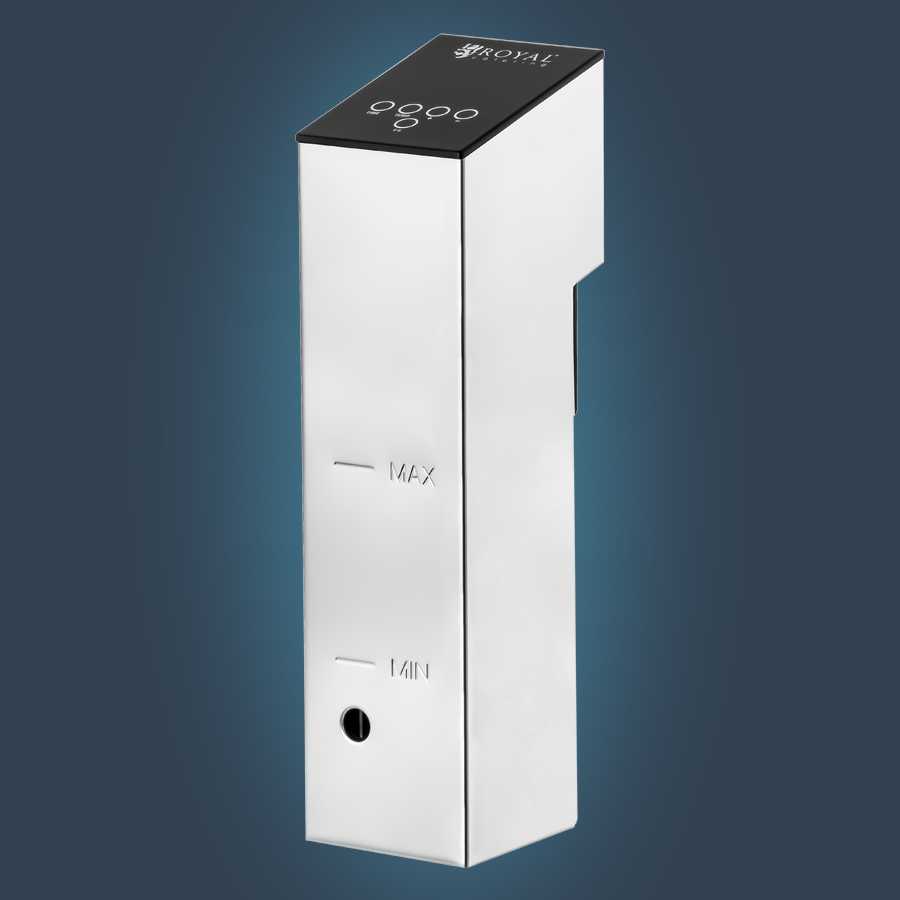 Simultaneously cook various products in vacuum-sealed bags
Audible alarm alerts you to low water level
Sous-vide process preserves vitamins and minerals
PRO TIP
To get the perfect degree of cooking, I cook steaks at 56 °C beforehand.
I cook foods at the lowest possible temperature. This prevents the structure from breaking down, improves the flavour of the food and preserves its nutrients.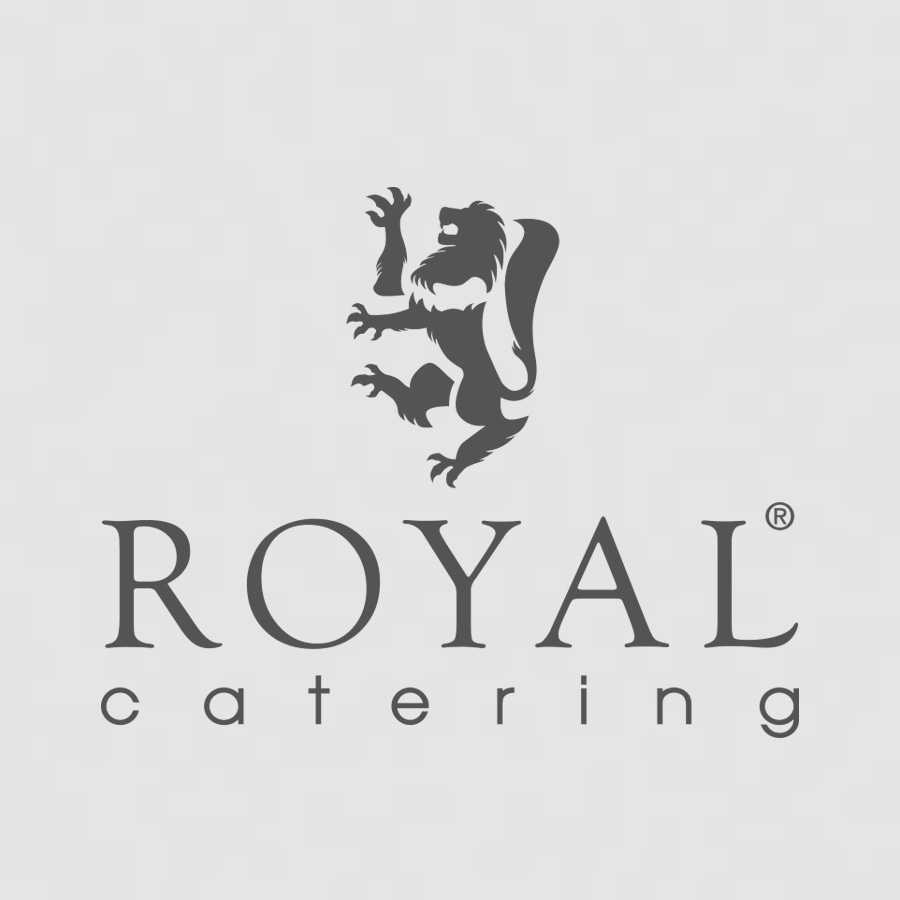 Timer for precise cooking times (0 - 99 hrs)
Stainless steel is long-lasting and food-safe
LED display gives you full control over the parameters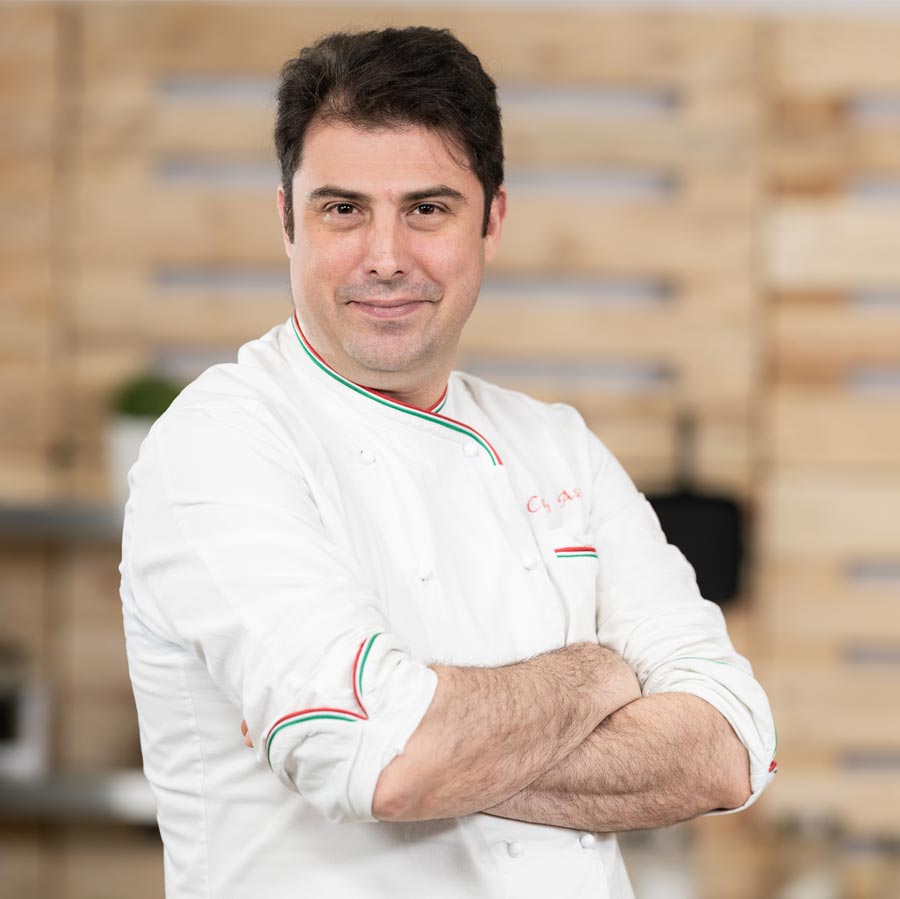 Review from Michal Expondo Expert (14 Aug 2019)
The basis of a modern kitchen
Today, sous vide technology is taking kitchens all over the world by storm. But how to fit yet another appliance fit into your already-cramped kitchen? Then I found this sous vide stick, which proved to be the ideal solution in my restaurant in Warsaw, where I only include SV dishes in my menu on a seasonal basis. SV helps to maintain standards and considerably speeds up the preparation of dishes. Making a steak perfect medium is no longer a great feat. A good, efficient device. The only thing I would change is the polished steel casing, because it tempts me to wipe it all the time so it always shines like a mirror. But that's just me being a perfectionist.
Head chef of prestigious restaurants in Sydney and Warsaw. An experienced and professional restaurateur
Why is cooking with the sous-vide method better for the food?
The sous-vide cooking method is a particularly gentle one, as the ingredients are carefully prepared for longer periods of time at lower temperatures. Consequently, the food does not boil. Additionally, the food is sealed in vacuum bags, thus ensuring that the ingredients will not come in direct contact with the water. This way, they remain fresh and maintain all of their nutrients and vitamins.
Does the sous-vide cooker turn itself off after the timer has expired?
Yes, the sous-vide cooker automatically turns itself off after the timer ends. In case there is too little water in the device during the cooking process, there will be an acoustic signal.
★
★
★
★
★
Write the first review for this product
---
---
Leave a review (5 stars is highest, 1 is lowest)
★
★
★
★
★
Click on the link sent to your e-mail address and confirm your opinion! It will be published after verification.
Still not sure?
Our experts are ready to help!
Mon - Fri 09:00am - 04:00pm
This product
Power 1,100W

Temperature range 0 - 90°C

Timer function 0 -99 hours

Integrated LED display

5 - 22 L working volume
This product is currently not available.
Immersion circulator - 1,100 w - 22 L
This product is currently not available.
Power 1,100W

Temperature range 0 - 90°C

Timer function 0 -99 hours

Integrated LED display

5 - 22 L working volume
Power: 800 W

Temperature range: 0 - 90 ° C

Timer function: 0 -99 hours

Integrated LED display

Max. 8 L volume
Ready to ship today, Delivery time appr. 6-10 working days
Sous Vide Cooker RCSV-01 - 800 Watts
Ready to ship today, Delivery time appr. 6-10 working days
Power: 800 W

Temperature range: 0 - 90 ° C

Timer function: 0 -99 hours

Integrated LED display

Max. 8 L volume