Popcorn machine - 120 s duty cycle - Red roof
Item number: EX10011137 / Model: RCPS-14
Popcorn machine - 120 s duty cycle - Red roof
Item number:

EX10011137

Model:

RCPS-14

In the product range since:

2018
Ready to ship today, Delivery time appr. 4-6 workdays**
Your benefits at a glance
Order recommended accessories
Popcorn machine - 120 s duty cycle - Red roof
The popcorn machine RCPS-14 from Royal Catering is designed especially for professional catering needs and is an absolute eye-catcher. It impresses not only with its upbeat design, but also with its heated and illuminated chamber, stirring system and automatic thermostat. Benefit from the popcorn machine RCPS-14 and treat yourself to an exceptional popcorn experience - whether at the cinema, at fairs or festivals!
Delicious popcorn guaranteed - with the popcorn machine from Royal Catering!
The popcorn machine is powered by 1,495 watts and quickly reaches its operating temperature due to its high performance and automatic thermostat. One duty cycle for preparing a serving of 150 g in only 120 seconds. The efficient maximum temperature of 250° also does its part. You can serve your customers quickly and prepare up to 5 kg in just one hour. Whether you're making white popcorn, yellow popcorn or any other variety of popcorn -- this popcorn machine makes anything possible.
The machine is equipped with three toggle switches above the doors. You can turn on the light and the heating element in the floor of the chamber with the POWER & LIGHT switch, optimally displaying the popcorn for your customers while keeping it warm and fresh. The HEAT switch activates the popcorn kettle and begins the heating process. The TURN switch starts the kettle's stirring system to prevent the popcorn from burning on the bottom of the kettle.
The removable pot's Teflon coating also keeps the popcorn from baking onto the kettle and burning. The pot heats up more quickly due to the coating, and it is more durable and low-maintenance. The kettle has a thin, lightweight lid which maintains a stable interior temperature, and is still light enough to allow the popped kernels to easily fall into the popcorn chamber. The kettle can also be emptied manually with the plastic-coated handle.
The popcorn machine is mainly made of high-quality stainless steel and can therefore be easily cleaned and is effectively protected against corrosion. Stainless steel has excellent impact resistance and is harmless to people's health. The side struts of the casing are made of aluminium.
The glass plates are made of tempered glass. In the event of an accident, it will crumble into small pieces instead of splintering into shards, thereby preventing serious injury. The glass panes and the illuminated interior allow you to keep an eye on popcorn production at any time while also making the machine a real eye-catcher for hungry customers.
As a special highlight, when you buy this device you will receive the basic equipment for free. The practical scoop is ideal for serving. The measuring cup has a capacity of 0.5 litres and can be used for the exact measurement of oil, sugar or corn kernels. The accessories are made of sturdy plastic and can be cleaned quickly and easily.
The front doors are easy to open and close thanks to their magnetic catches. The serving flap attached to the doors ensures that the popcorn can be easily scooped and served without opening the doors. The perforations in the bottom plate ensure that unpopped corn kernels, crumbs and excess oil fall into the collecting drawer underneath. The drawer is removable, which makes it easy to clean.
The unique and iconic retro design turns this machine into a glittering eye-catcher. The popcorn machine has many desirable features: overheat protection, which shuts off the machine if the temperature gets too high, as well as four non-slip rubber feet, which ensure stability and protect the work surface from scratches.
Highlights
Non-stick Teflon-coated kettle - durable, quick to heat and low maintenance
Very fast - Duty cycle of 120 s for quick customer service
150 g corn per cycle, up to 5 kg / h in total
Perfectly-prepared popcorn
Tempered glass - Physically and thermally more stable than normal glass
Easy to use
Voltage / Frequency
230 V / 50 Hz
Material, casing
Stainless steel, galvanised aluminium, tempered glass
Material, kettle
Teflon-coated aluminium
Material, accessories
Plastic
Duty cycle per serving (150 g)
120 s
Temperature range
220 - 250 °C
Funktionen
POWER & LIGHT
HEAT
TURN
Amount per serving
Corn: 150 g
Sugar: 50 g
Oil: 50 ml (Coconut oil recommended)
Kettle diameter
Top: 18.5 cm Bottom: 16 cm
Length, power cable
1.7 m
Dimensions (LxWxH)
56 x 42 x 75 cm
Shipping dimensions (LxWxH)
61 x 48 x 82 cm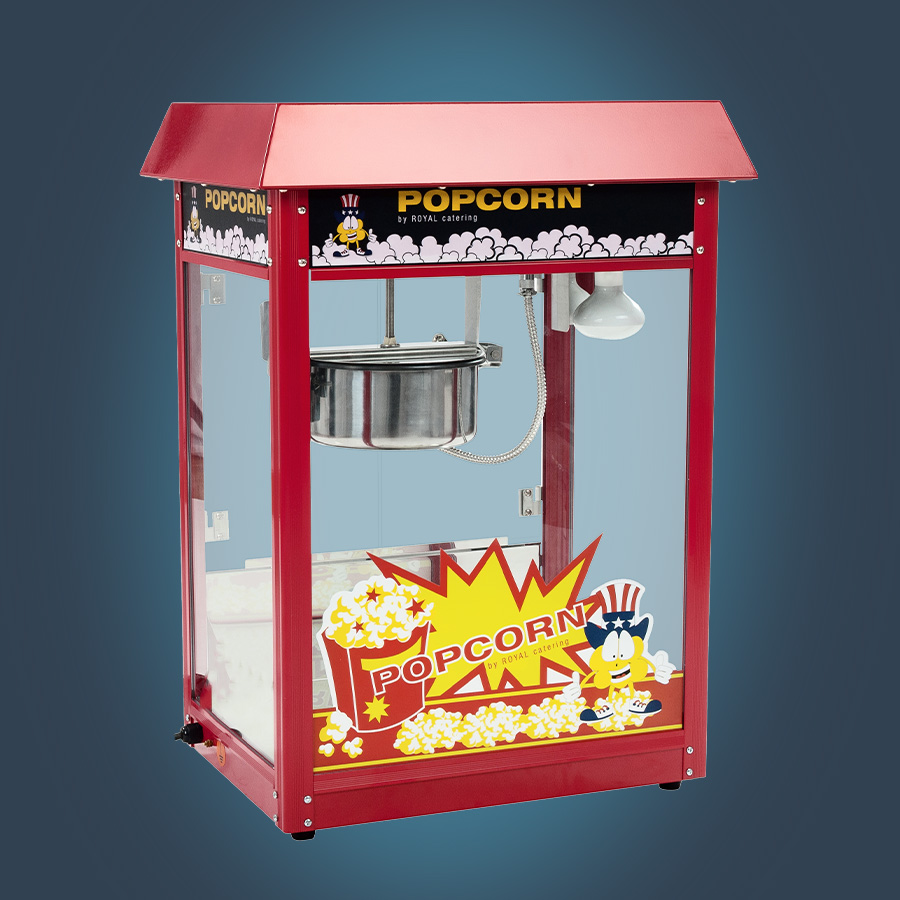 Highly effective thanks to high output of 1,495 W
Up to 4-5 kg of popcorn in just one hour
Ideal design for festivals, cinemas or amusement parks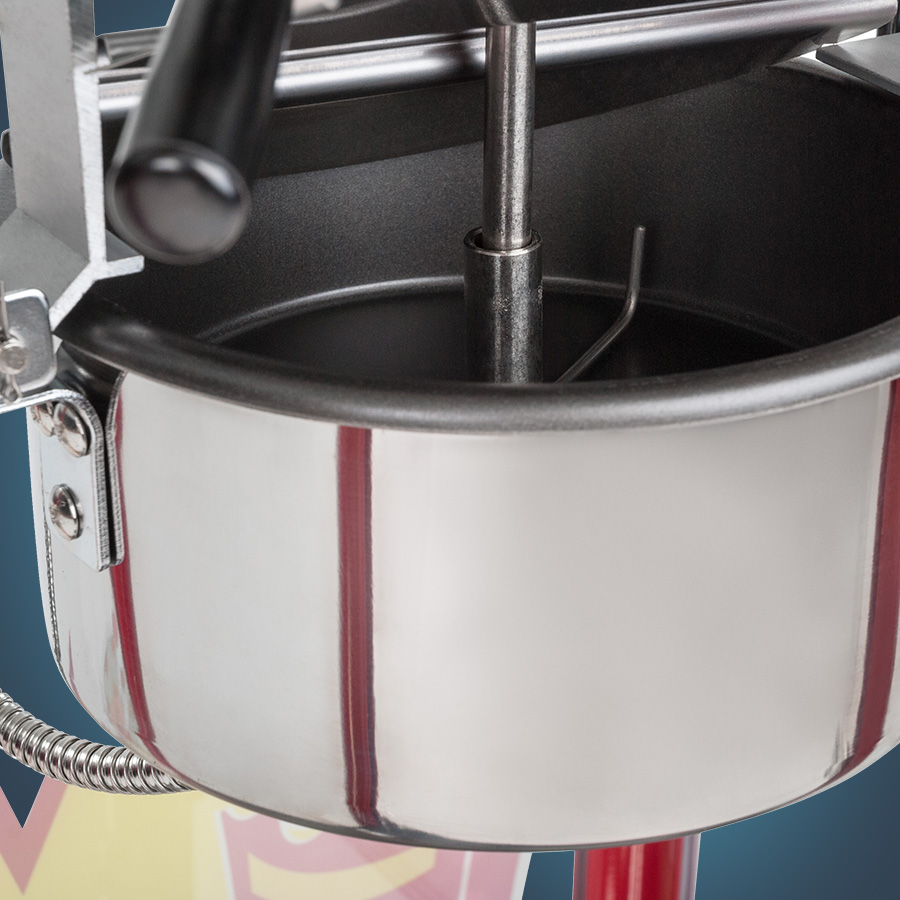 Large kettle with non-stick Teflon coating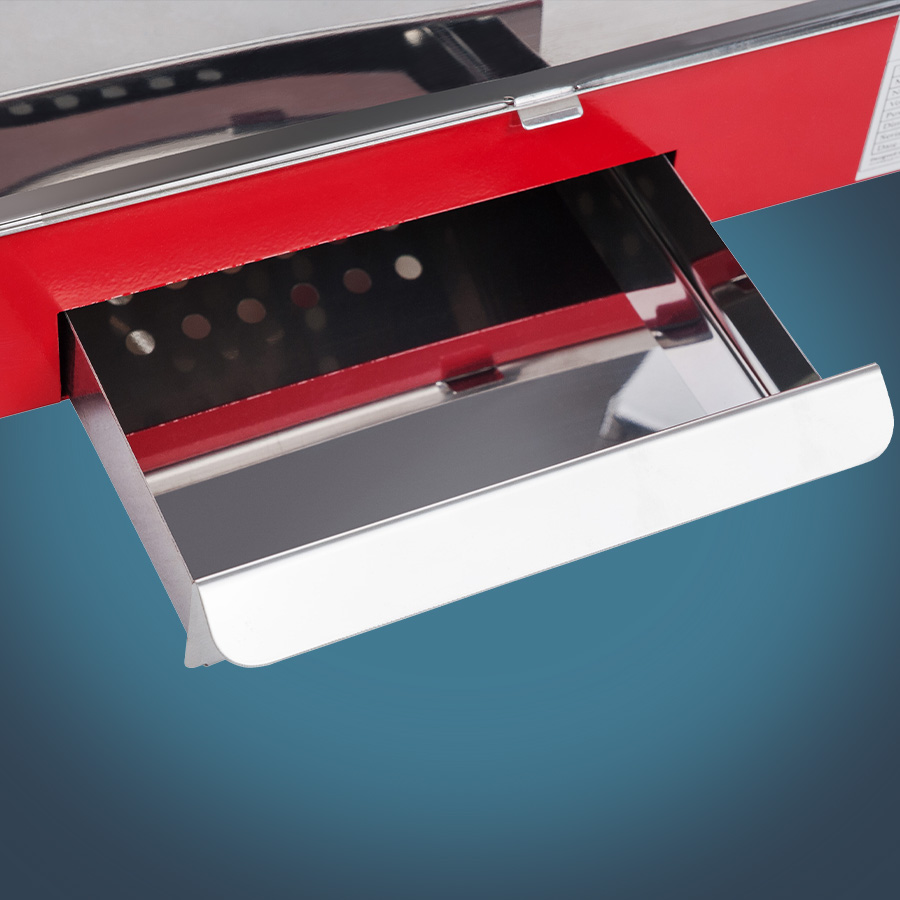 Crumb drawer makes cleaning easy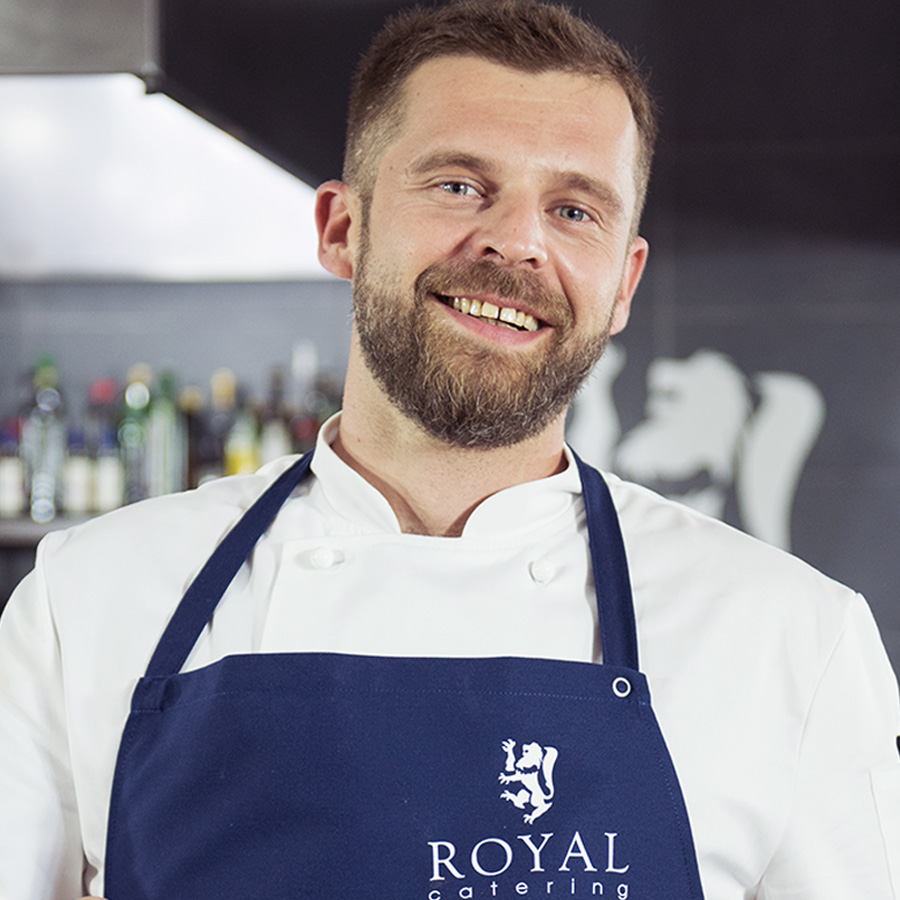 Tested by Michał Orłowski, head chef of prestigious restaurants in Sydney and Warsaw. An experienced and professional restaurateur, just like our customers.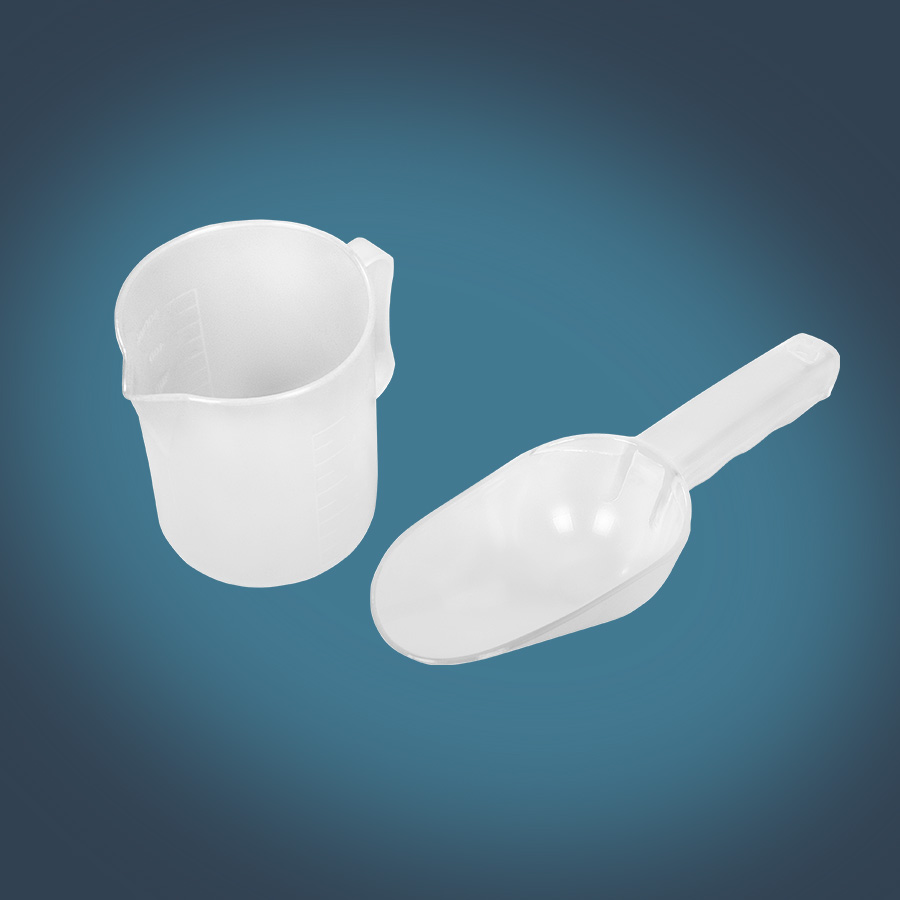 Incl. measuring cup for corn and popcorn scoop
Continually hot popcorn thanks to automatic heating
Interior lighting delights after dark
Durable and low-maintenance stainless steel
PRO TIP
Use coconut oil with one tablespoon of salt per 50 ml to get crispy, delicious popcorn.
To improve the flavour, I recommend experimenting with a few spice mixes of your own. This will make your popcorn taste unique.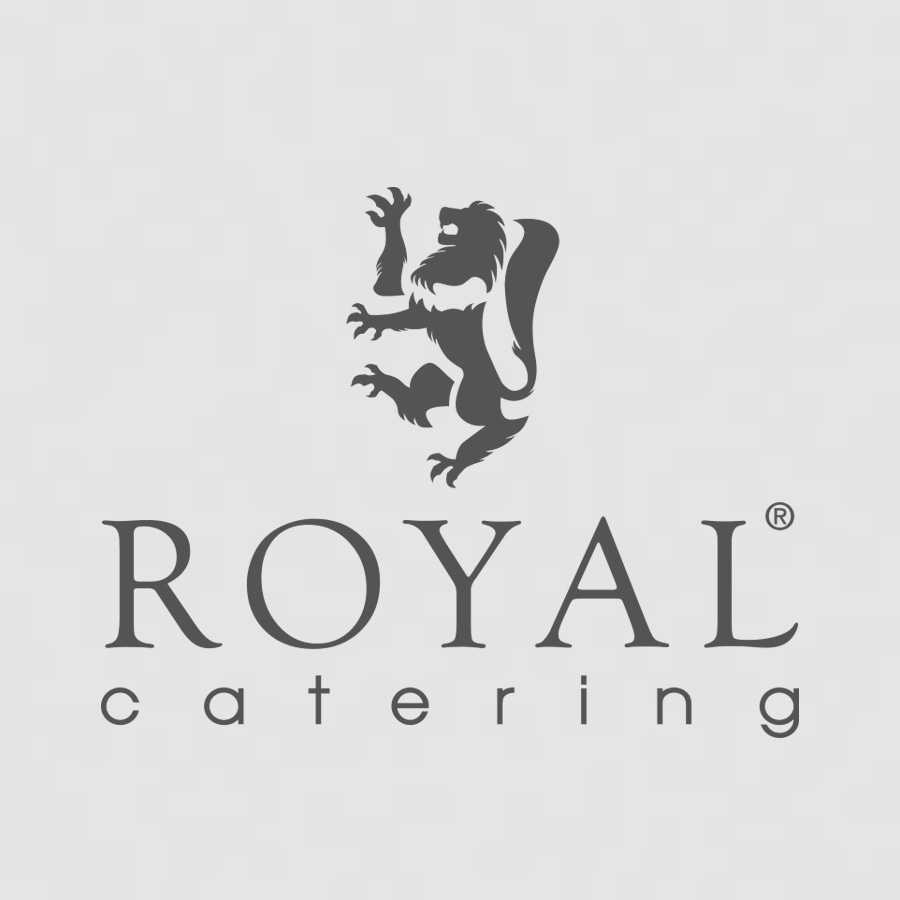 American-style design draws customers' attention
Unbreakable tempered glass
4 non-slip feet stabilise the device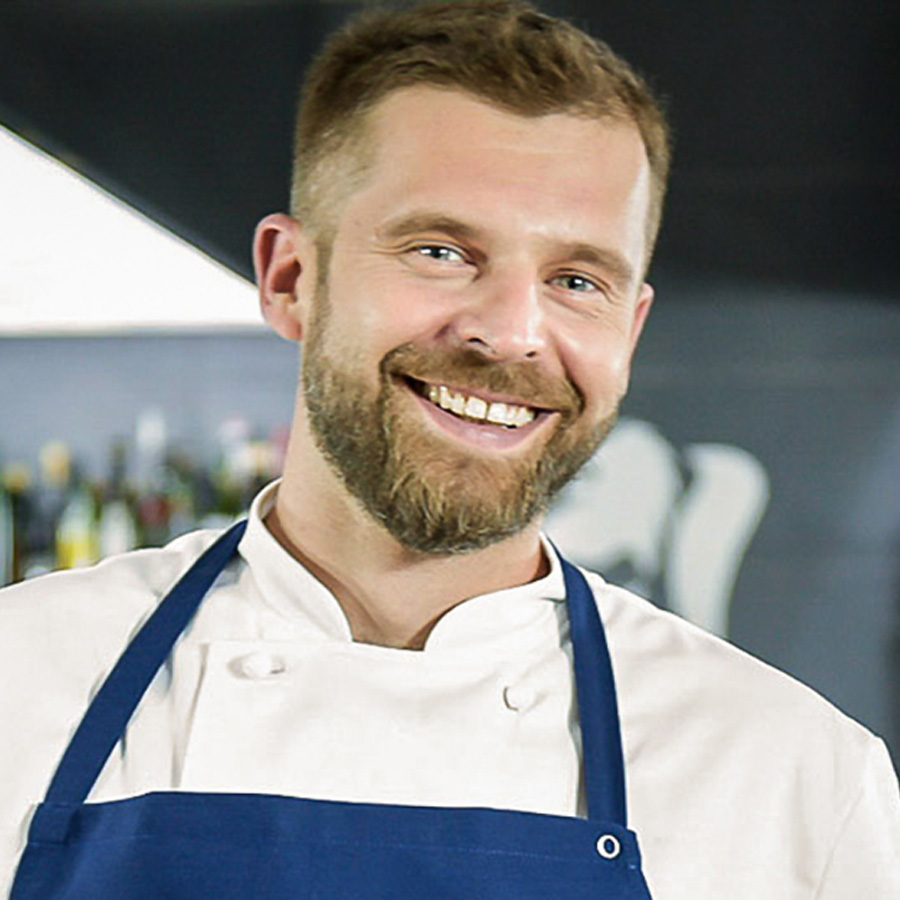 Do you recommend a specific oil to use with the popcorn machine?
It is best if the oil can be heated up to the maximum working temperature of the machine. The device heats up to 250 °C, so the best oil to use with this popcorn machine is an oil with a high smoke point - for example, coconut oil or palm oil with a smoke temperature of about 240 °C.
What if the machine breaks down?
We offer our customers 3-year warranty and authorised EU-wide service. Just contact us!
Does the kettle have overheat protection?
Yes, the popcorn machine has a thermostat that switches off the kettle heat when the maximum temperature of 250°C is reached.
Popcorn machine RCPS-14
Popcorn scoop
Measuring cup
Instruction manual
★
★
★
★
★
Write the first review for this product
---
---
Evaluations will be activated after verification.
Output: 1 portion / 60 s

Power: 1,200 watts

Pot, diameter: 52 cm

Sep. control thermostat and rotation

Dishwasher-safe
Ready to ship today, Delivery time appr. 4-6 workdays**
Commercial Candy Floss Machine - 52 cm - 1200 W - Spit Protection
Power: 1,600 watts

Output: 5 kg/h, 16 L/h

Pot, diameter: Top: 18.5 cm

Coating, pot: Teflon

Red roof
Ready to ship today, Delivery time appr. 4-6 workdays**
Popcorn machine - Red Roof