Drinks Fountain 2 x 7 Litres
Manufacturer: Royal Catering | Item number: EX10010334 | Model: RCSD-2
Product highlights
2 x 7 litre capacity
Including drip tray
Stainless steel pipe can be filled with ice cubes for cooling
4 anti-slip rubber feet
For glasses with a max height of 14.5 cm
Drinks fountain for hotels, restaurants and other such public facilities or events
Suitable for buffets, garden parties and other events
2 juice containers, each with 7 litres capacity
Including drip tray
Stainless steel pipe can be filled with ice cubes for cooling
4 anti-slip rubber feet
Drinks Fountain 2 x 7 Litres
The RCSD-2 drinks fountain from Royal Catering is a highlight of each and every breakfast buffet, whether it within hotels, hostels or restaurants. Refreshing cold beverages such as juices, iced tea or soft drinks are provided to your guests in the appealing form of a drinks fountain.  An integrated drip tray keeps the direct environment of the drinks fountain clean and tidy. This also facilitates for quick and easy cleaning as the tray can be easily removed and emptied.  The two large containers of the drinks fountain provides a capacity of 7 litres each; therefore you are able to provide your guests with approximately 70 filled glasses of refreshing juice.  Glasses of a max height of 14.5cm can be filled directly and easily at the practical tap.
To ensure a refreshing temperature of the beverages, the RCSD-2 is equipped with a special stainless steel tube which can be attached or removed at will. This tube can hold up to 1 litre and can be, for example can be filled with ice cubes, therefore facilitates in keeping the drinks temperature optimally controlled. An addition accessory of the drinks fountain is the removable lids.
Except for the lever of the taps and the transparent wall of the drinks fountain, the RCSD-2 is made entirely of corrosion resistant stainless steel- This material guarantees for a robust and easy to clean device. And thanks to the anti-slip rubber feet, the drinks fountain can also stand safely upon most work surfaces.  The drinks fountain from Royal Catering is a valuable enrichment to any gastronomy operation.
Model
RCSD-2 Drinks Fountain
Material
Stainless steel, plastic
Diameter of the container
21 cm
Height of the container
26 cm
Capacity of the container (tube inserted)
7 Litre
Capacity of the pipe
1 Litre
Maximum possible height of glasses used
14,5 cm
Dimensions (LxWxH)
35.00 x 56.00 x 57.00 cm
Shipping dimensions (LxWxH)
58.00 x 39.00 x 55.00 cm
Download PDF
Download PDF
2 container
2 cooling pipes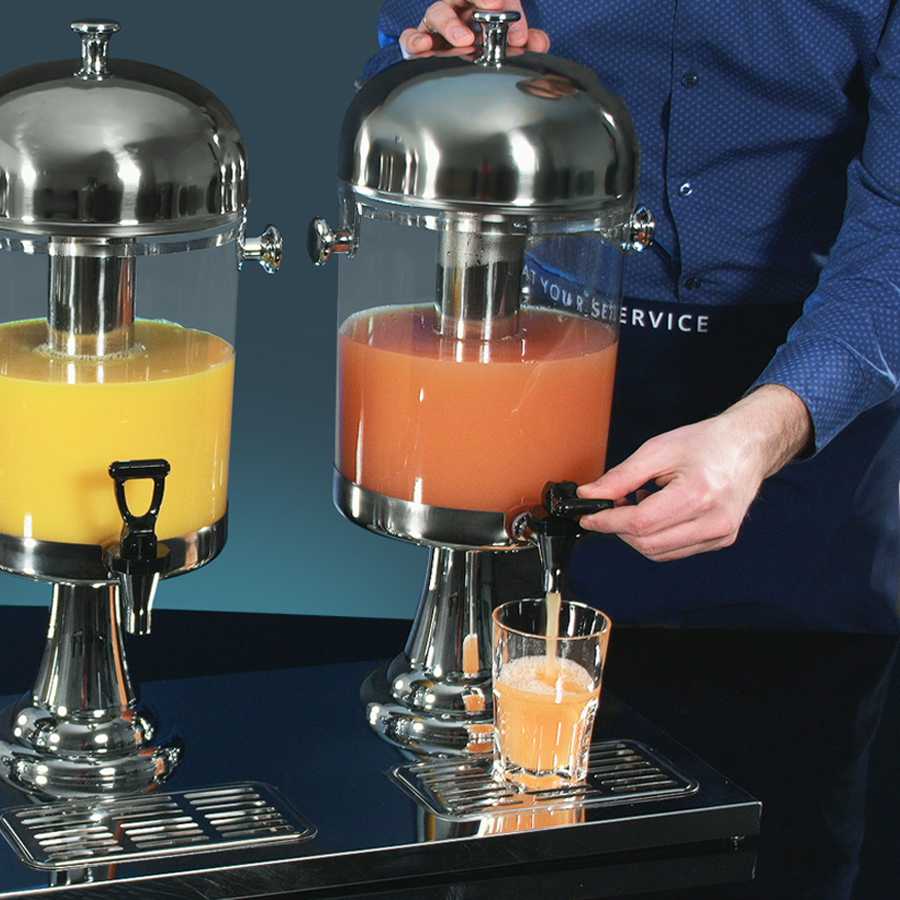 Up to 70 glasses thanks to 14 L capacity
Serve two types of drinks at the same time
Perfectly Ideal for juices, iced tea, punch, milk, etc.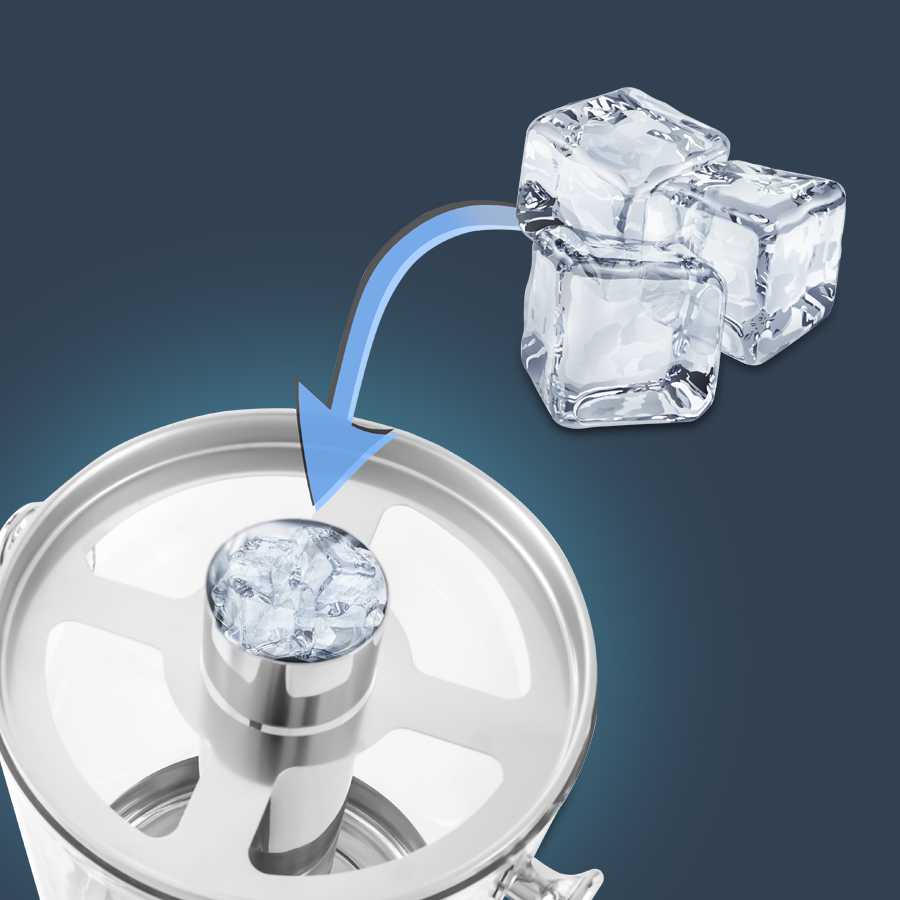 Ice can be added to the tube for cooling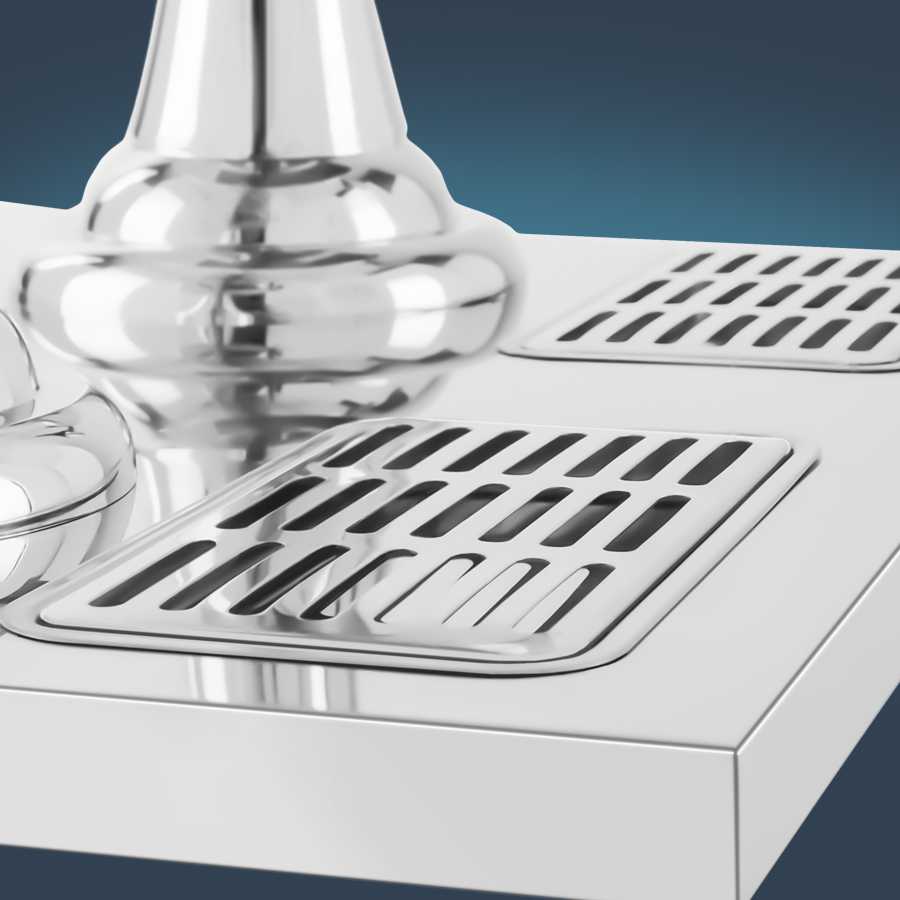 Removable drip tray for easy cleaning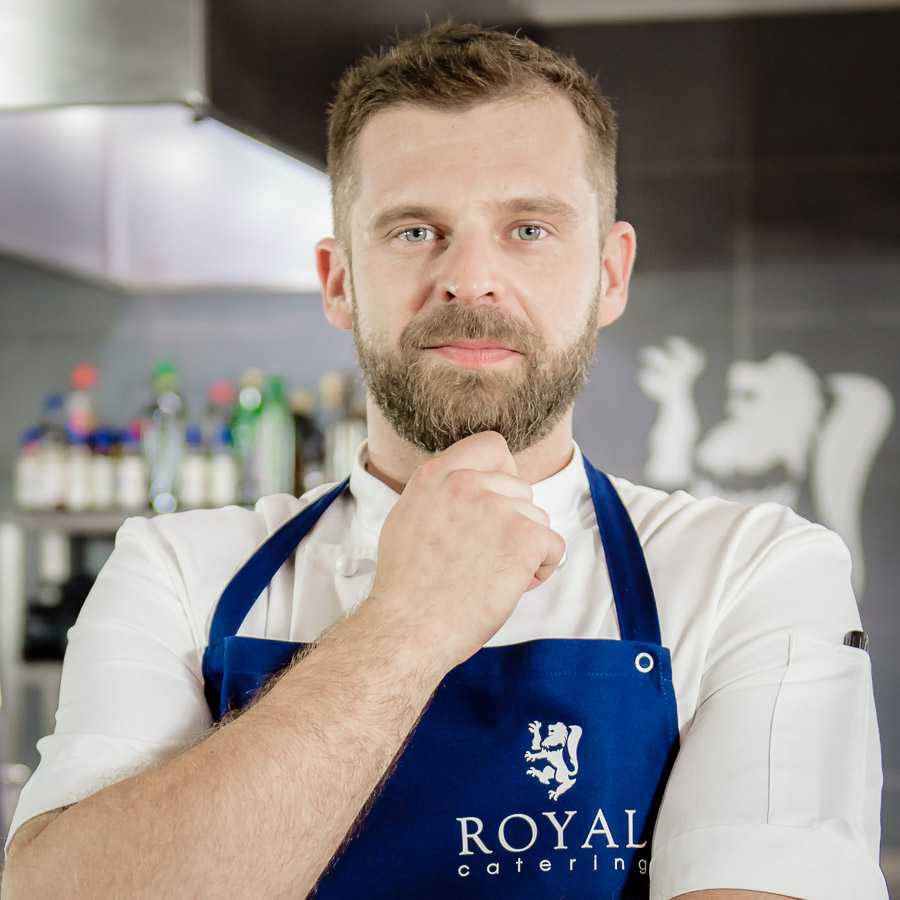 Tested by Michał Orłowski, head chef of prestigious restaurants in Sydney and Warsaw. An experienced and professional restaurateur, just like our customers.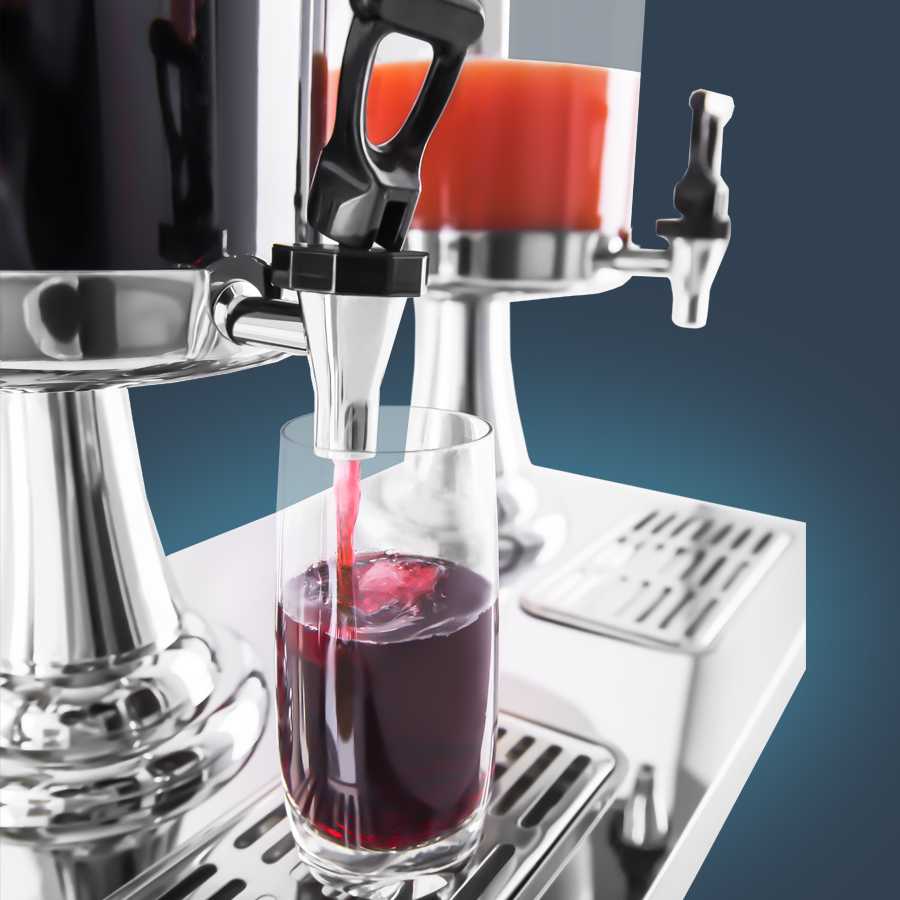 Convenient pouring thanks to practical tap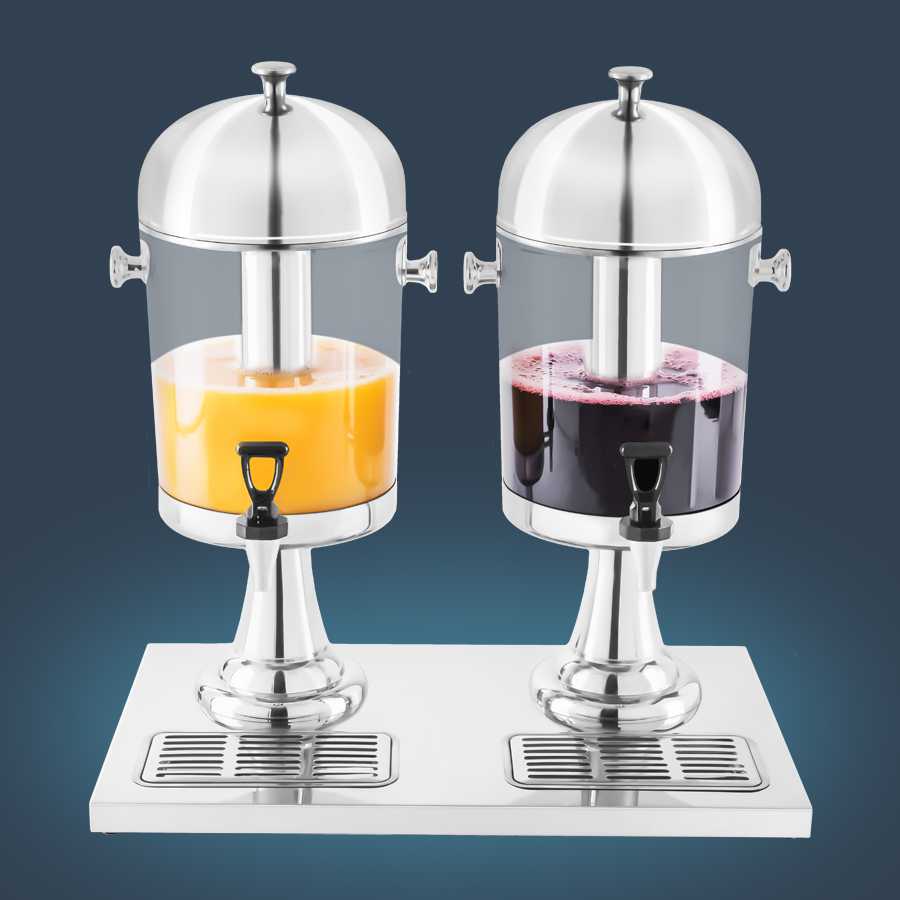 Elegant design for restaurants and events
Universal: For all types of cold drinks
Removable lid for quick filling
PRO TIP
I recommend using a solution of water and vinegar to polish the lid and body.
The container should be boiled regularly to remove traces of juice and keep the dispenser looking flawless.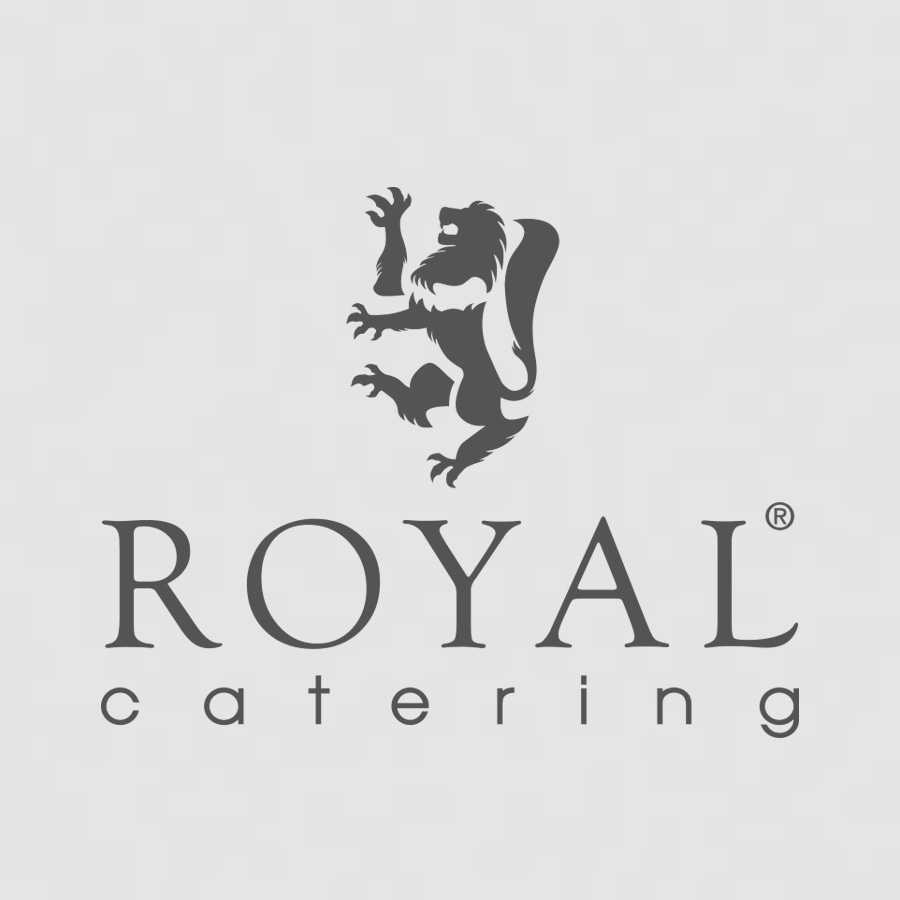 Attractive beverage presentation
For cups and glasses up to 14.5 cm tall
Non-slip feet stabilise the equipment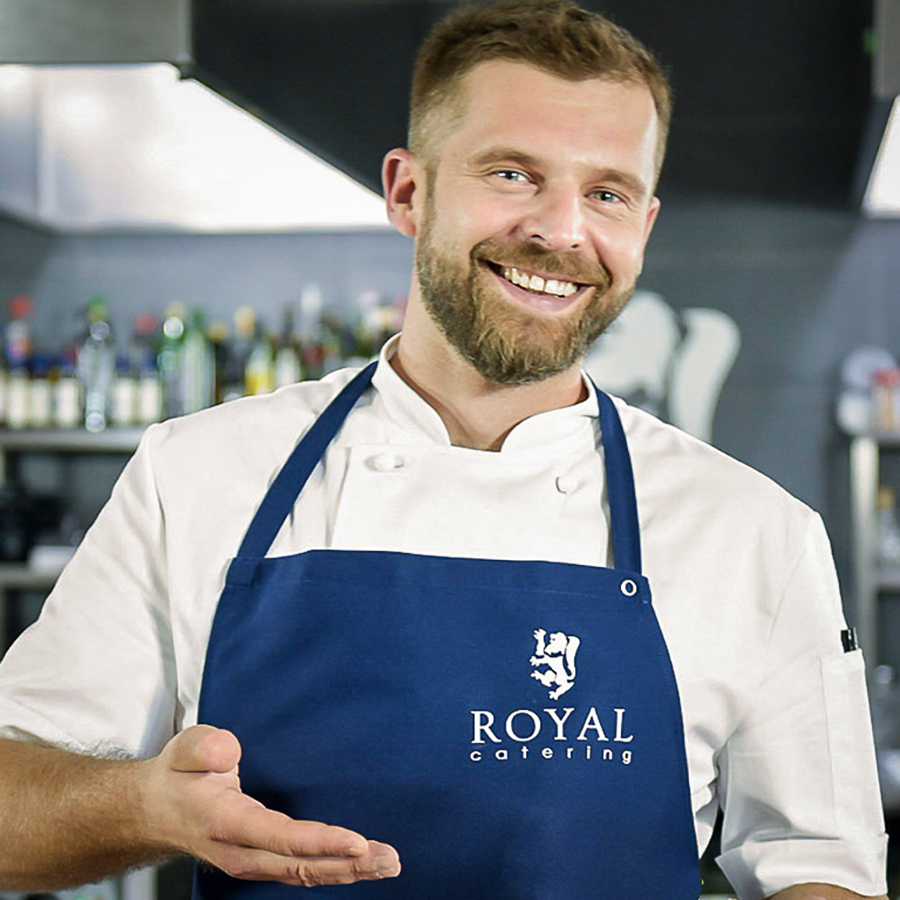 I work with professional products every day. For this video, I made sure to test the device thoroughly. You can take a close look at how this product works and then decide which model is best for your business. I hope my video and tips will help to make your business even more successful.
Head chef of prestigious restaurants in Sydney and Warsaw. An experienced and professional restaurateur
---
Sort by...
---
Leave a review (5 stars is highest, 1 is lowest)
★
★
★
★
★
Click on the link sent to your e-mail address and confirm your opinion! It will be published after verification.
Reviews from molders (12 Jul 2020)
Reviews from molders (12 Jul 2020)
fontaine
4/5
Still not sure?
Our experts are ready to help!
Mon - Fri 09:30am - 04:30pm
This product
2 x 7 litre capacity

Including drip tray

Stainless steel pipe can be filled with ice cubes for cooling

4 anti-slip rubber feet

For glasses with a max height of 14.5 cm
Ready to ship today, Delivery time appr. 6-10 working days
Drinks Fountain 2 x 7 Litres
Ready to ship today, Delivery time appr. 6-10 working days
2 x 7 litre capacity

Including drip tray

Stainless steel pipe can be filled with ice cubes for cooling

4 anti-slip rubber feet

For glasses with a max height of 14.5 cm
1 x 7 litre capacity

Including drip tray

Stainless steel pipe can be filled with ice cubes for cooling

4 anti-slip rubber feet

For glasses with a max height of 14.5 cm
Ready to ship today, Delivery time appr. 6-10 working days
Drinks Fountain 1 x 7 Litres
Ready to ship today, Delivery time appr. 6-10 working days
1 x 7 litre capacity

Including drip tray

Stainless steel pipe can be filled with ice cubes for cooling

4 anti-slip rubber feet

For glasses with a max height of 14.5 cm
2 x 7 litre capacity

Including drip tray

Stainless steel pipe can be filled with ice cubes for cooling

4 anti-slip rubber feet

For glasses with a max height of 14.5 cm
Ready to ship today, Delivery time appr. 6-10 working days
Drinks Fountain 2 x 7 Litres
Ready to ship today, Delivery time appr. 6-10 working days
2 x 7 litre capacity

Including drip tray

Stainless steel pipe can be filled with ice cubes for cooling

4 anti-slip rubber feet

For glasses with a max height of 14.5 cm