Induction Cooker - 2 x 22 cm - 60 to 240 °C - timer
Manufacturer: Royal Catering | Item number: EX10011748 | Model: RCIC-1800P6
Versatile—for various cooking methods thanks to a temperature range of 60 to 240 °C, a timer, and performance levels from 500 to 3,500 W
Compatible—with induction cookware with a base diameter of up to 26 cm
Intuitive—thanks to buttons for temperature, timer and performance, as well as LED display
Low-maintenance—stainless steel and glass ceramic are easy to clean and highly durable
Safe—thanks to induction and integrated overheat protection
Quick and easy cooking with the mobile induction cooker from Royal Catering
The induction cooker RCIC-1800P6 allows you to cook quickly, easily and safely. In an induction cooker, a current-carrying coil is located under the cooktop which creates an alternating field. In this way, only pots and pans are heated, while the induction hob itself remains cool. Thanks to its portable features, this cooking device is perfect for camping, food trucks or for simply expanding the cooking area in your home kitchen. The two separate cooking surfaces of the induction hot plate are made of glass ceramic and have a diameter of 22 cm each, meaning you can use it with cooking utensils with a base diameter of 12 to 26 cm.
Up to 50% time savings with the modern induction cooker with intuitive operation
The process of heating cookware on an induction hob is more energy efficient than electricity or gas. This special heating process not only saves a ton of time, but also lowers your energy use and electricity bill!
You can adjust the timer, temperature and heat output on the intuitive control panel, where these settings are displayed on the clear LED display. The timer enables you to set a constant temperature in 5-min steps for up to 180 minutes of gentle simmering, for example.
Thanks to the two powerful 1,700 and 1,800 W heating elements, the induction burner reaches the desired operating temperature in just a short time. The induction hob has a temperature range of 60 to 240 °C, adjustable in increments of 20 °C. The induction cooktop also has 2 x 8 power modes and an overheat protection feature.
The induction cooker's housing is made of stainless steel and is as easy to clean as the glass ceramic cooktop. The materials stand out for their durability. Non-slip rubber feet on the bottom of the base plate prevent the cooker from slipping on smooth surfaces.
Material
Stainless steel, glass ceramic
Performance levels
500 W, 600 W, 800 W, 1,000 W, 1,200 W, 1,400 W, 1,600 W, 1,700 W and 500 W, 600 W, 800 W, 1,000 W, 1,200 W, 1,400 W, 1,600 W, 1,800 W
Timer
0 to 180 min (in 5-min. steps)
Temperature range
60 to 240 °C (in 20 °C steps)
Diameter, cooking surface
2 x 22 cm
Base diameter, compatible cooking utensils
12 - 26 cm
Dimensions (LxWxH)
30.00 x 58.00 x 6.50 cm
Shipping dimensions (LxWxH)
70.00 x 35.00 x 9.50 cm
Induction cooker RCIC-1800P6
Instruction manual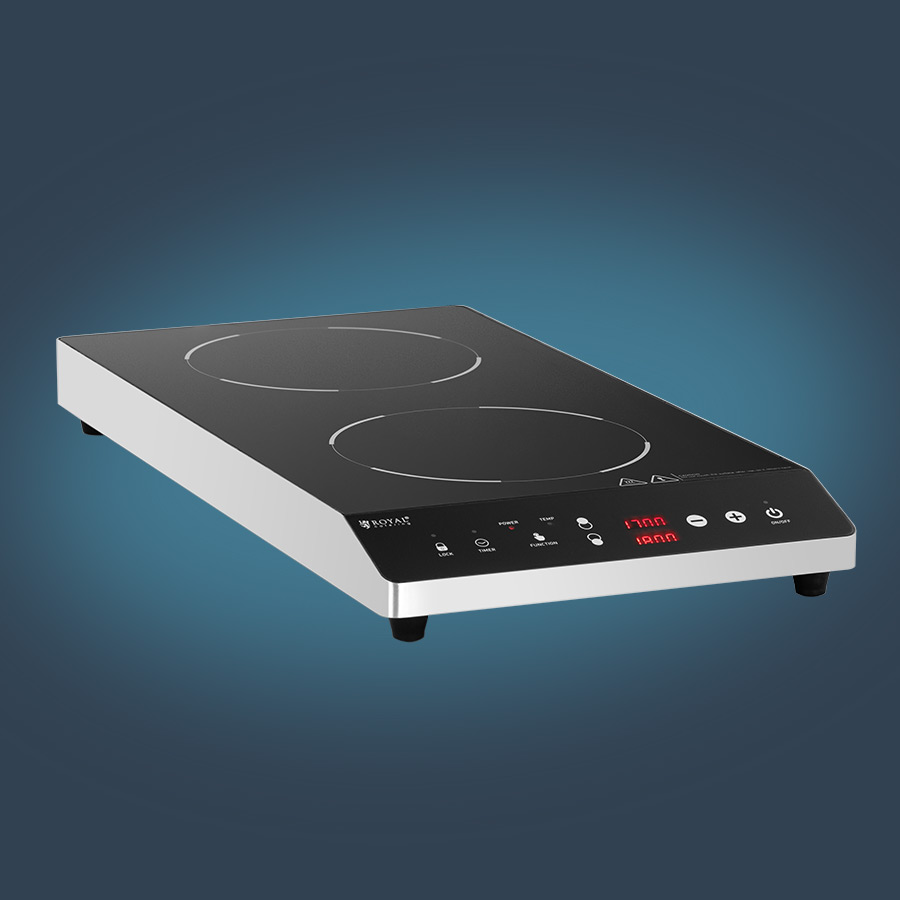 Rapid heating thanks to maximum output of 1,800 W
2 hobs: prepare different dishes at the same time
Ideal for private use and in the catering industry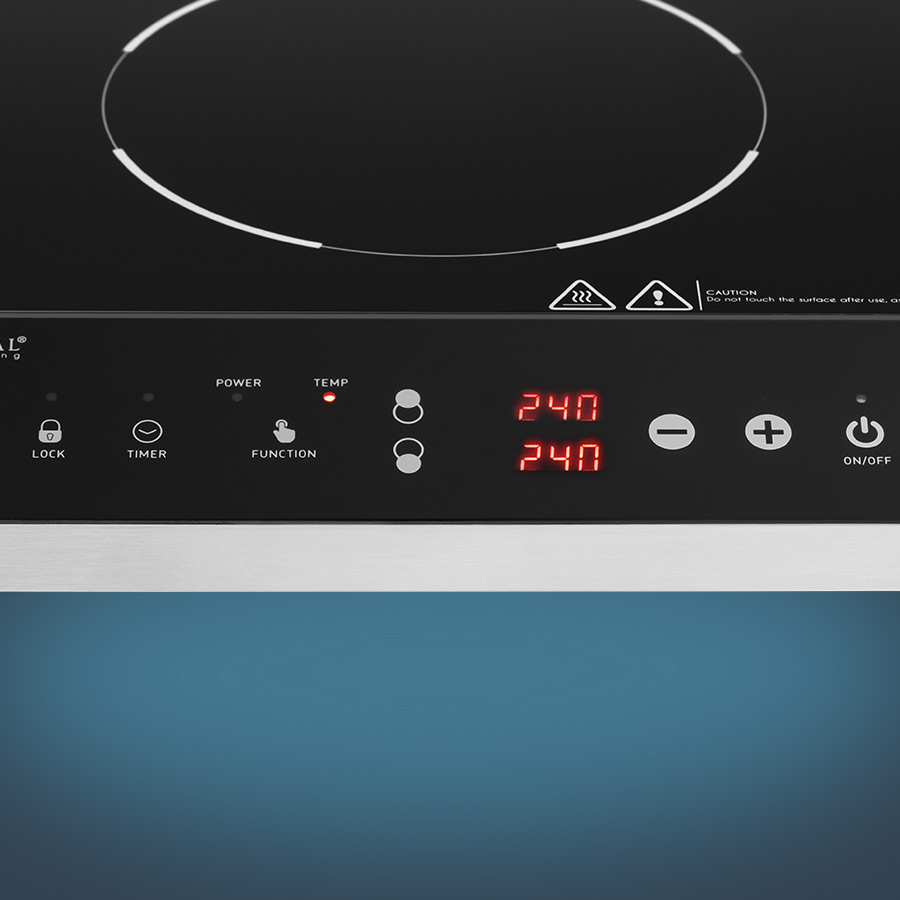 Easy to use via digital control panel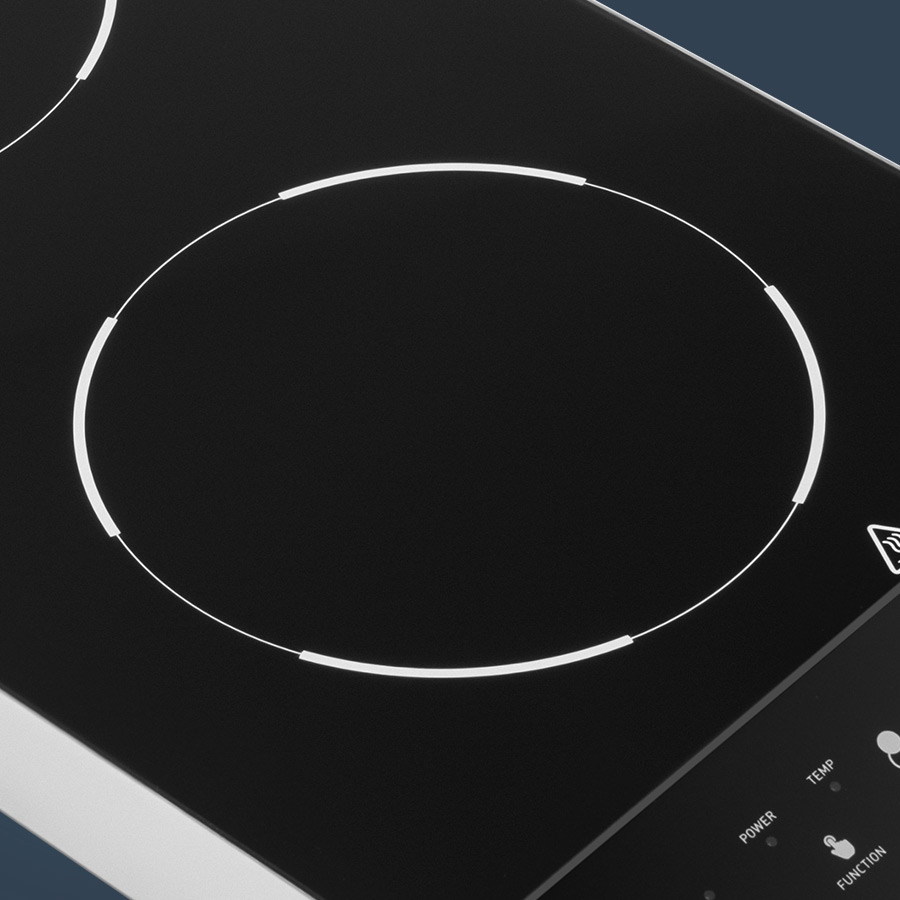 Induction surfaces are suited for pots with base sizes from 12 - 26 cm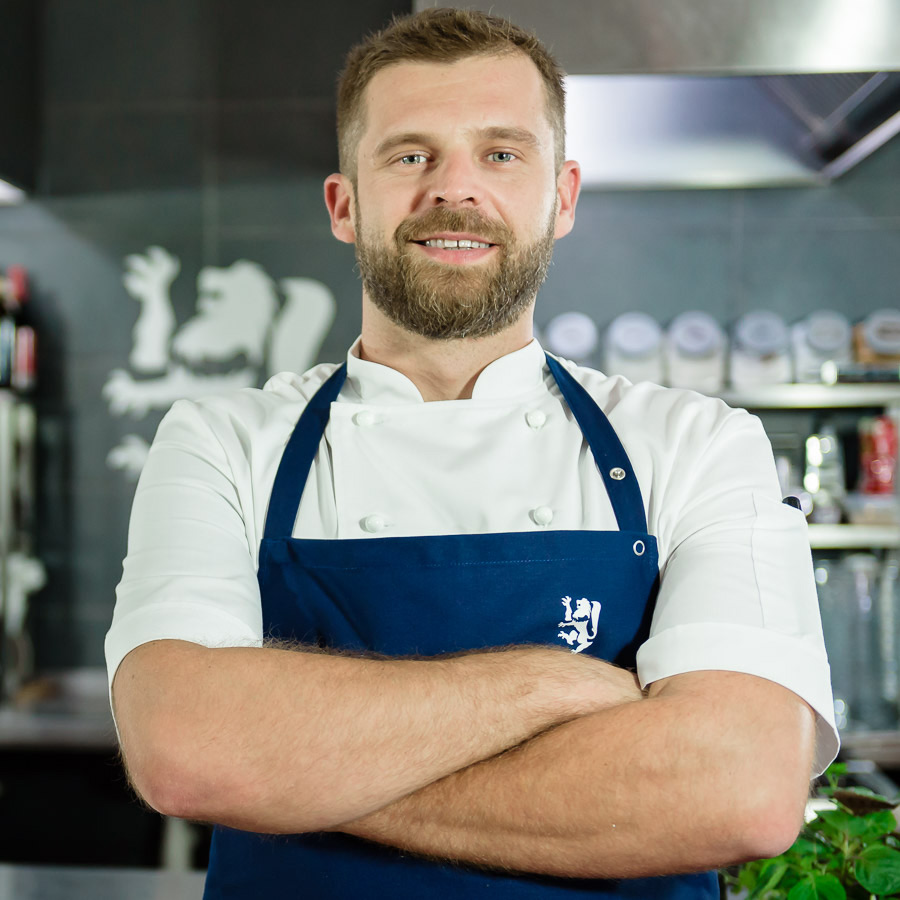 Tested by Michał Orłowski, head chef of prestigious restaurants in Sydney and Warsaw. An experienced and professional restaurateur, just like our customers.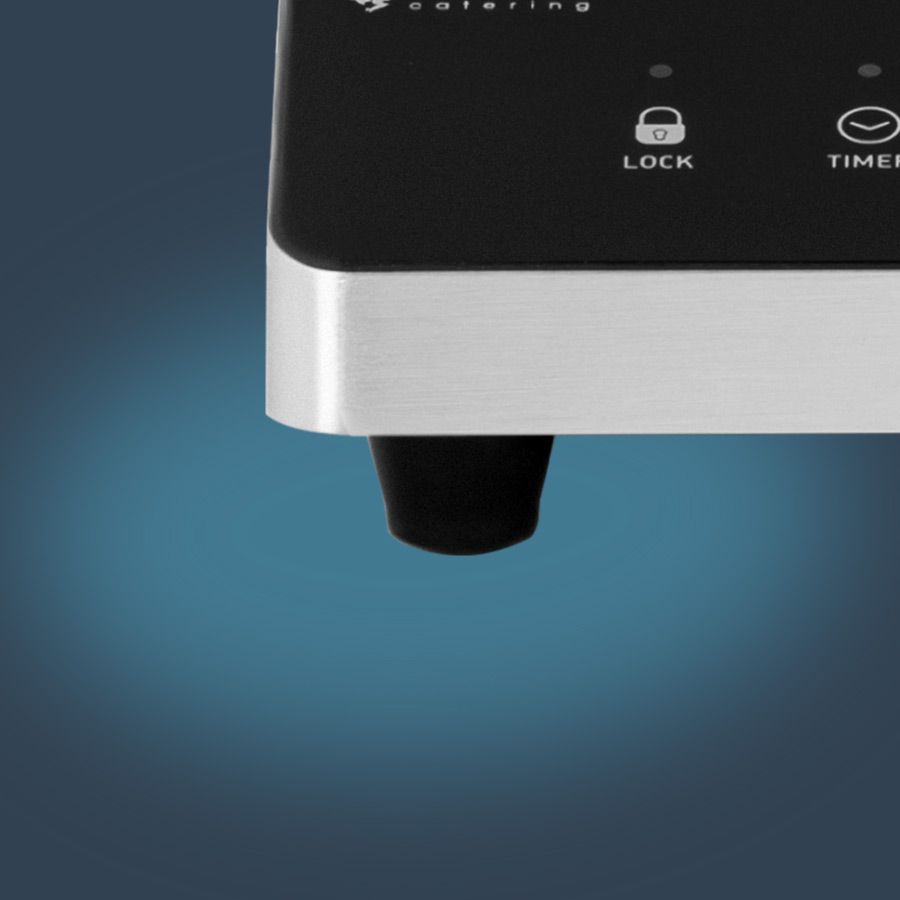 4 non-slip feet stabilise the device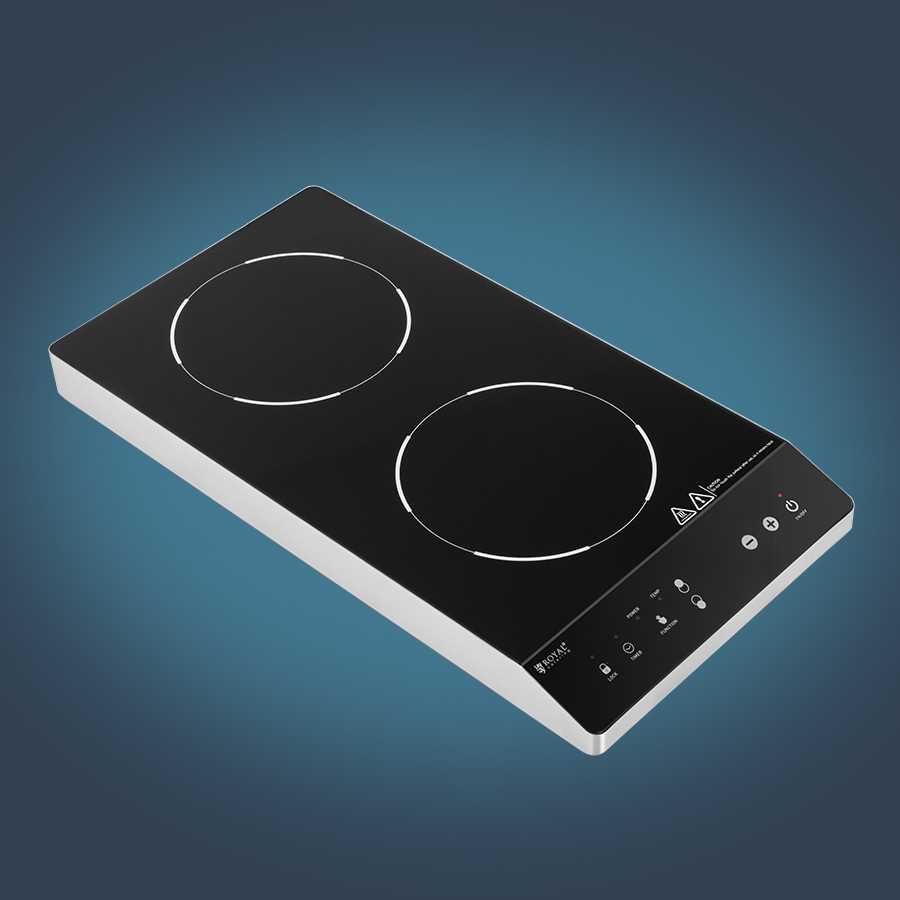 Attractive design matches any space
Durable: Stainless steel and glass ceramic
Sturdy hotplate has a high load capacity of up to 2 x 30 kg
PRO TIP
Induction technology saves energy and allows for fast and efficient cooking.
You can use pots made of cast iron, enameled cast iron or stainless steel which are suited for induction.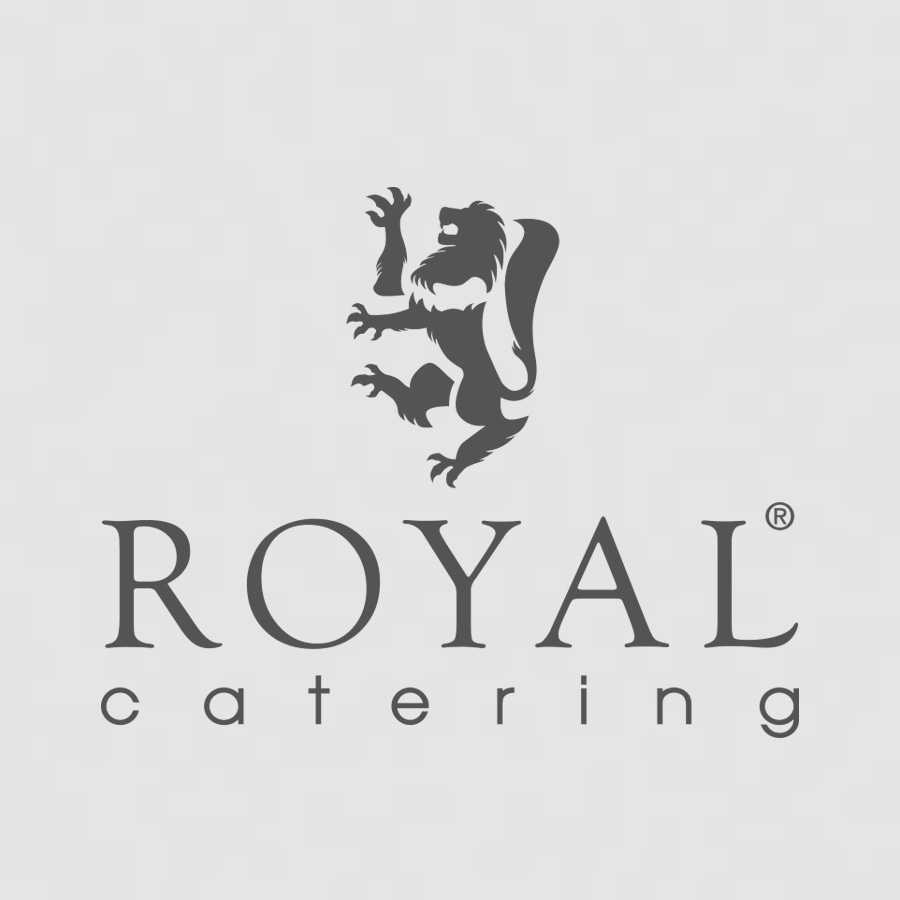 Convenient temperature adjustment from 60 - 240 °C
Precise time adjustment up to 180 min
Safe thanks to overheat protection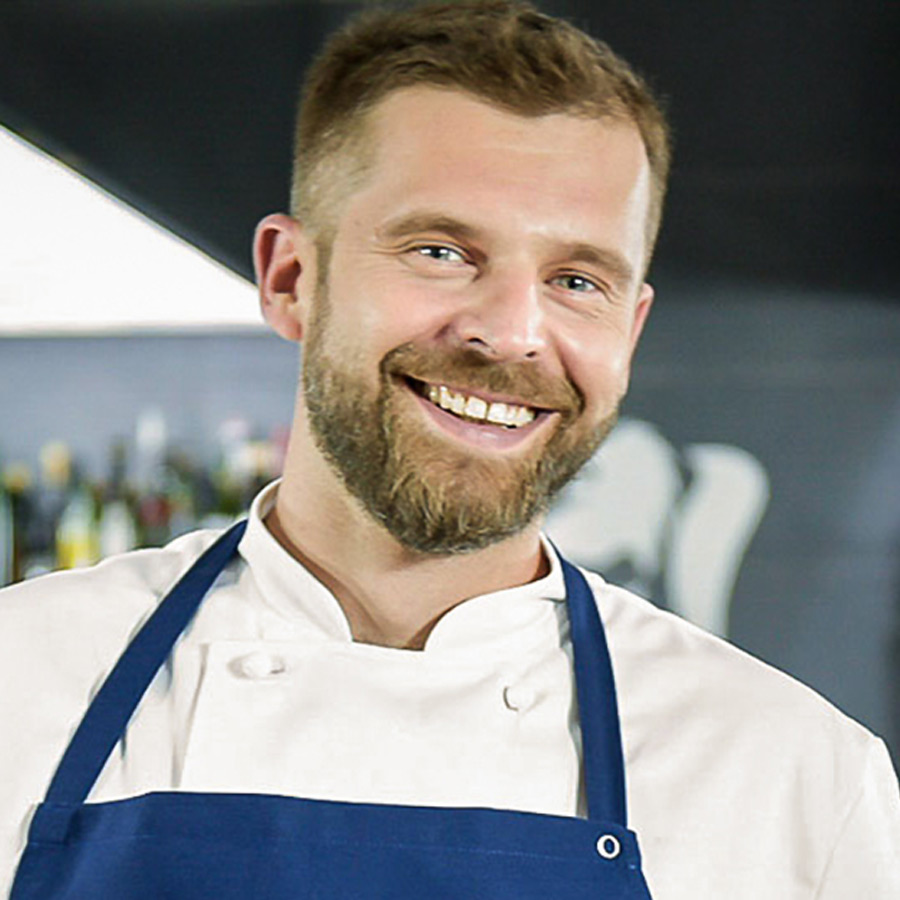 I work with professional products every day. For this video, I made sure to test the device thoroughly. You can take a close look at how this product works and then decide which model is best for your business. I hope my video and tips will help to make your business even more successful.
Head chef of prestigious restaurants in Sydney and Warsaw. An experienced and professional restaurateur
What size pots and pans are compatible with the induction cooker?
This induction cooker is compatible with all induction-ready pots and pans with a base diameter between 12 and 26 cm.
★
★
★
★
★
Write the first review for this product
---
---
Evaluations will be activated after verification.
Still not sure?
Our experts are ready to help!
Mon - Fri 09:30am - 04:30pm
This product
Cooking surfaces: 2 x 22 cm

Timer

Up to 3,500 W

60 to 240 °C

LED display
Ready to ship today, Delivery time appr. 6-10 working days
Induction Cooker - 2 x 22 cm - 60 to 240 °C - timer
Ready to ship today, Delivery time appr. 6-10 working days
Cooking surfaces: 2 x 22 cm

Timer

Up to 3,500 W

60 to 240 °C

LED display