Bain-marie - GN container - 1/4
Manufacturer: Royal Catering | Item number: EX10010194 | Model: RCBM-1/4-150-GN
Product Highlights
Dimensions: 56 x 33,5 x 25 cm
Power: 1200 Watt
Four GN 1/4 containers with a cover
Thermoregulation from 50 °C - 95 °C
Warm and fresh meals with the Bain-marie from Royal Catering
With the 6-level temperature regulator you are able to heat up your food precisely:
The settings from 1 to 3 (50 °C – 70 °C) are designed for normal heating.
The settings from 4 to 6 (80 °C – 95 °C) are perfect for heating up.
Highlights
for heating meals gently
includes four GN 1/4 container with a cover
a precise thermostat that can be regulated up to 95 °C
stainless steel that's easy to maintain
easy to use and clean
Bain-marie - GN container - 1/4
Temperature range
50 °C – 95 °C
Number of GN containers
4
GN container
1/4 with cover, T: 150 mm
Dimensions (LxWxH)
56 x 33.5 x 25 cm
Package dimensions (LxWxH)
64 x 37 x 28 cm
Download PDF
Bain-marie
4 Containers (GN) 1/4 with a cover
User manual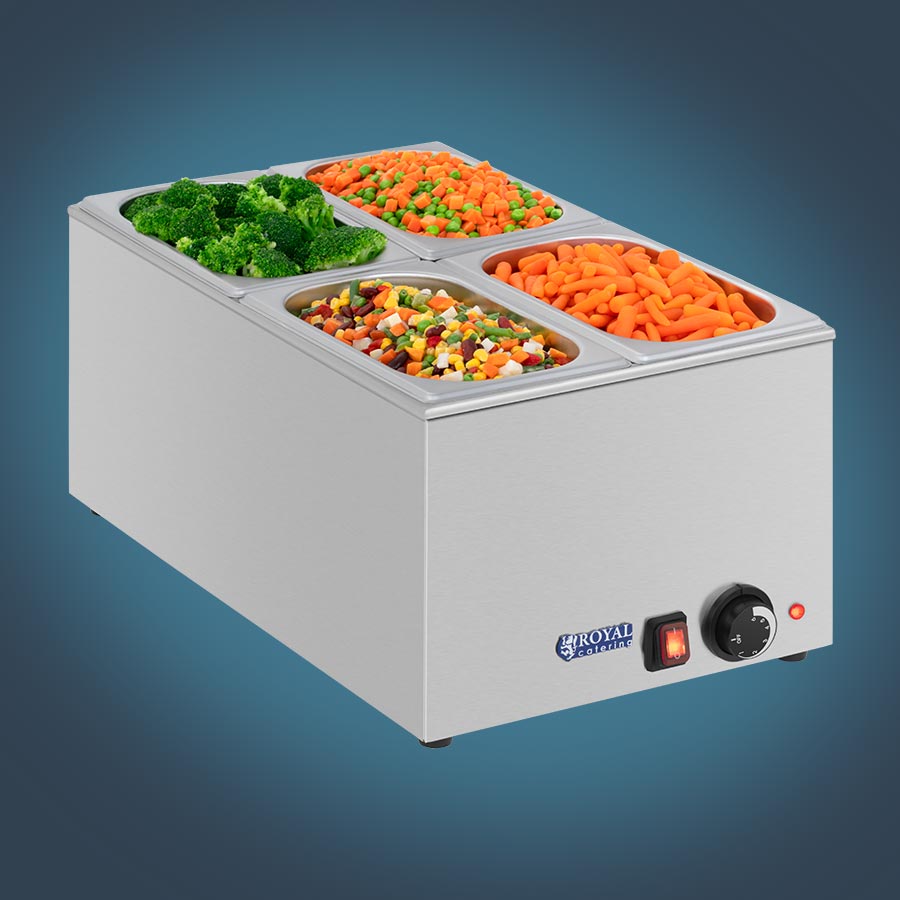 High output of 1,200 W quickly heats up the water
Ideal for many dishes: Soups, potatoes, sausages
Perfect for self-service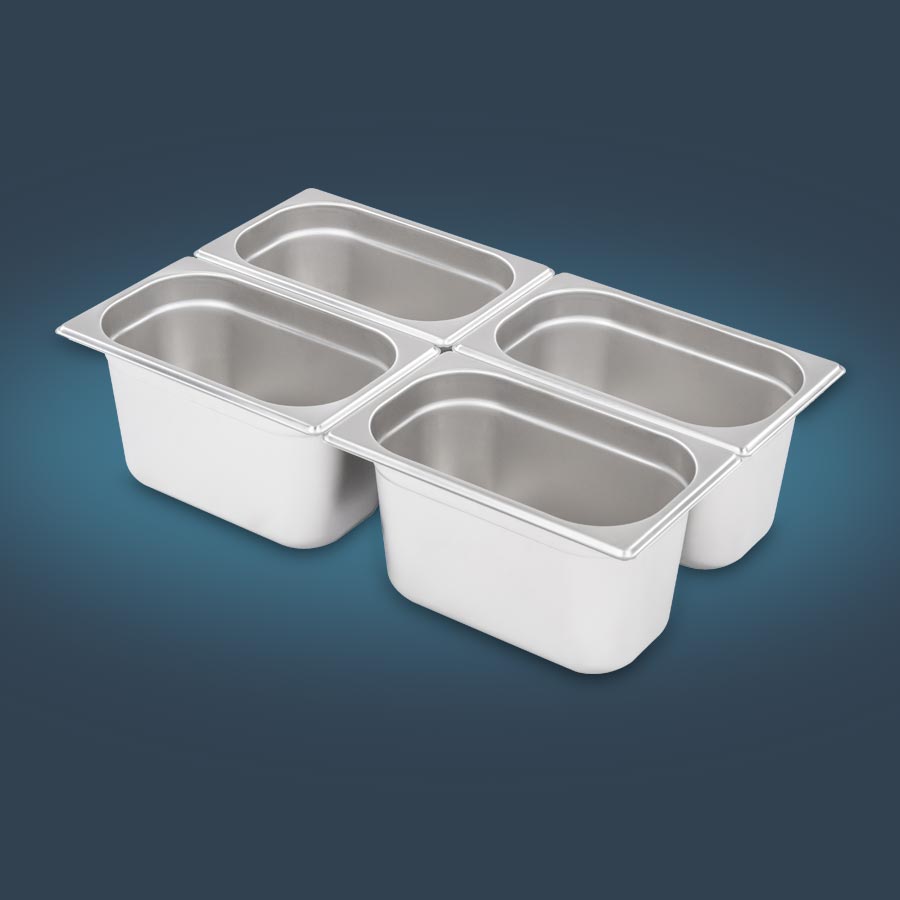 Removable pans for easy washing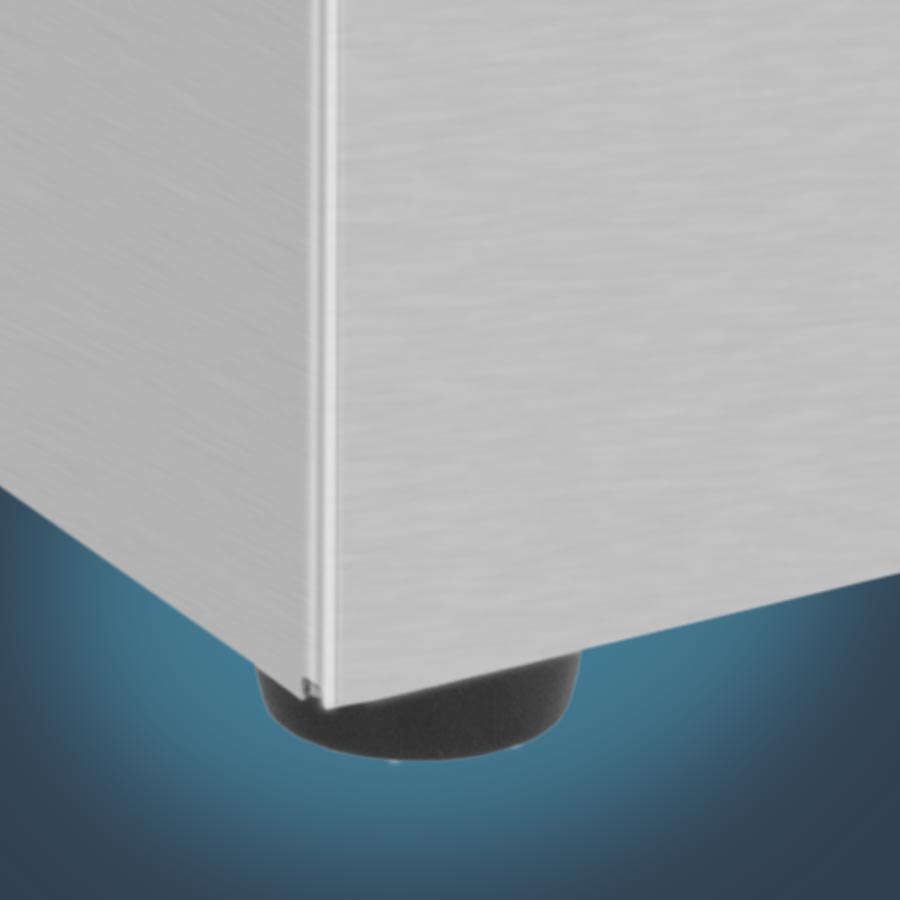 4 non-slip feet provide stability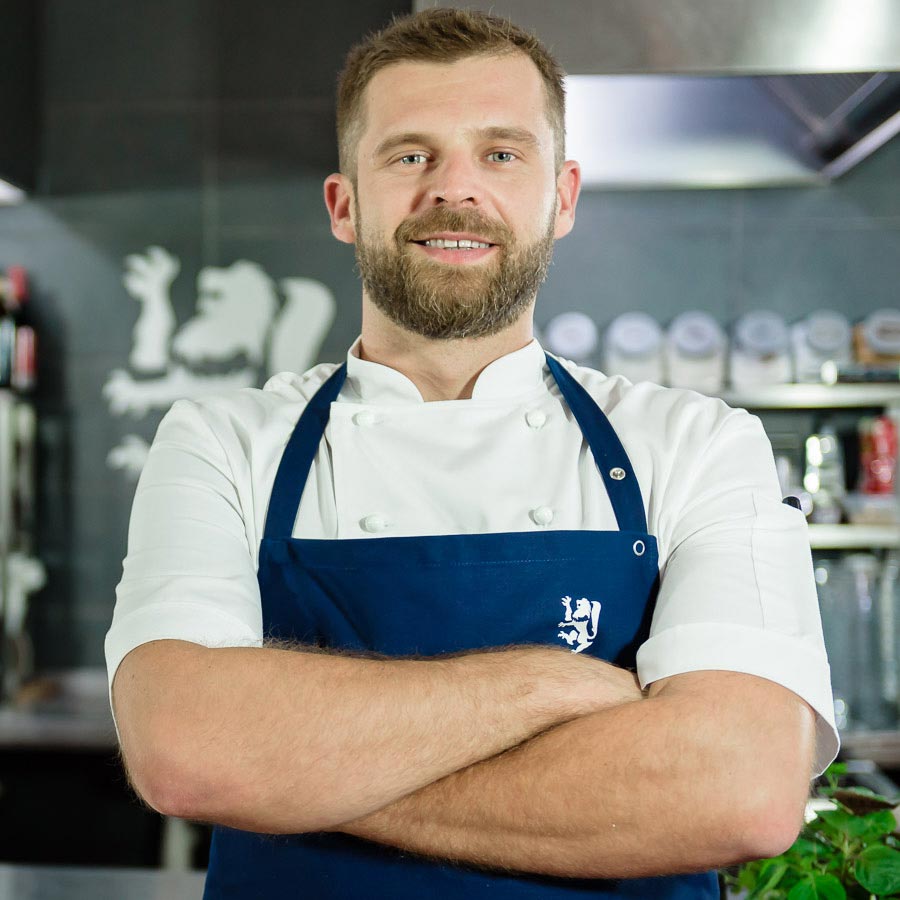 Culinary expert, head chef of prestigious restaurants in Sydney and Warsaw. A professional, just like our customers.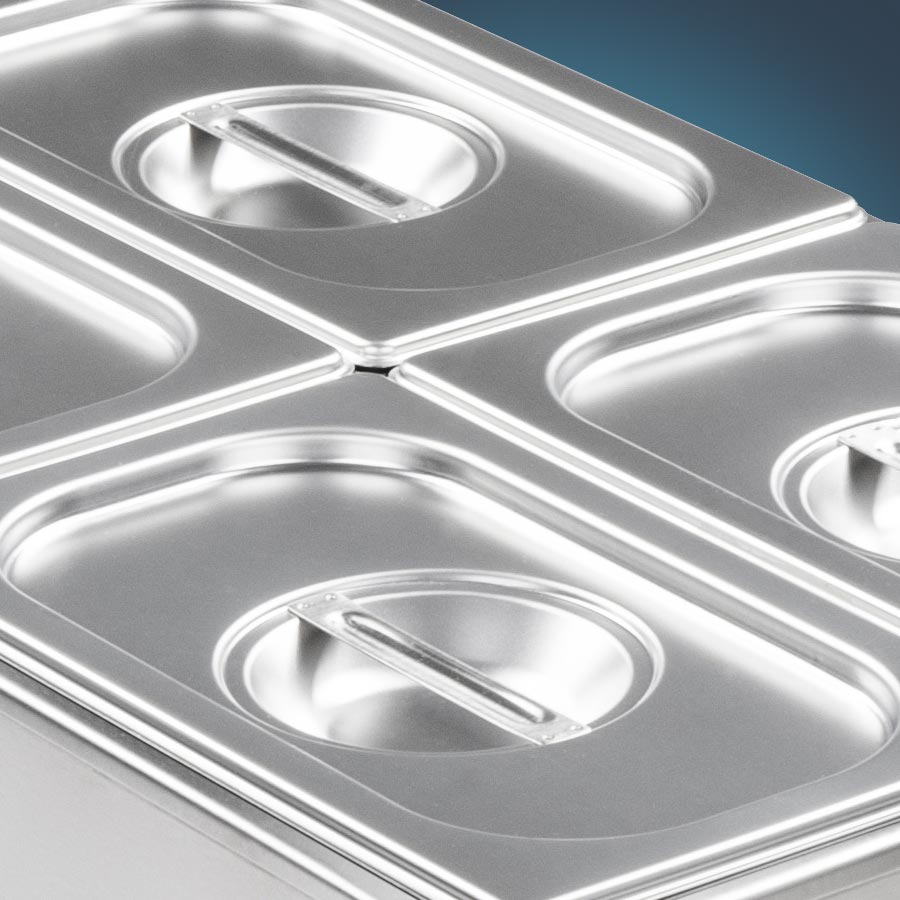 Lids (included in set) keep food warm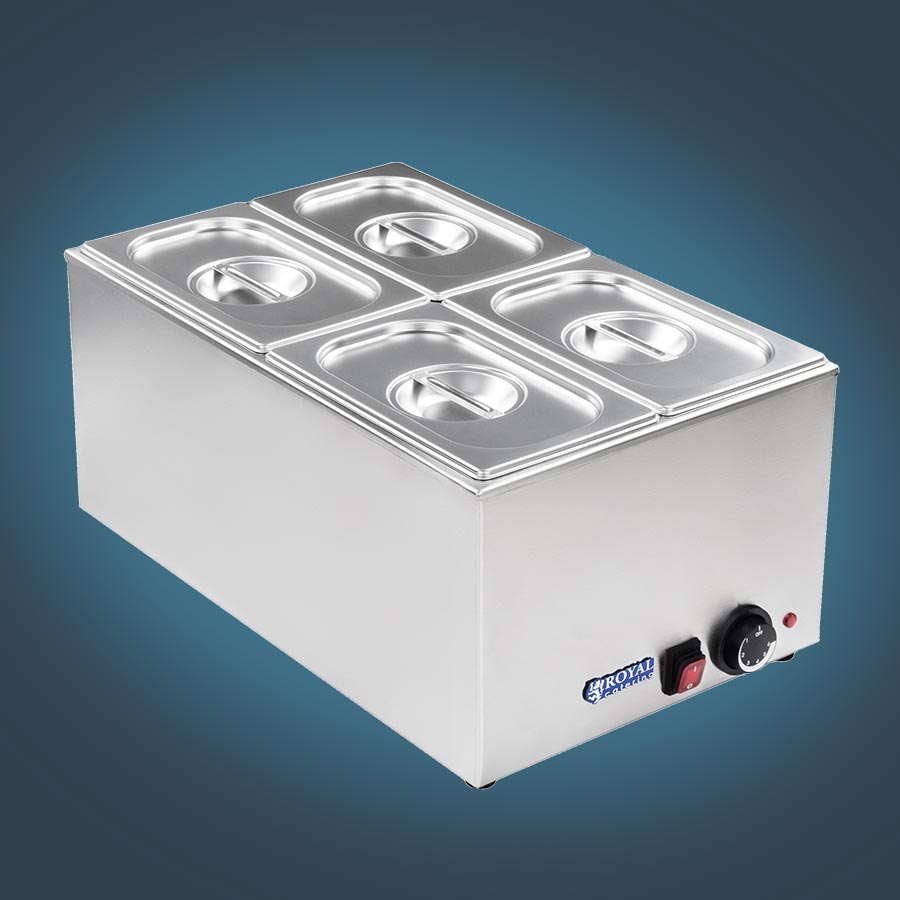 Water bath prevents food from burning
Easy-to-use dial and ON/OFF button
Modern and elegant design
PRO TIP
I keep my hot food in a bain marie with water bath so that it can be served quickly and won't burn.
Please note that a bain marie is not for cooking, but rather for keeping food hot. I always cook food fully before placing it in the bain marie.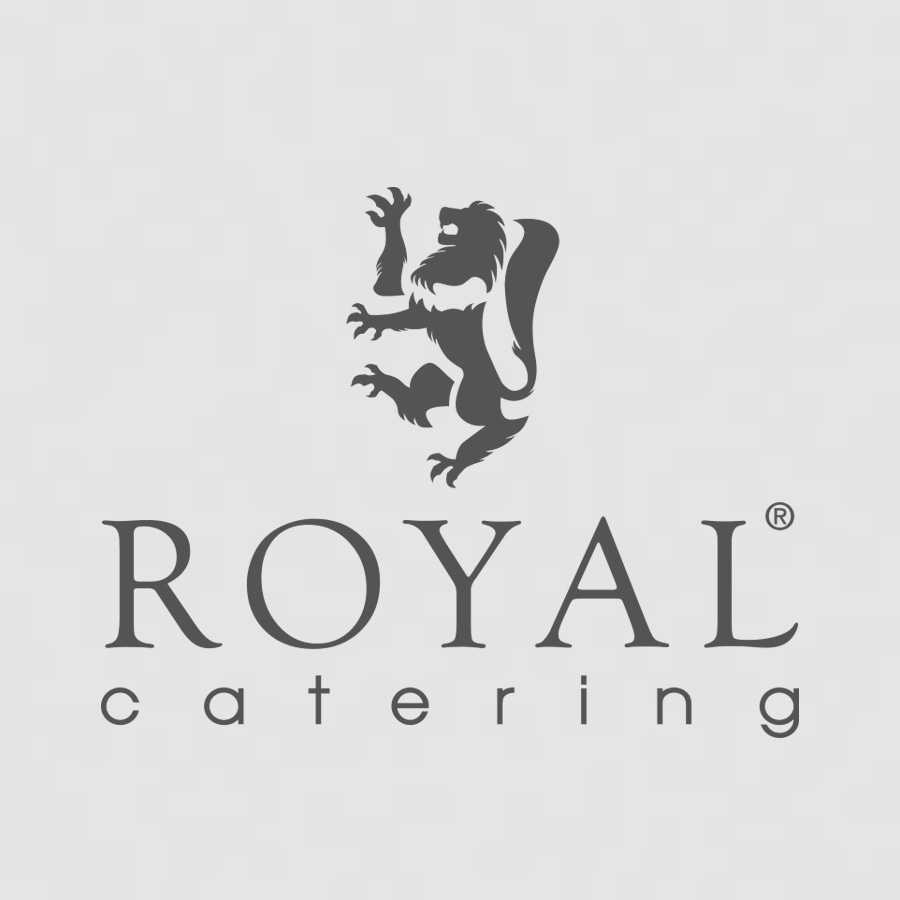 Large capacity thanks to 4 GN 1/4 containers
Automatic thermostat maintains the temperature in a range between 50 - 95 °C
Food-safe and durable stainless steel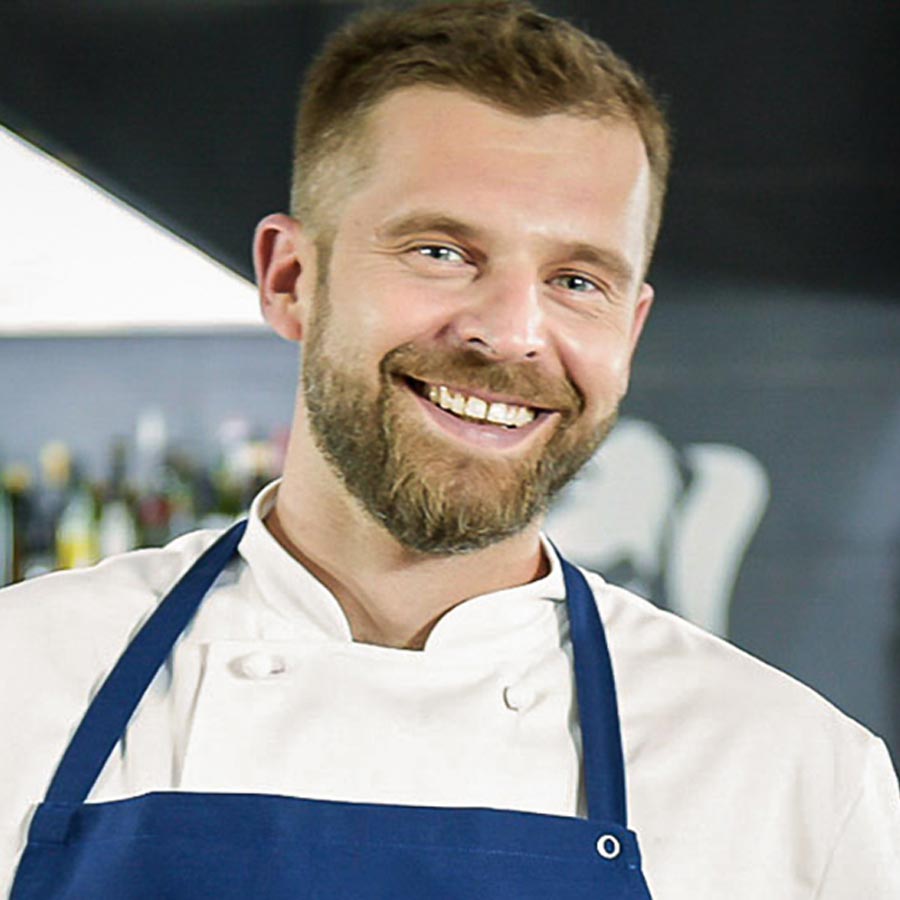 I work with professional products every day. For this video, I made sure to test the device thoroughly. You can take a close look at how this product works and then decide which model is best for your business. I hope my video and tips will help to make your business even more successful.
Head chef of prestigious restaurants in Sydney and Warsaw. An experienced and professional restaurateur
---
Sort by...
---
Evaluations will be activated after verification.
Reviews from Amazon Customer (12 Sep 2019)
Reviews from Amazon Customer (12 Sep 2019)
Bain Marie ist super geeignet
Das Gerät ist super, es hat alles geklappt, ich würde es immer wieder bestellen.
Reviews from Amazon Customer (10 Jul 2019)
Reviews from Amazon Customer (10 Jul 2019)
Absolut ok
Sehr hohes Warmhaltevermögen durch Regulierung der Temperatur geeignet für Büffett