Commercial Candy Floss Machine - 52 cm - 1200 W - Spit Protection
Item number: EX10010085 / Model: RCZK-1200E
Commercial Candy Floss Machine - 52 cm - 1200 W - Spit Protection
Item number:

EX10010085

Model:

RCZK-1200E

In the product range since:

2008
Ready to ship today, Delivery time appr. 4-6 workdays**
Your benefits at a glance
Order recommended accessories
Commercial Candy Floss Machine - 52 cm - 1200 W - Spit Protection
The commercial candy floss machine RCZK-1200E by Royal Catering is the perfect device for festivals, amusement parks, cinemas, street parties and more. Designed for professional use, the machine is ideally suited for your catering needs. There are countless variations to our candy floss machine, so you can customize your cotton candy to the wishes of your customers. The spit protection protects against germs, debris and dirt.
A must for fans of cotton candy
The commercial candy floss machine is powered by a highly efficient 1200 watts heating element. You can easily control the temperature and rotation of the spinning head with two toggle switches. A display shows the current that is being used. An internal fuse switches off the device automatically in case of technical problems and ensures optimum safety.
The pot is made of stainless steel and has a diameter of 52 cm. It is especially suitable for a rapid preparation of large amounts of cotton candy. For each portion (about 12 to 18 g of sugar) you need a preparation time of about 60 seconds
The cotton candy is rolled up on a stick and brought into shape. There are no limits to the imagination - everything from floral to animal forms is possible. The special construction of the pot means that you will always work very cleanly, because the sugar and cotton candy are held primarily inside the catch pot.
The spinning head is made of hygienic aluminium and it is located above the engine. Its rotating movements liquefy sugar and transform it into thin sugar threads, gradually forming a cotton cone. Both smaller and larger portions can be easily prepared. The drawer helps you to portion the sugar and the included measuring spoon measures exactly how much sugar you need.
The spinning head of this model is located directly above the engine and can be dispensed with a belt drive. The gearbox does not contain plastic parts contrary to many comparative products. It is made entirely of metal. This not only increases the longevity of the candy floss machine, but also means that it is particularly time and cost-efficient.
The spit guard is compulsory for cotton candy machines in public areas. It adheres to the highest possible hygiene standards. Protect your cotton candy from germs, debris and dirt with the supplied spit protector.
The XL cover is made of acrylic glass and has a high resistance to breakage and impact. The material is flame retardant and complies with the statutory food ordinance. The high-quality, transparent acrylic glass can be easily cleaned with detergent and water. The large opening allows you to easily fill in the cotton candy. The spit protection is easy to install and fits all devices with a diameter of about 52 cm.
To prepare the candy floss machine for the next use, the bowl and the spinning head can be easily removed and cleaned - even in the dishwasher. The device is ready to use quickly. Cover your catering needs with this commercial candy floss machine by Royal Catering. It will be the eye-catcher at any event.
Highlights
Highly efficient heating element with 1,200 W power
Stainless steel pot
Measuring spoon for precise portioning (1 unit = 12-18 g sugar)
Suitable for use with food colours
Incl. spit protection - protects cotton candy against germs, debris and dirt
Easy to clean and dishwasher-safe
Material, casing
Powder-coated steel
Material, bowl and spoon
Stainless steel
Material, spinning head
Aluminium
Power
1 unit* / 60 sec. (*12-18 g sugar)
Length, power cable
1.8 m
Shipping dimensions (LxWxH)
58 x 58 x 45 cm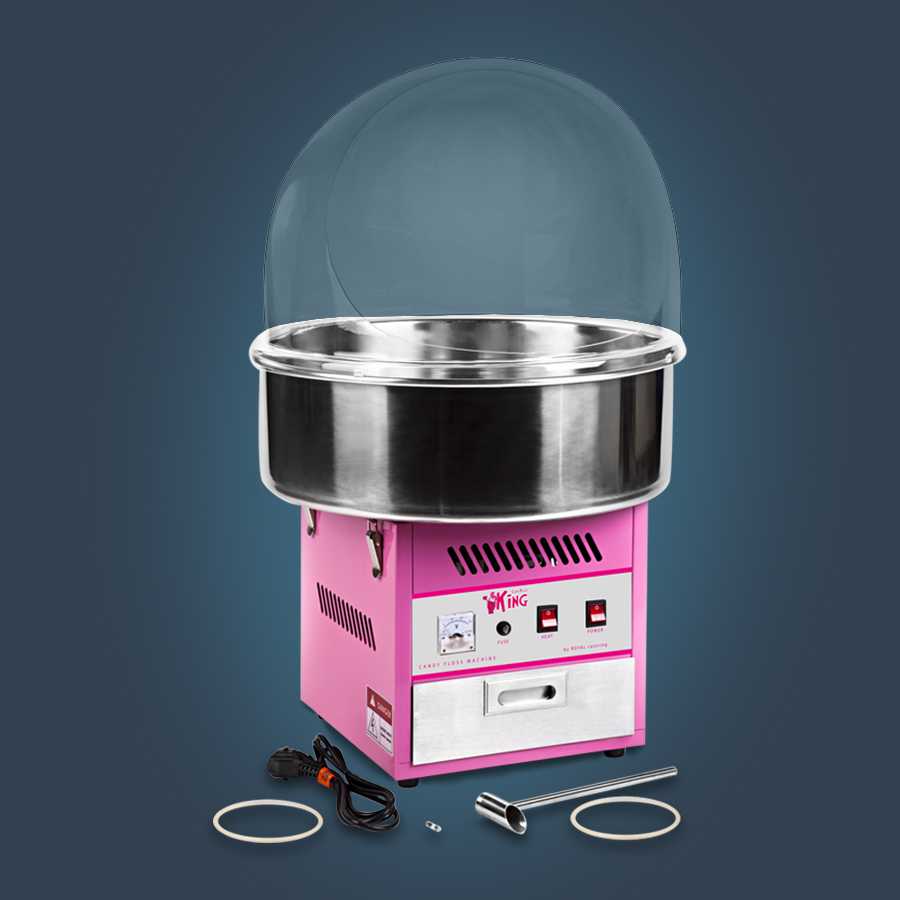 efficient heating element with a power of 1.200 W
a portion of candy floss in 30 seconds!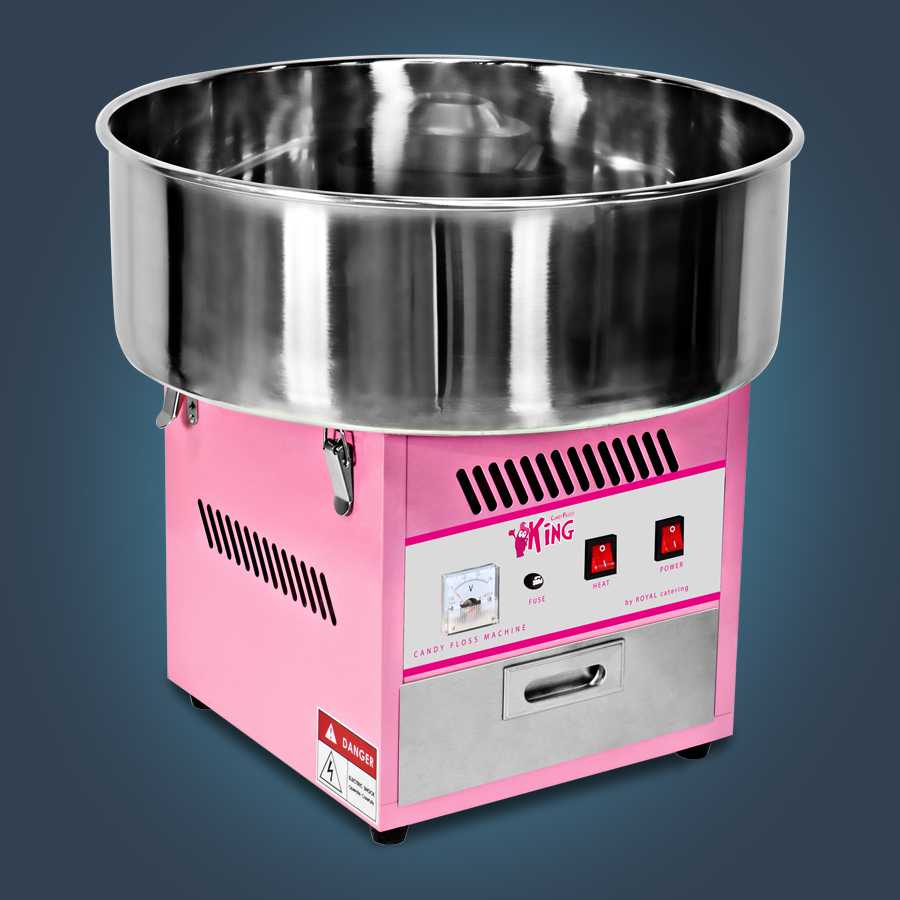 A modern device, tested by experts.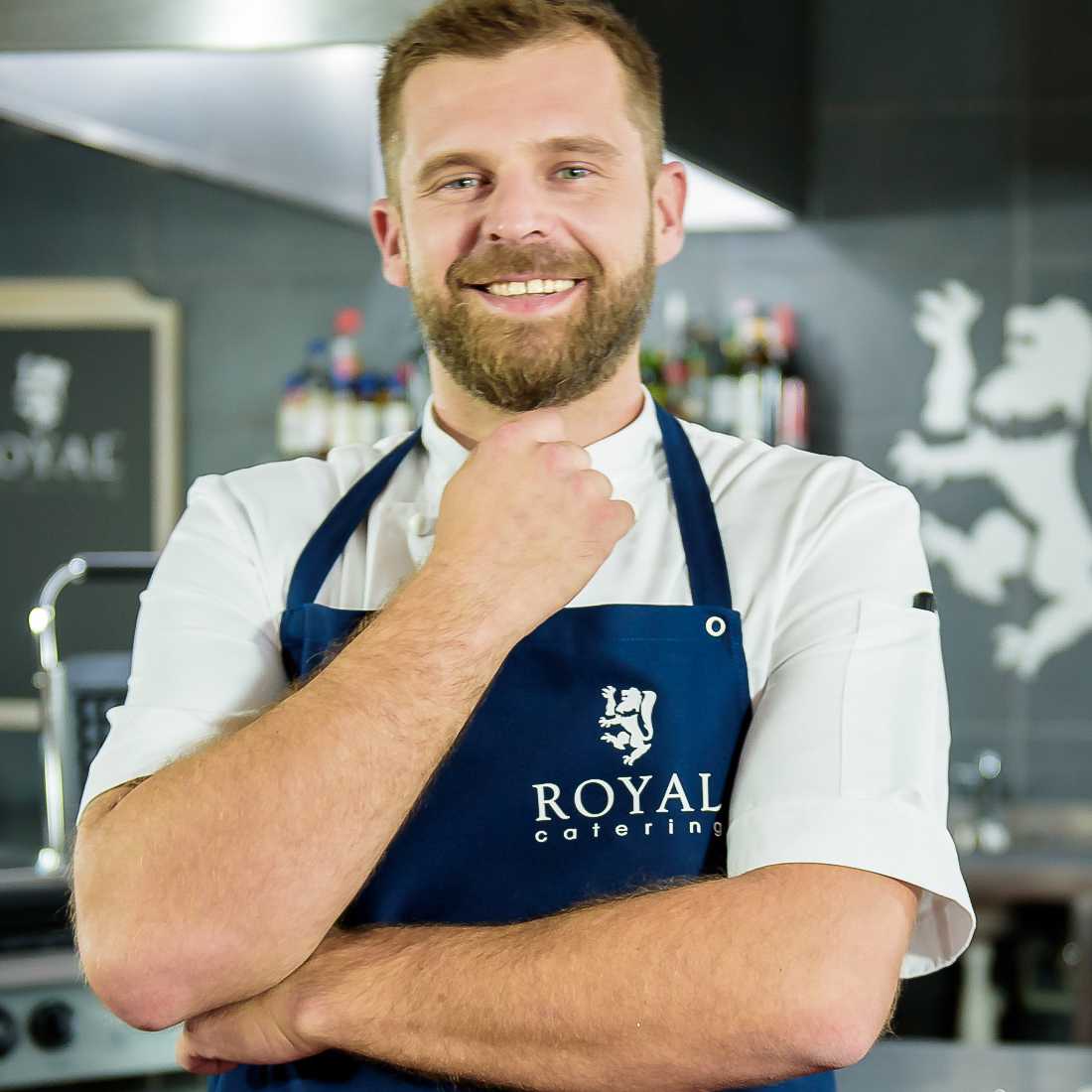 Michał Orłowski
Culinary expert, the head chef of famous restaurants in Sydney and Warsaw. A professional, just like our clients.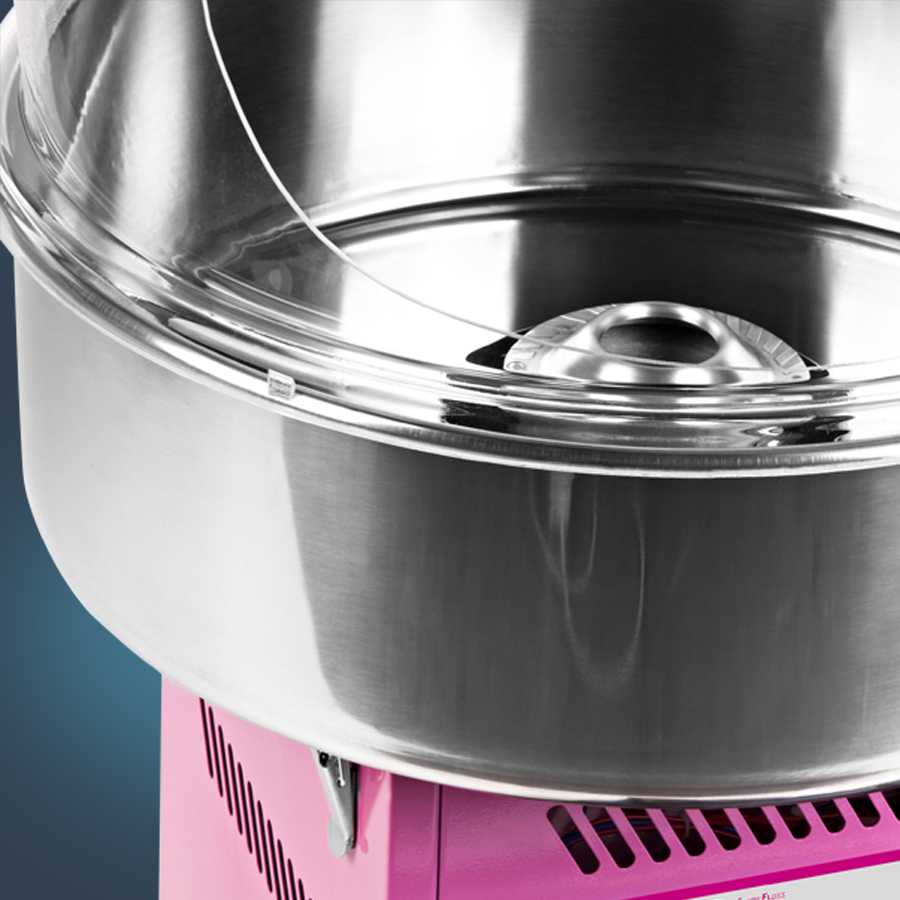 Large pot with a diameter of 52 cm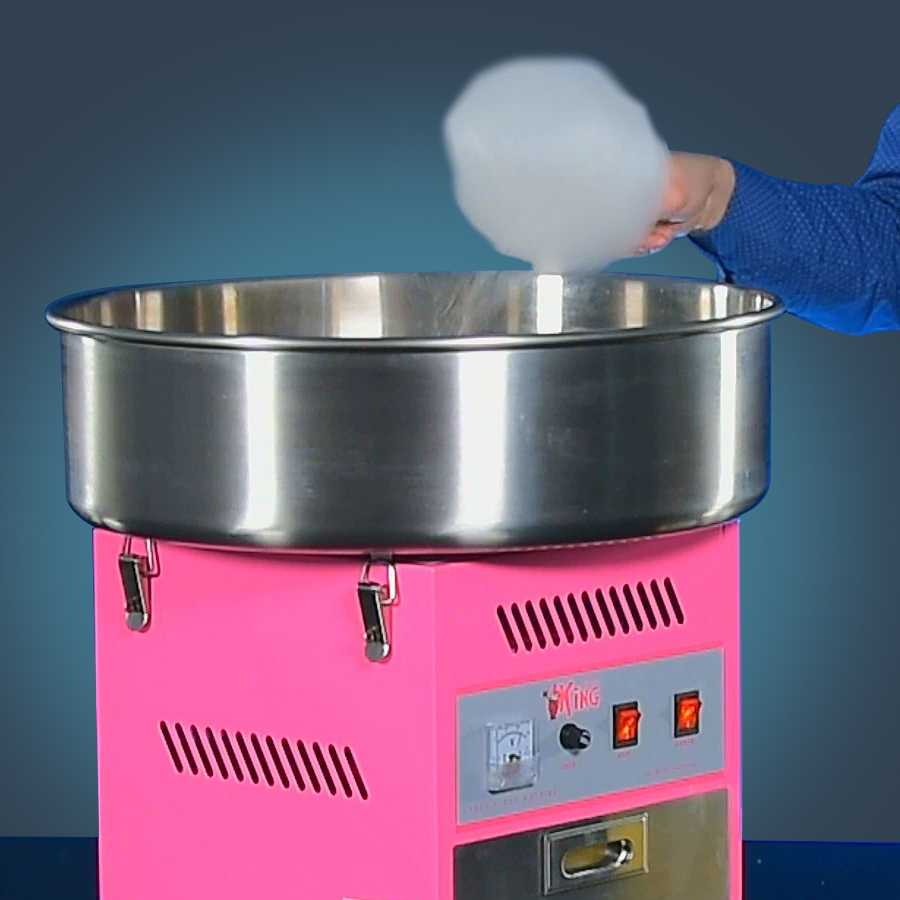 Attractive design
Optimal portioning, only 12-18 g of sugar per serving
Practical splatter guard
PRO TIP
Do not use any cleaning agents or tools when cleaning the device. This way, you will avoid sugar from sticking to the surface. I encourage you to experiment with other flavours from your kitchen.
To ensure that the device always functions properly, thoroughly wipe the pot and the splatter guard before use. Humidity is unfavourable when using sugar.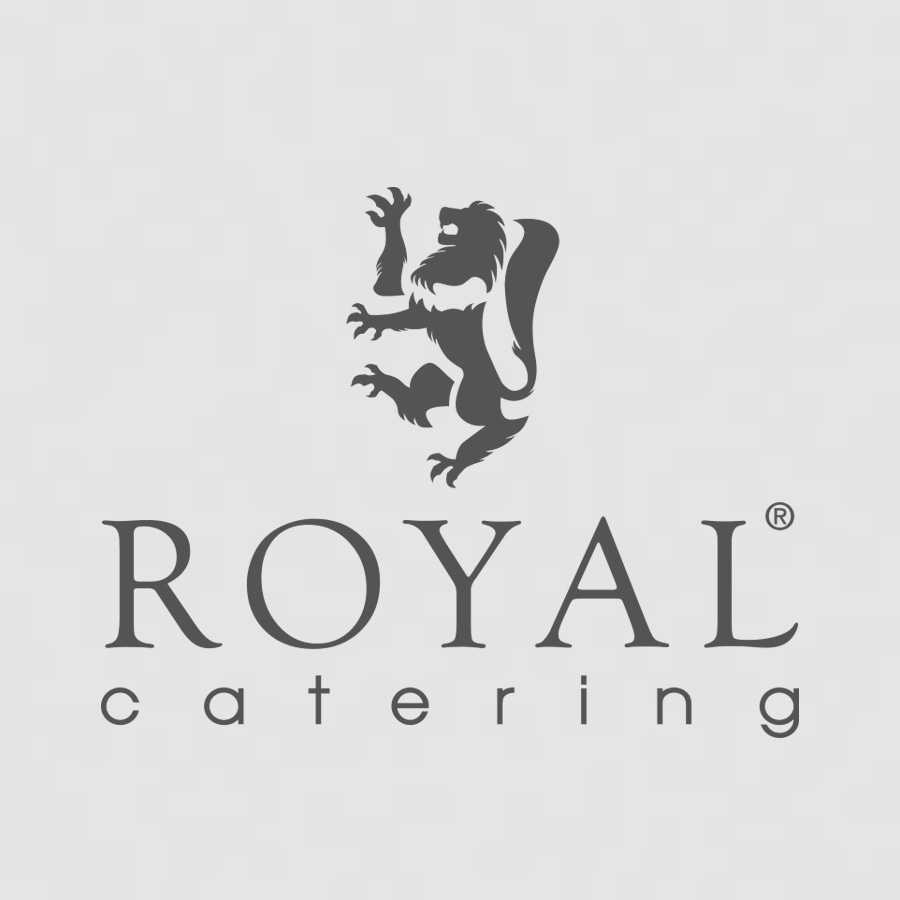 comfortable and easy operation
measuring spoon and spare parts comprised in the set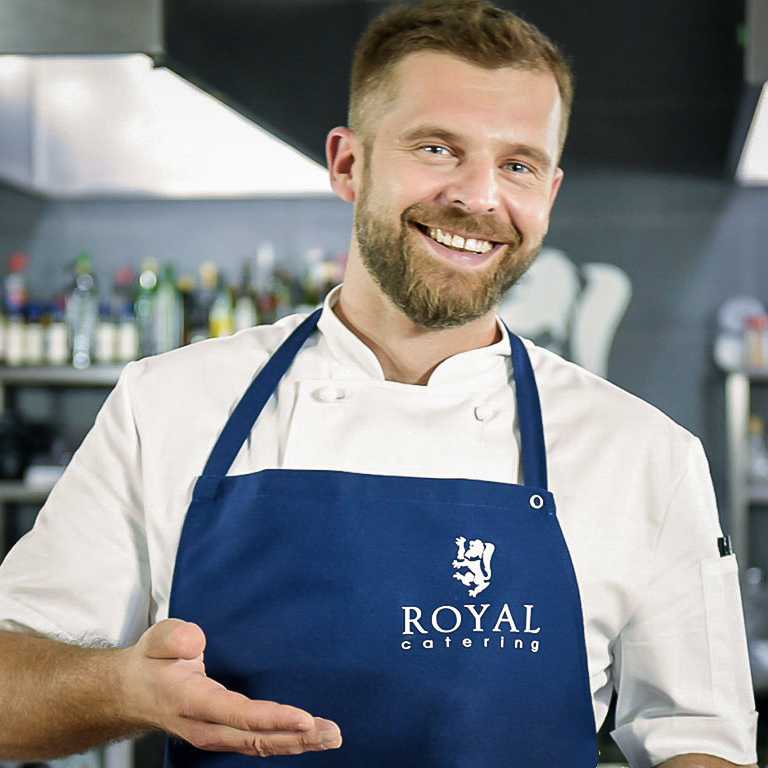 Review by Artur Siwiec, expondo expert (02.08.2018)
Reliable, with lots of accessories
I use it to make cotton candy in different colours and flavours. The machine meets my requirements because it is equipped with an automatic thermostat for temperature control and a drawer with compartments in which I can store sugar and various accessories, which makes my work much easier. The housing and the removable bowl are made of stainless steel in this model, which additionally promotes cleanliness. You can prepare a portion of cotton candy within one minute of starting the device. I know from experience that it works well, from festivals and various events to banquets and of course restaurants, where it can be used to make cotton candy for decorating desserts and drinks. This is a professional device that does its job wherever it is needed, and I have no doubt that everyone will be satisfied with it.
Can I prepare coloured cotton candy with this machine?
Yes, the cotton candy machine can be used with food colours. You can also prepare colourful cotton candy.
Does the device have an integrated safety fuse?
Yes, if there are technical problems, the device will automatically turn itself off.
Can I fill the pot with sugar as soon as I have turned on the machine?
It is better to wait until the cotton candy machine has been heated up before filling it with sugar. For more details, please consult the instruction manual.
candy floss machine
1 splatter guard
1 measuring spoon
instruction manual
4.5
Basierend auf 12 Bewertung/en
---
Sort by...
---
Evaluations will be activated after verification.
Reviews from Amazon Customer (28 Jul 2019)
Reviews from Amazon Customer (28 Jul 2019)
La puissance de l appareil
Pour l anniversaire de mon fils appareil à barbe à Papa au top
Reviews from Amazon Customer (11 Jul 2019)
Reviews from Amazon Customer (11 Jul 2019)
Tres bien
Pas encore essayé mes EXTRAqualite taille
Reviews from Amazon Customer (30 Jun 2018)
Reviews from Amazon Customer (30 Jun 2018)
Je recommande à fond !!!!
Magnifique !!! La star de la kermesse cette année en plus sav de qualité ( la coque est arrivée cassée j'ai envoyé les photos et on m'en renvoyer une )
Reviews from Amazon Customer (25 Jun 2018)
Reviews from Amazon Customer (25 Jun 2018)
Très pro
Acheté pour une association de parents d'élèvesTrès professionnel, très bonne qualité, très belles barbes à Papas !!!Chauffe très rapide. Très bien !
Reviews from Amazon Customer (21 Feb 2016)
Reviews from Amazon Customer (21 Feb 2016)
Tolle Maschine, leider in Pink...
Persönlich gefällt mir die Farbe der Maschine nicht so... Aber sie macht dennoch sehr leckere Zuckwatte. Schnell ist sie zudem. Die Reinigung des Kessels und des Spritzschutzes geht am besten in der Badewanne. Den fünften Stern habe ich nicht vergeben da die Maschine aufgrund der hohen Drehzahl auf dem Tisch zu "wandern" anfängt. Das kann man mit einer Antirutschmatte zwar unterbinden, aber leider geht die Schublade dennoch immer auf. Empfehle zwischen zwei Watten die Heiztaste abzuschalten. Sonst kommt beim nachfüllen sofort wieder Watte und es wird eng mit aufstehen.
Reviews from Amazon Customer (1 Nov 2015)
Reviews from Amazon Customer (1 Nov 2015)
POUR UNE ECOLE
Cette machine a été achetée pour un stand de kermesse. Pas de problème pour le fonctionnement de la machine. Le stand a bien fonctionné pendant la manifestation.L'option avec le chariot peut être intéressante car la machine vibre énormément. Nous ne l'avons pas pris car nous n'avons pas la place pour tout stocker.Conforme à nos attentes
Reviews from Amazon Customer (6 Jul 2015)
Reviews from Amazon Customer (6 Jul 2015)
Beau cadeau
Voilà un cadeau qui a fait le bonheur de ma maman. Une fois la surprise passée devant le gabarit de l'engin (il est presque aussi gros qu'un professionnel de fête foraine), il suffit d'un peu de pratique pour faire le bonheur de toute la famille. Les barbes à papas sont plus denses que celles des fêtes foraines, les parfums aussi intenses. Le nettoyage se fait facilement, même si la cuve est assez grosse et nécessite une douche ou une baignoire.Les 5 étoiles sont à la hauteur du plaisir que ma mère a ressenti en ouvrant l'emballage et que tout le monde a pu éprouver, petits et grands, à la dégustation de ces friandises.
Reviews from Amazon Customer (23 Apr 2015)
Reviews from Amazon Customer (23 Apr 2015)
barbapapa
super produit ! il faut juste de la pratique pour faire de belle barbapapa. Il manque quelques précisions pour le nettoyage de l'appareil, de l'eau chaude et une grande baignoire !!!
Reviews from Amazon Customer (24 Jan 2015)
Reviews from Amazon Customer (24 Jan 2015)
Lecker
Ist toll zuhause muss man den Deckel nicht unbedingt haben. Ich war mit der Maschine im Kindergarten bei meiner Tochter und hab am Stück circa 60 Zuckerwatten gemacht mit Deckel und das hat gut geklappt.
Reviews from Amazon Customer (3 Dec 2014)
Reviews from Amazon Customer (3 Dec 2014)
Top !!!
C'est la deuxième machine à barbe à papa que j'achète... Celle-là est vraiment super !!! Elle chauffe rapidement et quand on l'arrête pour remplir le réservoir, elle est tout de suite opérationnelle dès qu'on la rallume... Je m'en suis servie dernièrement pour un marché de Noël à l'école de mon fils... J'ai fait plus de 300 barbes à papa dignes de ce nom... Sincèrement, je recommande cette machine. De plus, la bulle évite d'en avoir plein les cheveux...
Reviews from Amazon Customer (17 Jun 2013)
Reviews from Amazon Customer (17 Jun 2013)
barbe à papa
Très bonne machine qui fonctionne bien. Le seul petit hic, c'est le bruit que peut faire la bulle posée sur la cuve lorsque la machine marche, c'est soulant, je dois y mettre un chiffon et encore parfois cela continue.
Reviews from Amazon Customer (7 May 2013)
Reviews from Amazon Customer (7 May 2013)
très contente
bonjours, je suis très contente de l'article acheter chez vous je conseille a mes amies de faire une visite dans votre site