Countertop Convection Oven - Timer - Incl. 4 Plates
Manufacturer: Royal Catering | Item number: EX10010734 | Model: RCCO-2.0
A wide range of applications - the convection oven is similar to a conventional oven and can therefore be used for a variety of dishes. The convection oven is ideal for preparing snacks such as nuggets, chicken wings, wedges, fries or even pizzas, casseroles and hot sandwiches.
Show more
Show less
The heating element is powered by 2,400 watts, and the convection heat system consisting of two fans ensures even cooking. The food is constantly surrounded by hot air and is cooked evenly and quickly. Above all, convection enables an even baking of more than one plate without the plates needing to be turned over during the baking process or be exchanged. For example, four pizzas can be baked at the same time.
Show more
Show less
Faster cooking or baking
Even baking results
Best browning results
Economical energy consumption
The model offered here has an automatic thermostat, which is adjustable between 0 to 300 ° C and always keeps the pre-set temperature. The energy consumption is therefore kept low. The dial allows temperature adjustment in 50 ° C increments.
Show more
Show less
The timer allows you to set the baking time between 0 to 120 minutes in 20-minute increments. After the time has elapsed, the gastro-oven switches off automatically. This allows you to focus on other activities during the baking and you do not have to worry about your food burning. Of course, the cooking device can also be operated without a timer.
Show more
Show less
Included in delivery are four matching aluminium plates, a removal handle and the holding grid for the sheets. Due to the support grid, the shelves are adjustable in height and easy to place, so filling the hot air oven is easy. The plates are suitable for pizzas with a maximum diameter of 32 cm. The distance between the slots is 7.5 cm, so the food should not exceed this height. Of course, you can also remove the plates to put larger dishes into the oven. With the additional removal handle, the plates can be easily inserted and removed.
Show more
Show less
The door is made of heat-resistant, double-layered glass. You always have the baking process in view, without having to open the door. Between the two glass layers of hardened glass, there is an air-filled room, which serves as thermal insulation. The door has a strong seal, whereby the heat is also kept inside. The comfortable and heat-resistant handle allows a safe opening of the oven.
Show more
Show less
The casing and interior of the convection oven is made of high-quality stainless steel, which reacts neutral when in contact with food, does not corrode or rust and has a very long service life. This has several advantages for the interior: the heat is kept inside, it looks visually appealing and it is easy to clean as you wait. The stainless steel surface helps with product presentation and makes the chamber appear larger and more attractive.
Show more
Show less
Versatile - perfect for pizza, buns, casseroles
Convection - two ventilators make for perfect results with circulating warmth and a temperature of up to 300°C
Timer for baking from 0 to 120 minutes
4 plates and removal handle included in delivery
Easy to clean and maintain
Countertop Convection Oven - Timer - Incl. 4 Plates
The countertop convection oven RCCO-2.0 by Royal Catering has two fans that provide efficient air circulation for quick and even baking, ideal for pizzerias, cafeterias, snack bars, bistros, food trucks, gas stations and even your home. Complete your catering supplies and increase your capacity without losing valuable kitchen space.
Voltage / Frequency
230 V / 50 Hz
Material, countertop convection oven
Stainless steel, tempered glass
Material, plates
Aluminium
Temperature range
0 - 300°C
Dimensions, plates
435 x 315 x 10 mm
Material strength, plates
1.3 mm
Dimensions, interior
455 x 360 x 400 mm
Distance between rails
75 mm
Length, power cable
1.26 m
Dimensions (LxWxH)
59.70 x 59.10 x 57.00 cm
Shipping dimensions (LxWxH)
67.20 x 65.50 x 66.00 cm
Download PDF
Countertop convection oven RCCO-2/0
4 plates
Removal handle
Instruction manual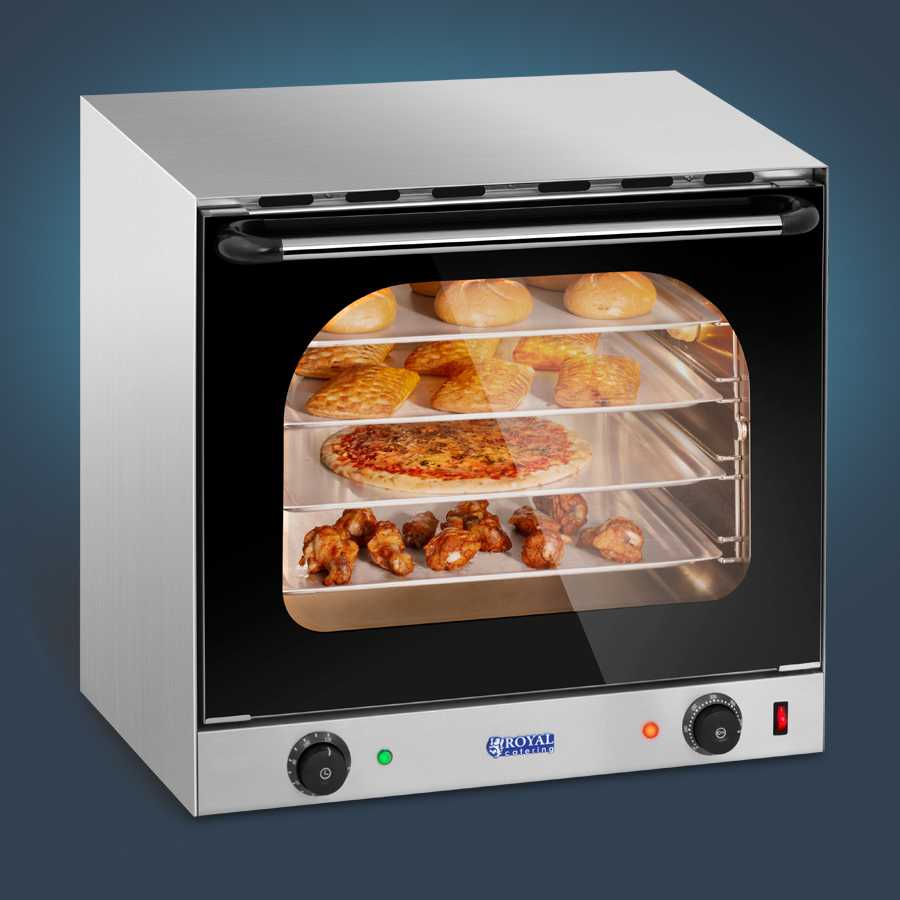 leistungsstark 2.400 W ideal für die professionelle Gastronomie
4 Bleche zum gleichzeitigen Backen verschiedener Gerichte
perfekt für Brötchen, Pizzen, Aufläufe und Kuchen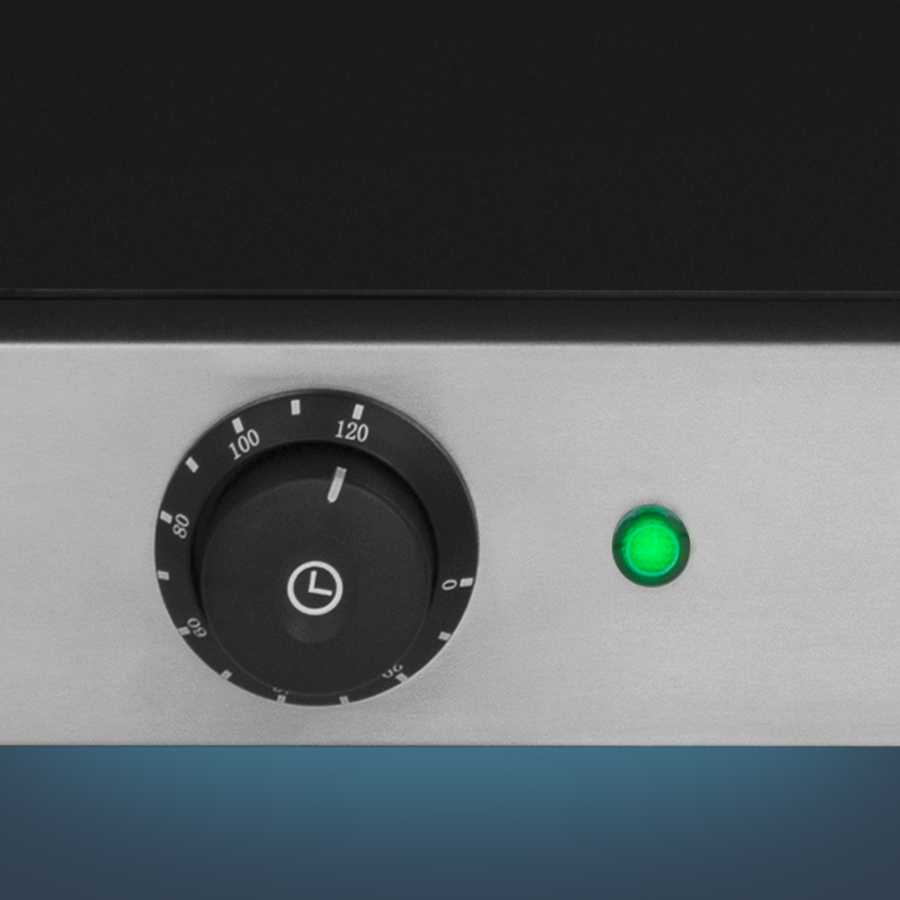 präzise Einstellung der Backzeit: 1 - 120 min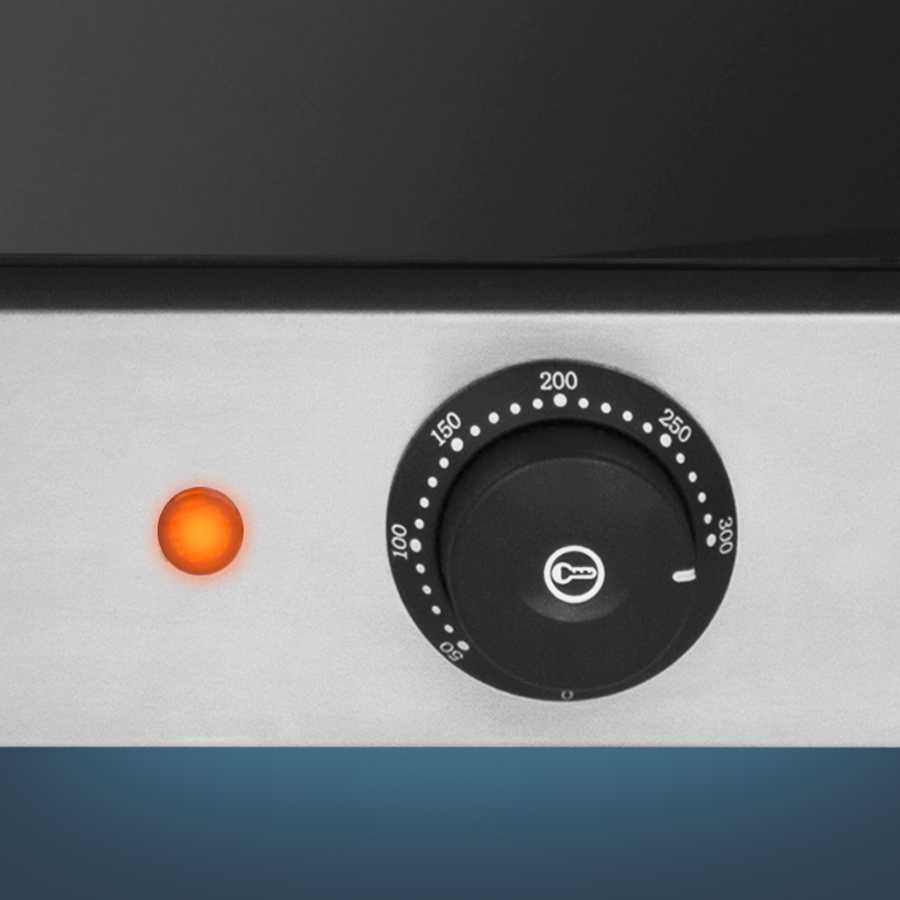 einfache Temperatureinstellung bis 300 °C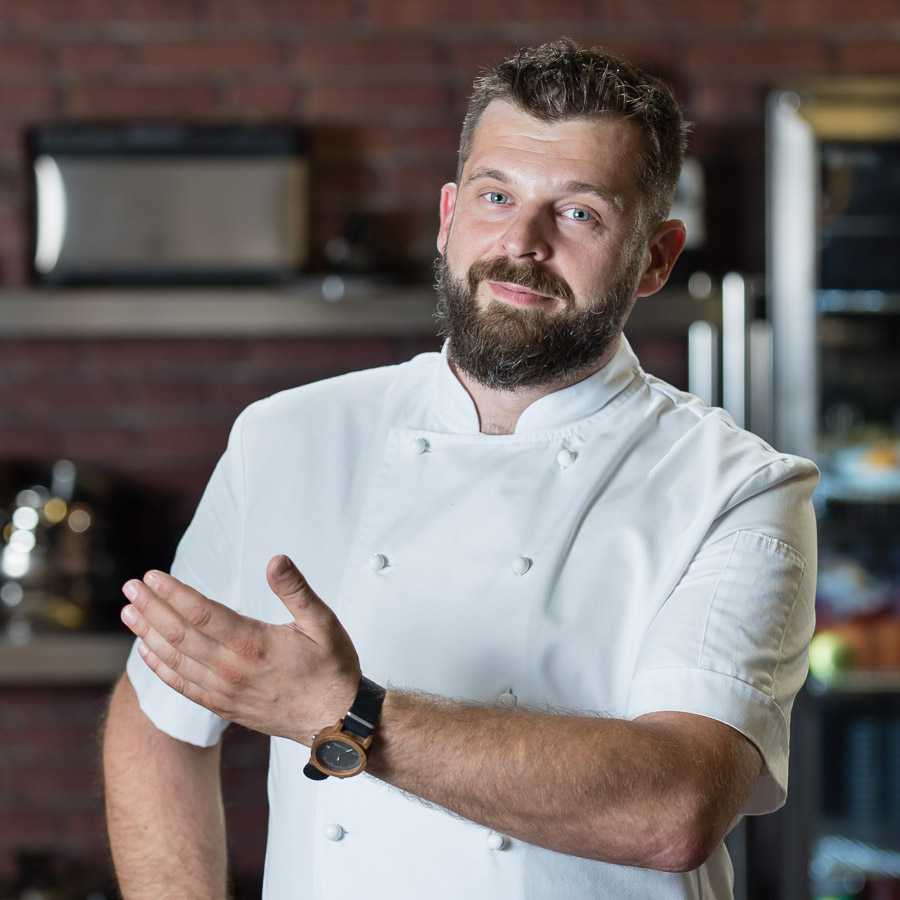 Getestet von Michał Orłowski , Chefkoch renommierter Restaurants in Sydney und Warschau. Ein professioneller und erfahrener Gastronom, genau wie unsere Kunden.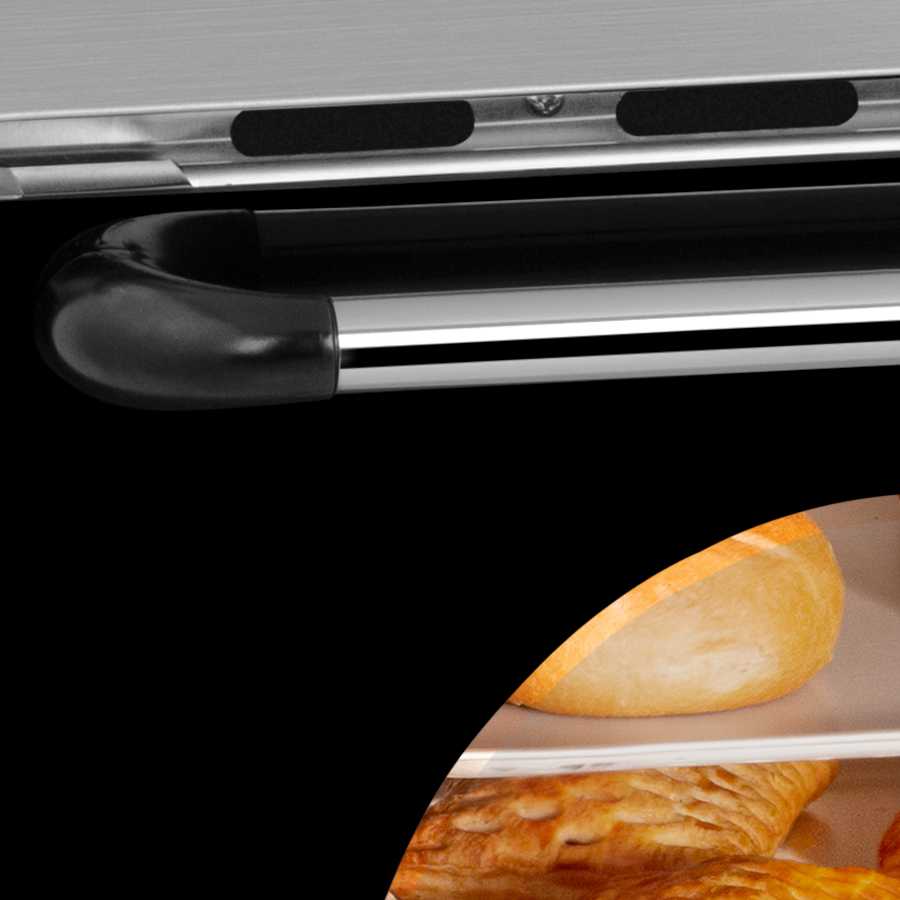 hitzeresistenter Türgriff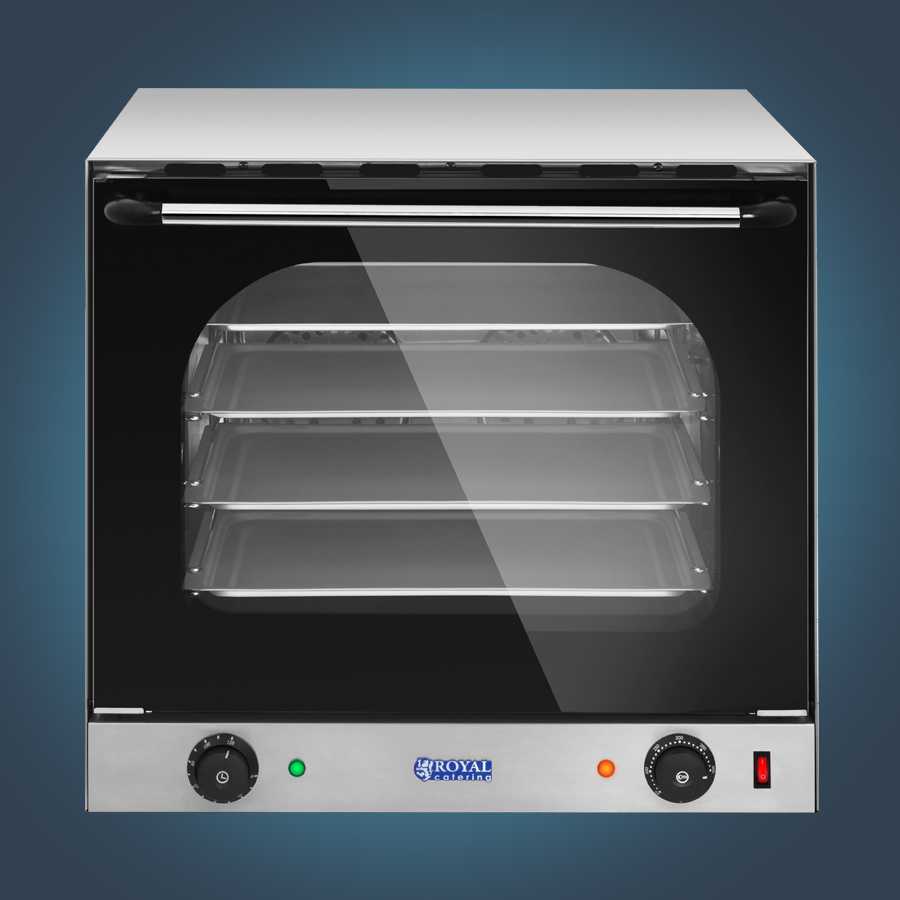 Innenraum aus langlebigem, lebensmittelechten Edelstahl
reinigungsfreundlich durch glatte Oberflächen
4 rutschfeste Füße stabilisieren das Gerät
PRO TIP
Eine regelmäßige Reinigung des Ofens verlängert seine Lebensdauer und verhindert, dass Aromen und Gerüche auf andere Gerichte übergehen.
Die Reinigung sollte immer nach dem vollständigen Abkühlen des Gerätes erfolgen. Wenn der heiße Ofen mit der Reinigungslösung besprüht wird, kann die Beschichtung beschädigt werden.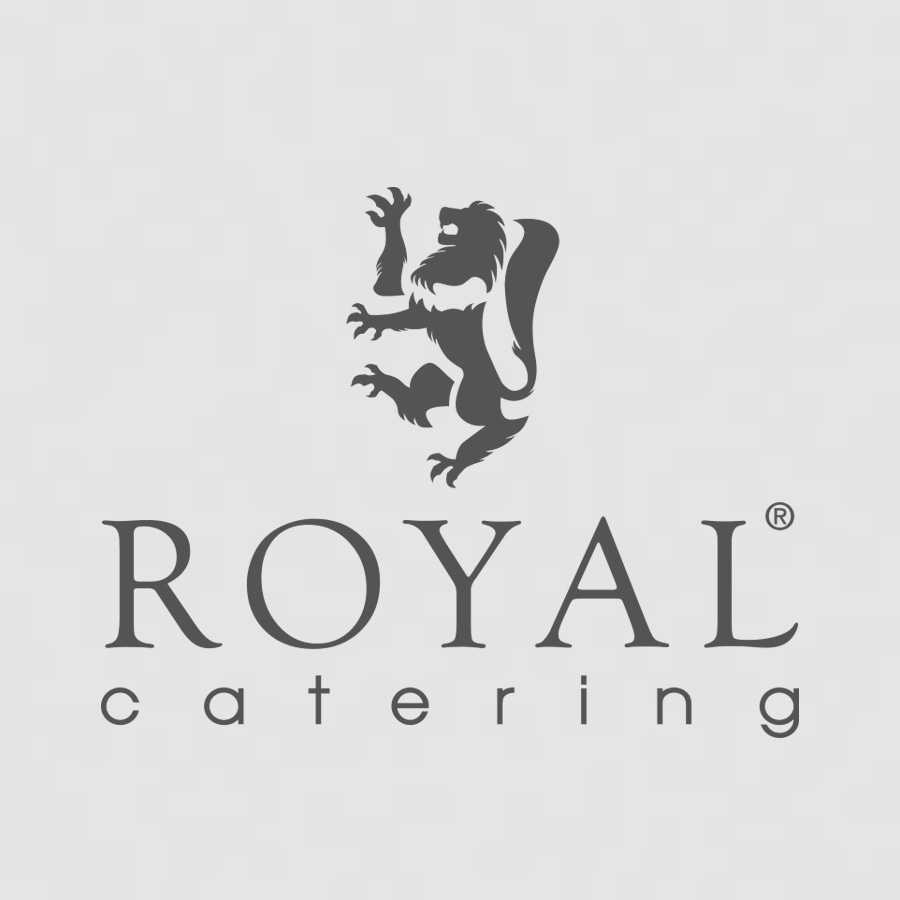 2 Ventilatoren verteilen die Heißluft gleichmäßig
doppelt gehärtete Glastüren verhindern Wärmeverluste
volle Backkontrolle durch Innenbeleuchtung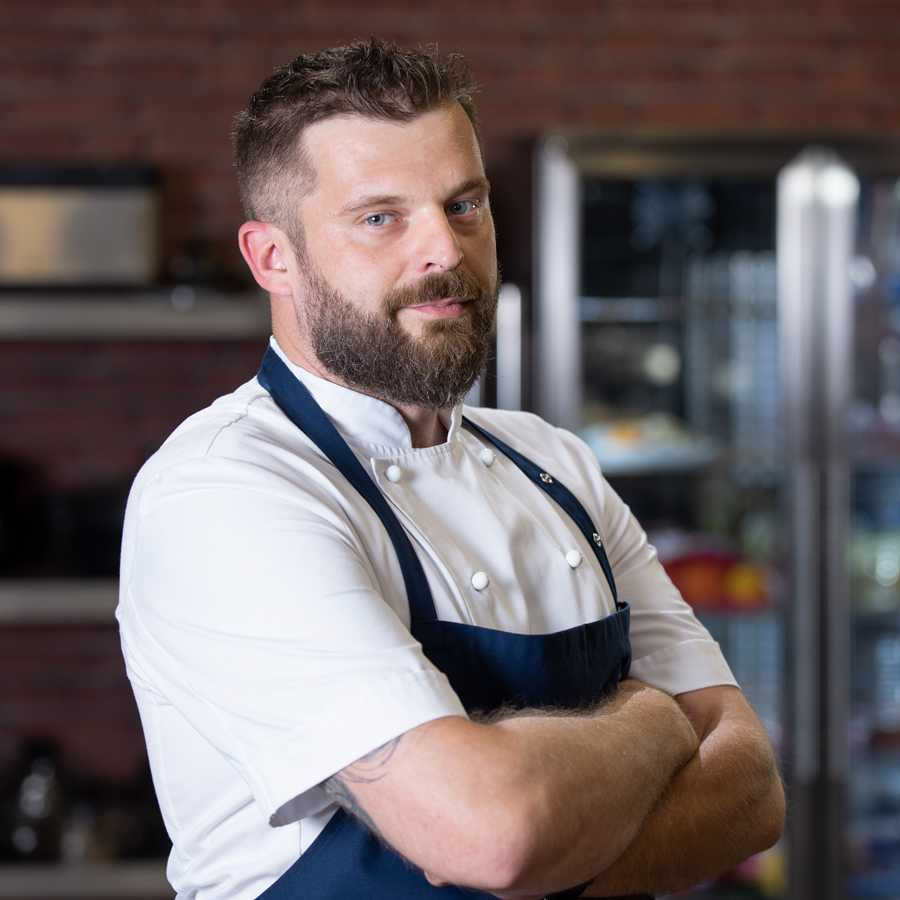 Review from Michal Expondo Expert (25 Mar 2019)
Versatile convection oven
A convection oven is the foundation of any kitchen and a real workhorse. Nearly every dish has some element that needs to be cooked in this high-performance appliance. This model stands out for its size and power, and is perfect for snack bars, food trucks or bistros, as well as for restaurants. The four included inserts make it possible to put the oven to work straight out of the packaging.
Head chef of prestigious restaurants in Sydney and Warsaw. An experienced and professional restaurateur
Durability and safety are important to me, hence the question: what material was used for the oven?
The casing is made of stainless steel which does not corrode and rust. It has high impact resistance and is easy to clean and maintain. The material is food-safe. For the door, double-layer tempered glass was used, which both withstands high temperatures and has a heat-insulating effect.
What happens if the device breaks?
We offer our customers 3 years warranty and EU-wide service. Just contact us!
---
Sort by...
---
Leave a review (5 stars is highest, 1 is lowest)
★
★
★
★
★
Click on the link sent to your e-mail address and confirm your opinion! It will be published after verification.
Reviews from Petra Šmídová (15 Dec 2021)
Reviews from Petra Šmídová (15 Dec 2021)
Mírné zklamání
Bohužel mne tento produkt poněkud zklamal. Jedna strana hřeje více a plechy se musejí obracet. Madlo na otevírání není úplně kompaktní, navíc otevírání trouby jde poměrně ztuha. V nabídce chybí případný rošt.
expondo experts reply
10 Mar 2022
Děkujeme za zpětnou vazbu. Neustále pracujeme na zlepšování našeho produktu a služeb.
Reviews from bourges françoise (6 Aug 2020)
Reviews from bourges françoise (6 Aug 2020)
tres bon four
cuit les 4 plaques de façon homogéne trés trés satisfaite de ce four
Reviews from Amazon Customer (23 Nov 2019)
Reviews from Amazon Customer (23 Nov 2019)
Très bon four !
Cela fait 1 mois que je l'utilise, très bon four dans l'ensemble. L'ampoule a cassée le premier jour mais le fournisseur est très réactif et m'a renvoyé une ampoule très rapidement. Je recommande.
Reviews from Amazon Customer (28 Dec 2018)
Reviews from Amazon Customer (28 Dec 2018)
Ottimo prodotto
Molto utile x far i dolci
Still not sure?
Our experts are ready to help!
Mon - Fri 09:00am - 04:00pm