Double Contact Grill - Ribbed - 2 x 1,800 W
Manufacturer: Royal Catering | Item number: EX10010246 | Model: RCKG-3600-G
Product highlights
Power: 2 x 1,800 watts / Surface: Ribbed
Plate (top): 21.4 x 21.4 cm, plate (bottom): 47.5 x 23.0 cm
Operating temperature: 50-300°C
Drip tray
Stainless steel / Enamel painted cast iron
Versatile smooth and ribbed griddle surfaces
High-powered - two independent 1,800 W heating elements
Keeping food warm and grilling at the same time with two enamel painted cast iron heating plates
Precise thermostat with overheat protection between 50 and 300 °C
Easy to clean with removable stainless steel drip tray
Non-slip rubber knobs and heat insulated handles
Double Contact Grill - Ribbed - 2 x 1,800 W
The double contact grill RCKG-3600-G by Royal Catering is a professional kitchen appliance which is perfectly suited for usage in hotel restaurants, bars, fast-food restaurants or catering companies, as well as in your home kitchen. The grill is flexible and, due to its large, double grill, ideal for preparing grilled snacks such as paninis, sandwiches, grilled vegetables or steaks and other meat specialities.
Material, grill
Enamel painted cast iron
Material, casing
Stainless steel
Operating temperature
50-300°C
Dimensions, upper griddle
21.4 x 21.4 cm
Dimensions, lower griddle
47.5 x 23 cm
Dimensions (LxWxH)
33.00 x 56.50 x 50.50 cm
Transportation dimensions (LxWxH)
68.00 x 42.00 x 25.00 cm
Download PDF
Download PDF
Contact grill RCKG-3600-G
Drip tray
Instruction manual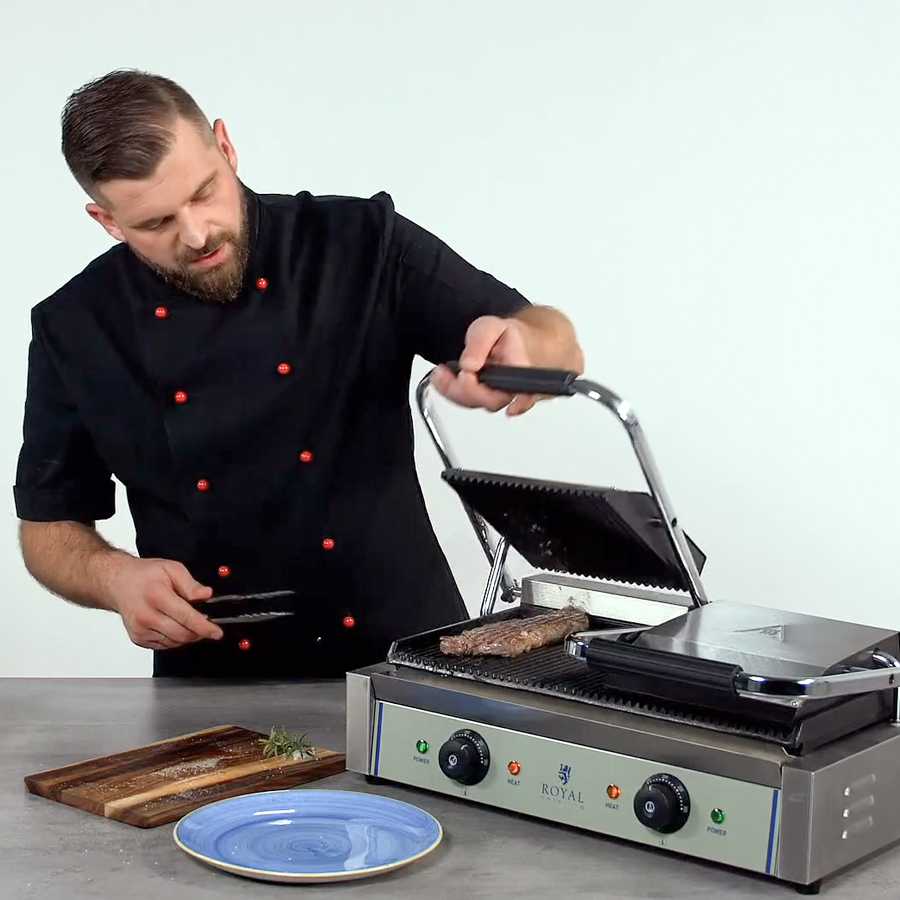 hohe Leistung dank 2 x 1.800 W
Wahl der optimalen Temperatur im Bereich von 50 - 300 °C
ideal für Fleisch, Panini, Gemüse, Tortillas, etc.
intuitive Bedienung über 2 Drehregler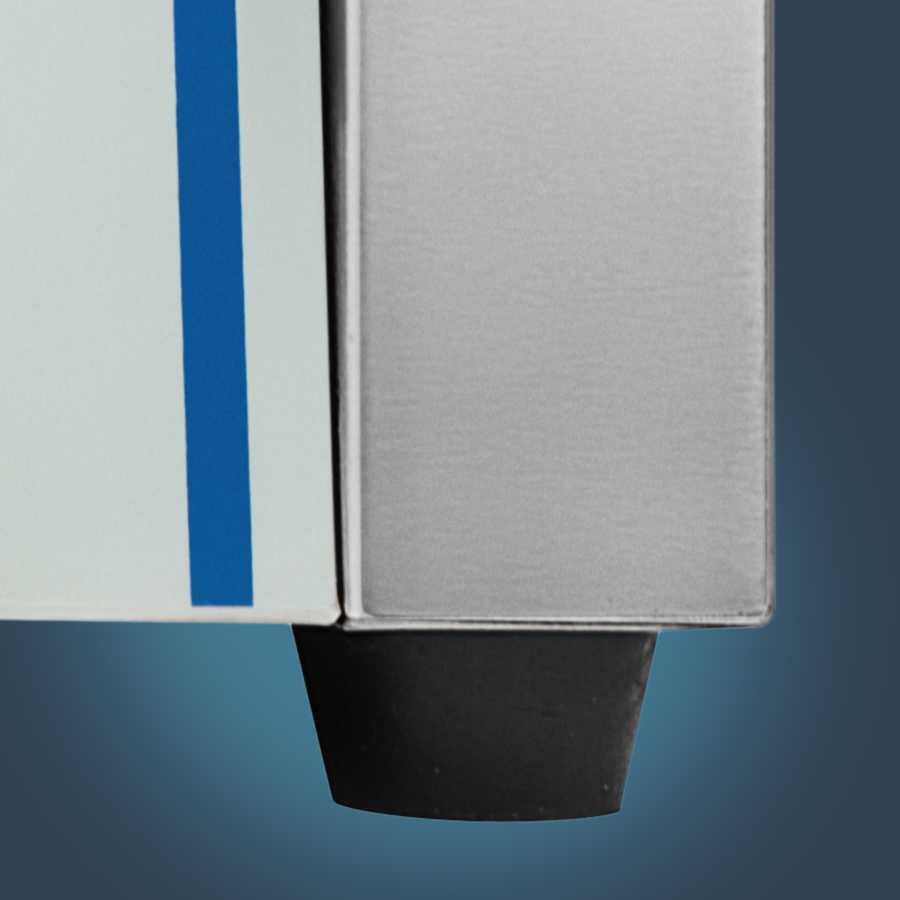 4 Gummifüße für Stabilität
Getestet von Michał Orłowski , Chefkoch renommierter Restaurants in Sydney und Warschau. Ein professioneller und erfahrener Gastronom, genau wie unsere Kunden.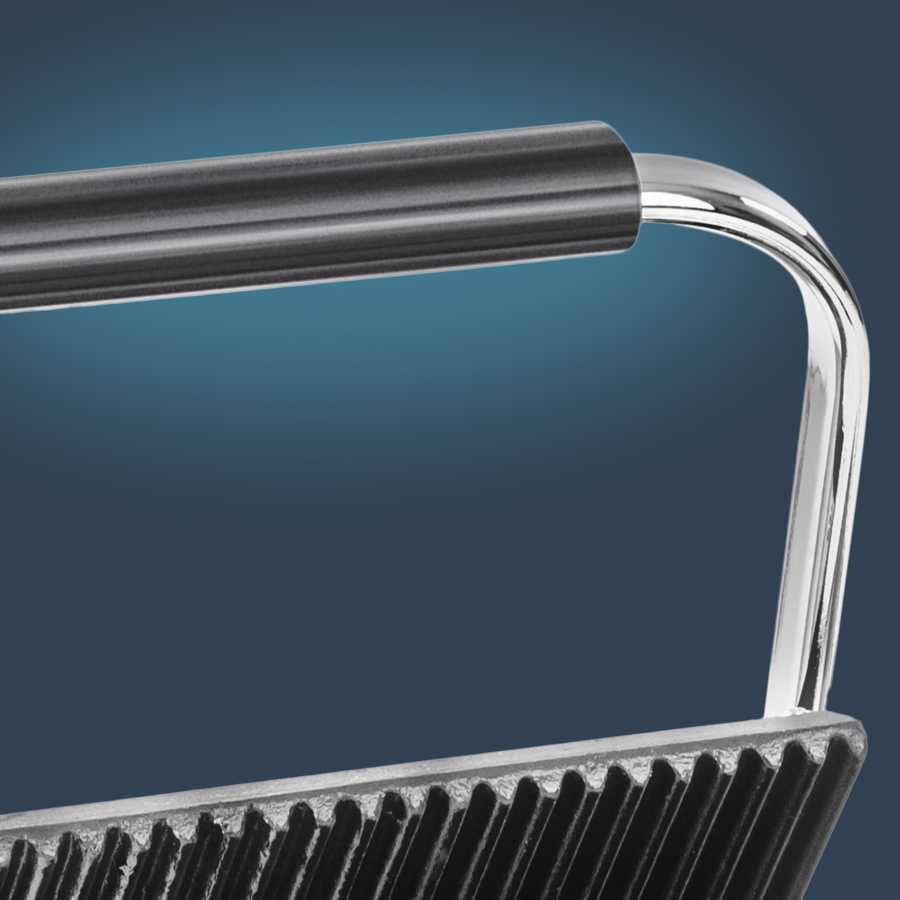 hitzeresistenter Griff schützt vor Verbrennungen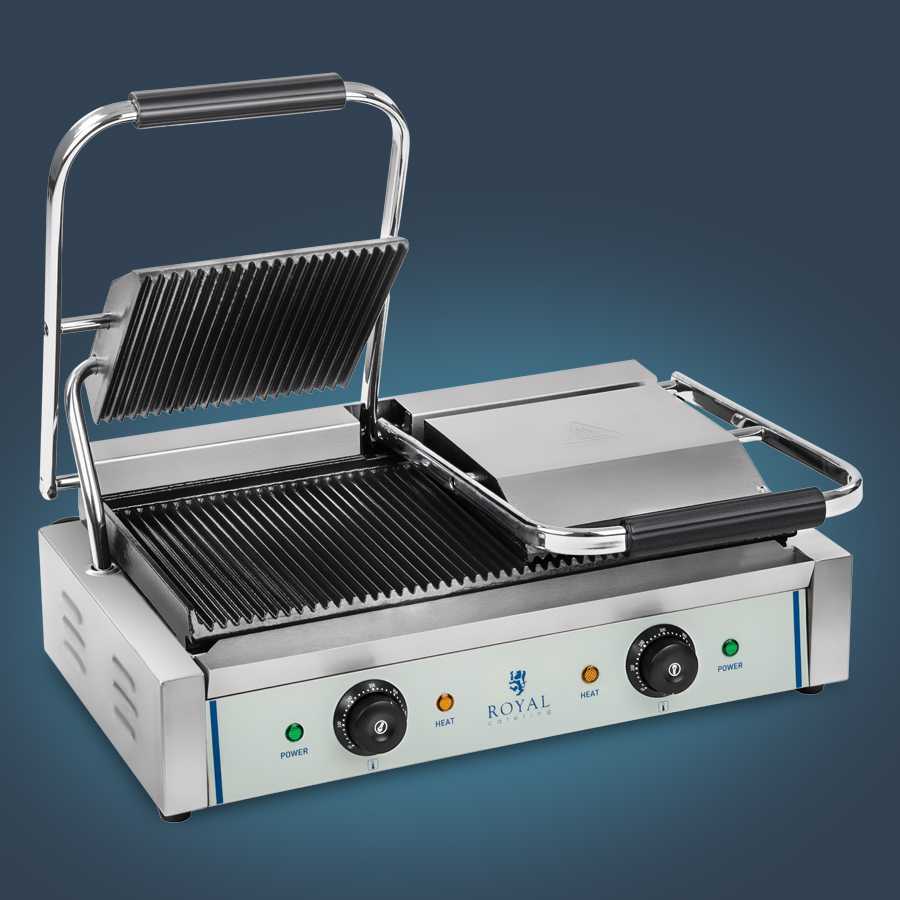 Effizienz durch Grillfläche von 47,5 x 23 cm
abnehmbare Fettschublade zur einfachen Reinigung
Überhitzungsschutzsystem für den sicheren Einsatz
PRO TIP
Vor dem ersten Gebrauch wische ich die Oberfläche der Platten mit Bratfett ab.
Damit die Produkte nicht haften bleiben, wärme ich das Gerät auf mindestens 180 °C vor.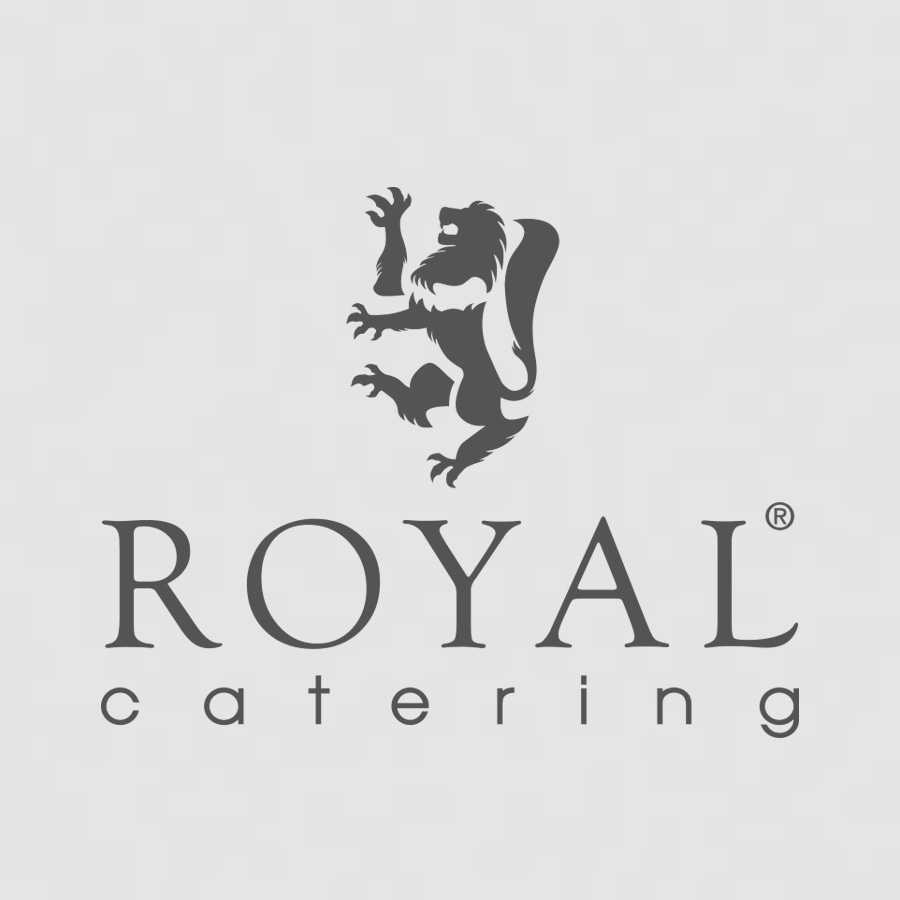 Riffelung perfekt zum Grillen
gleichmäßige Bräunung durch Ober- und Unterhitze
hochwertiges emailliertes Gusseisen, an dem keine Lebensmittel haften bleiben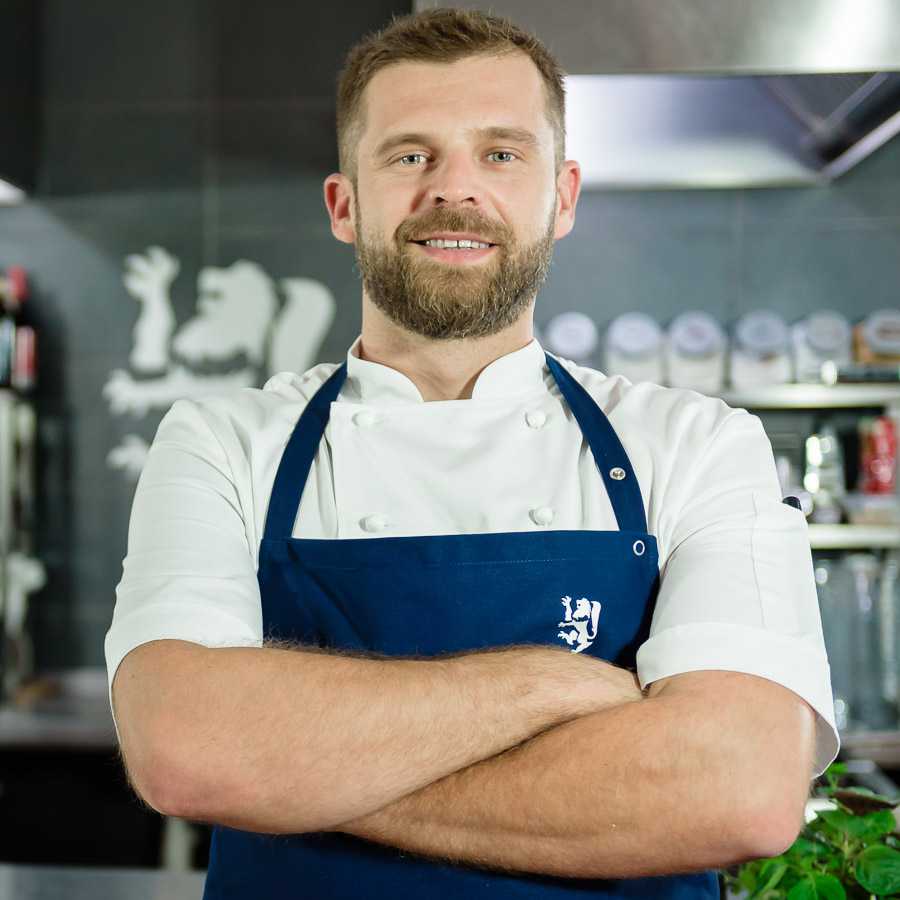 Review from Michal Expondo Expert (27 Nov 2018)
GREAT CHOICE FOR CAFES, BISTROS AND RESTAURANTS
Contact grills can be found in almost every restaurant or bistro. They are very versatile devices, which will enable you to diversify the menu very nicely. It is important that your device is efficient and warms up quickly -- not a problem, in this case. At 2x 1800W, the grill reaches the desired temperature in a very short time, so guests will never have to wait for their meals. Thanks to the enamelled surface of the heating elements, the food does not stick and you don't have to waste time on cleaning. This equipment is even designed to handle heavy traffic, while taking up less space than two single grills. However, it is also possible to switch on only one side at a time when things are less busy. This translates directly into savings. The grill is solidly built while also looking nice. This factor is becoming more and more important nowadays, when open kitchens are fashionable and guests can watch as their dishes are prepared. In my opinion, it's a great choice for a cafe, a bistro and a restaurant.
Head chef of prestigious restaurants in Sydney and Warsaw. An experienced and professional restaurateur
Can I use different temperatures at each side of the grill?
Yes, the two heating elements are independent from each other, which means that you can set two different temperatures. You can therefore grill different food on each griddle.
What material is the device made of?
The casing is made from stainless steel and the griddles are made from enamel painted cast iron.
Is it easy to clean?
Yes, due to the drip tray and smooth stainless steel surface, the contact grill can be easily cleaned.
---
Sort by...
---
Leave a review (5 stars is highest, 1 is lowest)
★
★
★
★
★
Click on the link sent to your e-mail address and confirm your opinion! It will be published after verification.
Reviews from Amazon Customer (6 Dec 2016)
Reviews from Amazon Customer (6 Dec 2016)
panineria cala' complimenti ottima
io sono cala' emanuele ed ho una panineria a caltanissettadevo dire che non mi aspettavo di ricevere un prodotto cosi professionale e ottimoa questo prezzo complimenti
Still not sure?
Our experts are ready to help!
Mon - Fri 09:30am - 04:30pm
This product
Power: 2 x 1,800 watts / Surface: Ribbed

Plate (top): 21.4 x 21.4 cm, plate (bottom): 47.5 x 23.0 cm

Operating temperature: 50-300°C

Drip tray

Stainless steel / Enamel painted cast iron
Ready to ship today, Delivery time appr. 6-10 working days
Double Contact Grill - Ribbed - 2 x 1,800 W
Instead of: £289.00
£269.00
Ready to ship today, Delivery time appr. 6-10 working days
Power: 2 x 1,800 watts / Surface: Ribbed

Plate (top): 21.4 x 21.4 cm, plate (bottom): 47.5 x 23.0 cm

Operating temperature: 50-300°C

Drip tray

Stainless steel / Enamel painted cast iron
Power: 2200 watts

Surface: ribbed

Operating temperature: 0 - 300 °C

Drip tray

Stainless steel / Enamel painted cast iron
Ready to ship today, Delivery time appr. 6-10 working days
Contact Grill - Ribbed Griddles - 2200 W
Ready to ship today, Delivery time appr. 6-10 working days
Power: 2200 watts

Surface: ribbed

Operating temperature: 0 - 300 °C

Drip tray

Stainless steel / Enamel painted cast iron