Potato Slicer
Ready to ship today, Delivery time appr. 4-6 workdays**
Your benefits at a glance
Potato Slicer
Highlights
Ideally suited for restaurants, snack bars or markets
Compact and sturdy construction - made of stainless steel, aluminium and steel
Excellent force transfer thanks to lever action
Universal - can be mounted on a table or wall
Incl. 3 blade inserts (8 x 8, 10 x 10 und 12 x 12 mm)
Potato Slicer
With the potato slicer RCKS-3 from Royal Catering, you can rapidly cut potatoes or other similar fruits or vegetables up to 15.5 cm long into perfectly uniform sticks for dipping or for frying to make chips. The device is specially designed for professional food service and is ideal for use in catering kitchens, snack bars and restaurants.
The potato slicer RCKS-3 from Royal Catering - perfect for preparing vegetable sticks or chips
The universal slicer RCKS-3 is made of stainless steel, aluminium and steel. The materials are extremely robust and resilient, offering exceptional durability. The smooth surfaces, rounded edges and the ease with which you can remove the blade inserts make it easy to thoroughly wash the professional tool under running water. The blade inserts are also dishwasher safe.
The potato cutter is operated manually using a simple lever mechanism, which speeds work. Simply place the fruit or vegetable in the holder and press it through the sharp blades using the sturdy, non-slip rubber handle. This professional device makes cutting potatoes and other vegetables into uniform sticks much easier and significantly increases productivity in your commercial kitchen.
On the table or on the wall - anyone can use it
When mounted on the wall, the potato slicer from Royal Catering takes up almost no space. The holes in the feet allow you to easily install the kitchen utensil in the desired position on the wall. Working vertically enables faster and more efficient slicing. You can place a container below the device to neatly catch the cut vegetables.
The potato slicer comes with three stainless steel blade inserts for various cutting thicknesses (8 x 8, 10 x 10, 12 x 12 mm). The inserts can be quickly and easily swapped out, and the high quality of the blades ensure precise cut edges. You can effortlessly cut potatoes, kohlrabi, apples or zucchini with the 84 x 84 mm cutting surface. Give free rein to your imagination and offer your guests hand-cut chips or delicious vegetable sticks.
Material, blades
Stainless steel
Material, casing
Steel, aluminium
Dimensions, cutting area
84 x 84 mm
Cut size
8 x 8 mm
10 x 10 mm
12 x 12 mm
Max. length of item to be cut
15.5 cm
Dimensions (LxWxH)
69 x 17 x 20 cm
Shipping dimensions (LxWxH)
38 x 19 x 22 cm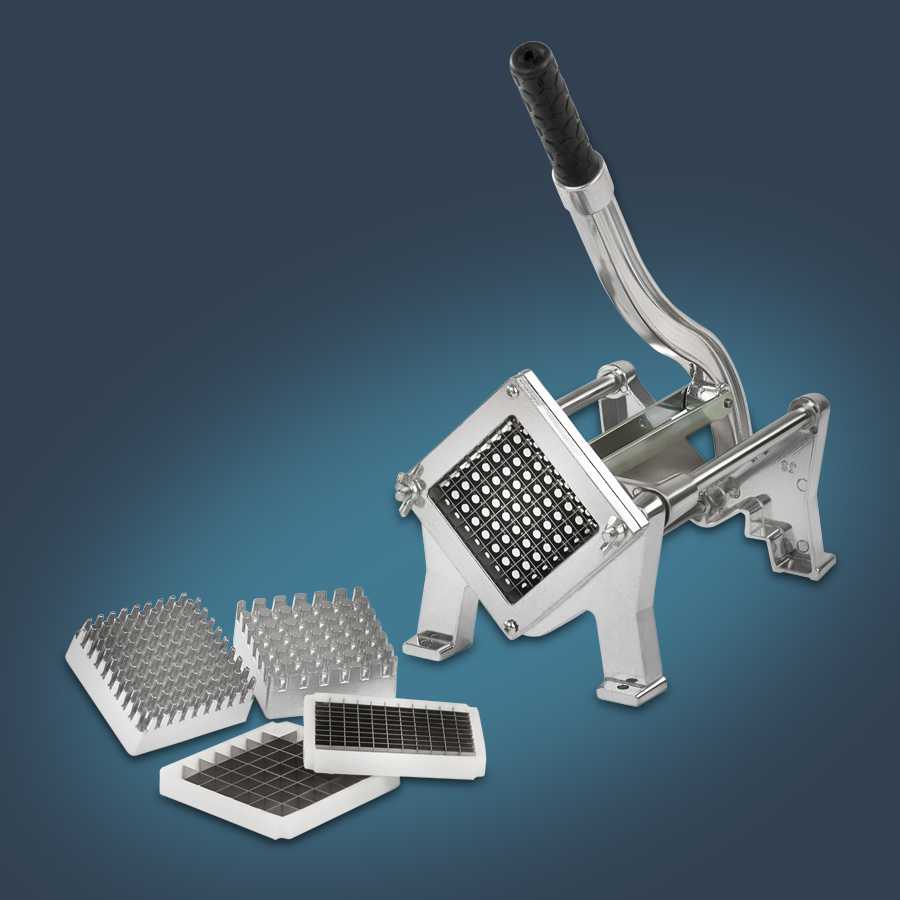 All-purpose cutter for potatoes and vegetables
Corrosion-resistant blades
Solid, durable design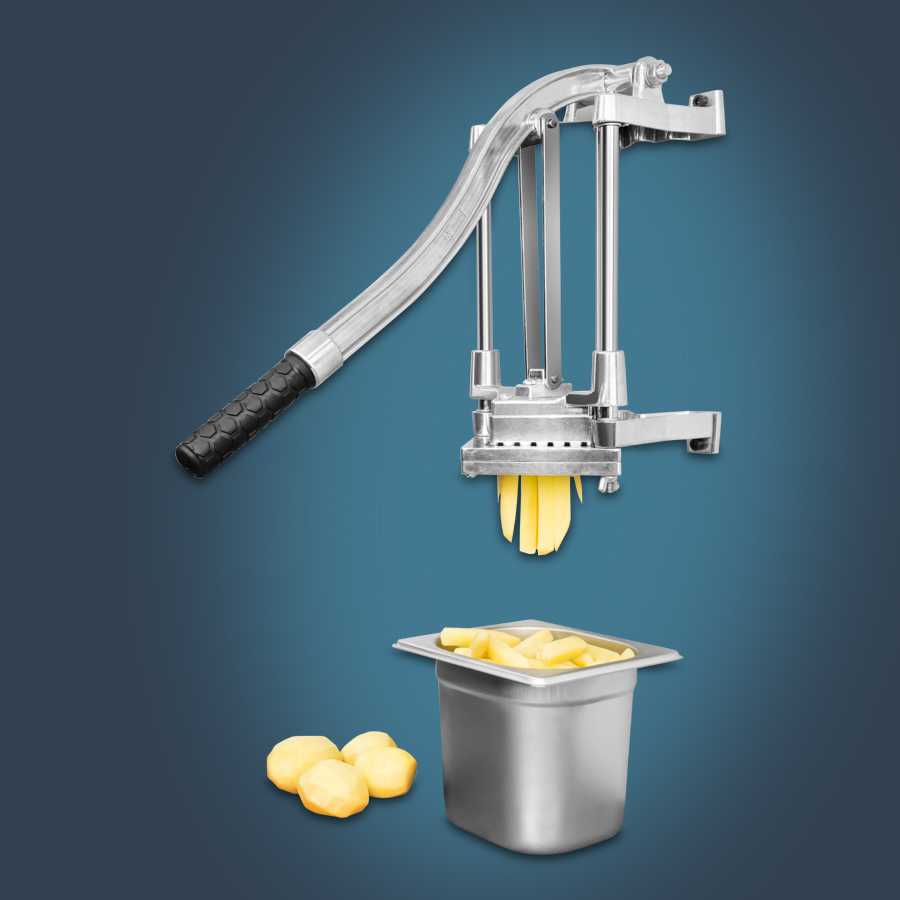 Suitable for table or wall mounting (incl. screws)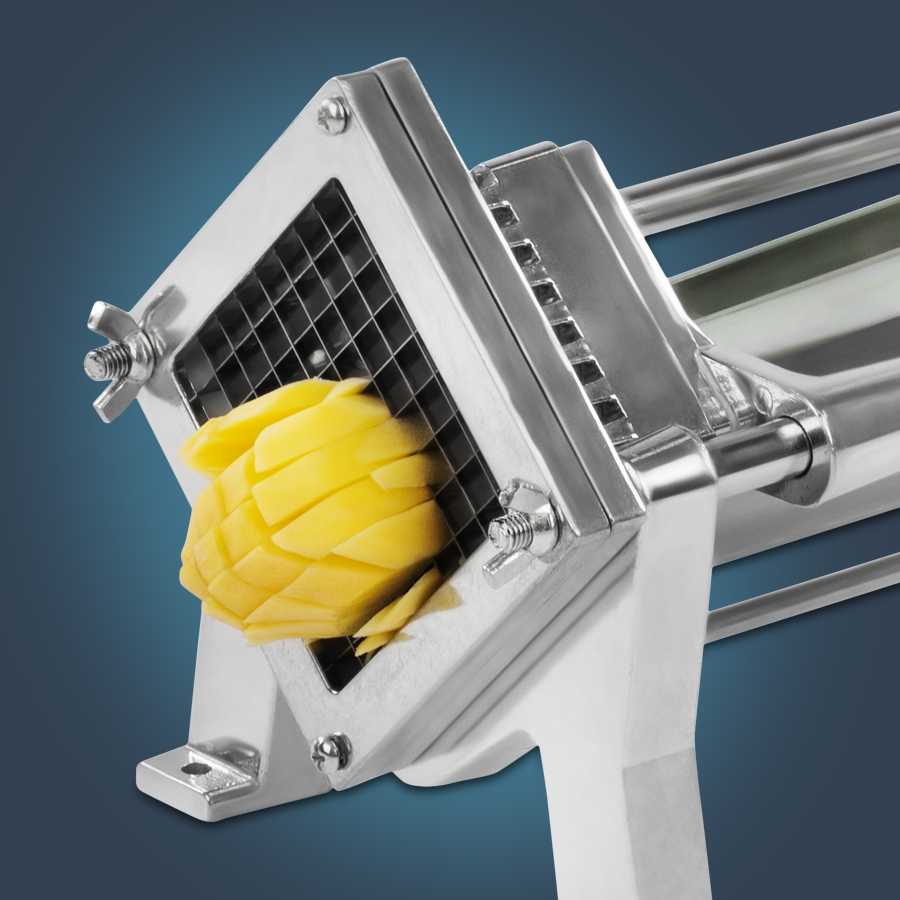 sharp knives cut vegetables quickly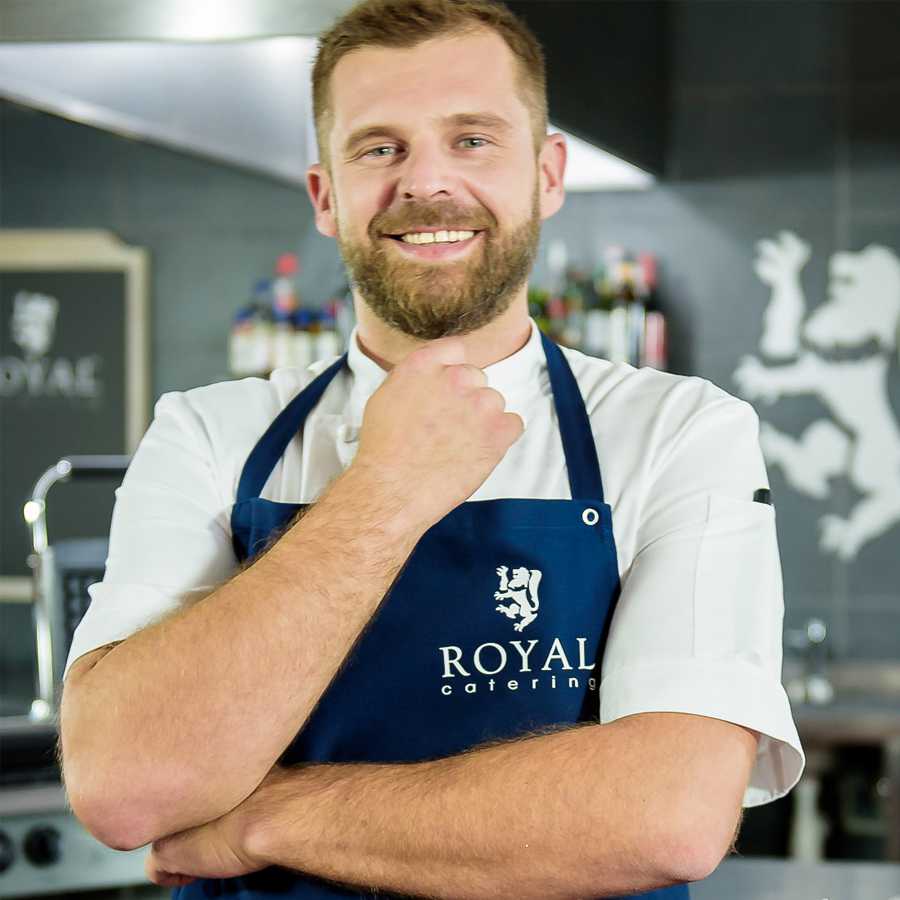 Tested by Michał Orłowski, head chef of prestigious restaurants in Sydney and Warsaw. An experienced and professional restaurateur, just like our customers.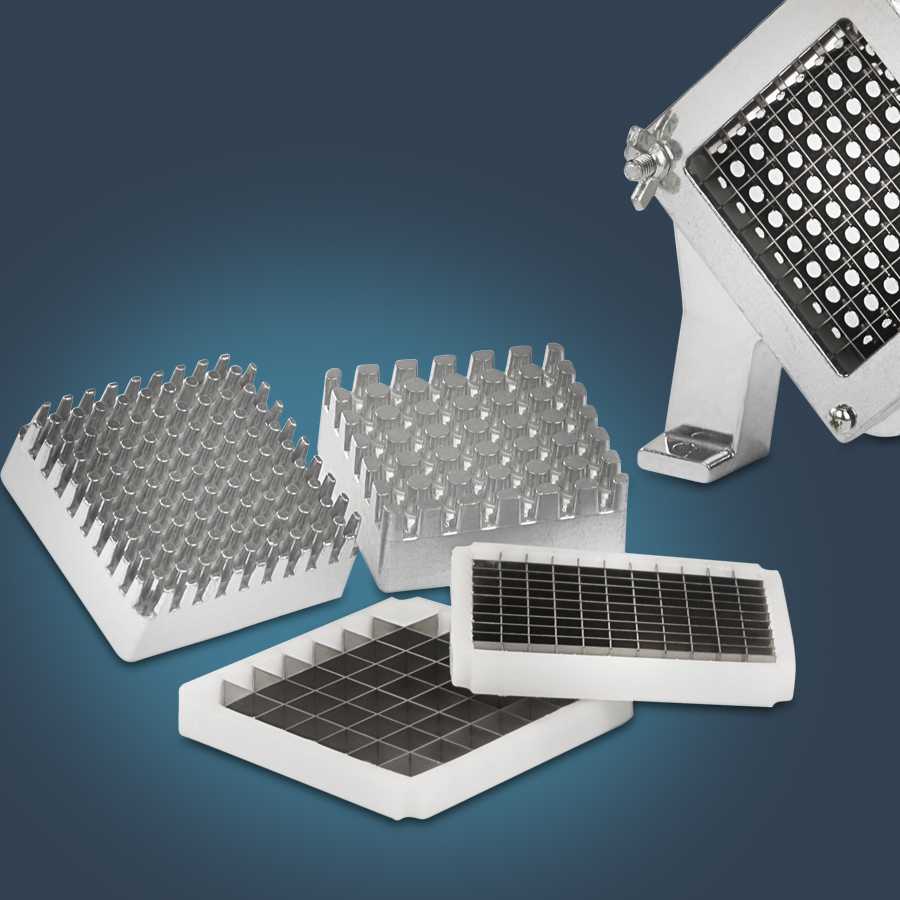 Blade inserts: 8 x 8 mm, 10 x 10 mm and 12 x 12 mm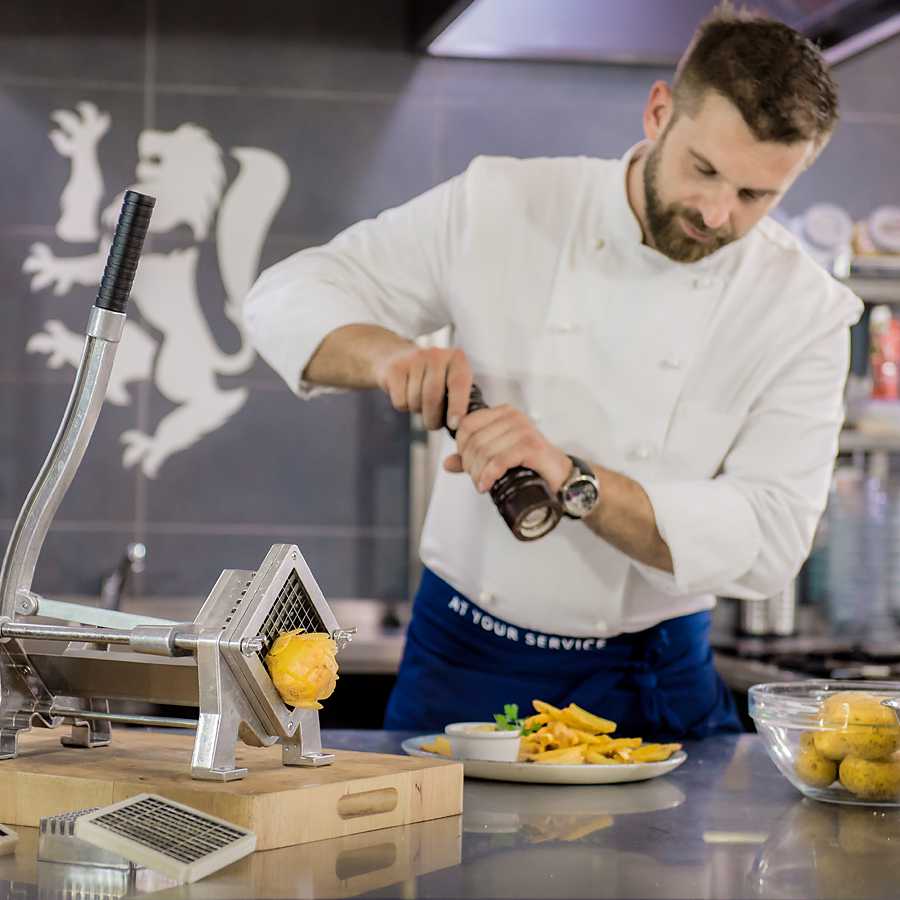 Easy to disassemble and replace parts
Skid-resistant rubber feet
Heavy screws ensure maximum stability
PRO TIP
The device is more efficient if you attach it to the wall or a very solid base.
For the best results, i.e., crispy golden chips, try frying them twice.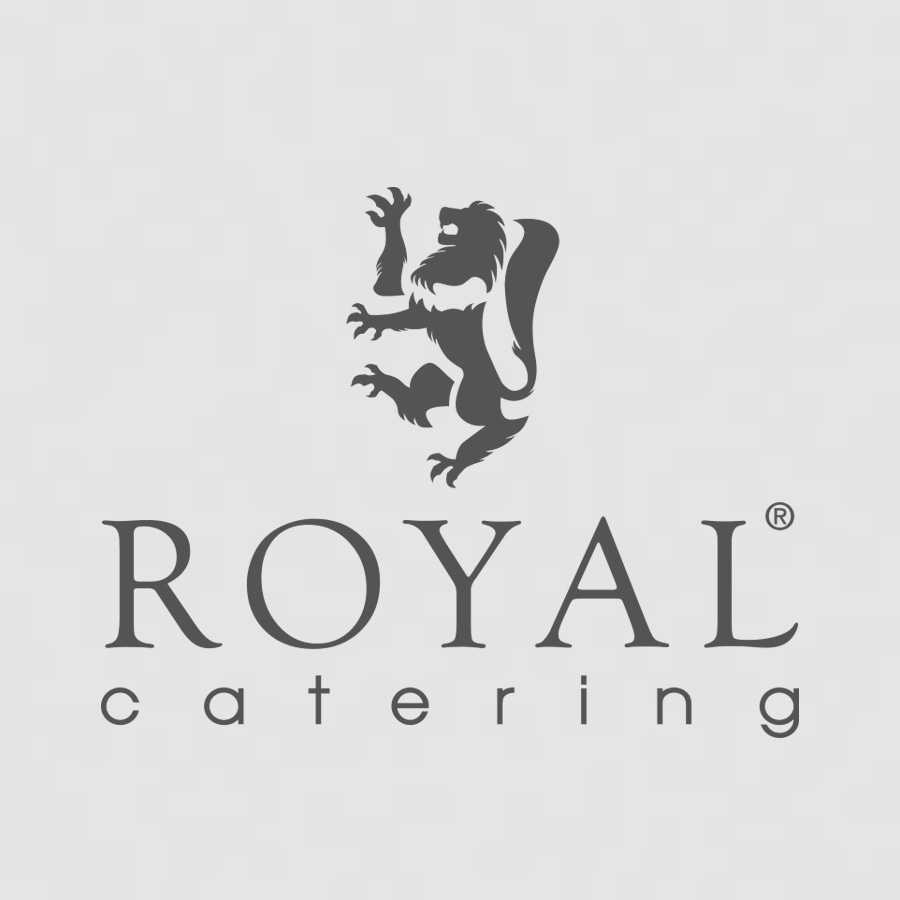 Effortless operation thanks to lever mechanism
Long-lasting and food-safe stainless steel
Easy to wash in the dishwasher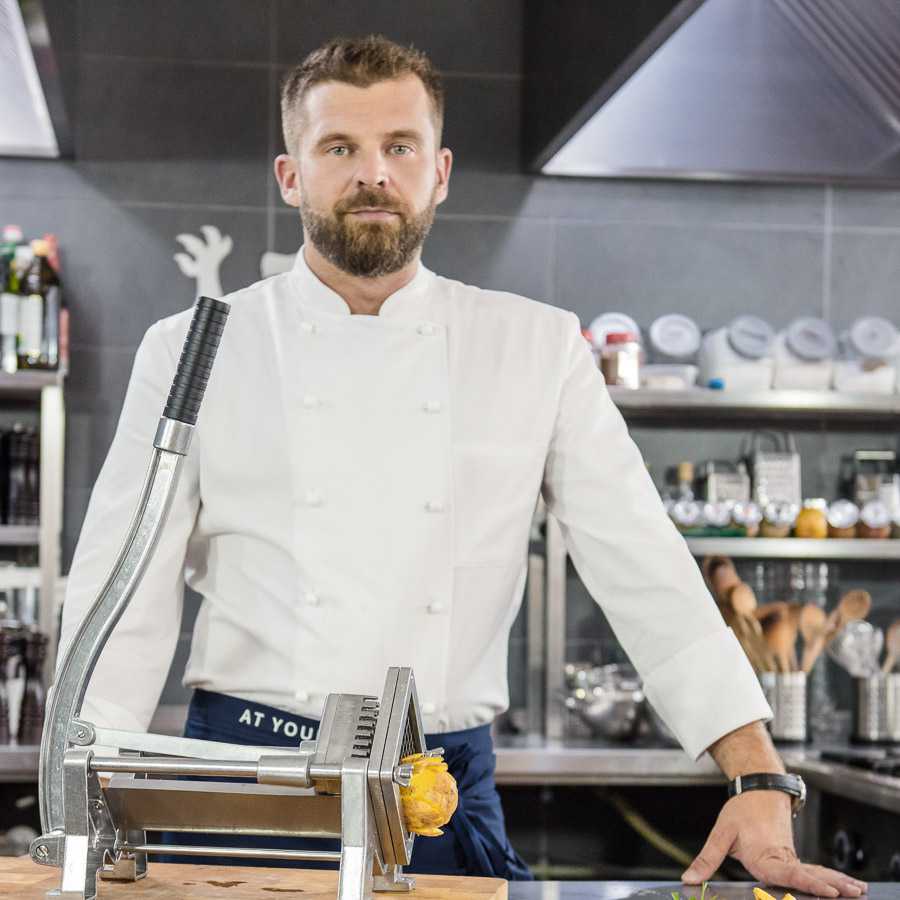 Review by Michał Orłowski, expondo expert (02.08.2018)
Saves time and energy
French fries are popular with everyone. And hand-cut fries are a hit right now. Unfortunately, I know from experience that cutting French fries is a very time-consuming and tedious task. And this is the most frequently ordered side dish. You can have one person spend their entire day just cutting fries -- which of course makes the whole process quite expensive. This in turn translates to higher menu prices. To keep prices competitive, this process must somehow be streamlined and accelerated. This is where the potato cutter comes in. With this device, it is no longer a challenge to cut enough chips. Interchangeable blades even allow you to choose the right thickness. I sincerely recommend this device in any restaurant or food service establishment.
Can I use this device to slice other kinds of vegetables as well?
The potato slicer RCKS-3 was developed for slicing potatoes, but you can also use it to cut other vegetables, for example carrots or parsnips.
Can I use this device to slice other kinds of vegetables as well?
The potato slicer RCKS-3 was developed for slicing potatoes, but you can also use it to cut other vegetables, for example carrots or parsnips.
Is this device dishwasher-safe?
Yes, you can wash the blades in the dishwasher without worrying.