Salamander Grill - 2000 Watt
Item number: EX10010247 / Model: RCES-2000-EGO
Salamander Grill - 2000 Watt
Item number:

EX10010247

Model:

RCES-2000-EGO

In the product range since:

2008
Ready to ship today, Delivery time appr. 4-6 workdays**
Your benefits at a glance
Salamander Grill - 2000 Watt
Impress the guests at your restaurant or at your company party with delicious and hot snacks made with the Salamander Grill RCES-2000-EGO from Royal Catering. This professional electrical oven is specially designed for gastronomy usage and is perfect for toasts and baguettes as well as casseroles.
Impress your guests with our Salamander Grill from the Royal Catering Fast Food Line
The heating element of the Salamander Grill achieves the desired temperature very quickly thanks to ist 2000 W power. This way your guests won't be waiting long for hot snacks. Using a rotary control you can adjust the temperature between 50 – 250 °C. The integrated E.G.O. thermostat meets the high German standards that until now used to mostly apply to medicine or lab work.
Once the desired temperature is reached, the thermostat keeps it constant during the grilling process. Thanks to the integrated timer with an acoustic signal your meals will always be ready on time in the period of 0 to 15 minutes.
The Salamander Grill from the Royal Catering Gastronomy line is made of high-quality stainless steel and it's very easy to clean. The chromed grillage with a 45 x 26 cm surface is also easy to maintain. There's also a collecting container that keeps your Salamander Grills remarkably clean and makes it easy for you to effortlessly remove the crumbs and other grill residues.
Depending on what you're grilling, it's possible to place the grillage on four different levels in the oven. This allows you to use both deep and shallow heat-proof dishes in order to achieve the optimal effect. The grid has two thermally insulated handles, which you can use to move the grid even when it's hot. The tilt protection provides additional security and stability while inserting snacks.
Take your Salamander Grill with you to the next catering event and you'll always have a reliable oven by your side. This gadget is not only very stable and long-lasting owing to its stainless steel finish, but it's also very simple to transport, given its very compact structure.
Highlights
precise temperature: a modern E.G.O thermostat up to 250 °C
quick: a heating element with 2000 W power
reliable: a timer with an acoustic signal
adjustable: four slots
easy to maintain: stainless steel case and a collecting container
Temperature capacity
Up to 250 °C
Grid dimensions (LxW)
45 x 26 cm
Dimensions (LxWxH)
63.5 x 43 x 28 cm
Package dimensions (LxWxH)
67.5 x 37 x 34 cm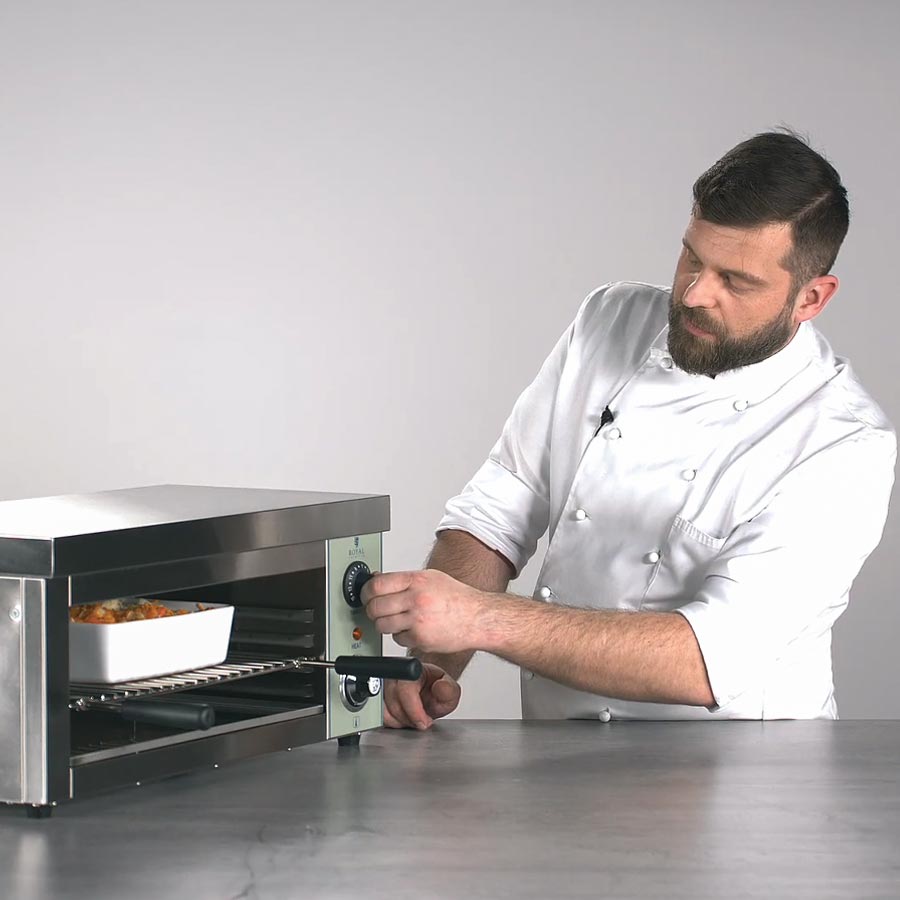 Efficient grilling thanks to 2,000 W
Spacious grill measuring 45 x 26 cm provides space for plenty of products
Ideal for casseroles, toast or baguettes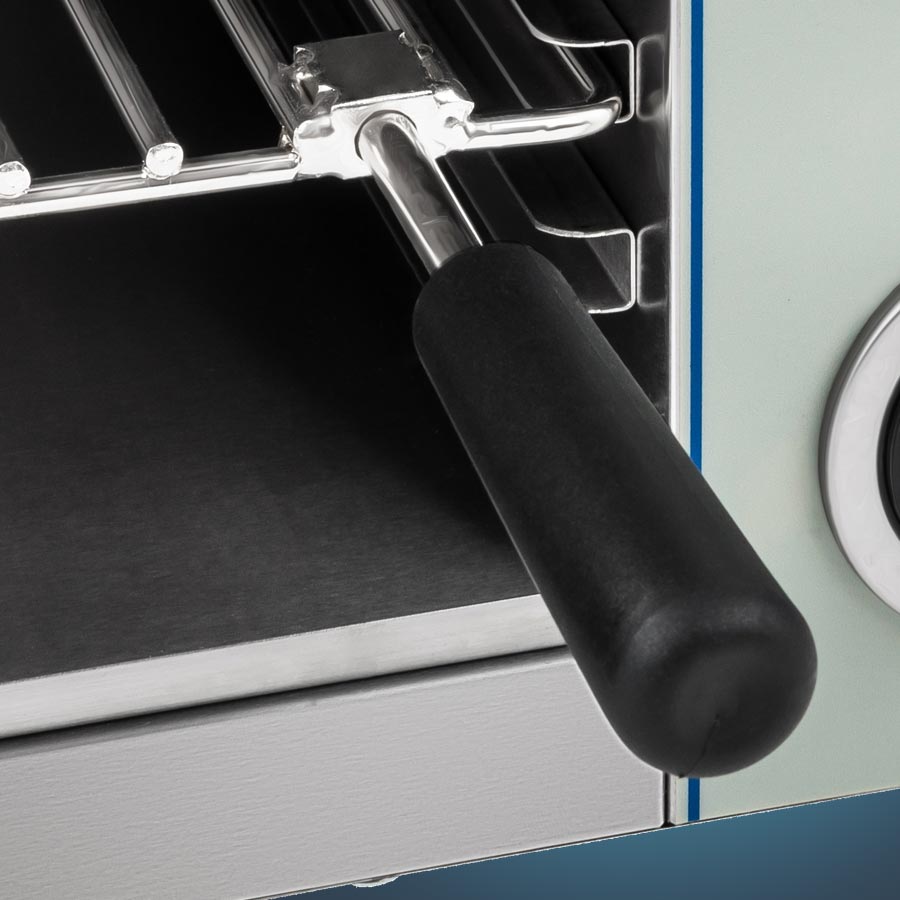 Heat-resistant handles protect user from burns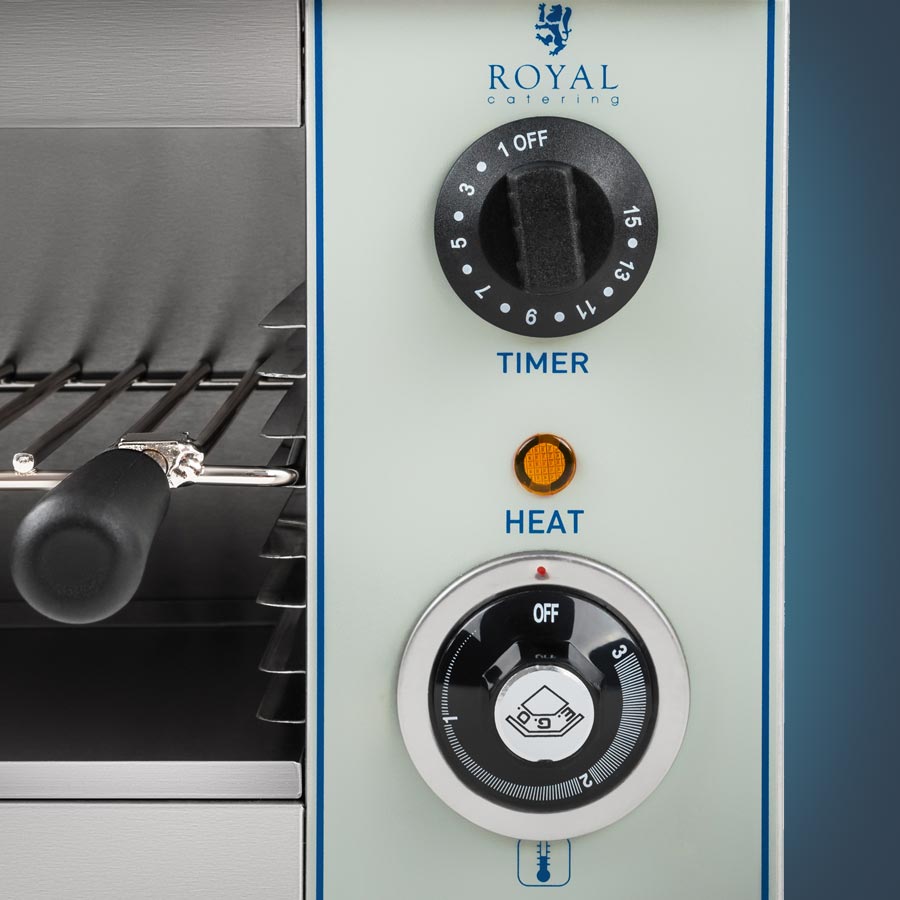 Intuitive control panel with 2 buttons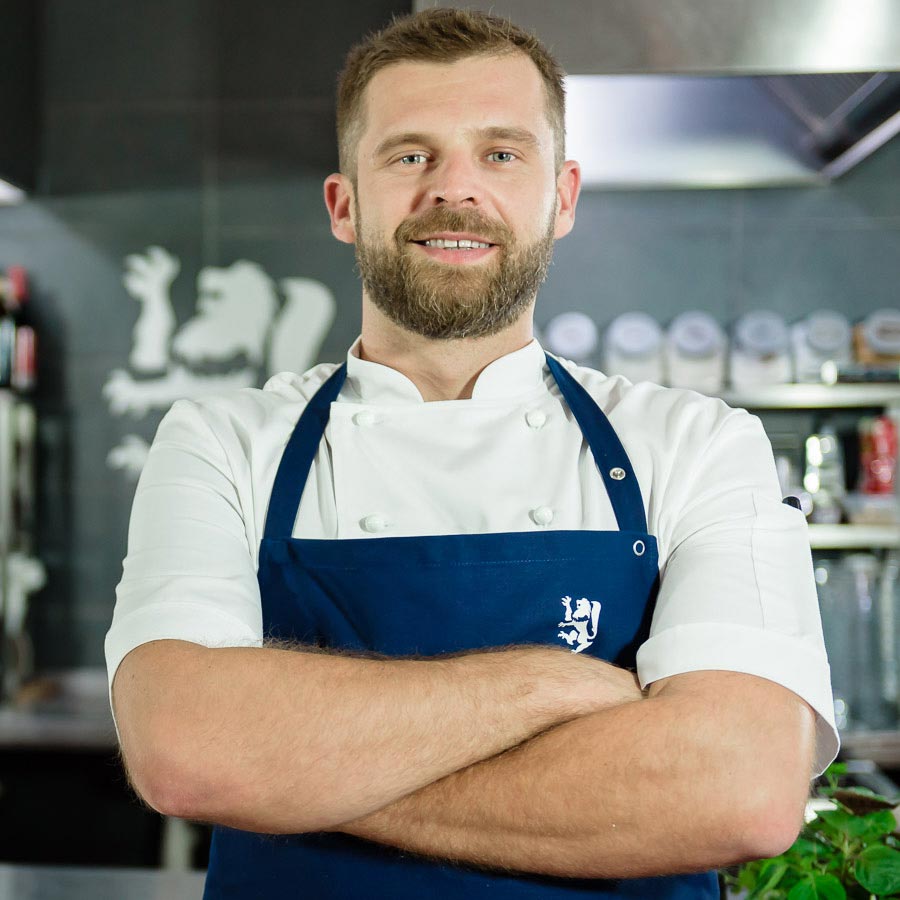 Tested by Michał Orłowski, head chef of prestigious restaurants in Sydney and Warsaw. An experienced and professional restaurateur, just like our customers.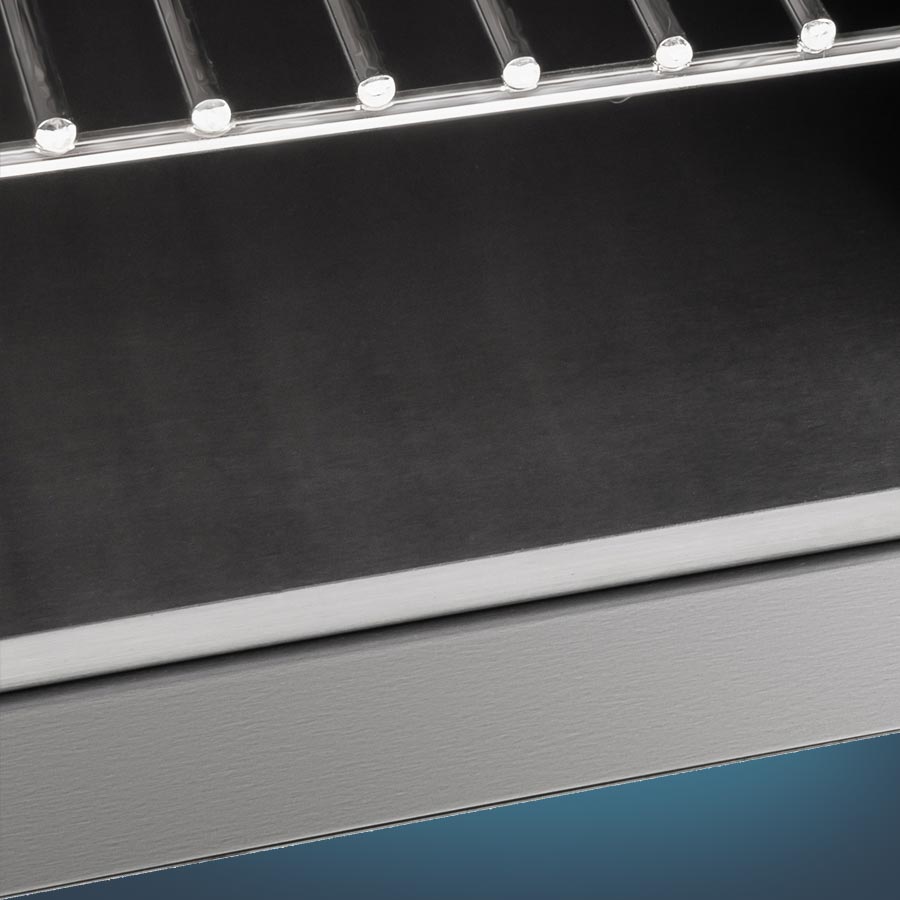 Removable collecting container for easy cleaning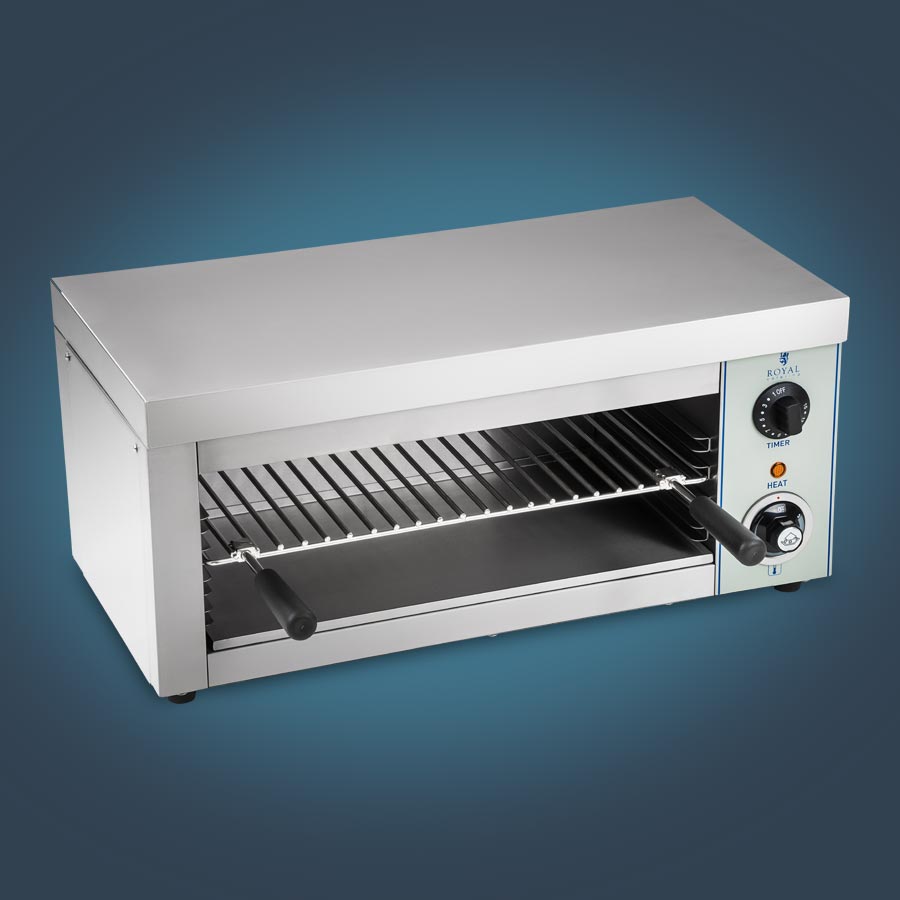 Height adjustment for precise roasting
Smooth surfaces are easy to clean
4 non-slip feet stabilise the device
PRO TIP
I always use the timer function to guarantee consistent results.
This is a fantastic appliance for making food. An absolute must-have for any professional kitchen, in my opinion.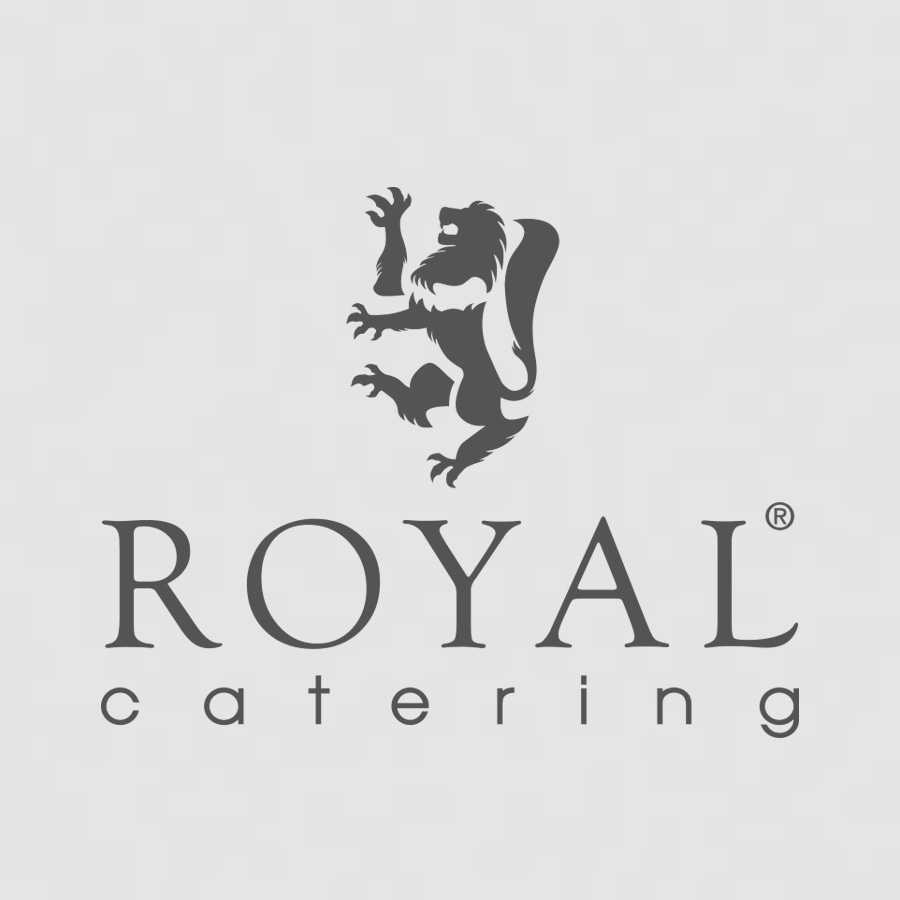 Thermostat maintains a constant temperature of 50 - 250 °C
Practical timer with alarm: Up to 15 min
Durable and food-safe stainless steel housing
I work with professional products every day. For this video, I made sure to test the device thoroughly. You can take a close look at how this product works and then decide which model is best for your business. I hope my video and tips will help to make your business even more successful.
Head chef of prestigious restaurants in Sydney and Warsaw. An experienced and professional restaurateur
Salamander
grillage
user manual
4.5
Basierend auf 4 Bewertung/en
---
Sort by...
---
Evaluations will be activated after verification.
Reviews from Amazon Customer (6 Aug 2019)
Reviews from Amazon Customer (6 Aug 2019)
Guter Artikel
Ich bin vollkommen zufrieden damit!
Reviews from Amazon Customer (5 May 2019)
Reviews from Amazon Customer (5 May 2019)
excellet, niveau prix qualité a recommander
Super produit, facile a servir ideal pour mon restaurant sur la terasse avec un peux du vent, toujours des grenouilles bien chaud
Reviews from Amazon Customer (4 Feb 2017)
Reviews from Amazon Customer (4 Feb 2017)
rapida y eficaz
En la hosteleria necesitas sacar las cosas rapido para que los clientes no se impacienten y este tostador cumple con ese cometido excelentemente
Reviews from Amazon Customer (8 Aug 2016)
Reviews from Amazon Customer (8 Aug 2016)
Tostador industrial, cumple bien con su cometido
El tostador es de uso industrial, yo pensé que lo podria usar para uso domestico en casa, pero al final uso mas el viejo que este, pero cumple bien con su cometido industrial