Waffle Iron - 2 x 2,000 watts - rectangular
Item number: EX10010315 / Model: RCWM-4000-E
Waffle Iron - 2 x 2,000 watts - rectangular
Item number:

EX10010315

Model:

RCWM-4000-E

In the product range since:

2008
Ready to ship today, Delivery time appr. 4-6 workdays**
Your benefits at a glance
Waffle Iron - 2 x 2,000 watts - rectangular
The waffle iron RCWM-4000-E from Royal Catering brings the scent of fresh-baked waffles into your cafe or restaurant and delights your guests with crisp, golden-brown waffles, Belgian style. Whether sweet, with chocolate and berries, or savory, with fresh herbs and ham - serve up a variety of styles of delicate waffles in a twinkling with this baking appliance from Royal Catering, your online retailer for food service equipment.
Enjoy a tasty treat with this waffle maker
The waffle maker consists of two separate baking plates, giving you space to effectively prepare four 17 x 10 cm, 2.5 cm-thick waffles per baking cycle. The compact design makes this professional device a truly space-saving kitchen appliance. The housing of the waffle iron is made of sturdy and resilient stainless steel. The baking plates are made of high-quality cast iron and enamel.
The baking plates have a non-stick coating to make it easy to remove the finished waffles. The plates' structure creates the traditional Belgian waffle pattern on the pastry. The built-in overflow protection on the plates prevents extra batter from overflowing, making clean-up easier.
Both baking plates have separate power supplies and control panels, allowing you to use one or both baking plates. You can adjust the desired temperature within a range of 50 to 300 °C using the fully-automatic thermostat. The integrated automatic system does the rest.
The waffle iron is also equipped with a timer that can be set to maximum 15 minutes. The timer only displays the operating time and has no connection to the waffle maker's electrical function. Simply set the desired time and the device will alert you with an acoustic signal when it has elapsed. This gives you optimum control over the preparation time for your waffles.
The heat-insulated handles on the upper plates guarantee safe and comfortable operation. There are special ventilation slits in the housing which ensure additional air cooling and prevent overheating.
Highlights
Ideally suited for restaurants, snack bars, cafés or Christmas markets
Fully automatic thermostat with temperature range of 50 - 300 °C
For 4 traditional Belgian waffles
Non-stick coating for easy removal of waffles
Timer function up to max. 15 minutes
Operating temperature
50 - 300 °C
Material, housing
Stainless steel
Material, plates
Enamelled cast iron
Dimensions per plate
17 x 10 cm
Dimensions (LxWxH)
37 x 62.5 x 50 cm
Shipping dimensions (LxWxH)
79 x 62 x 37 cm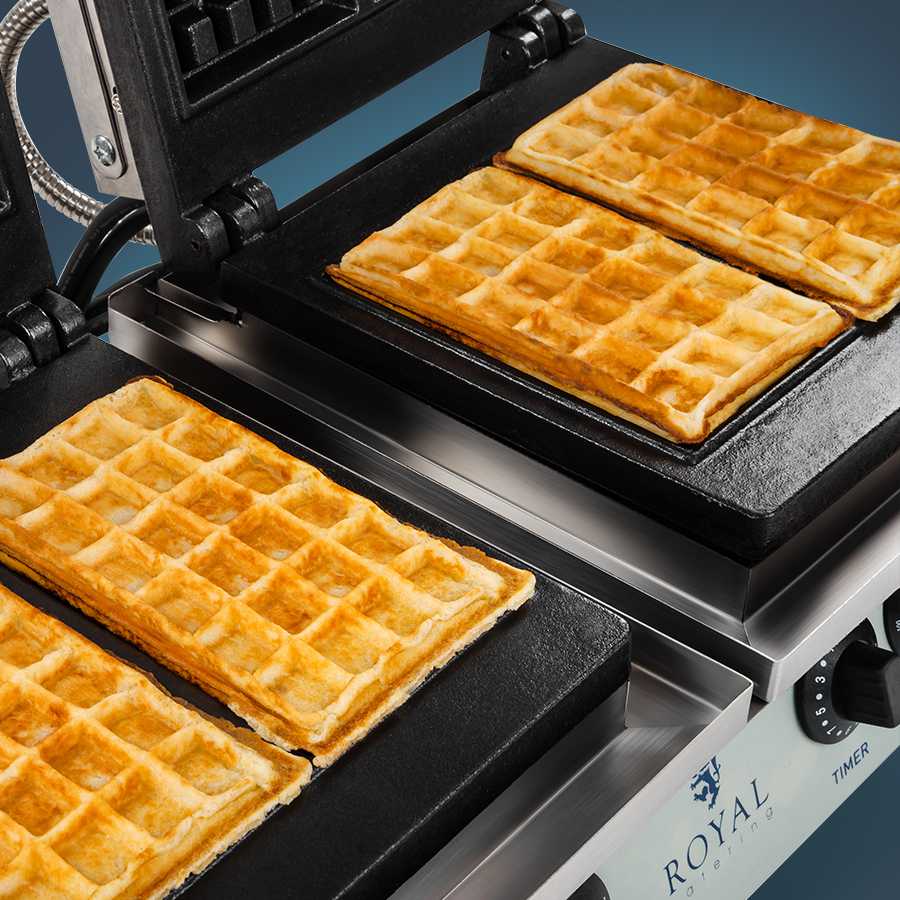 professional waffle iron for Belgian waffles
functional design enables you to simultaneously bake four waffles
precise temperature control between 50 - 300 °C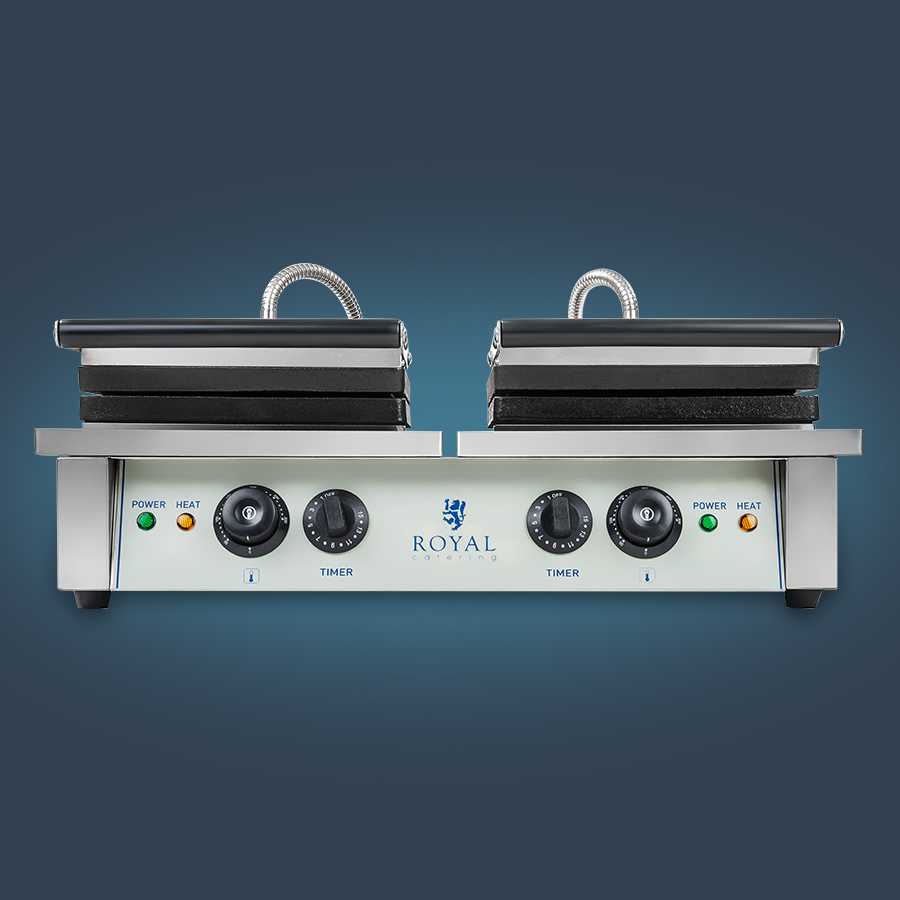 depending on your needs, you can use both baking plates thanks to the separate energy supply and control system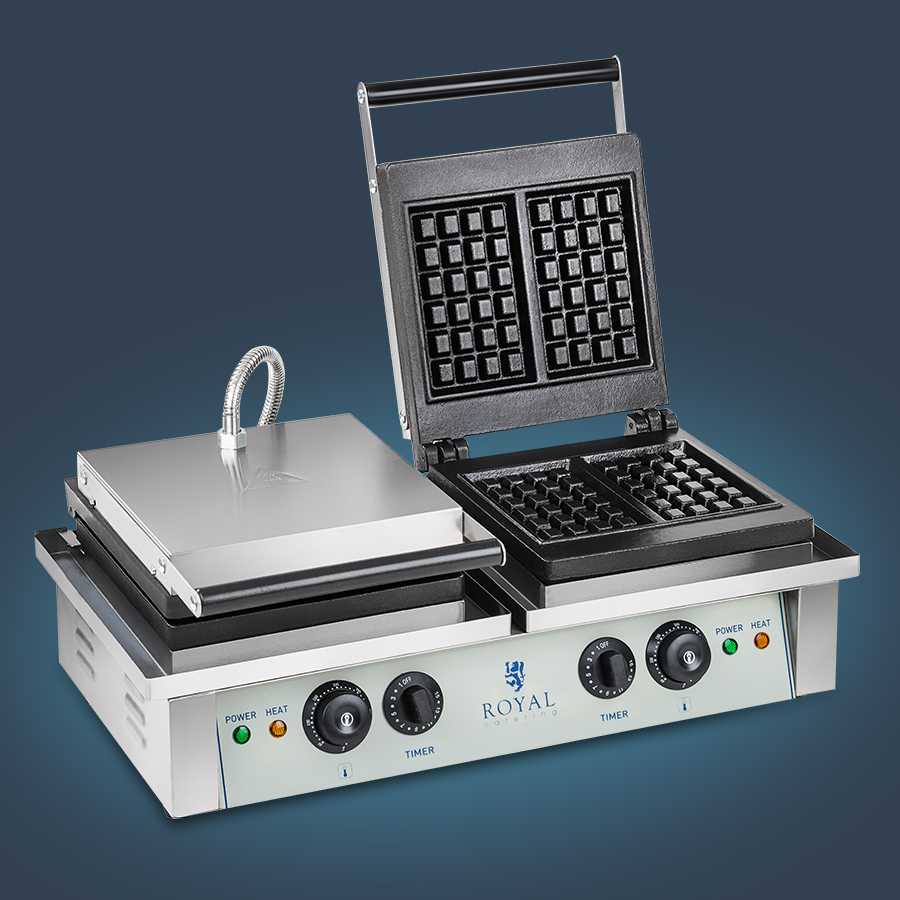 four baking plates for waffles up to a thickness of 2,5 cm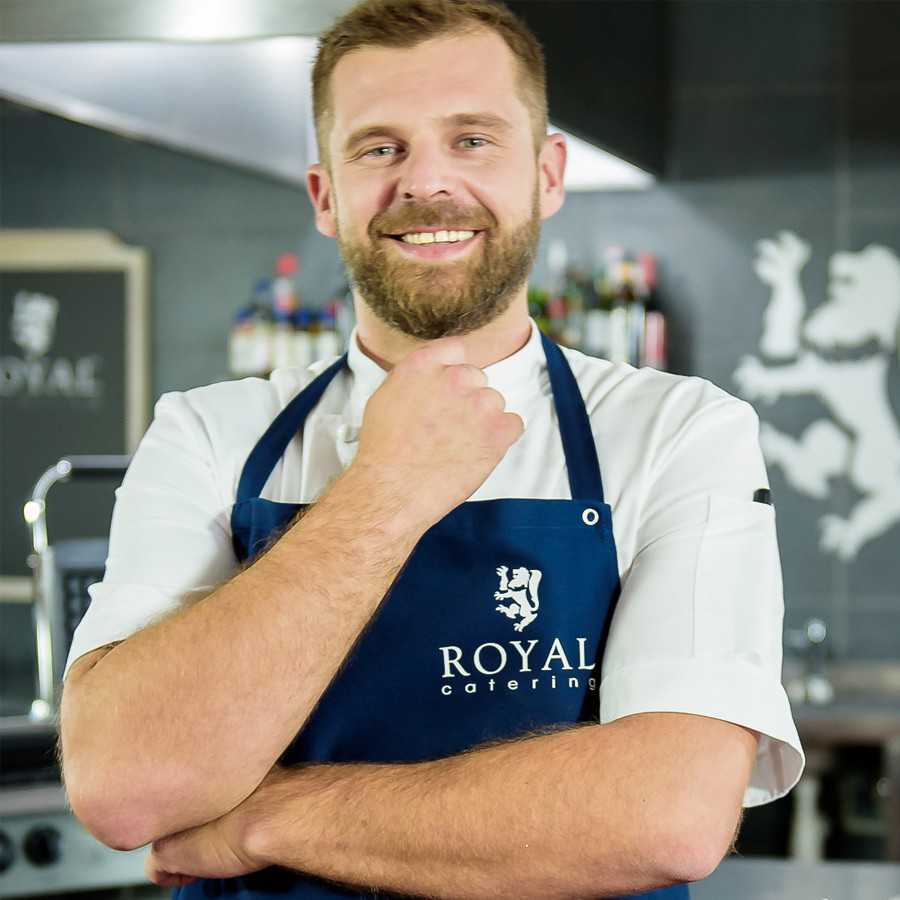 Michał Orłowski
culinary expert, head chef for renowned restaurants in Sydney and Warsaw. A professional, just like our customers.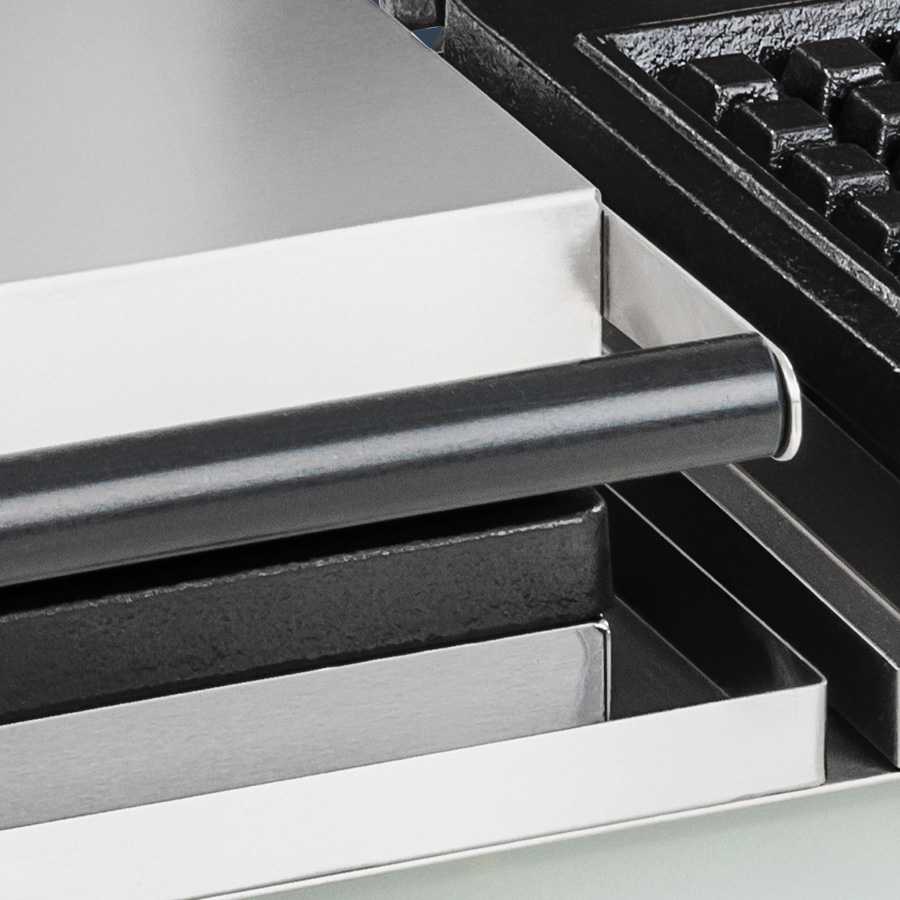 heat-isolated handles guarantee safe use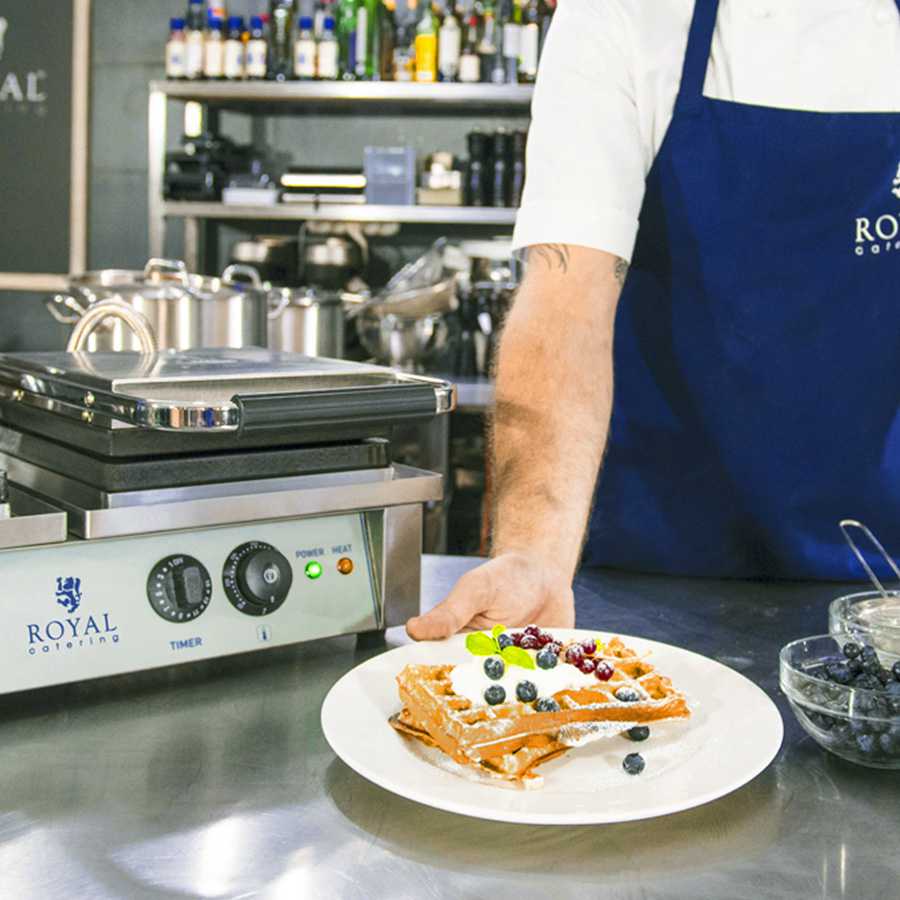 powerful 2 x 2.000 W enables quick and efficient work
four non-slip rubber feet guarantee stability
a large knob and clear operating elements for comfortable use
PRO TIP
By adding firmly whipped egg white to the dough, you can avoid having to use food additives. The waffles are plump and crispy even without baking powder.
For a better efficiency, you can add carbonated water to the dough. This makes the waffles lighter and fluffier.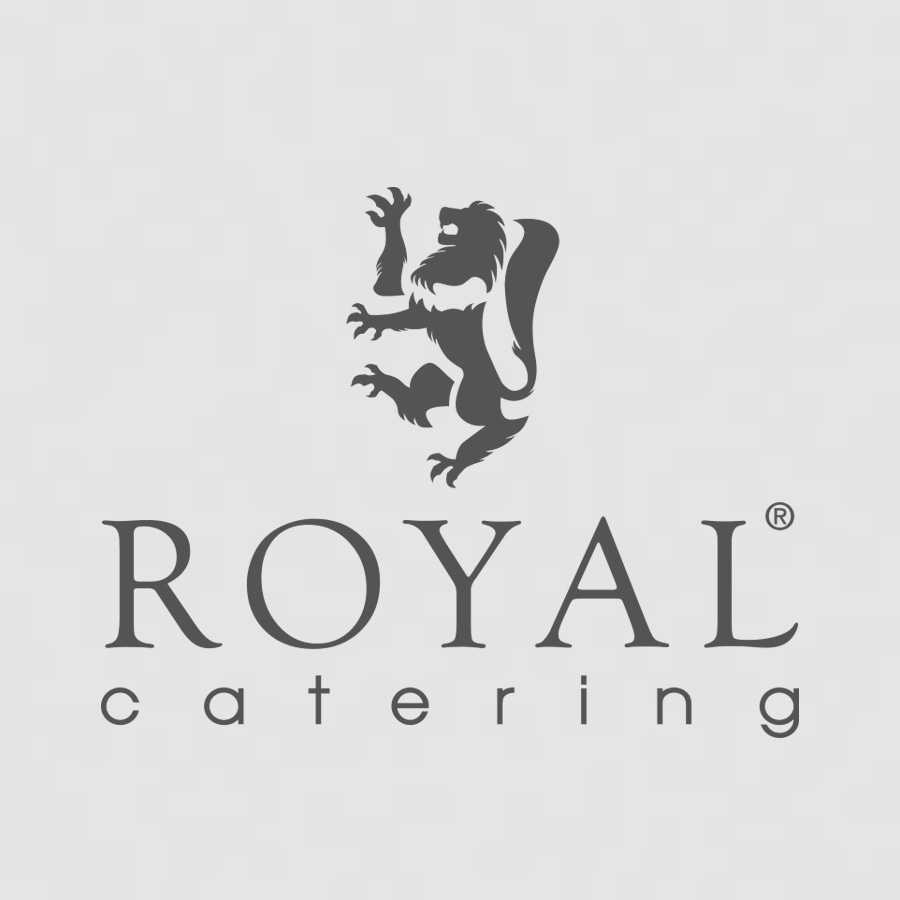 efficient heating plates warm themselves up quickly and evenly bake the waffles
thanks to the timer and thermostat you can determine the perfect browning level for your waffles
high quality enameled cast iron prevents the waffles from burning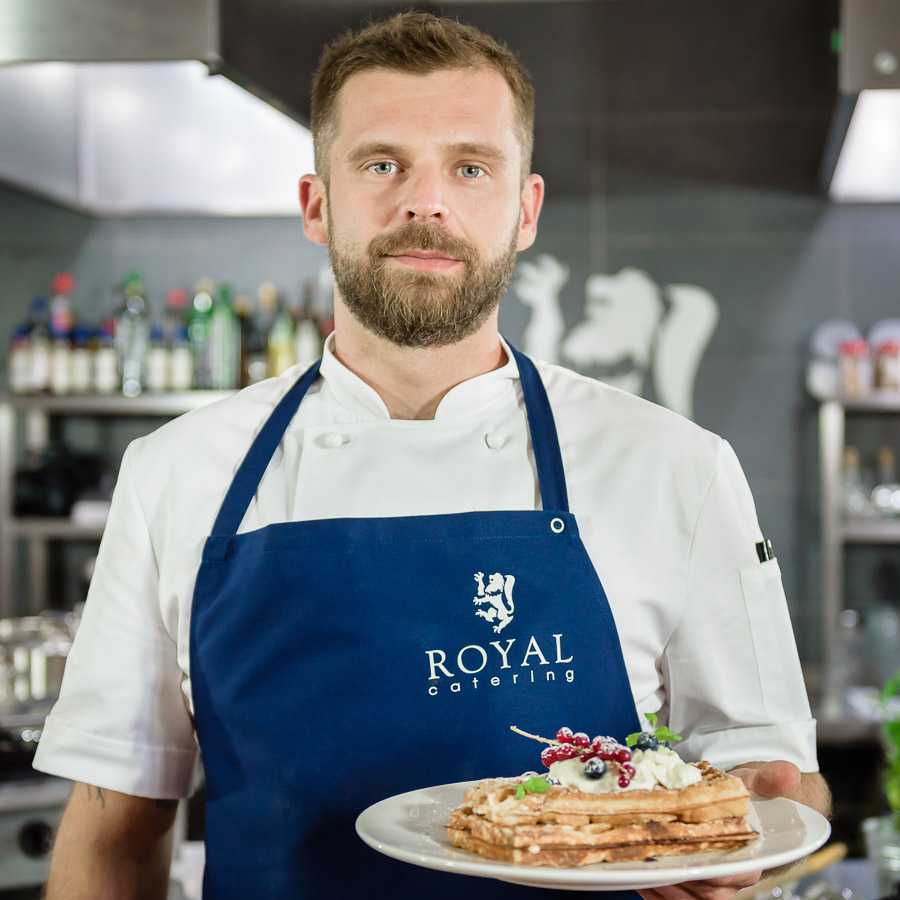 I work with professional products every day. For this video, I made sure to test the device thoroughly. You can take a close look at how this product works and then decide which model is best for your business. I hope my video and tips will help to make your business even more successful.
Head chef of prestigious restaurants in Sydney and Warsaw. An experienced and professional restaurateur
Review by Michał Orłowski, expondo expert (02.08.2018)
Equipment for high demand
Which restaurant has the longest queues in Sopot or on Krupówki street? I guarantee it's always someplace where waffles are served in. They are one of the most popular sweet delicacies. That's why it's worth equipping yourself with a device that can quickly satisfy a large number of hungry waffle lovers. With an output of 2000W, the enamelled heating plates reach the right temperature very quickly and prevent the batter from sticking. With the possibility of preparing 4 waffles at the same time, you can easily handle even the largest events. I would recommend it to all waffle bakeries.
What's the best way to remove the finished waffles from the device?
Always use non-metal utensils to remove the waffles, for example silicon or wooden spatulas, which won't scratch the coating of the baking plates.
Will waffles burn during baking on this waffle iron?
You can always avoid burning your waffles thanks to the adjustable temperature settings and the non-stick coating.
Waffle iron RCWM-4000-E
2 large drip trays
2 small drip trays
Instruction manual
5
Basierend auf 1 Bewertung/en
---
Sort by...
---
Evaluations will be activated after verification.
Reviews from Amazon Customer (30 Jul 2017)
Reviews from Amazon Customer (30 Jul 2017)
Empfehlung!
Das Waffeleisen wurde für den Verein bestellt. Wird auf Weihnachtsmarkt und im Cafebetrieb eingesetzt. Keine Mängel und im Gegensatz zur Konkurrenz auch eine Auffangumrandung für den Teig. Absolute Empfehlung