Folding Garden Cart with Canopy - Red
Item number: EX10250187 / Model: UNI_CART_01
Folding Garden Cart with Canopy - Red
Item number:

EX10250187

Model:

UNI_CART_01

In the product range since:

2019
Ready to ship today, Delivery time appr. 4-6 workdays**
Your benefits at a glance
Folding Garden Cart with Canopy - Red
When the weather turns warm and the sun inspires us to start planning fun outings, make sure you have the right equipment for your outdoor activities. The red folding garden cart UNI_CART_01 with canopy is the ideal companion. When folded, it fits easily into the back of your car without taking up too much space. Once you arrive at your destination, you can load it up with whatever you might need on your day out -- whether it's in a park, in the woods, or at the beach.
Look forward to your next outing with the folding garden cart from Uniprodo
The kids' toys, a crate of beer, some provisions, a grill or cosy blankets -- there is space for everything in the garden cart's roomy bed, and the canopy shields it from sun or rain. With a weight capacity of 100 kg, you can also bring along a few extras to ensure that your excursion is a real success.
Before the journey begins, simply unfold the steel frame and assemble the canopy in just a few motions. The folding garden cart is especially flexible and can be folded up to take up less space during storage or transportation. The polyester fabric is both sturdy and elastic.
Thanks to the large solid rubber tyres, the trolley rolls along quite quietly and absorbs shocks even over hard surfaces, sparing the wagon's precious contents. Even rough ground is no obstacle to the tyres. In addition, the garden cart's handle and 360°-rotating front tyres enable you to manoeuvre it comfortably and safely. The ergonomic handle has a soft, cushioned cover for increased comfort.
A second container mounted to the back of the wagon provides additional storage space where you can separately stow smaller objects. There are also two small net pockets on the front of the wagon where you can place drinks or other utensils within easy reach.
Highlights
High capacity of up to 100 kg
Flexible, collapsible and with protective canopy
4 smooth solid rubber tyres
Comfortable handle and 360°-rotating front tyres for manoeuvrability
Plenty of versatile storage space
Material, cover
Polyester
Capacity, supplementary container
15 kg
Cargo area
78.5 x 48 x 27.5 cm
Dimensions without handle
111 x 52.5 x 102 cm
Dimensions with handle
121.4 x 52.5 x 102 cm
Dimensions, folded
52.5 x 23.7 x 71.4 cm
Dimensions, supplementary container
43 x 20 x 20 cm
Dimensions, pockets
14 x 9.5 cm
Dimensions (LxWxH)
170 x 53 x 106 cm
Shipping dimensions (LxWxH)
67 x 15.5 x 56 cm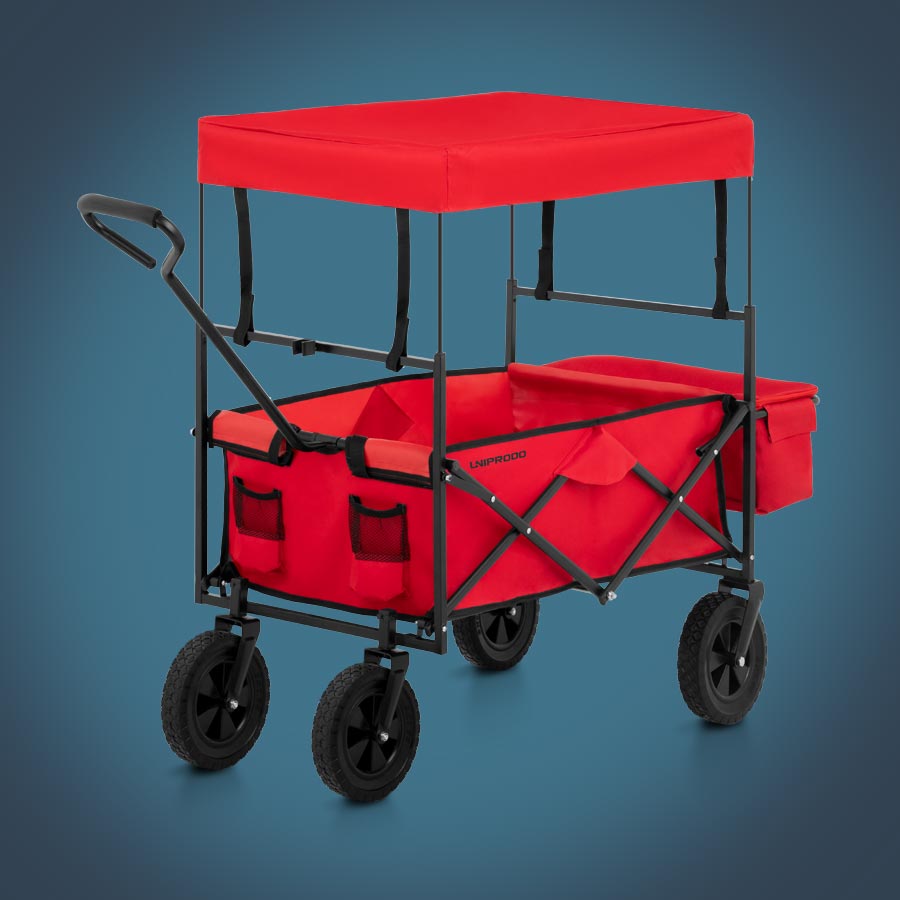 Maximal capacity of 100 kg
Total dimensions 121.4 x 52.5 x 102 cm (with folding handle)
Folding frame
Ergonomic, 59 cm-long handle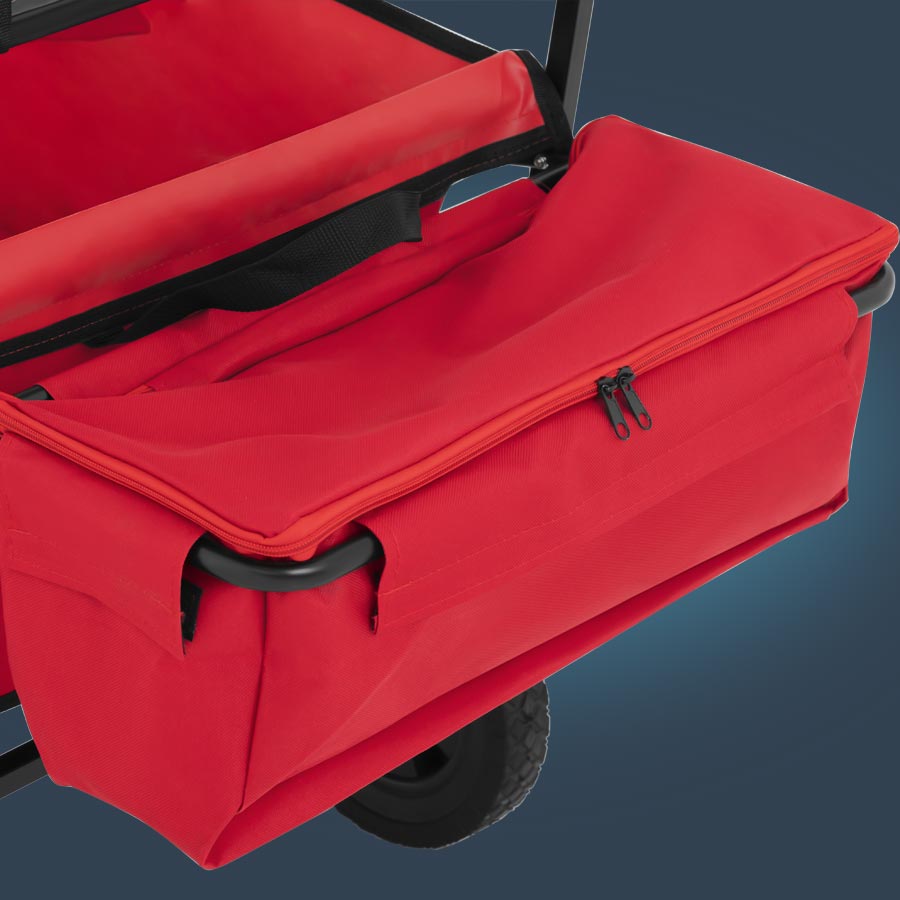 Additional side compartment with dimensions 43 x 20 x 20 cm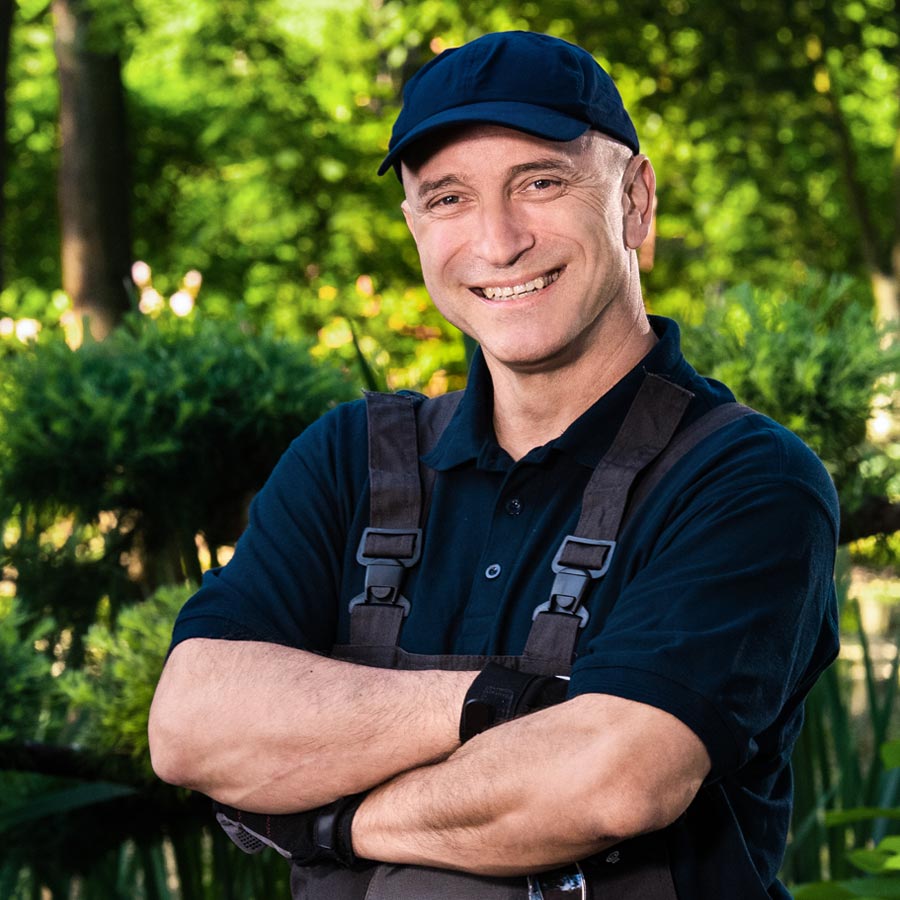 Tested by Artur Beling, a gardener with a passion for landscaping and decades of experience.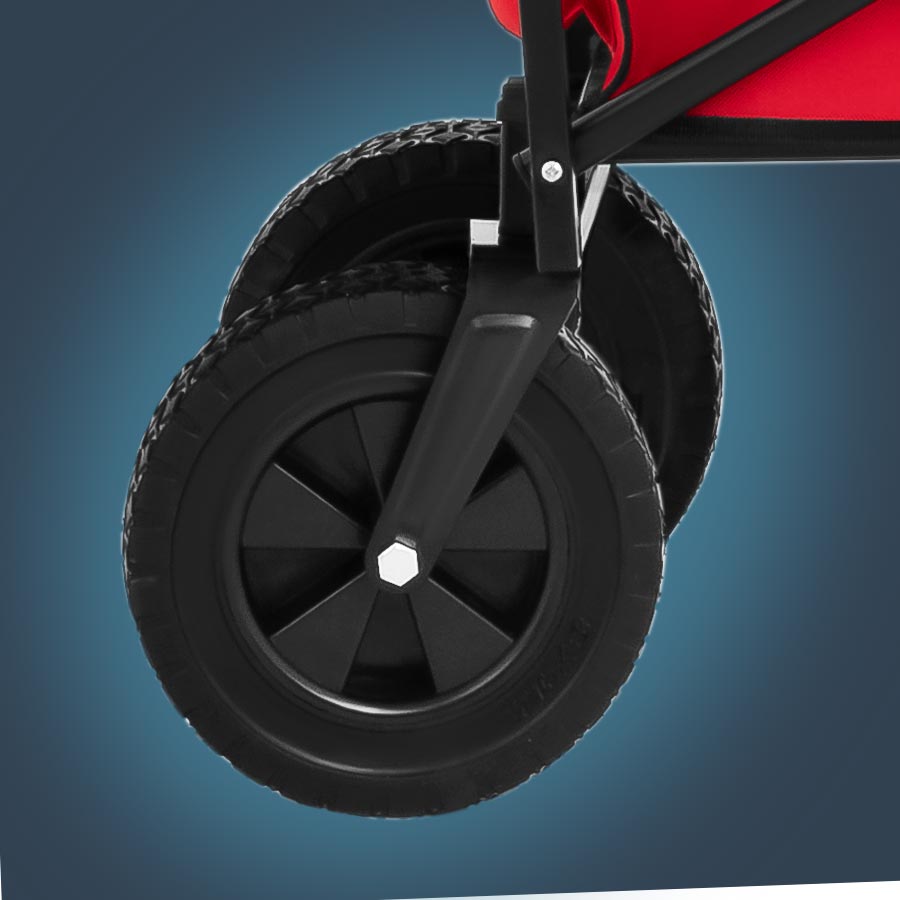 Easy to manoeuvre thanks to 360°-swivelling wheels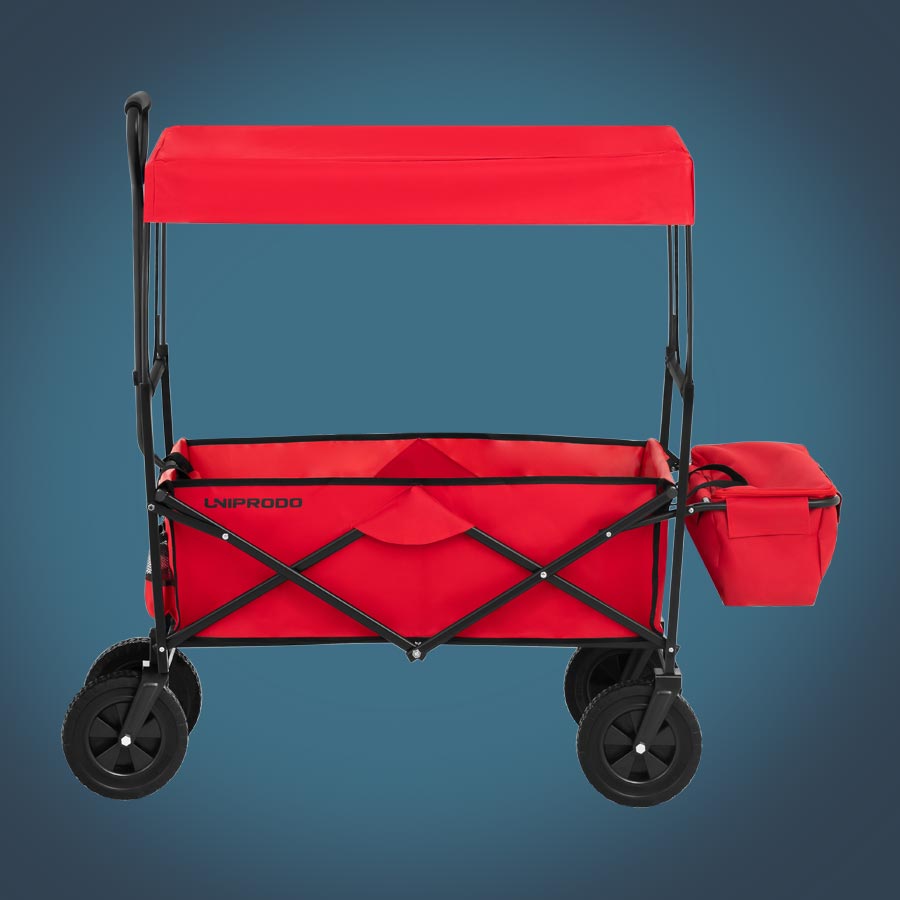 Four large wheels for easy manoeuvring
Polyester cover is resistant to deformation
Uses materials with hydrophobic properties
PRO TIP
When I work with a hand cart, I like it to have as many different pockets and compartments as possible. This allows me to store small tools, seedlings and bags of soil or fertiliser separately and optimises the work process.
In this colour version, the trolley can also be used as an addition to your garden.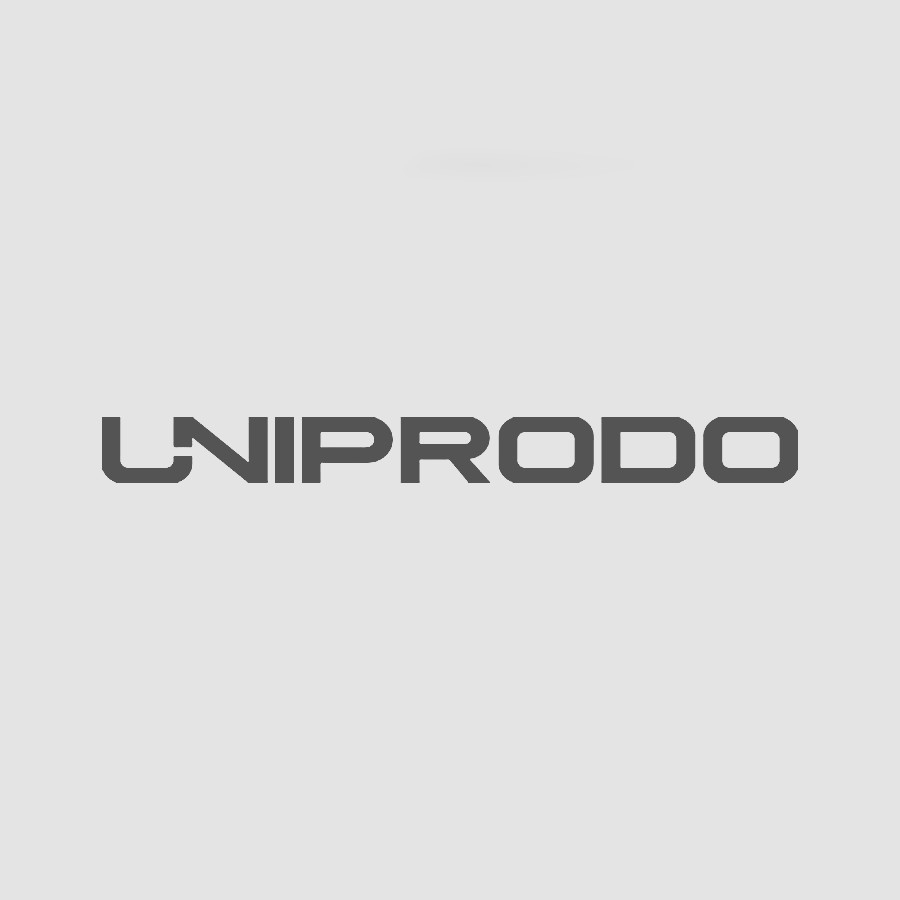 Removable protective roof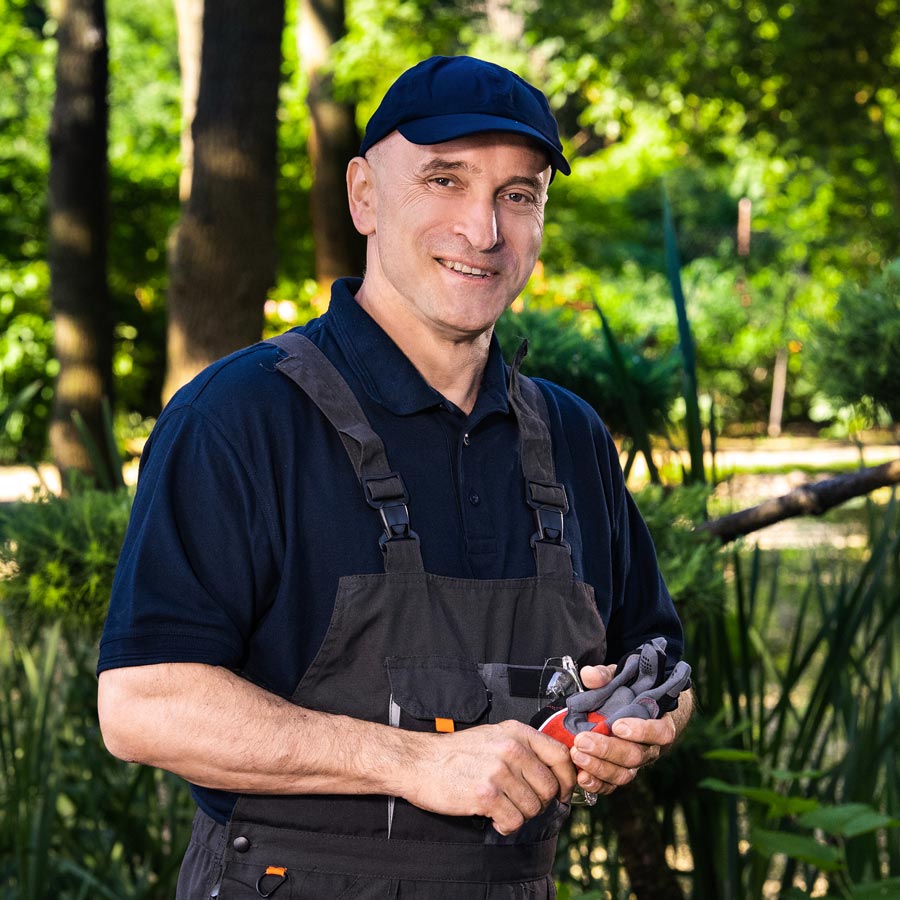 Do the wagon's tyres rotate?
Yes, the front tyres can be rotated a full 360° for maximum manoeuvrability .
Can the handle be turned or twisted to change direction when pulling or pushing?
No, the handle is firmly fixed to ensure safe pushing and pulling.
Folding Garden Cart UNI_CART_01
Polyester cover
4 rubber tyres
Polyester canopy
Assembly materials
Instruction manual
★
★
★
★
★
Write the first review for this product
---
---
Evaluations will be activated after verification.