Juice Dispenser - 2 x 8 L - cooling inserts
Juice Dispenser - 2 x 8 L - cooling inserts
Manufacturer: Royal Catering | Item number: EX10011377 | Model: RCSD-2G
Ready to ship today, Delivery time appr. 1-2 weeks**
Product highlights
Capacity: 2 x 8 L
Containers: Ø 22 cm
With cooling system
Plastic, stainless steel
Low-maintenance
Ample—juice dispenser with a large capacity of 2 x 8 L
Clear—transparent plastic containers display contents
Pure—impermeable cooling inserts prevent beverages from being watered down
Clean—removable drip trays for clean presentation
Simple—2 smooth-working spigots for precise portioning
Stylish—classic juice dispenser in a trendy retro design
Pure pleasure: Ice-cooled drinks without watering them down!
Wherever cold beverages like water, iced tea, milk or fruit juices are offered for self-service, the high-quality juice dispenser RCSD-2G from Royal Catering, your professionals for catering equipment, is a must-have—whether at the breakfast buffet in a hotel or restaurant or at your next garden party. The 2 x 8 L volume can be easily and effectively chilled as desired.
The juice dispenser with chic retro design from Royal Catering's catering equipment collection
The entire beverage dispenser with spigots is made of long-lasting and flavour-neutral materials. The two cylindrical containers, each with a diameter of 22 cm, sit firmly on two bases and can be comfortably lifted and carried using the handles on the sides. Thanks to the iced tea dispenser's robust and transparent plastic, your guests can see exactly which refreshments are being served, and you as the host can see when they need to be refilled. This can be done easily and without splashes by lifting the lid. The materials are also all particularly resistant to scratches and easy to clean.
Practical: The two impermeable stainless steel cooling inserts for 1 L of ice cubes each ensure that the beverages are evenly chilled without becoming watered down. Allow your guests to take undiluted pleasure in their cold drinks. The maximum height of drinking vessels that fit under the taps is 14.5 cm and corresponds to standard glass sizes. The four non-slip rubber feet provide stability and protect the surface on which the drink dispenser stands.
The two smoothly-working spigots make it easy for even children to effortlessly fill their juice or iced tea. And in the event that a few drops are spilled, the removable drip trays catch them neatly, keeping your buffet clean and leaving an impeccable impression with your guests. The taps' high outflow speed also makes long queues for drinks a thing of the past. The drinks dispenser with cooling insert is a real asset to every banquet.
Material, base, cooling insert and lid
Stainless steel
Container material
Plastic
Container capacity
2 x 8 L
Number of cooling inserts
2
Capacity, cooling insert
2 x 1 L
Max. glass height
14.5 cm
Dimensions (LxWxH)
56 x 35 x 58 cm
Shipping dimensions (LxWxH)
61.5 x 48.5 x 34.5 cm
Juice dispenser RCSD-2G
2 containers
2 cooling inserts
2 lids
Instruction manual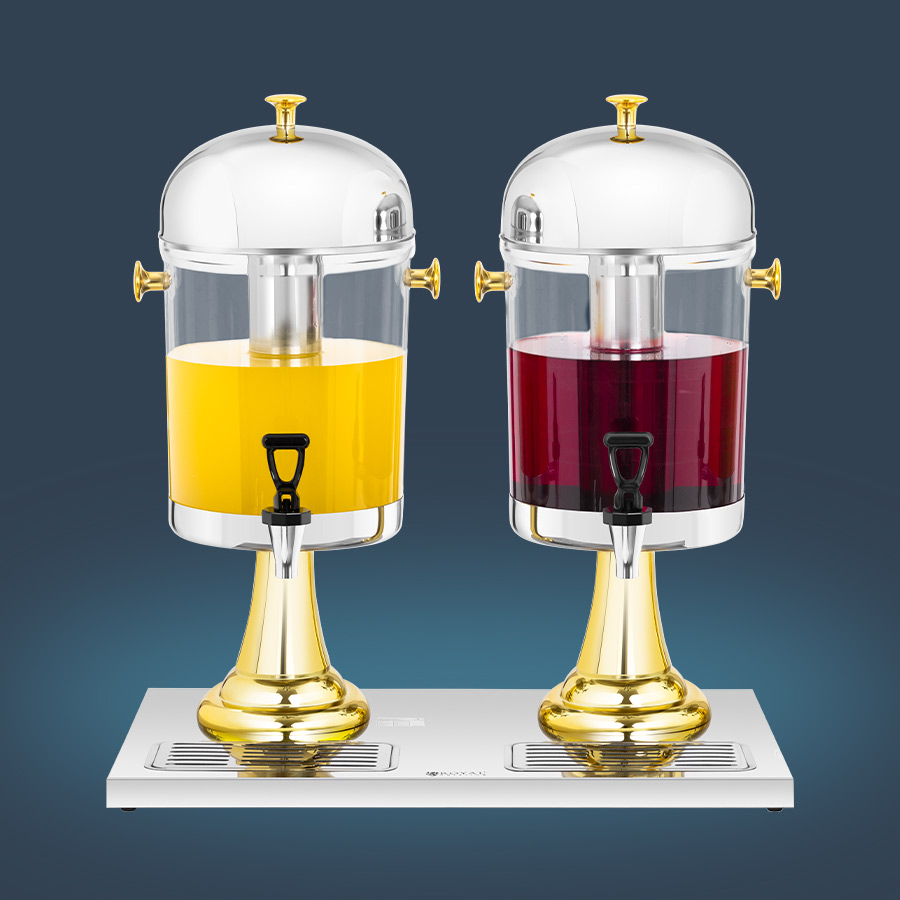 Universal: For all types of cold drinks
Serve 2 different beverages at the same time
Ideal for juices, iced tea, punch, milk, etc.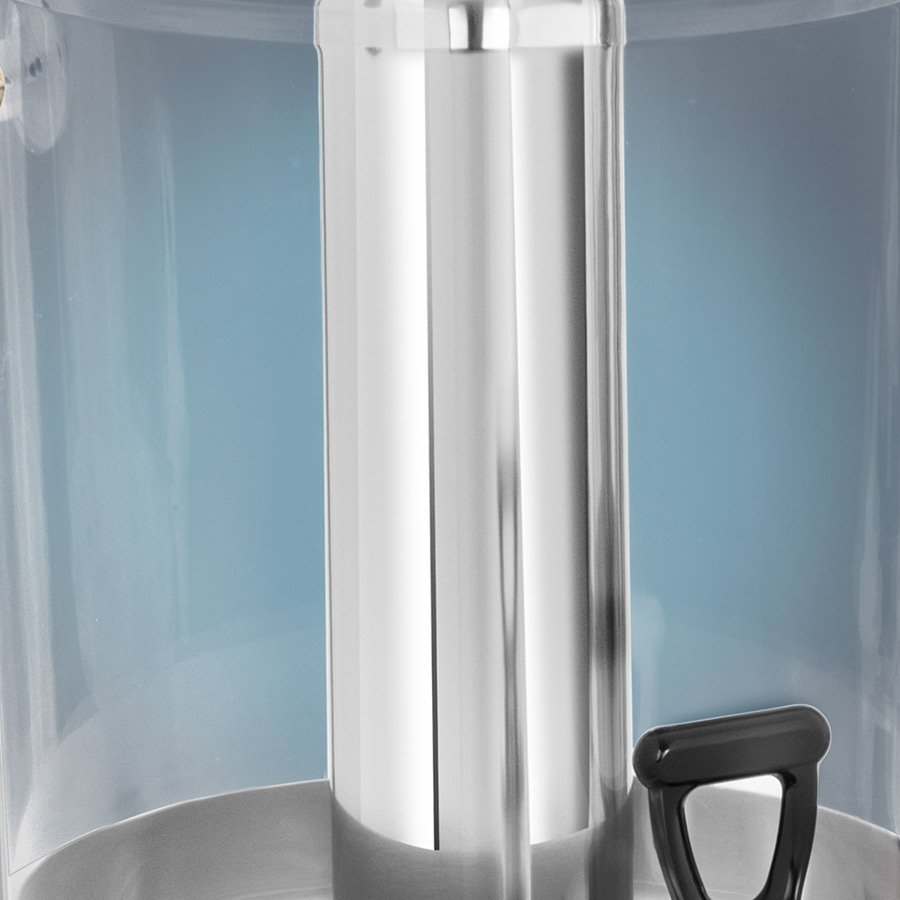 Ice-filled tube chills the beverage perfectly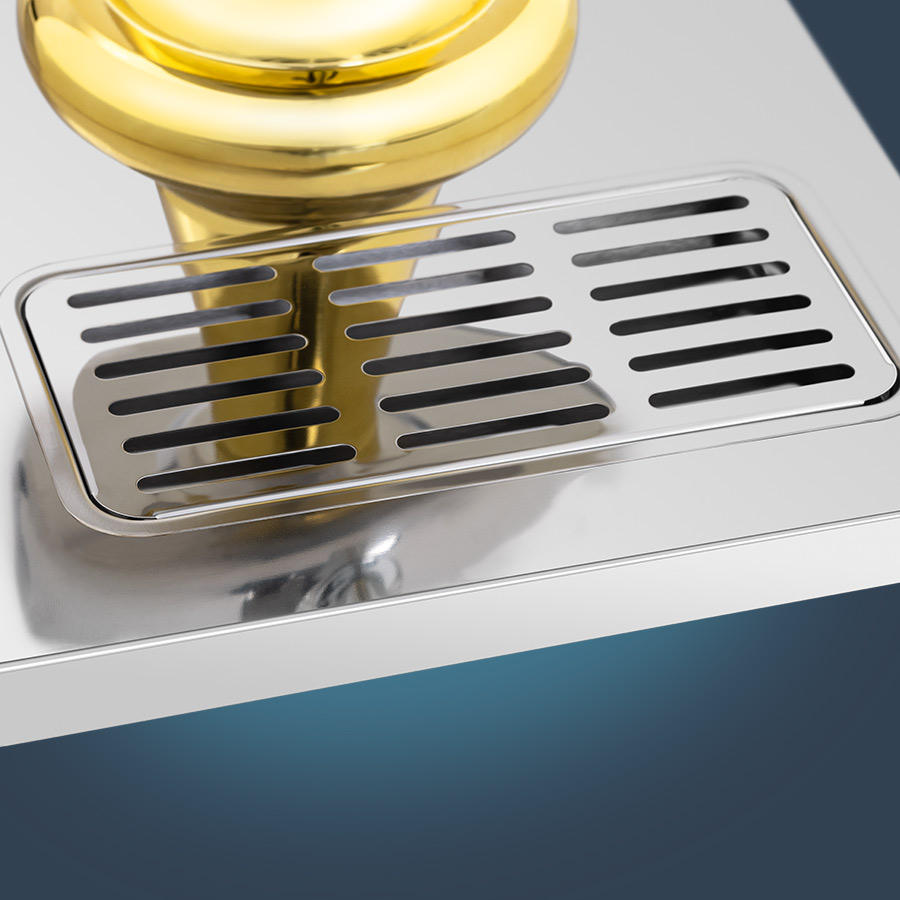 Removable drip trays for easy cleaning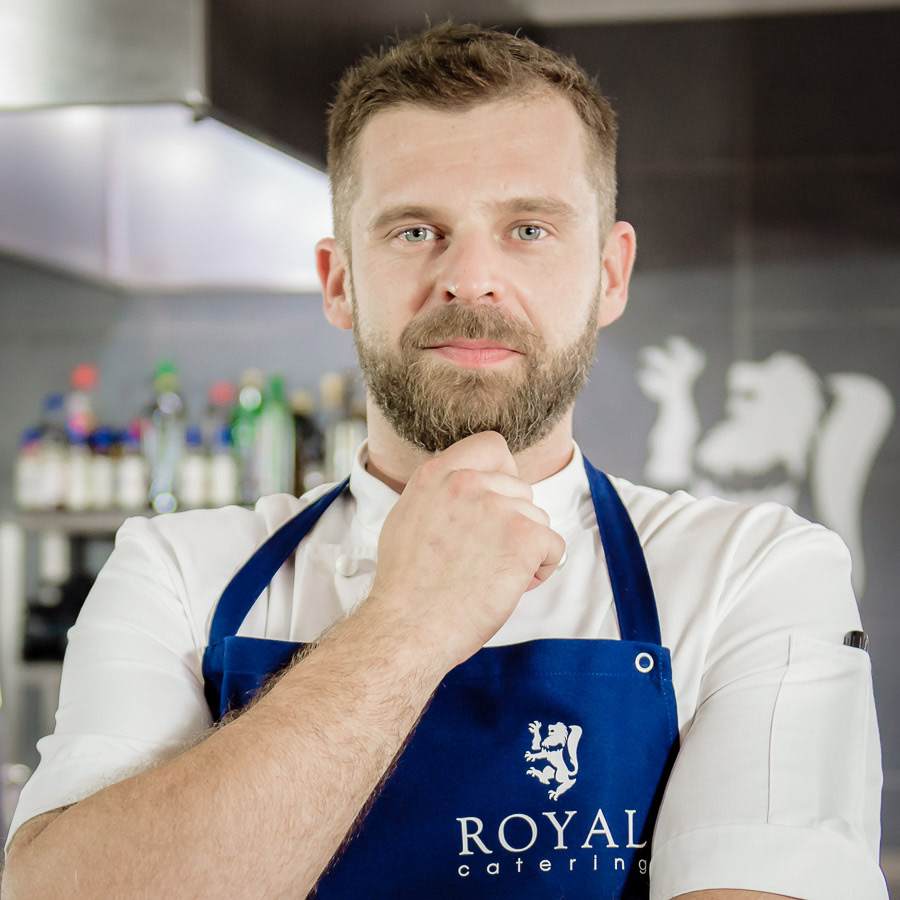 Tested by Michał Orłowski, head chef of prestigious restaurants in Sydney and Warsaw. An experienced and professional restaurateur, just like our customers.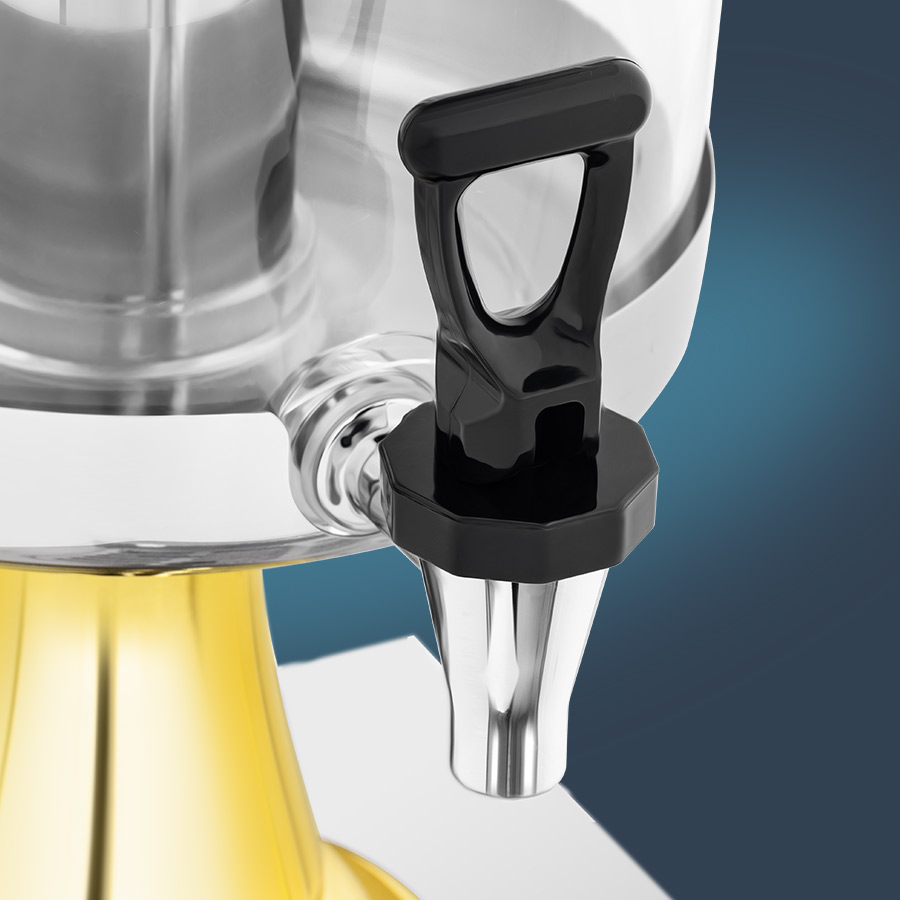 Handy spigots for easy serving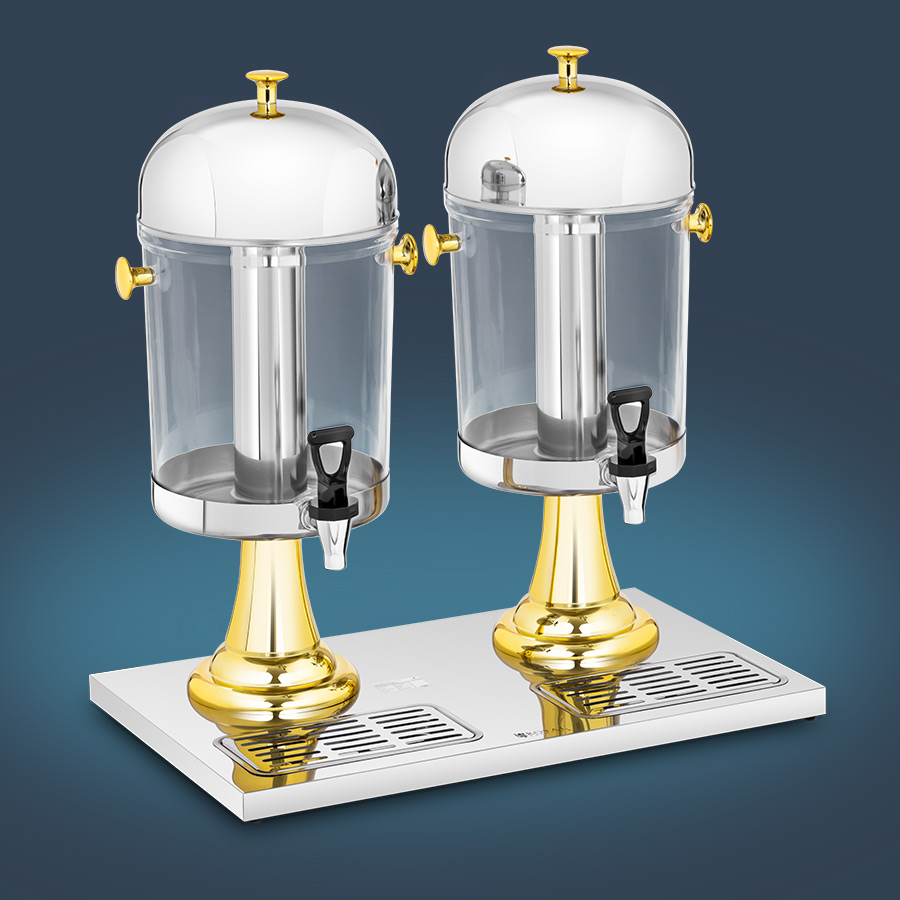 Non-slip feet stabilise the device
Elegant design is ideal for restaurants and parties
Removable lid for quickly and easily filling with beverages
PRO TIP
I recommend using a solution of water and vinegar for cleaning the glass container and housing.
The container should be rinsed out regularly with boiling water to remove traces of juice and keep the dispenser looking flawless.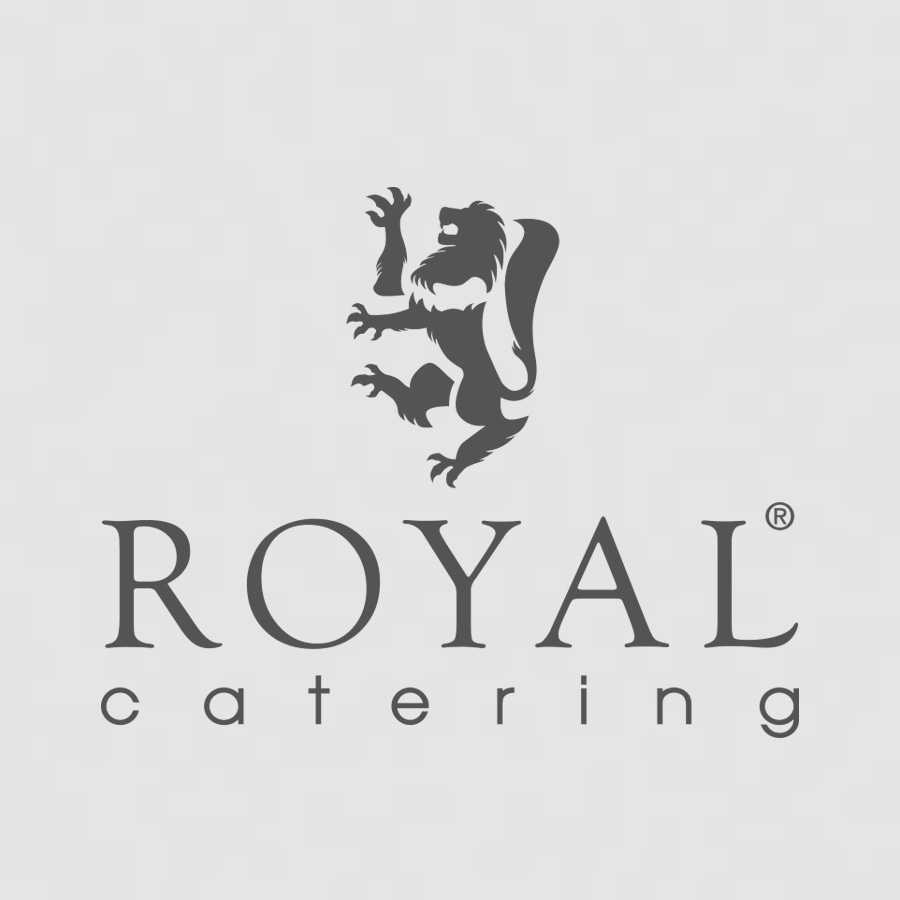 Attractive beverage presentation
Very large total capacity of 16 L
Suitable for glasses and cups up to 14.5 cm tall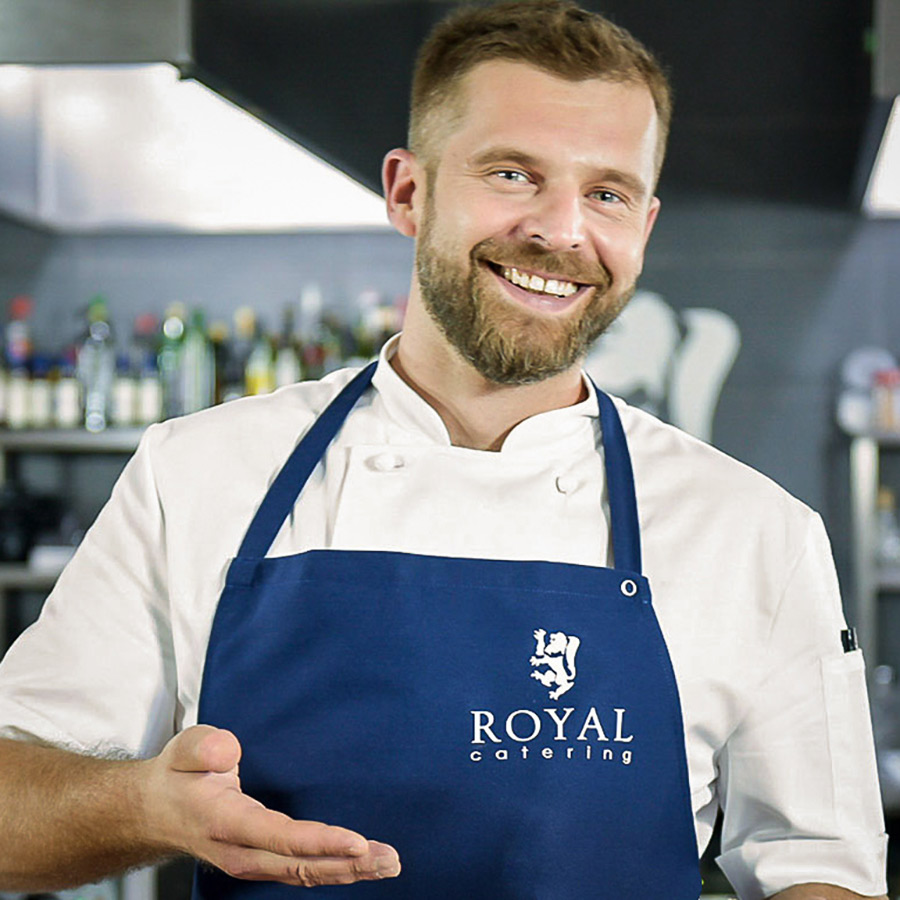 I work with professional products every day. For this video, I made sure to test the device thoroughly. You can take a close look at how this product works and then decide which model is best for your business. I hope my video and tips will help to make your business even more successful.
Head chef of prestigious restaurants in Sydney and Warsaw. An experienced and professional restaurateur
How many kilograms of ice fit in the containers?
The two cooling inserts inside the drink dispensers have a capacity of 1 L of ice each.
Are there any other beverage dispensers in expondo's catalogue?
Yes, under the category: Yes, you can find a large selection under the category "Catering Equipment > Refrigeration Equipment > Drinks Fountains".
★
★
★
★
★
Write the first review for this product
---
---
Evaluations will be activated after verification.
Still not sure?
Our experts are ready to help!
Mon - Fri 09:30am - 04:30pm
This product
Capacity: 2 x 8 L

Containers: Ø 22 cm

With cooling system

Plastic, stainless steel

Low-maintenance
Ready to ship today, Delivery time appr. 1-2 weeks**
Juice Dispenser - 2 x 8 L - cooling inserts
Ready to ship today, Delivery time appr. 1-2 weeks**
Capacity: 2 x 8 L

Containers: Ø 22 cm

With cooling system

Plastic, stainless steel

Low-maintenance
Capacity: 2 x 7 l

Containers: Ø 200 mm

Height of container: 260 mm

With chilling system

Stainless steel, wood, Plastic (PC)
Ready to ship today, Delivery time appr. 1-2 weeks**
Juice Dispenser - 2 x 7 L - cooling system - wooden frame
Ready to ship today, Delivery time appr. 1-2 weeks**
Capacity: 2 x 7 l

Containers: Ø 200 mm

Height of container: 260 mm

With chilling system

Stainless steel, wood, Plastic (PC)