Stainless Steel Work Table - 150 x 60 cm - upstand
Item number: EX10010500 / Model: RCAT-150/60-S
Stainless Steel Work Table - 150 x 60 cm - upstand
Item number:

EX10010500

Model:

RCAT-150/60-S

In the product range since:

2008
Ready to ship today, Delivery time appr. 8-10 workdays**
Your benefits at a glance
Order recommended accessories
Stainless Steel Work Table - 150 x 60 cm - upstand
What good is the most cutting-edge technology if there is not even enough space to properly and hygienically prepare food? Stainless steel furniture is the basis for a hygienic kitchen and safe food preparation. The stainless steel tables from Royal Catering are a must for any professional kitchen. The stainless steel table RCAT-150/60-S is specially designed for the high standards of professional food service and offers an additional storage space with its two-tier design.
Robust and highly resilient - the stainless steel work table RCAT-150/60-S from Royal Catering impresses with its excellent quality
Thanks to the strengthened worktop, the stainless steel work table is very hard-wearing and extremely stable. The material is notable for its resistance to atmospheric conditions and chemical substances. The solid table legs provide stability and increase the maximum load capacity. The stainless steel work table RCAT-150/60-S has a total weight capacity of 159 kilograms: 130 kilograms for the upper worktop and 29 kilograms for the lower shelf space.
The second, lower level provides additional storage space, enabling you to keep your work structured and organised. There is even space for larger objects: You can store items with a height of up to 60 cm on the second level. The work table has a variety of possible applications, making it universally versatile. Whether in large-scale catering establishments, canteens, bakeries, schools or hospitals, you can neatly and hygienically prepare large amounts of meals.
The 11 cm-high and 3.3 cm-thick upstand protects the walls and surroundings from splashing water, debris and damage. The stainless steel work table RCAT-150/60-S offers optimal stability even on uneven floors - all thanks to the height-adjustable feet. Individual component parts are partly pre-assembled. Due to its quick and easy assembly using screws and the supplied Allen wrench, the stainless steel worktable can be individually adjusted at any time.
The front edge of the stainless-steel worktable is rounded, unlike many competing products. This significantly lowers the risk of injury. Thanks to the high-quality workmanship, all welds are very precise and ensure further stability and safety.
The high-quality polished stainless steel is very durable and long-lasting. It is corrosion-resistant and resistant to damage (for example, scratches). All of the surfaces are very level. The material is easy to thoroughly clean and perfectly suited for hygienic food preparation of all kinds.
Highlights
High load capacity of up to 159 kg
2 work surfaces - large working area
Adjustable feet ensure optimal stability
11 cm upstand protects the surroundings from splash water and debris
High-quality stainless steel - hygienic, long-lived and easy-care
Reinforcement for worktop (underside)
Special board with waterproof coating
Total load capacity
159 kg
Load capacity, worktop
130 kg
Load capacity, shelf space
29 kg
Distance between worktop and shelf
60.5 cm
Lower shelf space dimensions
150 x 60 cm
Diameter, table legs
4.8 cm
Adjustable foot height
0 - 2 cm
Dimensions (LxWxH)
60 x 150 x 96.4 cm
Shipping dimensions (LxWxH)
159 x 69.2 x 20 cm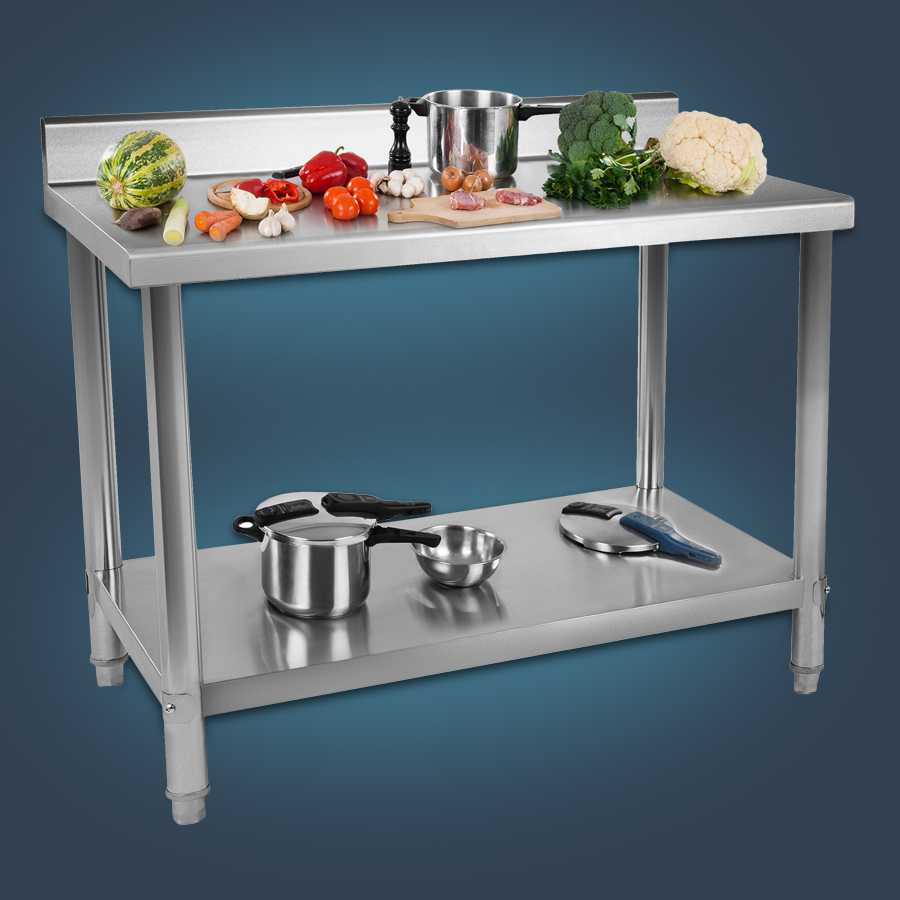 Durable design with a load capacity of up to 159 kg
Practical 2-level construction
Quick assembly with accessories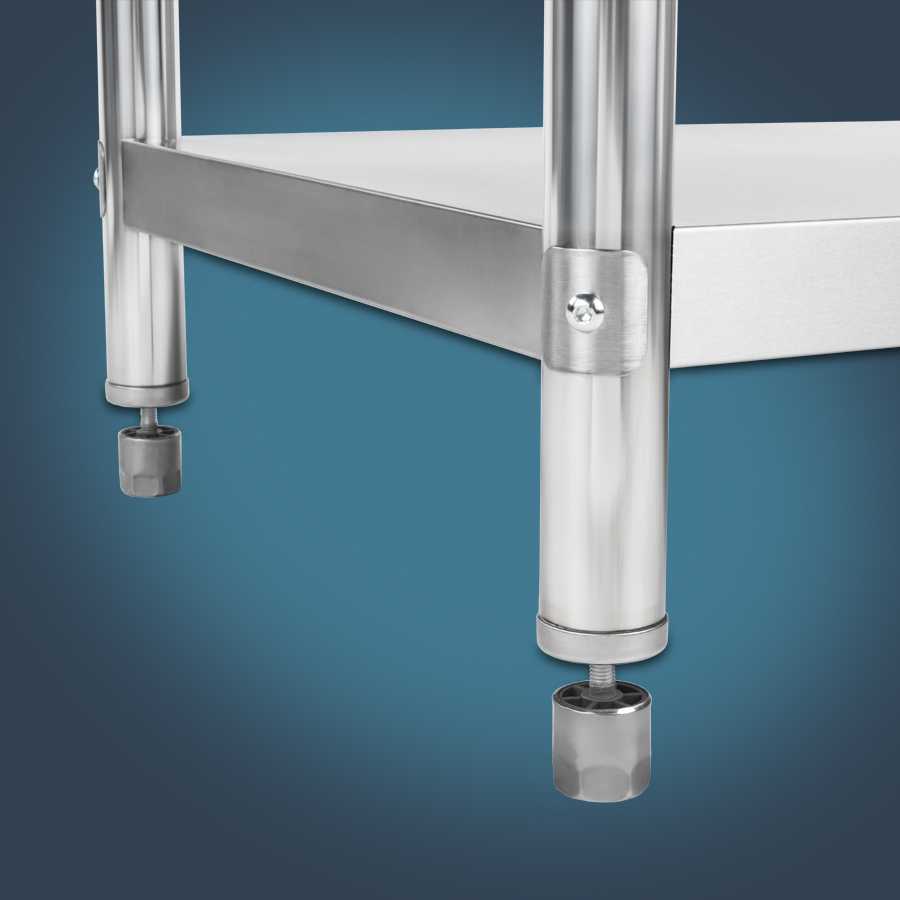 Adjustable for uneven surfaces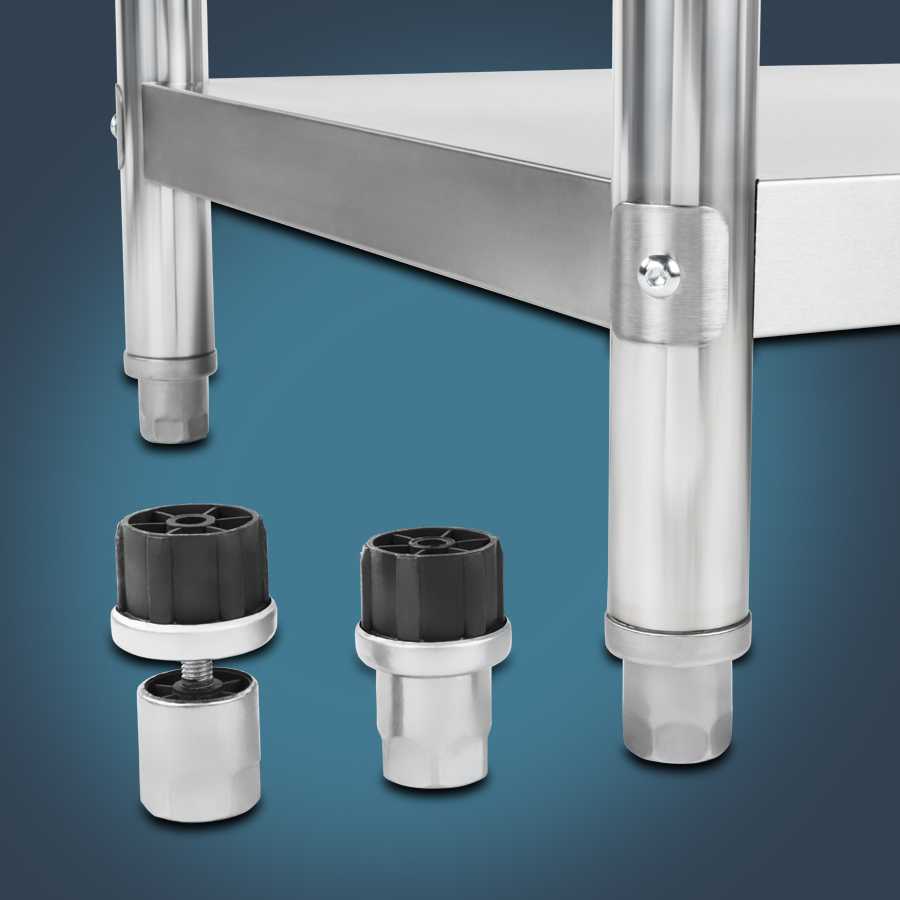 Easily-adjustable height settings between 0 - 20 mm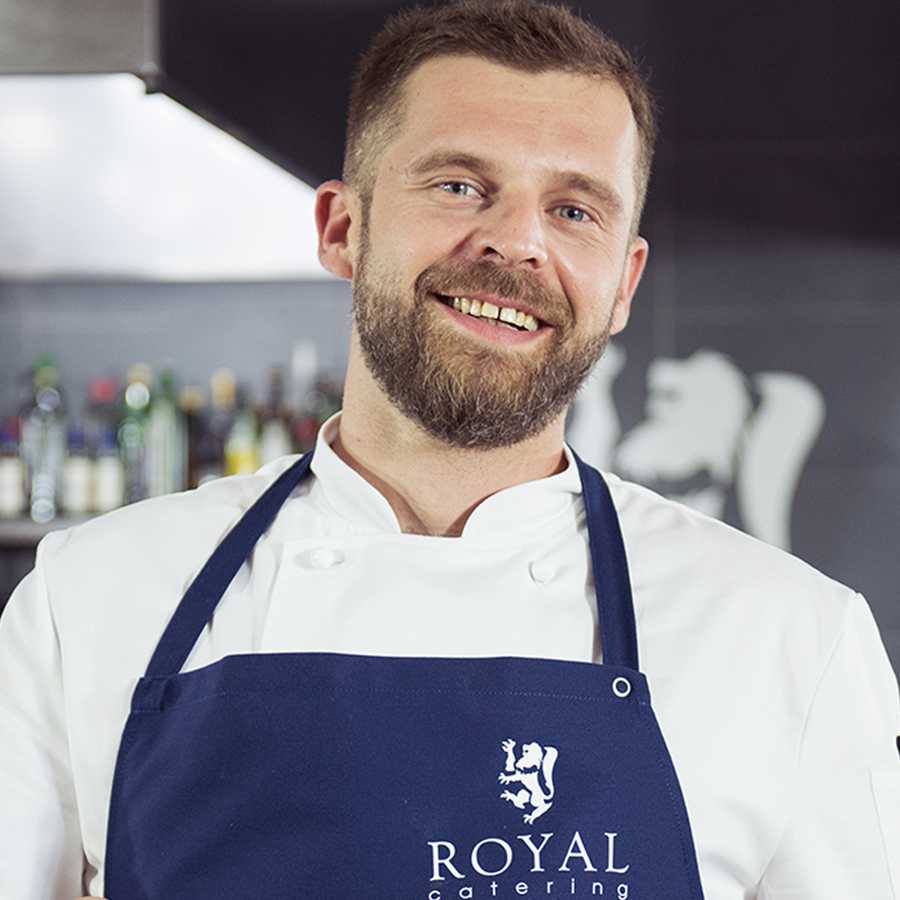 Tested by Michał Orłowski, head chef of prestigious restaurants in Sydney and Warsaw. An experienced and professional restaurateur, just like our customers.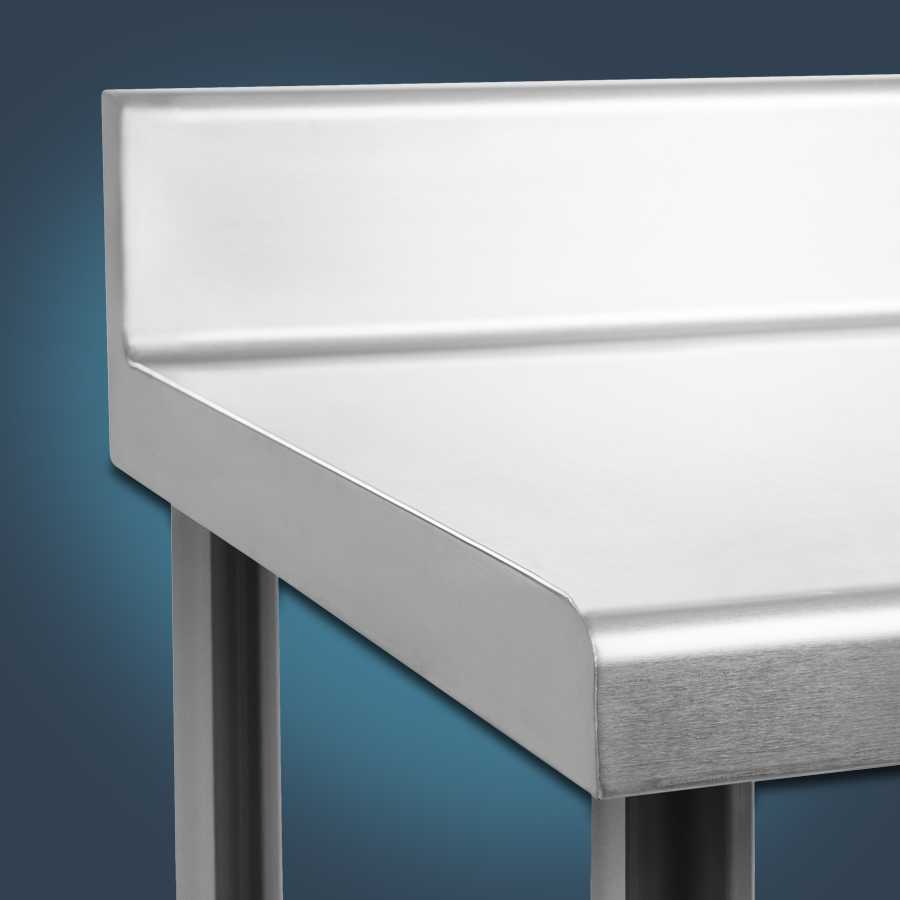 Upstand protects the wall from splashes
Large work surface of 150 x 60 cm
Worktop reinforced with waterproof coating
Scratch-resitant and resilient against mechanical damage
PRO TIP
For my comfort, I always start by adjusting the height of the table to my height and to any unevenness in the floor so that it stands level.
Work surfaces that come into contact with food must always be kept clean. Stainless steel makes it possible to use very strong cleaning agents.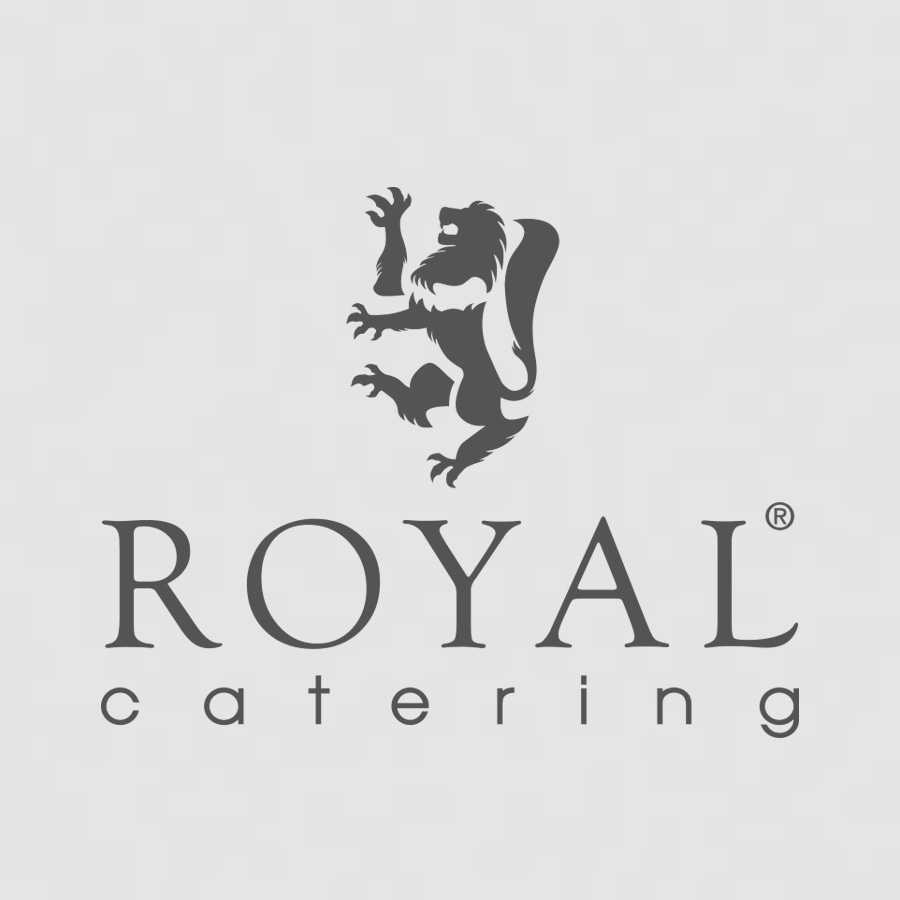 Long-lasting, food-safe stainless steel
Hassle-free cleaning thanks to smooth surfaces
Rounded edges prevent injuries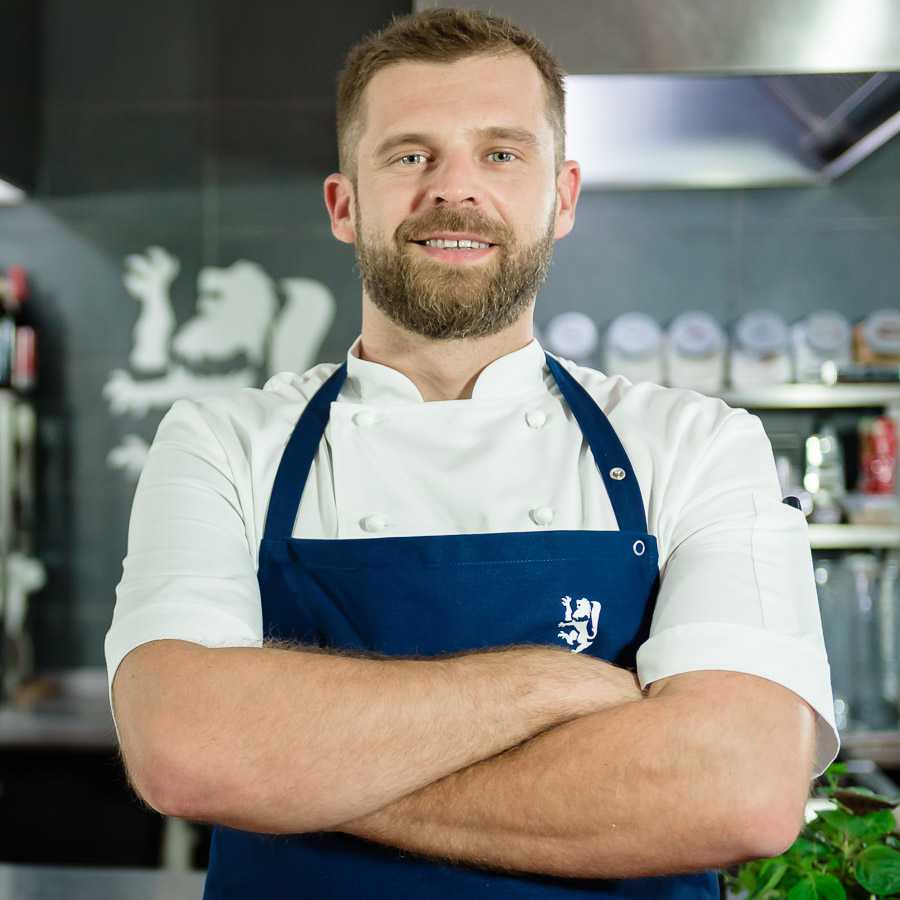 Can I also use this table outdoors?
The stainless steel table is resistant to corrosion, meaning that you can also use it outside in wind and weather.
Are the table legs and the lower shelf also made of stainless steel?
The table legs and the lower shelf are made entirely of stainless steel.
Stainless steel work table RCAT-150/60-S
Upper and lower shelves
4 legs
4 feet
Assembly kit
Instruction manual
4
Basierend auf 4 Bewertung/en
---
Sort by...
---
Evaluations will be activated after verification.
Reviews from Anders (1 Jun 2020)
Reviews from Anders (1 Jun 2020)
Great value for money
I use the table in an outdoor kitchen. Fast delivery, easy to assemble, it's sturdy and looks great. Great value for money.
Reviews from Anonym (25 Dec 2019)
Reviews from Anonym (25 Dec 2019)
Schnelle Lieferung, gut verpackt, Montage einfach, Zeitaufwand für das Enfernen der Schutzfolie ca. 40 min, obere Ebende nur aufgesteckt, deshalb nicht ganz so stabil wie ich das gewünscht hatte, Füße müssen nachbearbeitet werden um diese einzustecken, Fi
Produkt ok - Optik sauber
Reviews from Amazon Customer (31 Jul 2016)
Reviews from Amazon Customer (31 Jul 2016)
Bien mais
La table en elle meme est nickel elle repond a toute mes attentes malheureusement les livreur ne prenne pas soins des colis qu'ils livrent parce que j'ai recu mon inox en assez mauvais etat...
Reviews from Amazon Customer (20 Jan 2016)
Reviews from Amazon Customer (20 Jan 2016)
Parfait mais pas la livraison
L'article en lui même mérite 5 étoiles, parfait, joli, facile a monter et hyper pratique. Cependant la livraison mérite elle 0 étoile, même si elle a été plus rapide que prévu, car le livreur a posé le colis chez mes voisins que je ne connais pas, car il n'avait "pas envie de revenir"...Donc 4 étoiles au global.