Soft Ice Cream Machine - 1,870 W - 2 x 8.5 L - 20 L/hr
Soft Ice Cream Machine - 1,870 W - 2 x 8.5 L - 20 L/hr
Manufacturer: Royal Catering | Item number: EX10011365 | Model: RCSI-20-3
Ready to ship today, Delivery time appr. 3-4 weeks**
Product Highlights
Capacity: 17 L
Power: 1,870 W
Output: 20 L/hr
Tanks: 2
Non-slip feet
Highlights
Versatile - ideal for soft serve, sorbet and frozen yogurt
Broad selection - two flavours which can be combined
Powerful - reliably produces 20 L of ice cream per hour
High capacity - ideal for professional use in food service and at markets
Intuitive and precise - control temperature and device settings from the simple control panel with digital display
Promotional - attractive, high-quality stainless-steel design
The professional soft ice cream machine for soft serve, frozen yogurt or sorbets
Reliably produce up to 20 L of soft serve, sorbet or frozen yogurt per hour with the professional soft ice cream machine from Royal Catering. With a total volume of 17 L, the soft ice cream maker is perfect for commercial use in bars, ice cream parlours, cafés, snack bars or at markets and festivals.
Refreshing variety with catering equipment from Royal Catering
A powerful 1,870 W ensures rapid ice cream production without delays. You can serve your first portion of ice cream just 15 minutes after first setting up the soft ice cream machine. The consistency control guarantees perfect creamy quality, regardless of whether the machine is producing soft serve, yogurt or sorbet.
The frozen yogurt machine is equipped with a digital control panel from which you can intuitively control the device and choose the optimum temperature and consistency settings for the ingredients being used. You can find information about the perfect settings in the included instruction manual.
The soft serve ice cream machine is equipped with a drip tray to ensure hygienic and tidy ice cream production and keep your workplace clean. A lid protects the contents from dirt and maintains a stable internal temperature for the soft ice cream machine. The soft serve machine's housing is made of stainless steel, which is not only highly robust, but also ideally suited for food preparation. Four non-slip rubber feet ensure firm footing.
With the soft ice cream machine from Royal Catering, you can not only prepare soft serve, sorbet or frozen yogurt, but also offer two different flavours at the same time. The twin twist function also enables you to mix the two flavours.
Voltage / Frequency
230 V / 50 Hz
Refrigerant
R410a / R134a
Length, power cable
2,3 m
Dimensions (LxWxH)
74 x 54.5 x 103 cm
Shipping dimensions (LxWxH)
84.5 x 68.5 x 104.5 cm
Soft ice cream machine RCSI-20-3
Lid
Assembly materials
Instruction manual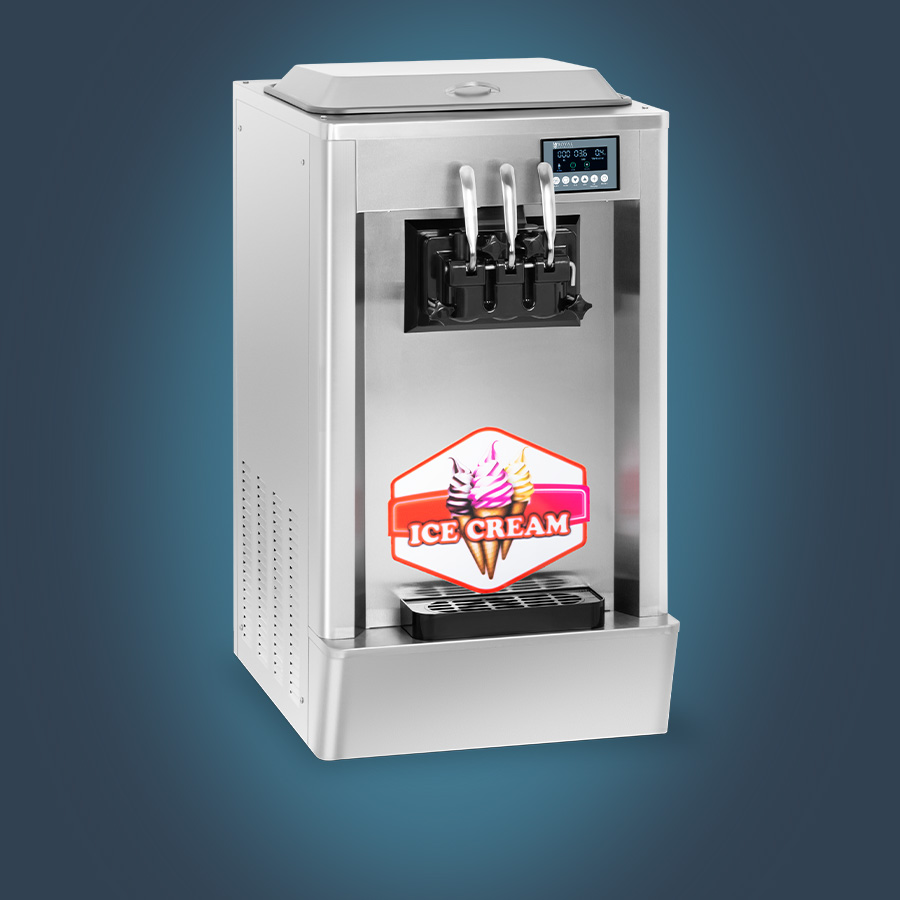 Effective thanks to high output of 1,870 W
Productive, with 20 L per hour
Ideal for ice cream parlours, sweet shops, cafés or food trucks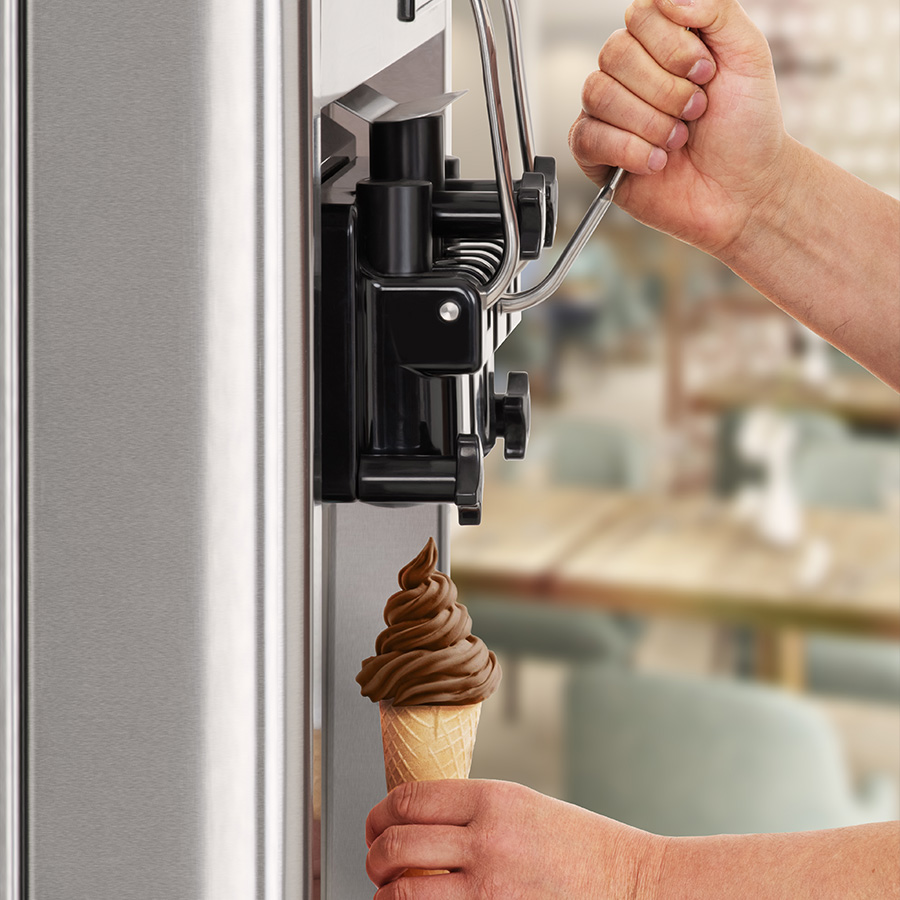 einfach portionierbar mit Hebel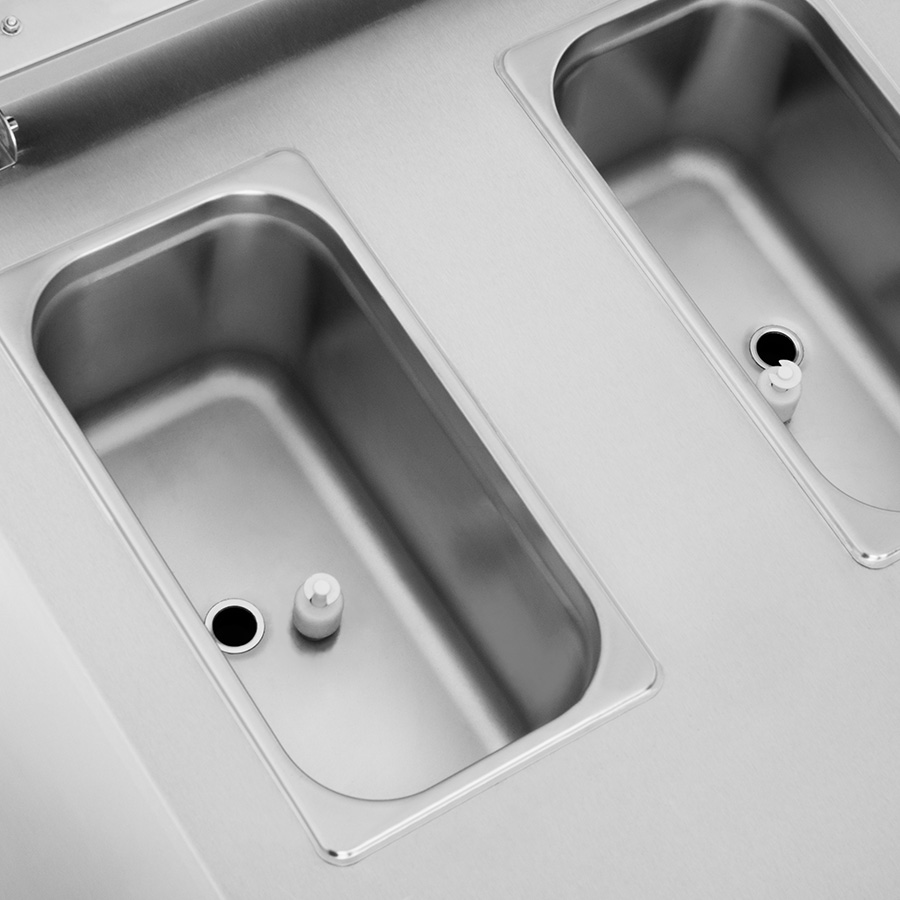 Tank can hold a total of 17 L of ice cream
Tested by Michał Orłowski, head chef of prestigious restaurants in Sydney and Warsaw. An experienced and professional restaurateur, just like our customers.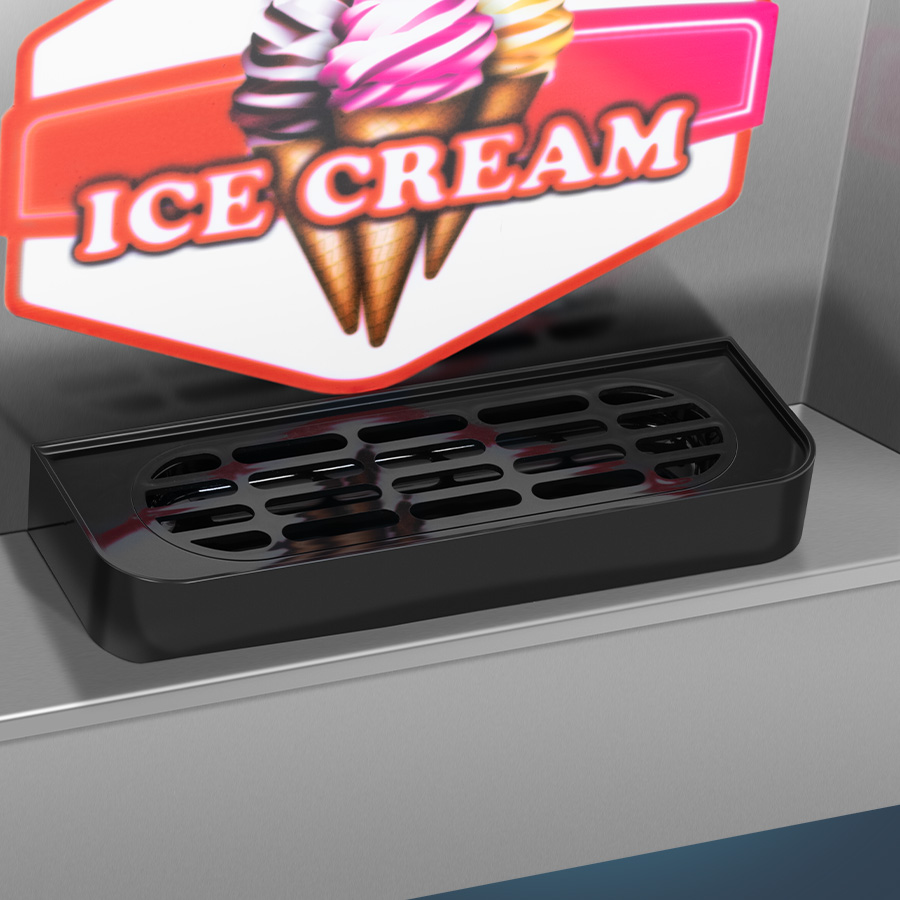 Practical drip tray keeps the workplace clean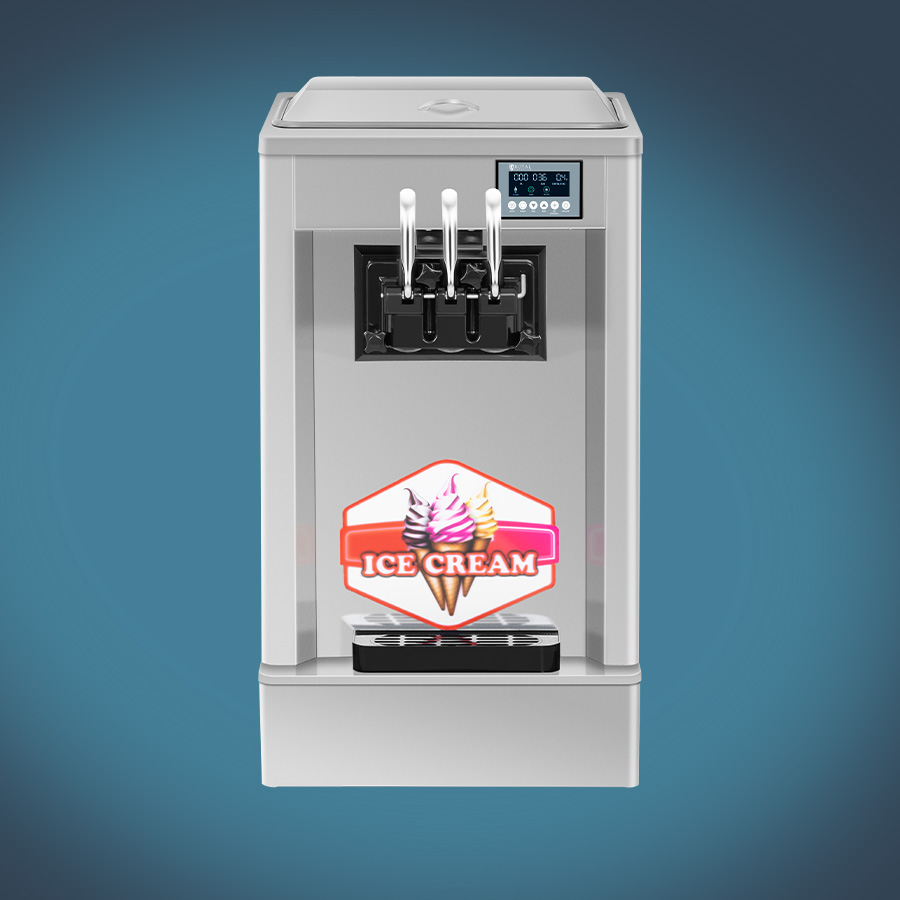 Aesthetic design attracts customers
Quiet device, even suited for closed spaces
3 flavours can be dispensed (2 base + 1 mix)
PRO TIP
Try something new! Instead of the traditional soft serve ice cream, you could also use lightly-flavoured yoghurt.
Remove the water from the tank after cleaning. Otherwise, if left standing for a long time, it can form ice and cause malfunctions.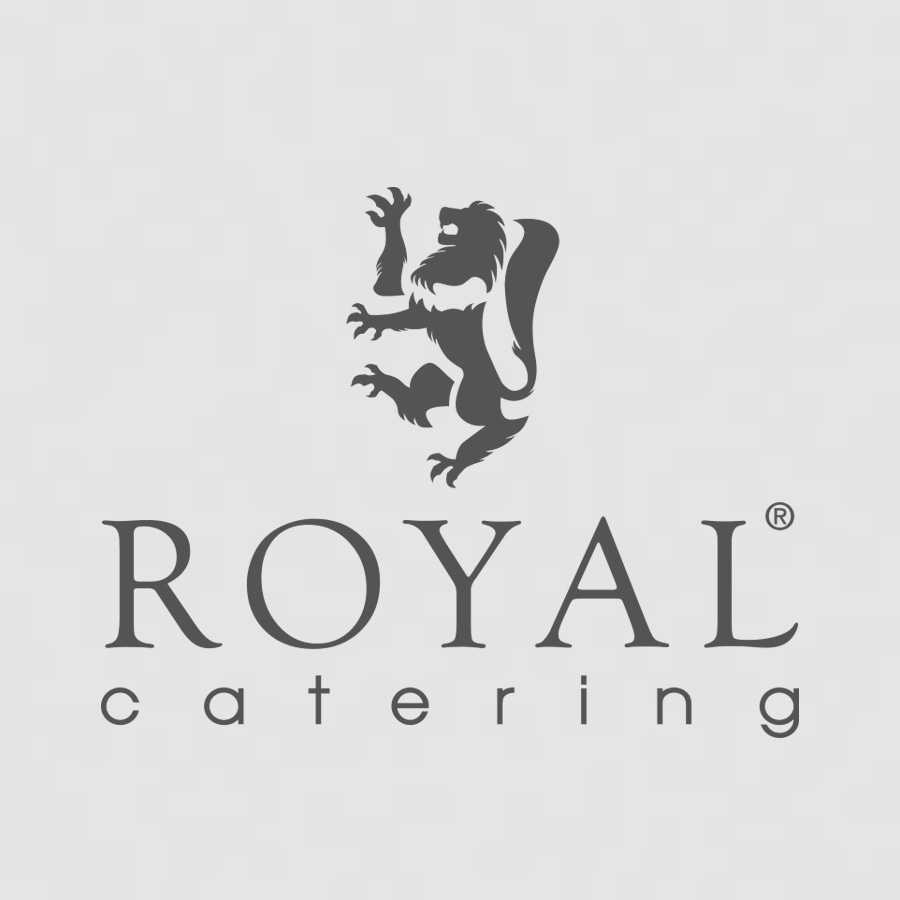 Intuitive control panel with digital display
Perfect, creamy ice cream thanks to consistency control
Housing made of hard-wearing, low-maintenance stainless steel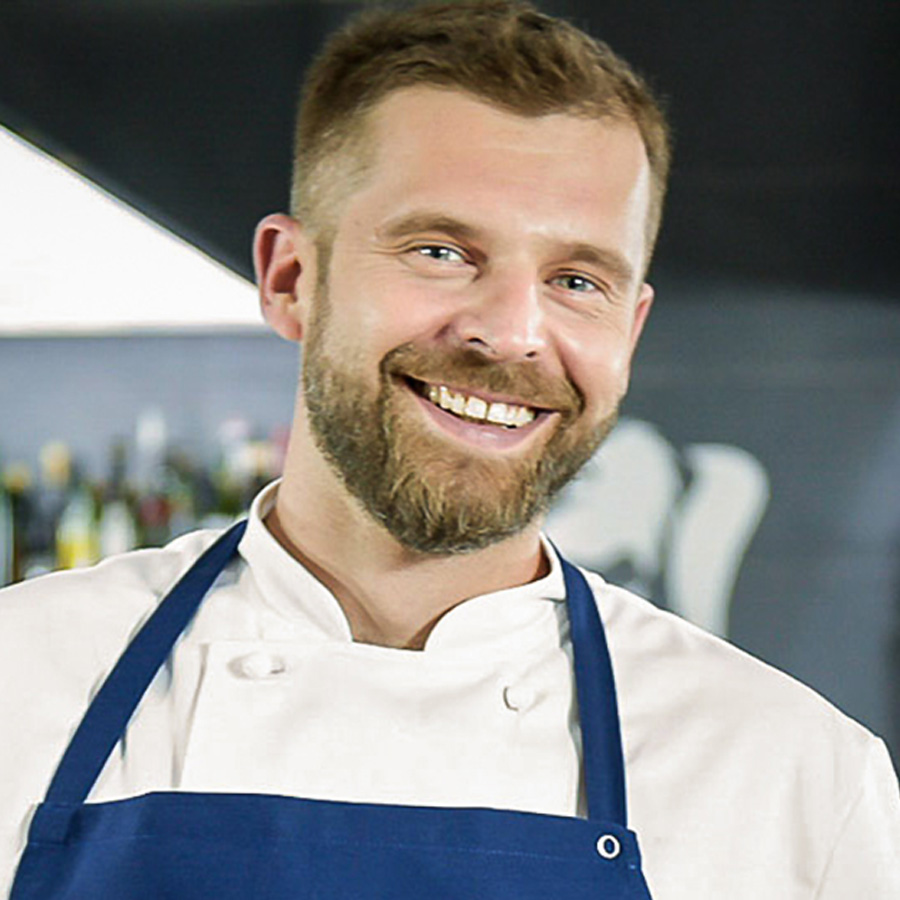 Can I only use the soft ice cream machine for soft serve?
No, you can also use this machine to prepare frozen yogurt or sorbets.
How many flavours can the machine produce at once?
The soft ice cream machine has two separate tanks which can be used to produce two flavours of ice cream. You can also dispense a mixture of the two.
Can I use the ice cream machine indoors?
Yes, the machine is quiet and can be set up in snack bars, cafés or ice cream parlours.
★
★
★
★
★
Write the first review for this product
---
---
Evaluations will be activated after verification.
Still not sure?
Our experts are ready to help!
Mon - Fri 09:30am - 04:30pm