Stainless Steel Meat Grinder - 220 kg/hr - PRO
Manufacturer: Royal Catering | Item number: EX10010176 | Model: RCFW-220PRO
Particularly powerful (1,000 W)
Processes up to 220 kg/hr
Durable device thanks to special aluminium alloy
Blades and grinder plates made of high-quality stainless steel
Easy to maintain and clean
Stainless Steel Meat Grinder - 220 kg/hr - PRO
The meat mincer RCFW 220PRO from Royal Catering's butchers equipment selection is a practical, easy-to-use appliance for processing food. The meat grinder is designed for professional use in the catering industry or in butcher's shops.
Material, casing
Polished anodised aluminium
Material, food pusher
High-strength plastic
Material, blades / grinder plates
Specialised blade steel
Hole size, grinder plates
Ø 5 / 8 mm
Performance rate
220 kg/hr
Dimensions (LxWxH)
22.00 x 46.00 x 39.00 cm
Shipping dimensions (LxWxH)
60.00 x 57.00 x 46.00 cm
Download PDF
Download PDF
Meat grinder RCFW 220PRO
2 grinder plates (5 / 8 mm)
Plastic food pusher
Worm
Worm casing
Mounting ring for grinder plates
Instruction manual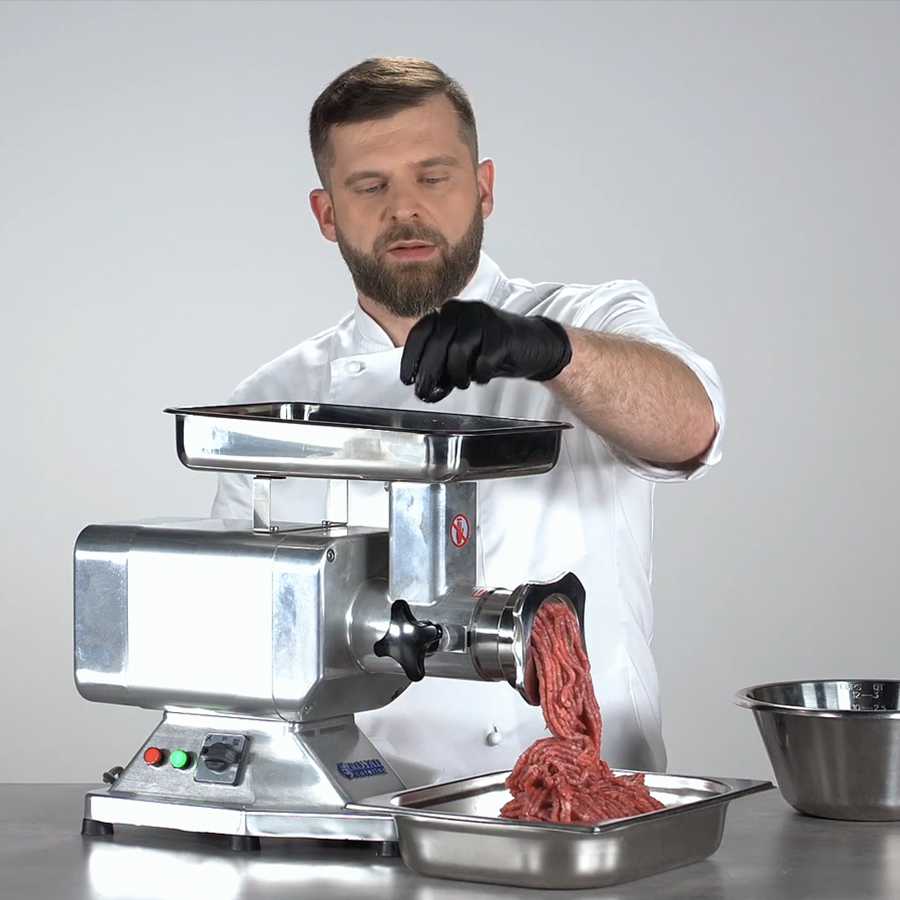 universelles Gerät zum Hacken von Fleisch und Gemüse
starke Leistung 1.100 W bietet eine hohe Kapazität von 220 kg/h
robuste Bauweise garantiert lange Lebensdauer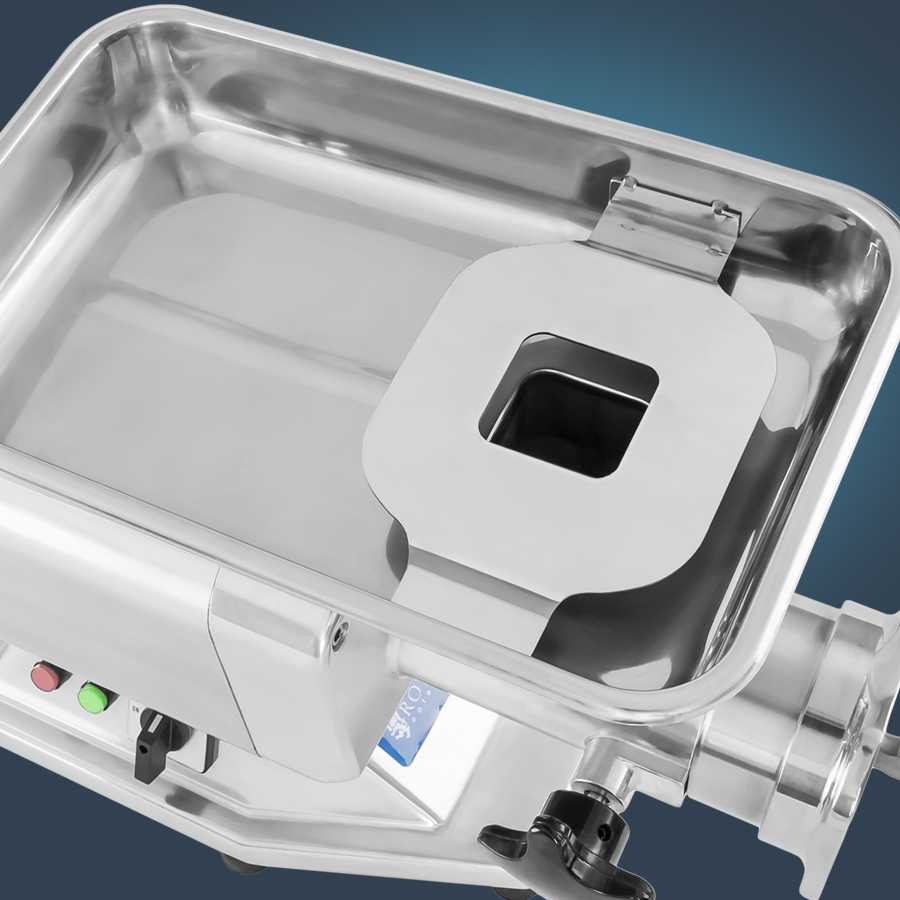 große Öffnung erleichtert das Einlegen des zuverarbeitenden Produkts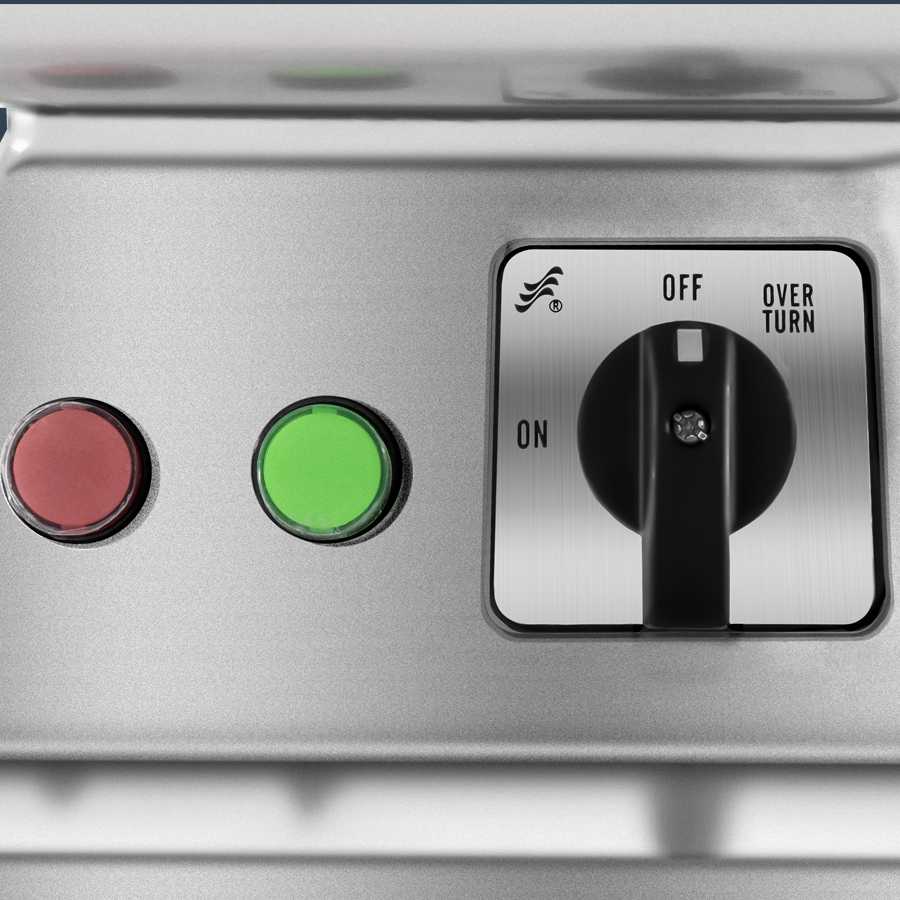 intuitive Bedienung mit Schalter und Steuerung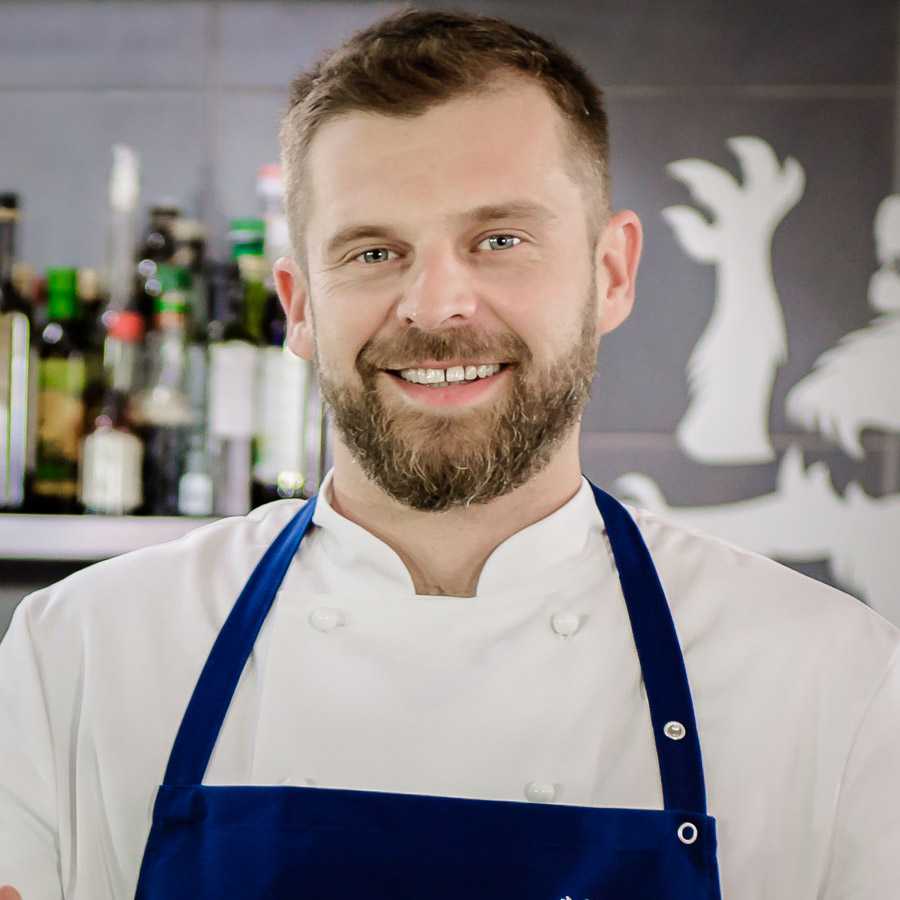 Getestet von Michał Orłowski , Chefkoch renommierter Restaurants in Sydney und Warschau. Ein professioneller und erfahrener Gastronom, genau wie unsere Kunden.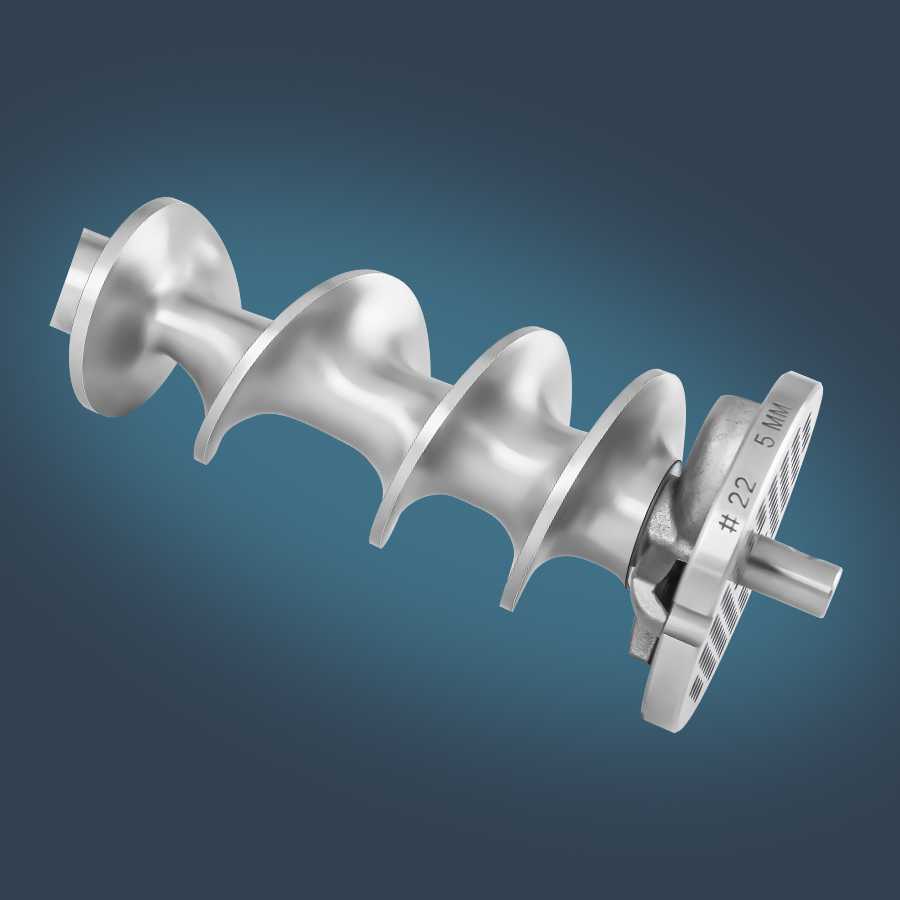 abschraubbarer Kopf für einfachen Zugang zum Innenraum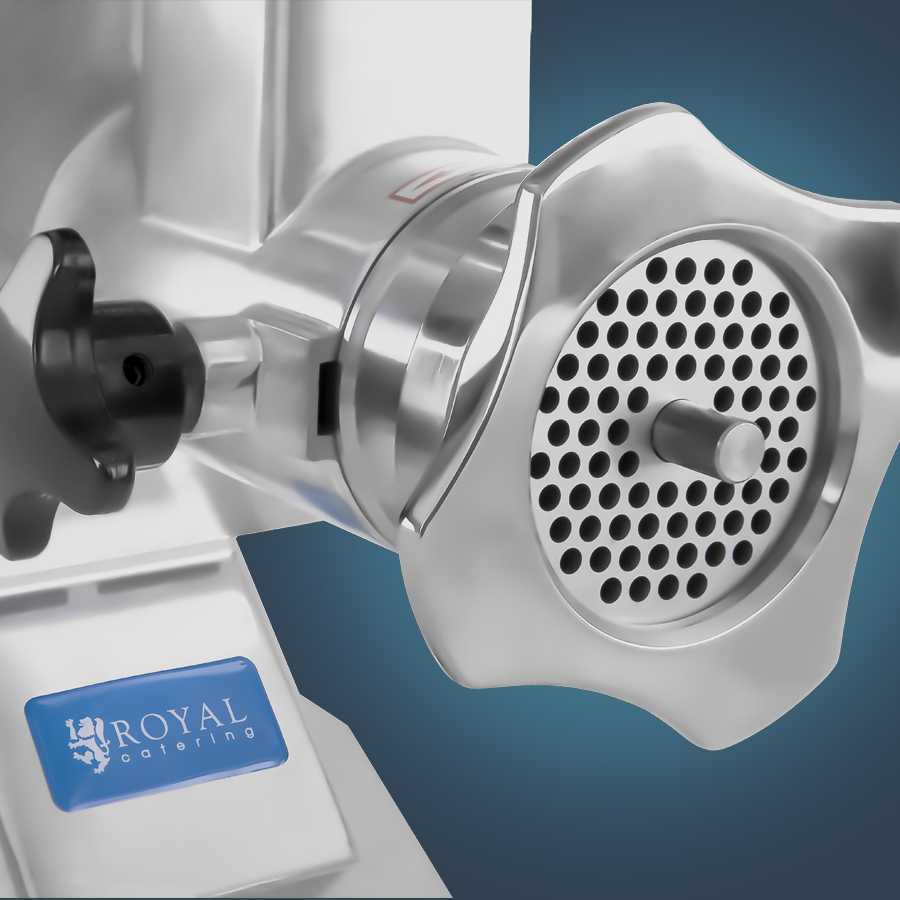 einfache Demontage der Reinigungskomponenten
zwei austauschbare Lochscheiben mit 5 und 8 mm Lochweite
Ölschmierung verlängert die Lebensdauer des Antriebs
PRO TIP
Trotz der hohen Leistung und Effizienz lohnt es sich, das Fleisch in kleinere Stücke zu schneiden und das Gerät nicht zu überlasten. Dies verhindert Verstopfungen und beschleunigt die Arbeit.
Denken Sie daran, dass die beweglichen Teile nicht in der Spülmaschine gewaschen werden sollten. Verdampfung kann zu Oberflächenschäden und Korrosion führen.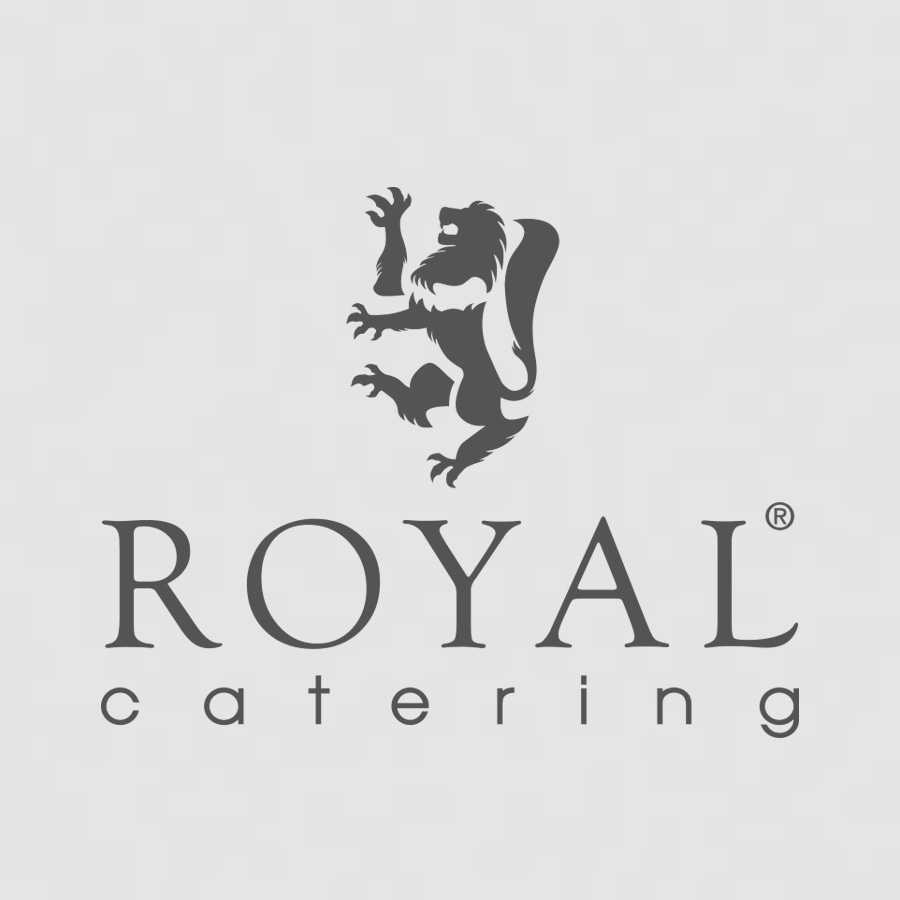 Messer und Lochscheiben aus lebensmittelechtem Edelstahl
komfortable Reinigung durch glatte Oberflächen
langlebiges, korrosionsbeständiges, eloxiertes Aluminiumgehäuse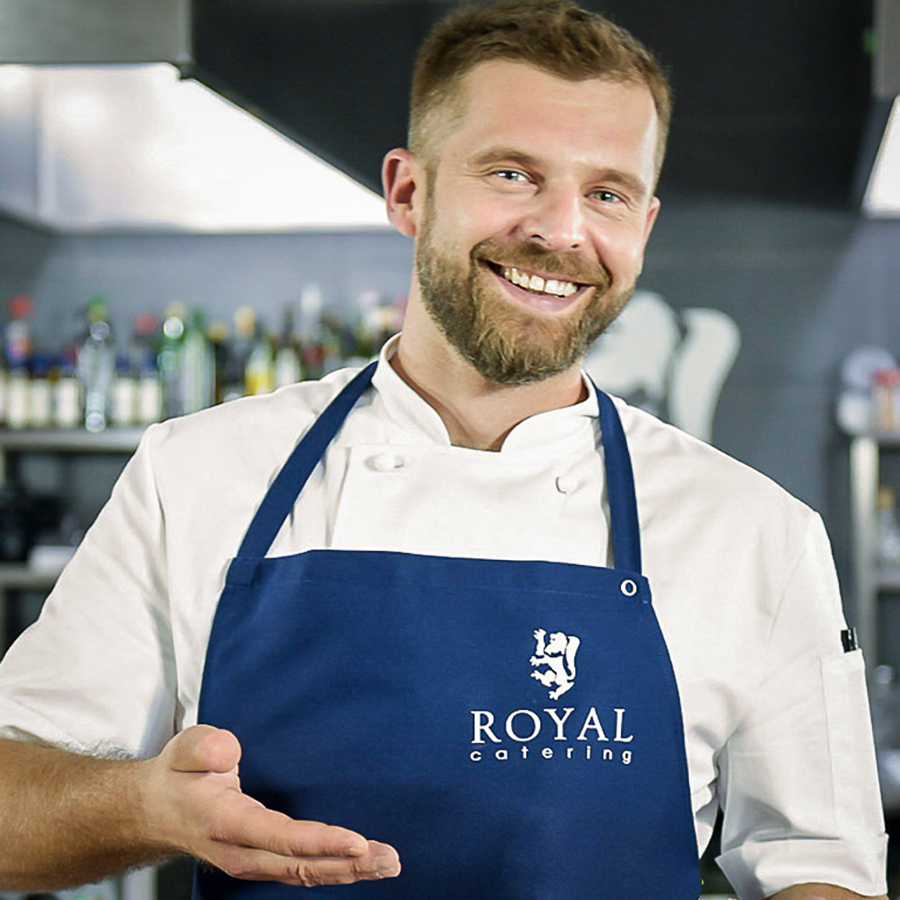 Review from Michal Expondo Expert (2 Aug 2018)
Reliable equipment for big challenges
If your restaurant menu includes homemade burgers, minced meat, bolognese sauce, lasagna or other dishes that require a lot of mincing, you need an efficient machine. In the past, I've had to work with small household appliances which do the job, but which take a very long time and are easy to clog and damage with intensive use. The meat grinder from Royal Catering, on the other hand, is made for large quantities and can handle even frozen meat with no problems. Even if it is clogged for some reason, you can quickly resume operation with reverse gear without having to disassemble the unit into its individual parts. And most importantly to me, all parts that come into contact with food are very easy to disassemble and wash in the dishwasher and steamer.
Head chef of prestigious restaurants in Sydney and Warsaw. An experienced and professional restaurateur
Is it safe to process meat with the RCFW 220PRO?
Yes, the enclosed plastic food pusher ensures safe operation. The food pusher also ensures more effective work with the device.
Can the work shaft rotate in both directions?
Yes, the worm shaft can rotate in both directions by means of the reverse function, operated by the rotary knob on the meat mincer, for example to release stuck pieces of food and remove them from the machine.
---
Sort by...
---
Leave a review (5 stars is highest, 1 is lowest)
★
★
★
★
★
Click on the link sent to your e-mail address and confirm your opinion! It will be published after verification.
Reviews from Jalil Sabih (22 Dec 2020)
Reviews from Jalil Sabih (22 Dec 2020)
Best och bra pris
Jätte bra Machines , snabb, stark och bra service
Still not sure?
Our experts are ready to help!
Mon - Fri 09:00am - 04:00pm
This product
Output: 1,000 watts

Performance rate: 220 kg/hr

Hole size: 5 / 8 mm

Dimensions: 22 x 46 x 39 cm

Plastic food pusher
Ready to ship today, Delivery time appr. 6-10 working days
Stainless Steel Meat Grinder - 220 kg/hr - PRO
Ready to ship today, Delivery time appr. 6-10 working days
Output: 1,000 watts

Performance rate: 220 kg/hr

Hole size: 5 / 8 mm

Dimensions: 22 x 46 x 39 cm

Plastic food pusher
Output: 850 watts

Performance rate: 120 - 200 kg/hr

Hole size: 5 / 8 mm

Plastic food pusher

Long-lasting materials
Ready to ship today, Delivery time appr. 6-10 working days
Stainless Steel Meat Grinder - 200 kg/hr - PRO
Ready to ship today, Delivery time appr. 6-10 working days
Output: 850 watts

Performance rate: 120 - 200 kg/hr

Hole size: 5 / 8 mm

Plastic food pusher

Long-lasting materials
Output: 1,100 watts

Performance rate: up to 220 kg/hr

Hole sizes: 4.5 / 8 mm

Five-piece mincer set

Pre-cutter (16 x 36 mm)
Ready to ship today, Delivery time appr. 6-10 working days
Stainless Steel Meat Grinder - 220 kg/hr - EXPERT
Ready to ship today, Delivery time appr. 6-10 working days
Output: 1,100 watts

Performance rate: up to 220 kg/hr

Hole sizes: 4.5 / 8 mm

Five-piece mincer set

Pre-cutter (16 x 36 mm)