Beer Dispenser with Cooler - 5 L - 2 to 12 °C
Manufacturer: Royal Catering | Item number: EX10011324 | Model: RCBD-5LB
Product Highlights
Compatible for all 5 L beer kegs
Integrated cooling system: 2 - 12° C
LED display
Incl. 3 CO2 cartridges
Extensive accessories
Cheers! Good times on draught: The home beer dispenser with CO2 cartridge system
Highlights
A real hit at parties or meetings
Compatible with all standard 5-litre beer kegs
Built-in cooling system with temperature range of 2 - 12 °C
Easy and comfortable to use (CO2 cartridges included)
Easy to clean and maintain thanks to removable drip tray and cleaning kit
Beer Dispenser with Cooler - 5 L - 2 to 12 °C
The beer dispenser with cooler from Royal Catering's catering equipment collection is perfect for garden parties, an evening with friends, or wherever anyone might want to enjoy a cold brew. The beer tap machine for your home can hold most standard 5 litre kegs and stands out with a variety of features, including an LED temperature display and various adapters and seal connectors.
Temperature range
2 - 12° C
Keg cooling time
19 - 21 hrs
Water volume, cooling system
0.8 L
Number of CO2 cartridges
3
Length, power cable
1.25 m
Dimensions (LxWxH)
48 x 28.5 x 48 cm
Shipping dimensions (LxWxH)
46.5 x 33.5 x 46 cm
Download PDF
Beer dispenser with cooler RCBD-5LB
5 connector seals
2 CO2 connectors
3 CO2 cartridges
Beer hose
2 hose O-rings
2 keg seals
Heineken adapter
Cleaning tool
Assembly materials
Instruction manual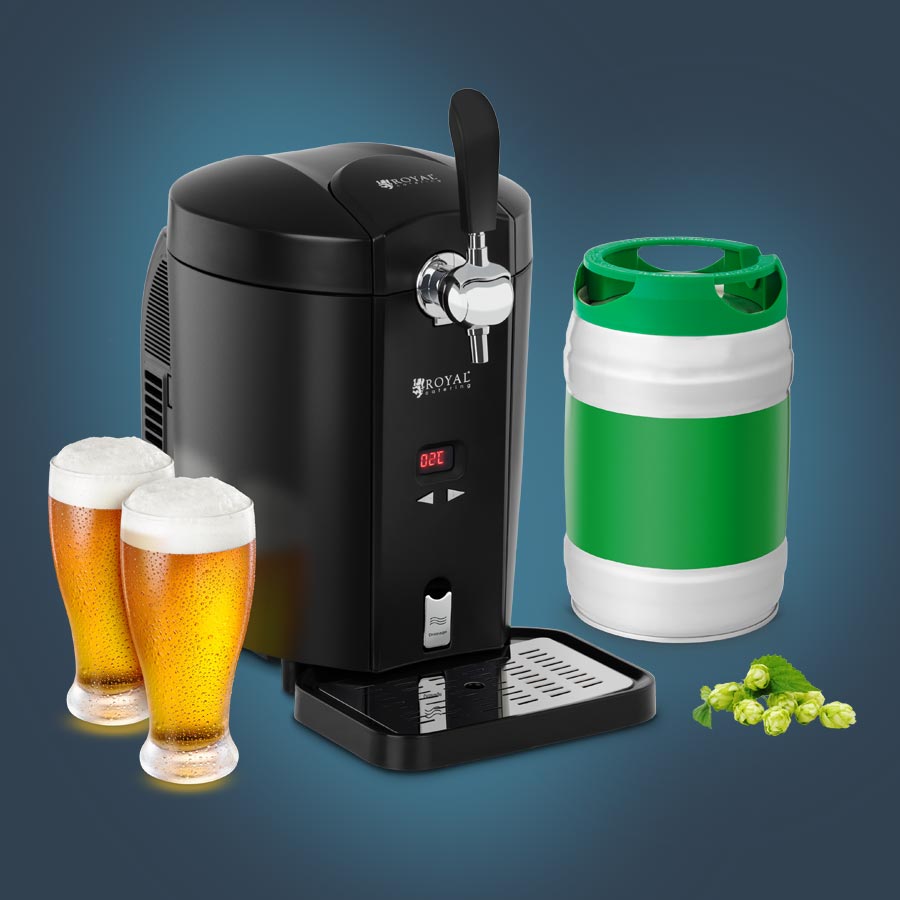 Pub atmosphere in your own home
Cold beer at your favourite temperature between 2-12 °C
Compatible with all standard 5-litre casks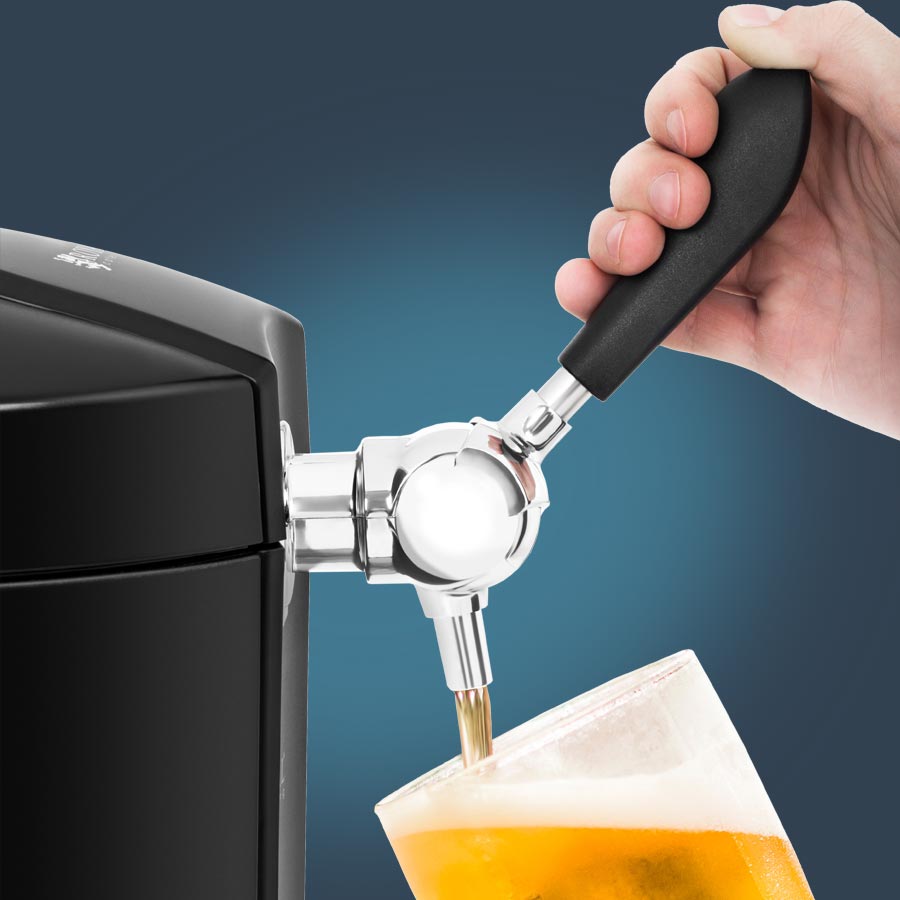 Drawing beer is a breeze with the handy tap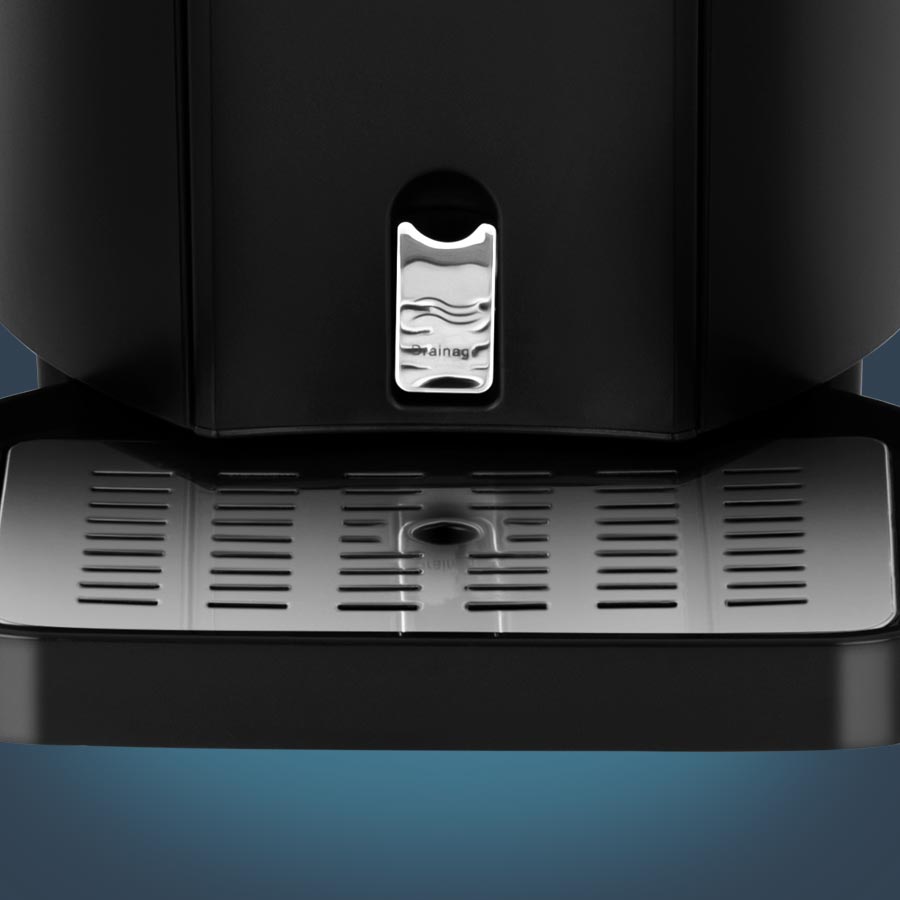 Removable drip tray for easy cleaning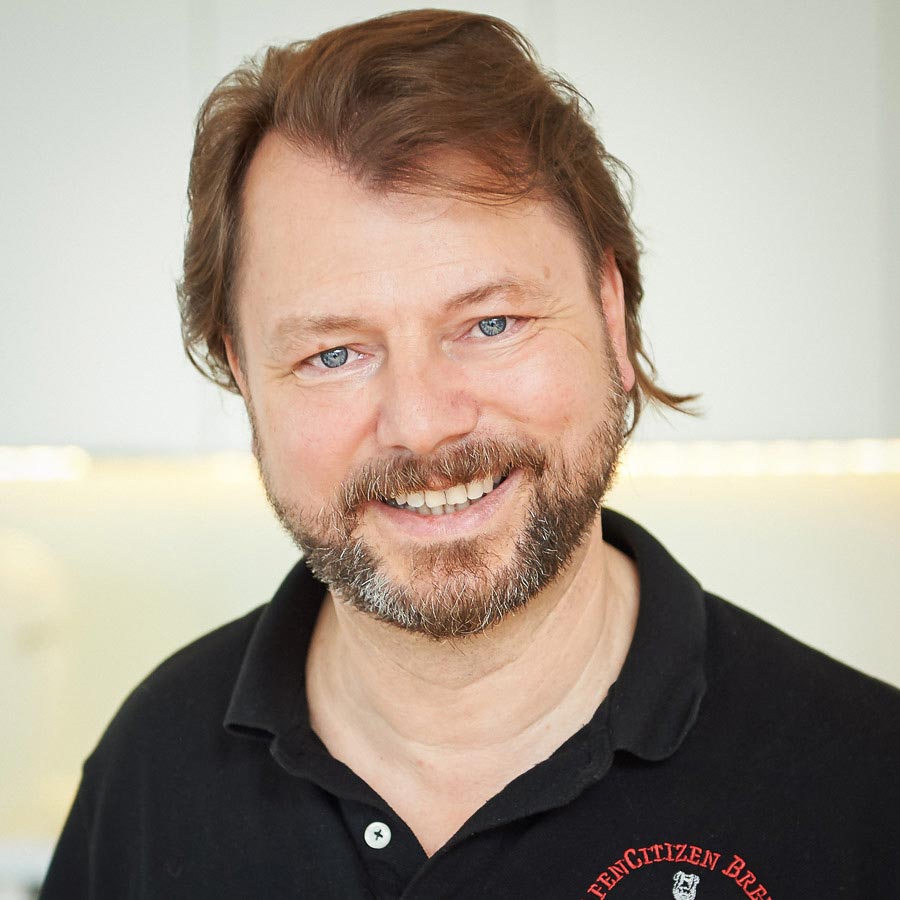 Tested by Mike Auerbach, master brewer and director of the HafenCitizen Brewery in Hamburg. Lover and ambassador of beer culture.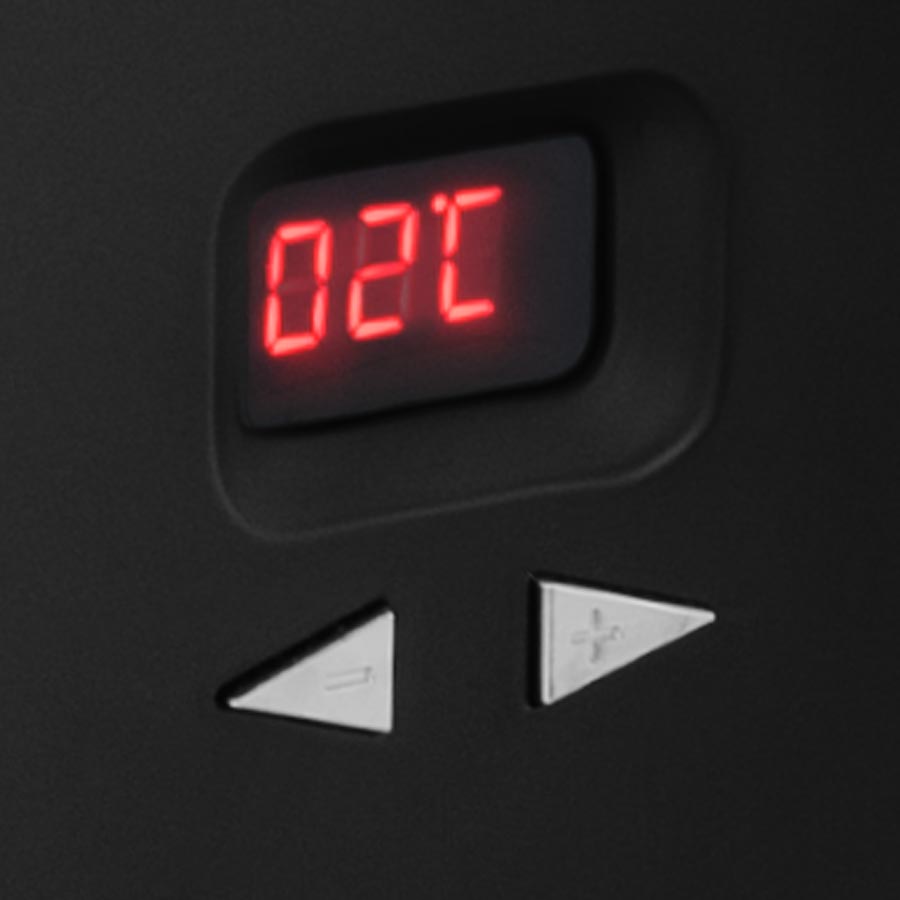 Simple pressure and temperature controls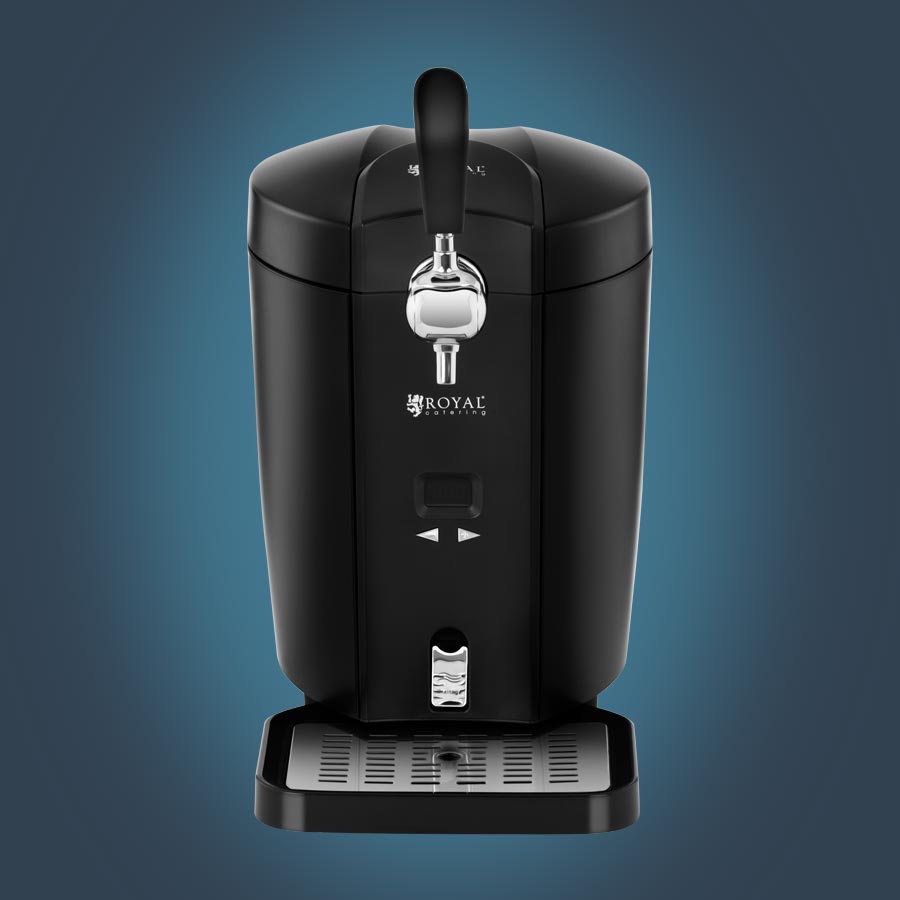 CO2 cartridges ensure classic beer head
Cleaning elements included
Rubber feet guarantee stable footing
PRO TIP
Beer kegs should be cooled beforehand in the refrigerator. And don't forget about the second and third kegs! This way, you can immediately enjoy a fresh cold beer.
For a well-drawn beer with a good head and the right carbon dioxide content, open the tap fully when pouring and don't immerse it in the beer. This ensures that the beer tastes even fresher because it loses less of its own carbon dioxide.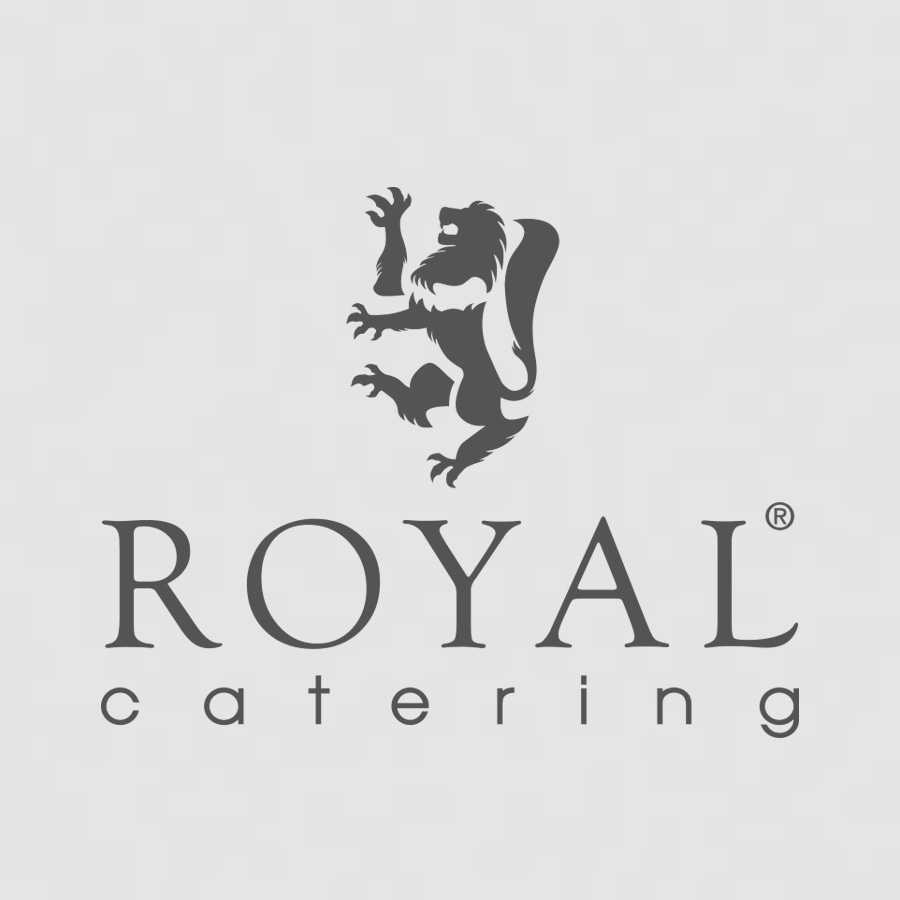 Modern, eye-catching design
Durable stainless-steel housing
LED display shows the beverage temperature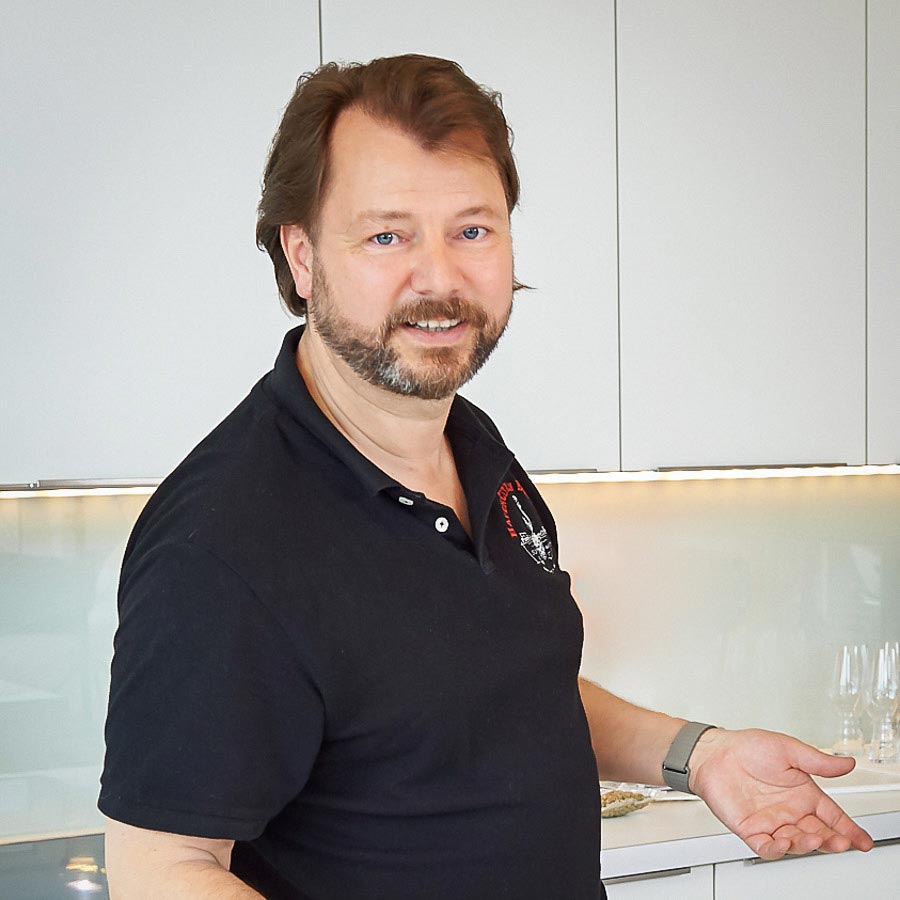 I work with professional products every day. For this video, I made sure to test the device thoroughly. You can take a close look at how this product works and then decide which model is best for your business. I hope my video and tips will help to make your business even more successful.
Head chef of prestigious restaurants in Sydney and Warsaw. An experienced and professional restaurateur
Is this device difficult to clean?
No, the cleaning process is very simple, thanks to the precise instructions in the manual. The device is equipped with a special cleaning tool to make cleaning easier (see manual).
Is the device limited to certain types of beer kegs?
The beer dispenser is compatible with all standard 5 L beer kegs, also called mini kegs. The included Heineken adapter also enables you to use the beer dispenser with Heineken kegs, which don't require CO2 pressure.
---
Sort by...
---
Evaluations will be activated after verification.
Reviews from Mark (28 Nov 2020)
Reviews from Mark (28 Nov 2020)
Beer dispenser
I love this machine. Had it 3 days, great quick service on delivery. Was a bit daunting at first setting it up but I found a video on YouTube which talked through set up. I'd already chilled my London pride keg in fridge. Ten minutes later I was all set up. Came home from work and pulled my first pint. Head was fine, left to settle for about 30 seconds and tasted. Just like being in pub. Gorgeous taste. I set temp at 6. I tried temp at 2 to see how cold it would taste. For lager that would be great at that temp depending on how you like your beer. I've set on 4 for my ales and bitters. Just ordered some 16g co2 unthreaded cartridges as well. Who needs a pub lol. Love it......
Reviews from Amazon Customer (20 Sep 2019)
Reviews from Amazon Customer (20 Sep 2019)
Pefect pint everytime.
Wow, took a little getting use to but once correctly setup and chilled, just like a pint down the pub. Highly recommend. The heineken 5ltr kegs are definitely the best and easiest to use. Perfect pint every time. I put ice water in the bottom and a keg in the fridge to reduce cooling time. For the price this is an amazing unit. Cheers
This product
Compatible for all 5 L beer kegs

Integrated cooling system: 2 - 12° C

LED display

Incl. 3 CO2 cartridges

Extensive accessories
Ready to ship today, Delivery time appr. 1-3 weeks**
Beer Dispenser with Cooler - 5 L - 2 to 12 °C
Ready to ship today, Delivery time appr. 1-3 weeks**
Compatible for all 5 L beer kegs

Integrated cooling system: 2 - 12° C

LED display

Incl. 3 CO2 cartridges

Extensive accessories
Suitable for every 5-l-barrels

Integrated cooling: 2 - 12 °C

LED-Display

Incl. 3 CO2 cartridges

Extensive accessories
Ready to ship today, Delivery time appr. 1-3 weeks**
Beer Dispenser With Cooler
Ready to ship today, Delivery time appr. 1-3 weeks**
Suitable for every 5-l-barrels

Integrated cooling: 2 - 12 °C

LED-Display

Incl. 3 CO2 cartridges

Extensive accessories
Compatible for all 5 L beer kegs

Integrated cooling system: 2 - 12° C

LED display

Incl. 3 CO2 cartridges

Extensive accessories
Ready to ship today, Delivery time appr. 1-3 weeks**
Factory seconds Beer Dispenser with Cooler - 5 L - 2 to 12 °C
Instead of: £199.00
£159.20
Power: 900 Watt

Incl. 1/1 GN Container

65 mm Container Depth

8 Liter Volume Capacity

5 Temperature Steps
Ready to ship today, Delivery time appr. 1-3 weeks**
Chafing Dish - 900 W - 65 mm