High-performance Blender Katana - 1,500 W - 38,000 rpm - max. 2.5 L
Manufacturer: Royal Catering | Item number: EX10010776 | Model: RCMB-2LA
Product highlights
Capacity: Max. 2.5 L
Power: 1,500 W
Up to 38,000 rpm
6 stainless steel blades
3 speeds, pulse, timer
Fresh smoothies, perfectly mixed drinks, puréed soups or crushed ice for your party - the high-performance mixer Katana from Royal Catering guarantees unbeatable results for delicate or tough ingredients. That's why we've combined the power of 1,500 watts with six extremely sharp stainless steel blades. With up to 38,000 rotations per minute, this samurai among blenders makes short work of even heavy-duty ingredients such as ice cubes, nuts or coffee beans and reliably breaks down the cell walls of fruit and vegetables. This frees vital nutrients from the tough cellulose structure, making them easier for the body to absorb and utilise - for maximum health! Coarsely chopped or finely ground? Three speeds guarantee the right results for any recipe.
Show more
Show less
The steel used to make a katana undergoes an elaborate forging process to remove all impurities, making the blade both extremely sharp and resilient. Like the Japanese swordsmiths of old, we attach great importance to the purity of our materials and deliberately avoided using BPA (Bisphenol A) in our power blender. Fresh ingredients are guaranteed to remain uncontaminated and healthy after blending in the shatter-resistant plastic jar. The blender jar, with its capacity of 2.5 litres, is - like the Japanese longsword - a giant and offers plenty of space for nearly every recipe. It has vertical inner ribs for uniform results, level markings so you can pour or add the right amounts of ingredients without a measuring cup, and a spout for neat pours, all of which make this mixer incredibly easy to use. The opening in the lid allows you to cleanly add ingredients without any trouble, even during the blending process.
Show more
Show less
Much like a samurai overcomes seemingly impossible obstacles with ease, healthy nutrition should not be complicated. That's why we've made sure to keep the operation of the Katana high-performance blender very simple. The three speeds and time programs allow you to intuitively find the perfect setting for every ingredient. Chop nuts on a low setting or choose a higher speed to purée smoothies or grind coffee beans. The pulse function offers extra power and ensures a uniform result for tough ingredients. Cleaning this elegant appliance is as simple as operating it. The plastic jar and blade assembly can be easily removed and replaced. This powerful kitchen warrior is ready to go again shortly after each use and ensures a nutritious diet for the whole family with little effort on your part.
Show more
Show less
26,000 rpm for perfect results
Powerful 1,500 watts can even crush ice
Easy to use, with three speeds, timer and pulse function
Six sharp stainless steel blades for fast and uniform results
Extra-large jar with level markings - ideal for large quantities
Durable, sturdy and easy to clean
High-performance Blender Katana - 1,500 W - 38,000 rpm
The sword is the soul of the samurai, and the high-performance blender Katana is the core of a health-conscious diet.
Material, housing
Plastic
Container material
BPA-free shatterproof plastic
Material, blades
Stainless steel
Capacity, jar (recommended)
2.0 L
Rotation speed
13,000 - 38,000 rpm
Rotation options
Low, Medium, High
Timer options
35, 60, 90 sec.
Length, power cable
1.0 m
Dimensions (LxWxH)
22.50 x 19.50 x 55.50 cm
Shipping dimensions (LxWxH)
32.50 x 27.00 x 41.00 cm
Download PDF
Download PDF
High-performance blender RCMB-2LA with jar and lid
Plunger
Instruction manual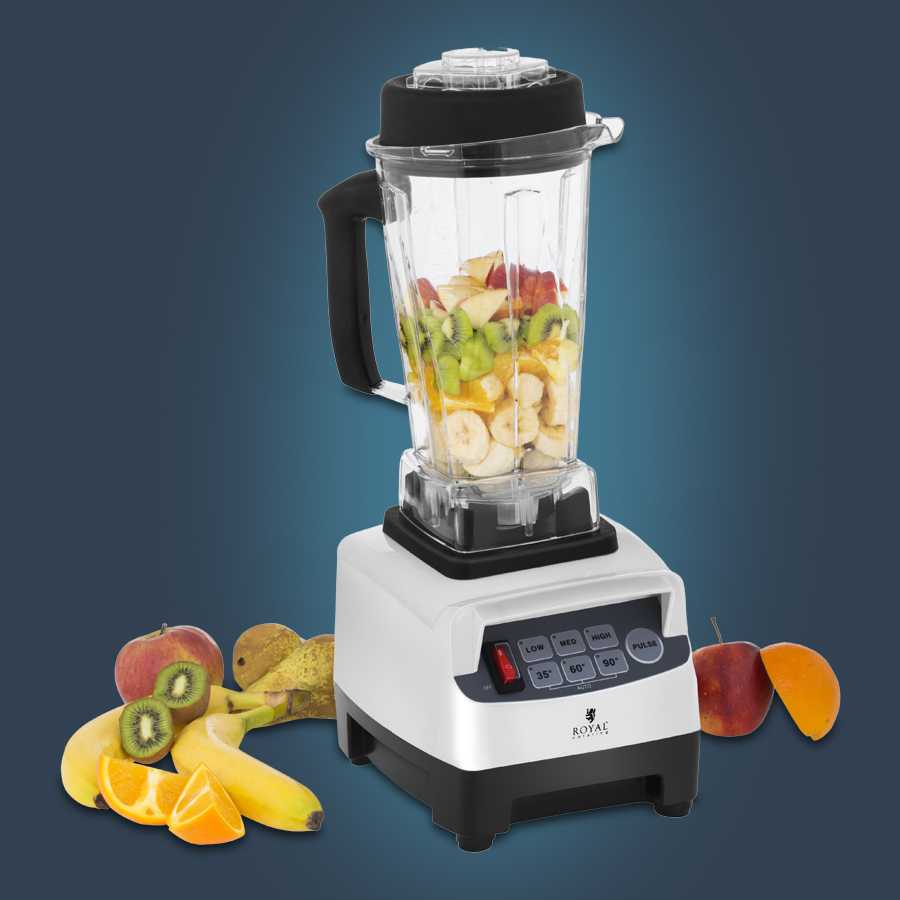 Rapid mixing up to 38,000 rpm
High power of 1,500 watts crushes even nuts and ice cubes
Efficient equipment for restaurants, cafés, bars, etc.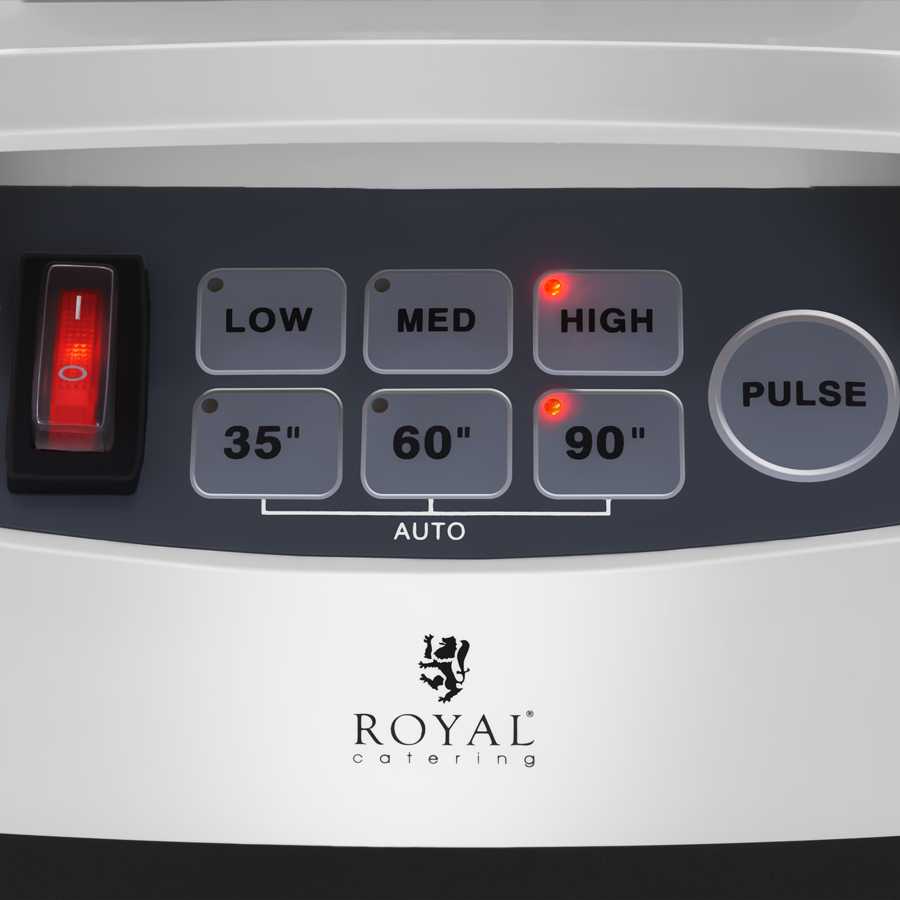 Intuitive buttons for easy operation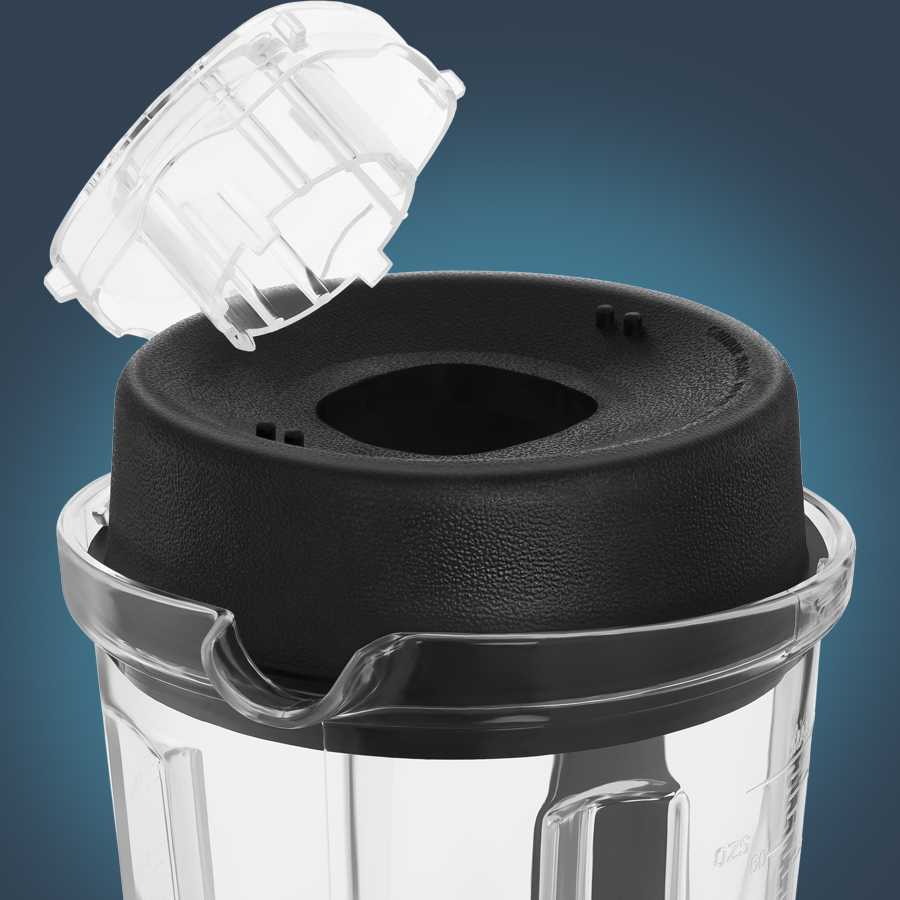 Lid opening makes it safe to add ingredients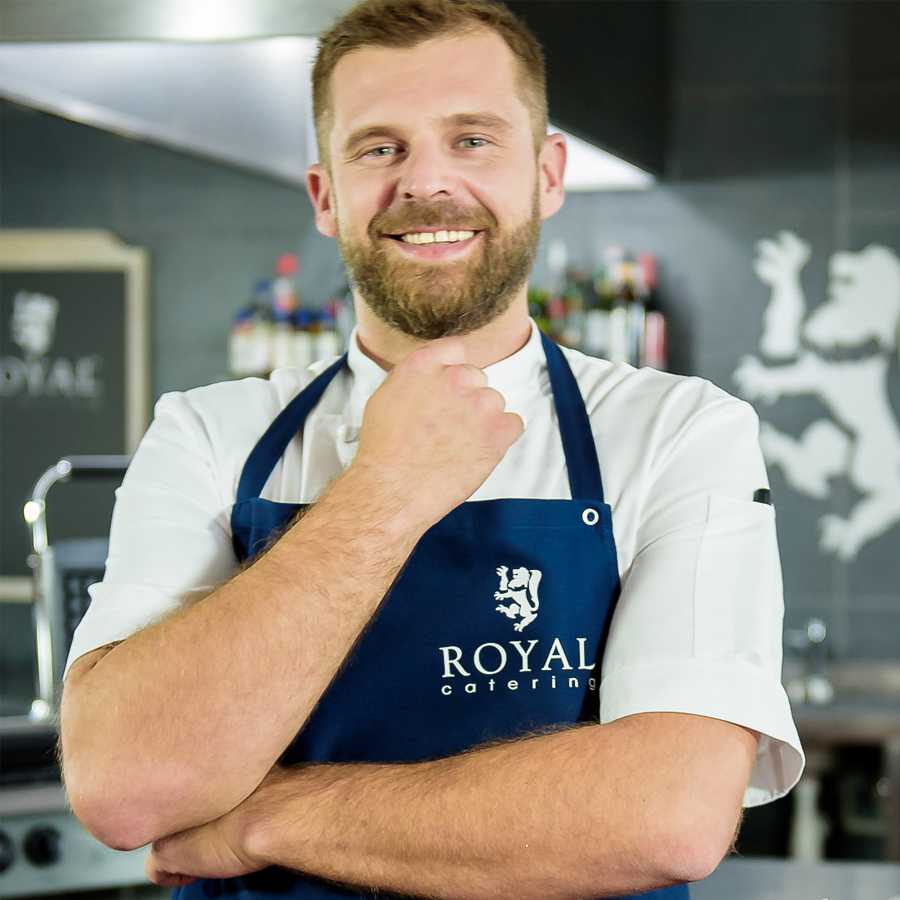 Tested by Michał Orłowski, head chef of prestigious restaurants in Sydney and Warsaw. An experienced and professional restaurateur, just like our customers.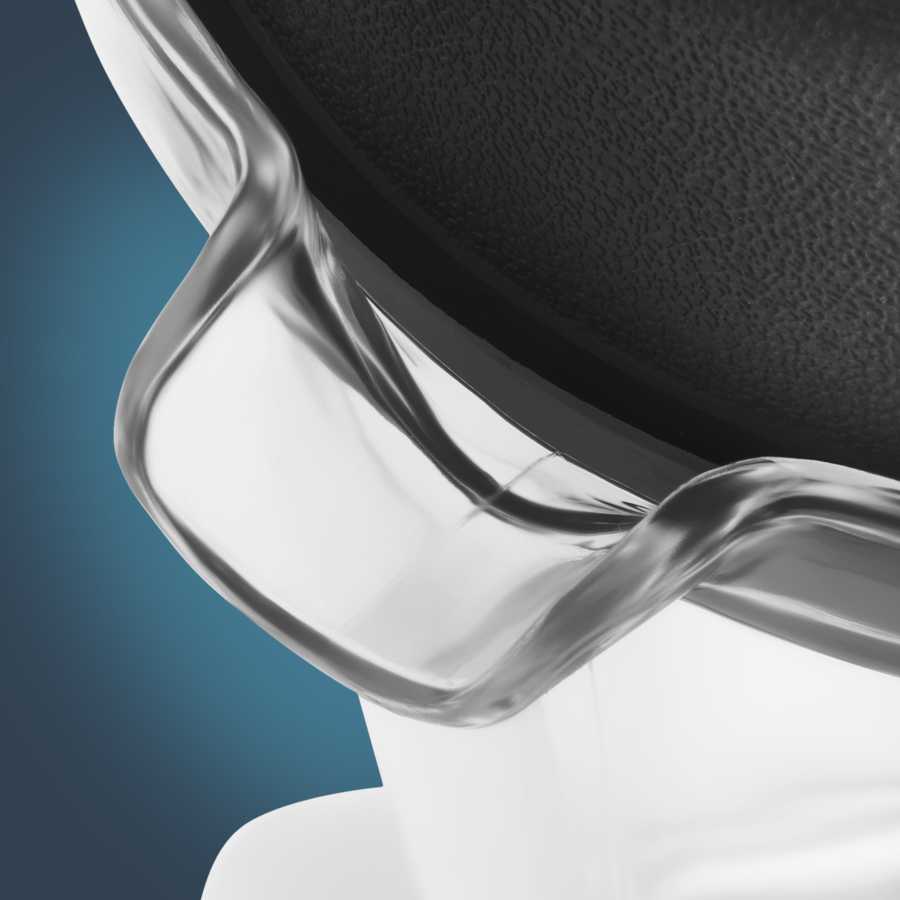 Easy pouring thanks to funnel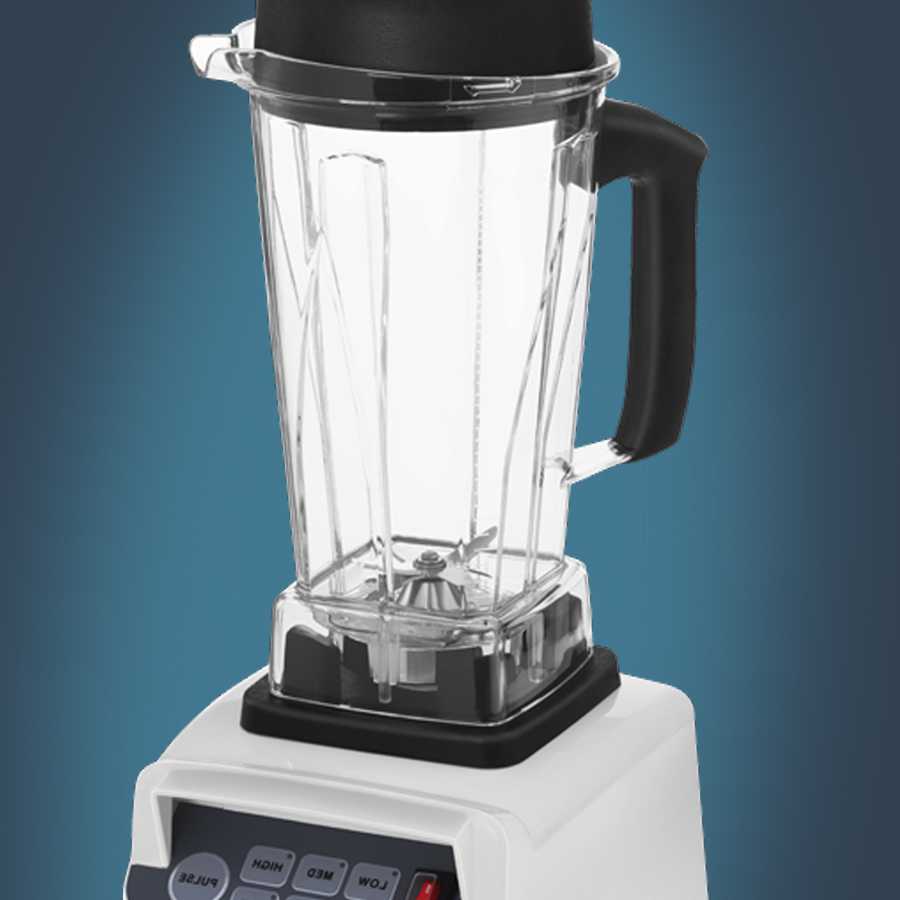 Universal - for hot and cold foods and beverages
Functions for mixing, blending and crushing
Container with fill level marking makes measuring easy
PRO TIP
It is easier to thin than it is to thicken cream, puree or soup. That's why I prefer to top up with liquids afterwards until I've reached the desired consistency.
In order to effectively clean the mixer, add a drop of dish detergent to the container and fill it one third of the way with water. Just turn the mixer on for a few moments ... and voilà!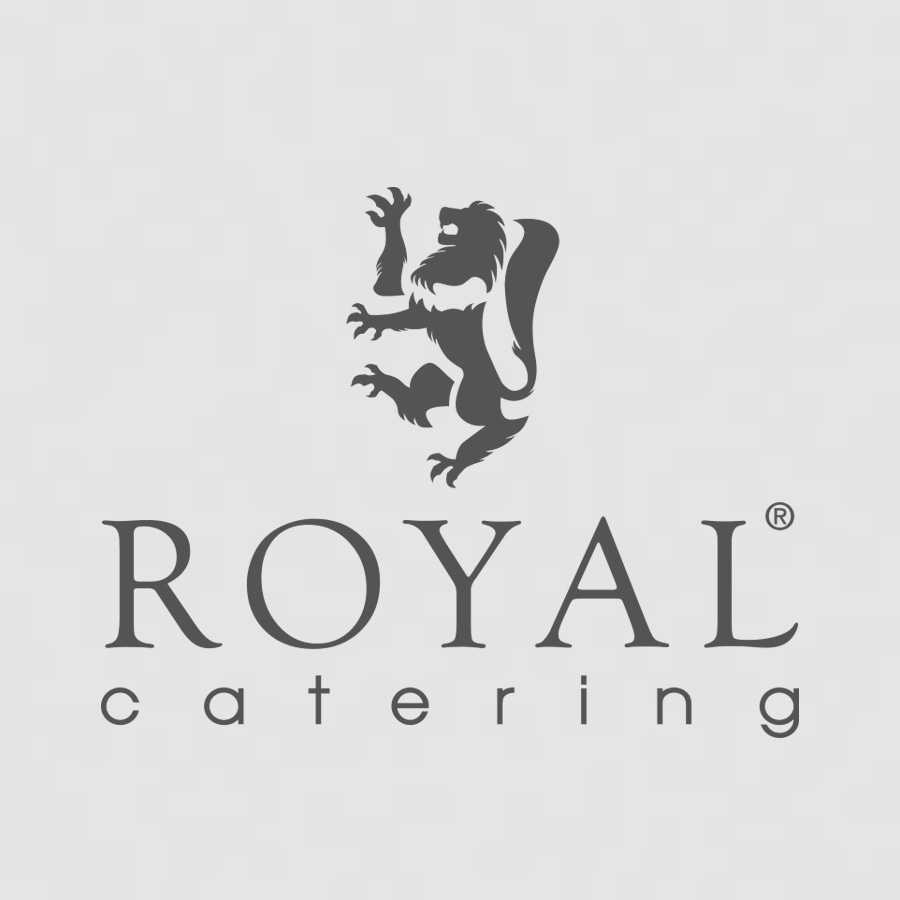 Ideal for cocktails, drinks, salads, soups, sauces
Perfect crushing ratio thanks to timer
Overload protection and sturdy housing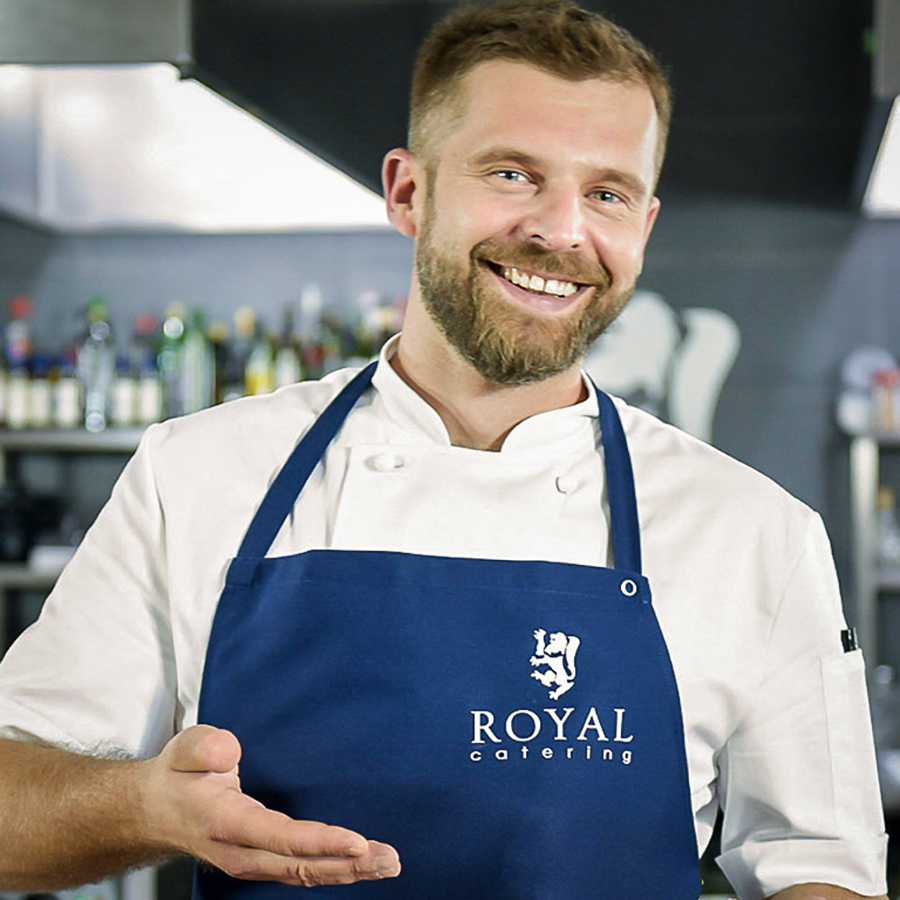 Review from Michal Expondo Expert (26 Aug 2019)
Essential for any kitchen
Probably the most frequently used device in a restaurant is a blender. Sauces, soups, creams, purees and more -- for all these tasks you need a really efficient machine. First of all, engine power and speed are important. With an output of 1500W and 38000 rpm, the Royal Catering blender is one of the strongest on the market and can handle even the most challenging tasks. I have had the opportunity to work with it and I would be happy to see it in every restaurant and bar. In addition, the compact size allows for use at home, allowing every amateur chef to achieve the same results as in the best restaurants.
Head chef of prestigious restaurants in Sydney and Warsaw. An experienced and professional restaurateur
How big is the jar?
We purposefully designed the jar with a capacity of 2.5 litres so that you can blend large amounts of ingredients in a single step.
Is the device safe?
The blender meets the highest safety standards. The device turns off automatically if it is overloaded. In addition, the jar handle is coated with rubber, which allows you to get a firmer grip on the jar while at the same time protecting you from burns.
---
Sort by...
---
Leave a review (5 stars is highest, 1 is lowest)
★
★
★
★
★
Click on the link sent to your e-mail address and confirm your opinion! It will be published after verification.
Reviews from Anonym (31 Oct 2021)
Reviews from Anonym (31 Oct 2021)
Conforme à la description
JbB
Reviews from Anonym (21 Sep 2021)
Reviews from Anonym (21 Sep 2021)
Super toller Mixer
Genialer Mixer mit richtig Power, für super kleines Geld! Würde ich mir sofort wieder kaufen! Erfüllt alle meine Wünsche, gute Qualität und top Firma!
Reviews from Marcel Hänni (18 Jun 2020)
Reviews from Marcel Hänni (18 Jun 2020)
Supermixer
Ausgezeichnetes Gerät. Ich bin sehr zufrieden damit und auch mit der prompten Lieferung. Ich kann Gerät und Firma bestens weiterempfehlen!!
Reviews from Ivan Pokorny (19 Jan 2020)
Reviews from Ivan Pokorny (19 Jan 2020)
Vysoká kvalita vs. cena
Příjemné překvapení z kvality, tichého provozu, uživatelsky přátelského ovládání
Reviews from Amazon Customer (24 Nov 2019)
Reviews from Amazon Customer (24 Nov 2019)
Sehr gutes Gerät!
Das Gerät ist super!
Reviews from Amazon Customer (2 Aug 2019)
Reviews from Amazon Customer (2 Aug 2019)
Das ist mal ein erfreulicher Mixer!
Vor einigen Wochen habe ich mir in einem Laden einen Mixer gekauft. Wir sind keine Freunde geworden. Gestern kam der Royal, und ich erfreue mich daran. Schon der Aufbau macht Freude. Der Mixbehälter aus Kunststoff und sehr angenehm leicht, wird auf das Bedienteil gestellt und sitzt. Die Leistung ist hervorragend. Man hat die Wahl zwischen drei Stärken und Impulsmixen, sowie drei zeiteinstellungen. Das alles simpel zu bedienen. Auf höchster Stufe macht er alles zu feinem Brei, was man ihm gibt. Der Behälter lässt sich genau so leicht abnehmen wie aufsetzen und die Reinigung ist einfach, wenn man es sofort macht. Ansonsten kann man das Messer abdrehen und auch in den Ecken Wischen. Alles in allem habe ich einen Hochleistungsmixer, der bedienerfreundlich ist, zu einem guten Preis gekauft. Wir sind Freunde geworden.
Reviews from Amazon Customer (28 Mar 2019)
Reviews from Amazon Customer (28 Mar 2019)
Alles super!
Von der Bestellung bis zur Lieferung lief alles super! Die Qualität ist gut, ich bin sehr zufrieden. :)
Still not sure?
Our experts are ready to help!
Mon - Fri 09:00am - 04:00pm
This product
Capacity: Max. 2.5 L

Power: 1,500 W

Up to 38,000 rpm

6 stainless steel blades

3 speeds, pulse, timer
High-performance Blender Katana - 1,500 W - 38,000 rpm - max. 2.5 L
Capacity: Max. 2.5 L

Power: 1,500 W

Up to 38,000 rpm

6 stainless steel blades

3 speeds, pulse, timer