Electric deep fryer - 2 x 16 litres - 400 V - base cabinet
Manufacturer: Royal Catering | Item number: EX10010006 | Model: RCKF 16DSH
Product highlights
Power: 2 x 6,000 W
Capacity: 2 x 16 L
400 V power
With base cabinet and drain tap
2 power connections
Two large containers for up to 3 kg chips each
Very low warm-up time thanks to two 6,000 watt heating elements
Easy to clean, with drain taps, stainless steel surfaces and removable heating elements
Free-standing thanks to elegant base cabinet
Safe operation with automatic shut-off and overheat protection
Electric deep fryer - 2 x 16 litres - 400 V - base cabinet
The electric deep fryer RCKF-16DSH is the perfect appliance for preparing large amounts of chips. With a total capacity of 32 litres and two high-voltage connectors powered by 6,000 watts each, this device will provide just as reliably for guests at official functions in conference hotels as for hungry attendees at open air events. The elegant stainless steel base cabinet enables the double deep fryer to be free-standing.
Voltage / Frequency
400 V / 50 Hz
Dimensions, basket
25 x 23 x 12 cm
Heating temperature
60 - 200 °C
Material, housing
Stainless steel
Max. filling capacity per basket
3 kg
Frying time at max. filling capacity
5 minutes
Number of power connectors
2
Dimensions (LxWxH)
68.00 x 53.00 x 95.00 cm
Shipping dimensions (LxWxH)
75.50 x 59.00 x 96.00 cm
Download PDF
Download PDF
Electric deep fryer RCKF-16DSH incl. base cabinet
2 baskets with handles
2 lids
2 heating elements with control panel
2 drain taps
Instruction manual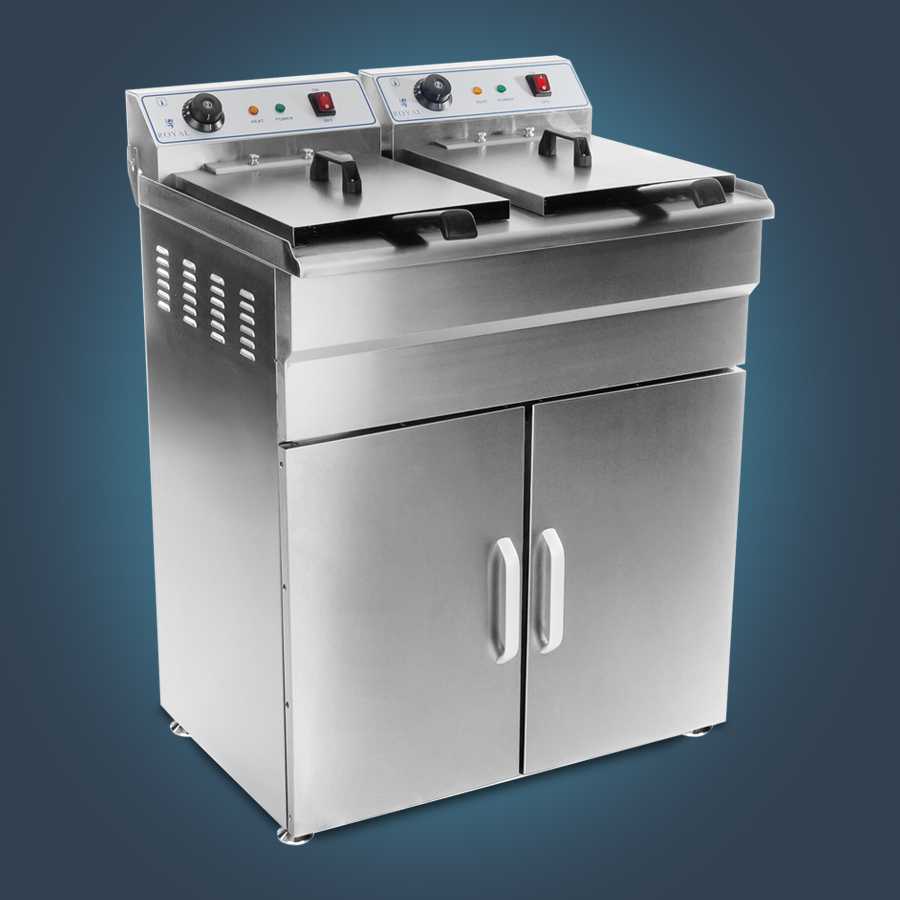 very large capacity 2 x 16 l
exceptional heating power 2 x 6.000 W
excellent for frying chips, nuggets, coated fish and many other dishes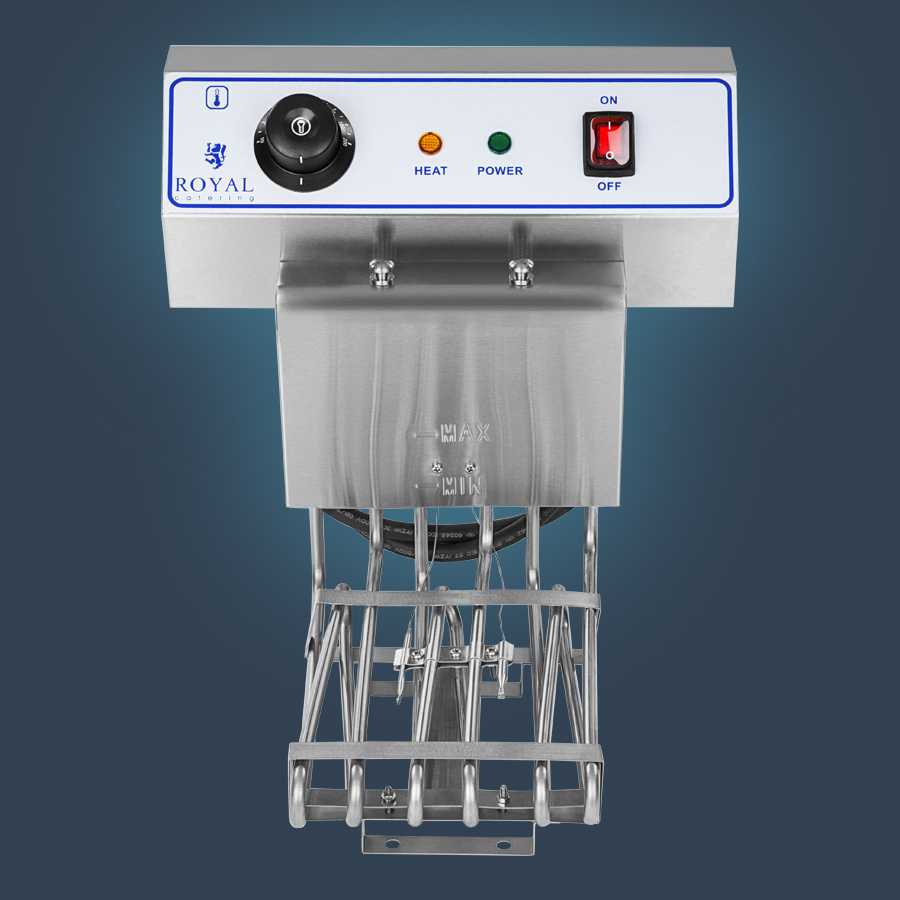 comfortable cleaning thanks to the removable heating unit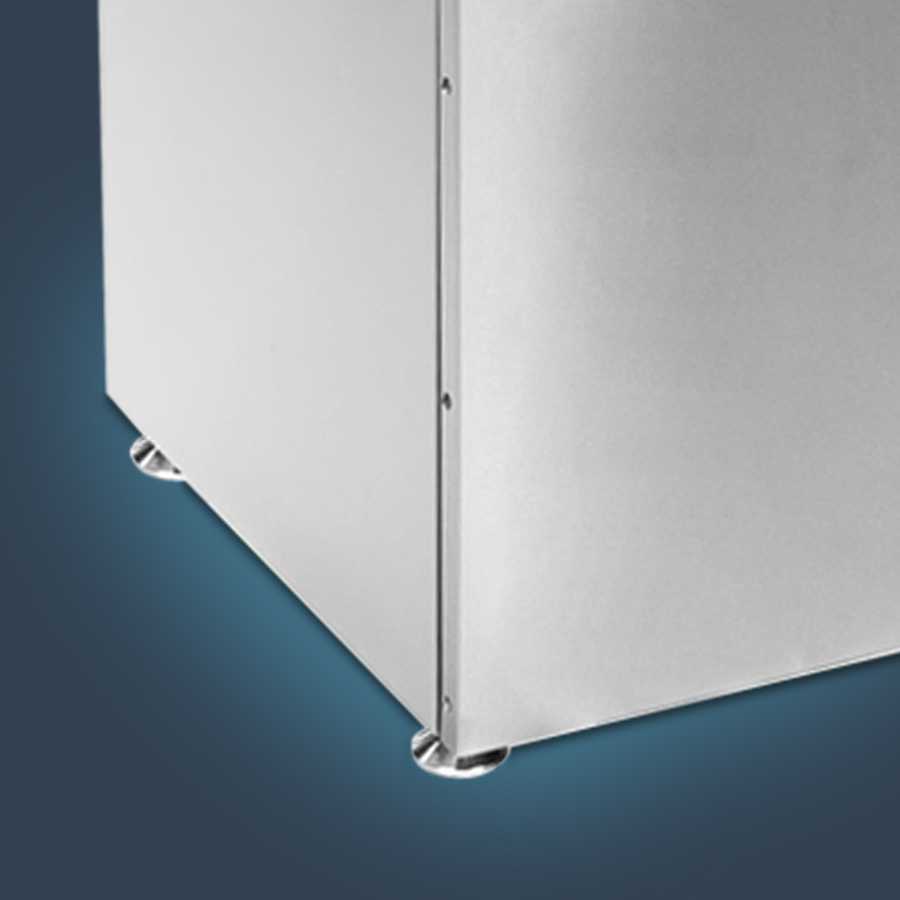 stable feet guarantee stability for the device, which confers the fryer comfort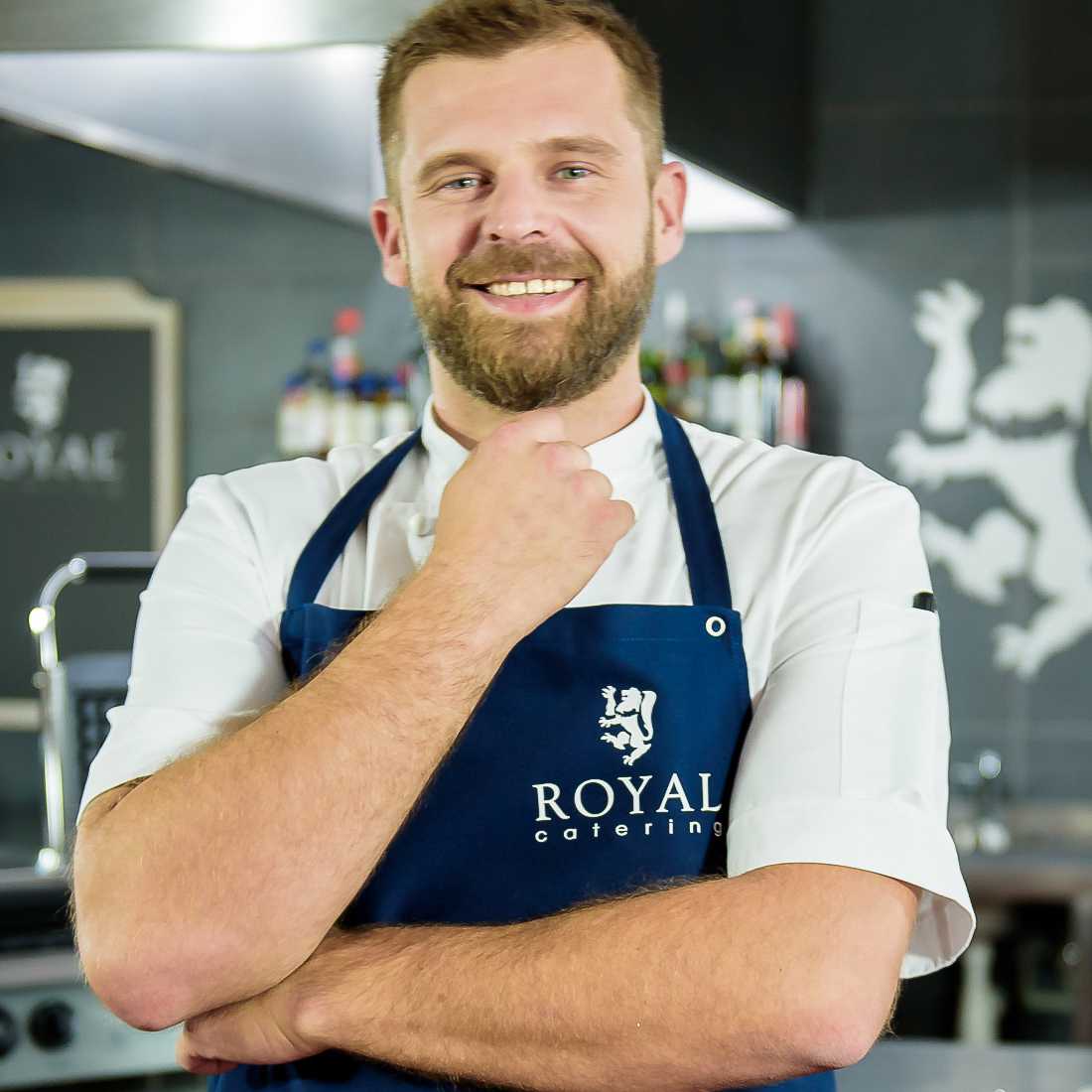 Michał Orłowski
Culinary expert, the head chef in famous restaurants in Sydney and Warschau. A professional, just like our customers.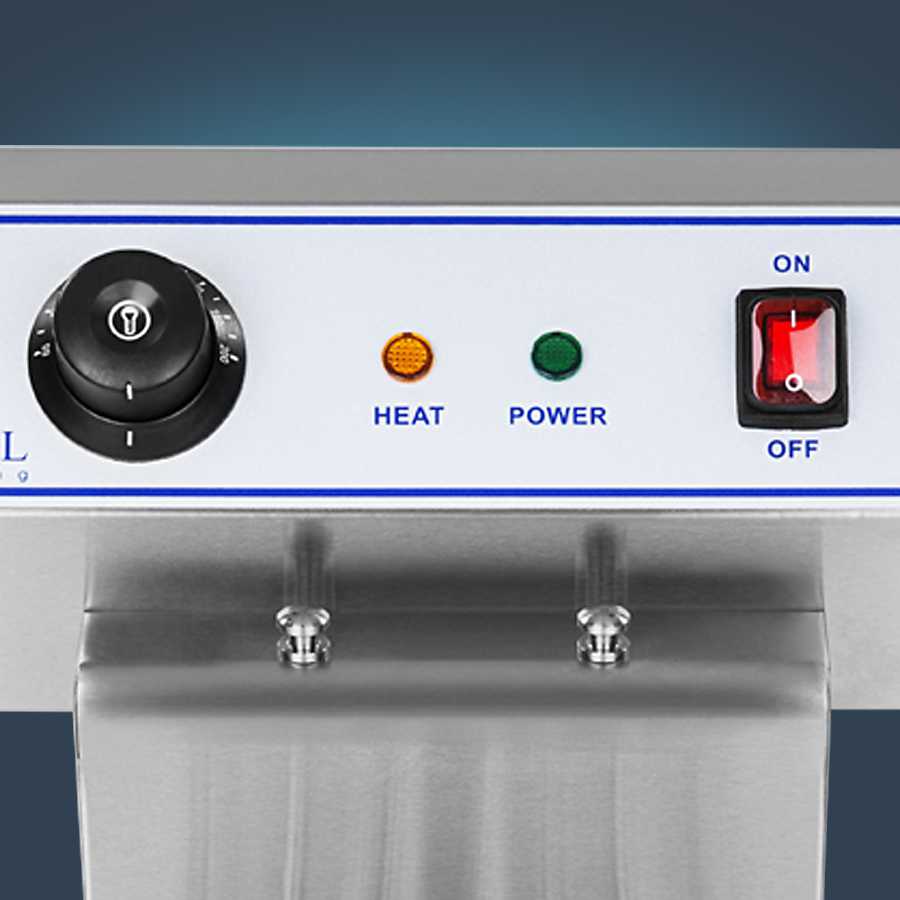 easy use thanks to the intuitive knobs, which increases productivity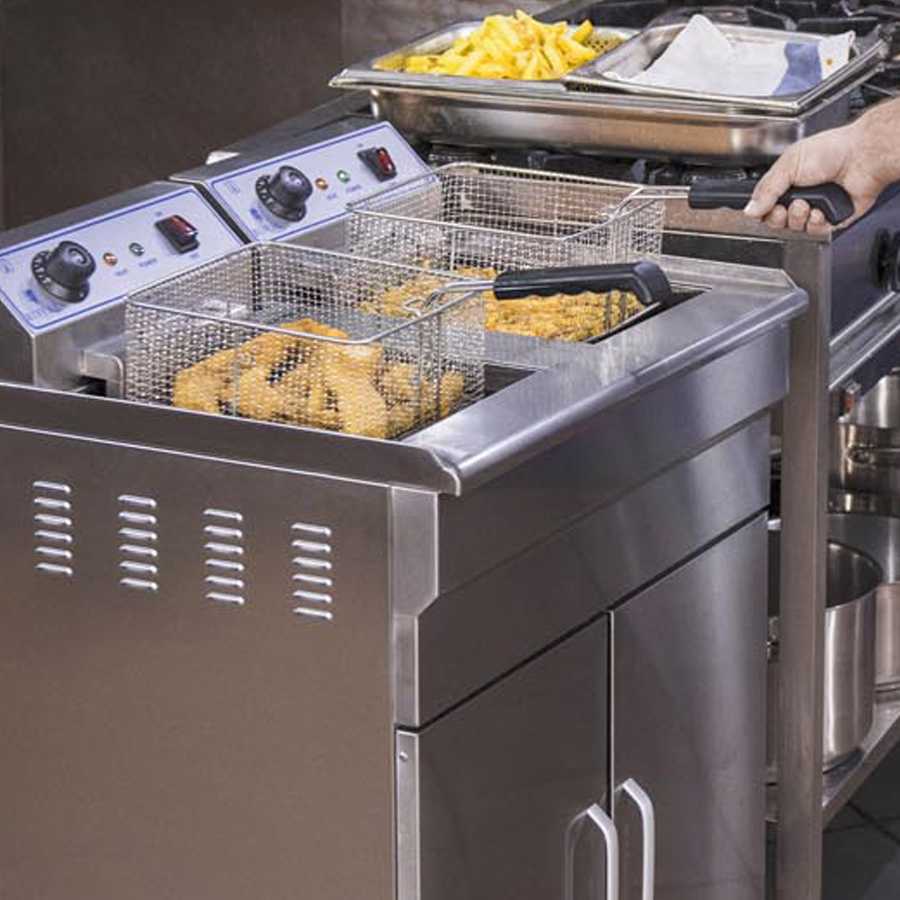 very quick and efficient work thanks to the high power output
high-quality and durable stainless steel is ideal for the catering industry
two frying baskets offer the possibility to fry different dishes at the same time, such as fish and chips
PRO TIP
Frequently filtering the oil prevents smells and substantially prolongs usability. This leads to cost savings.
Good oil guarantees the best results. Don't use any common oils, since they quickly burn up and spoil the taste of your fried products.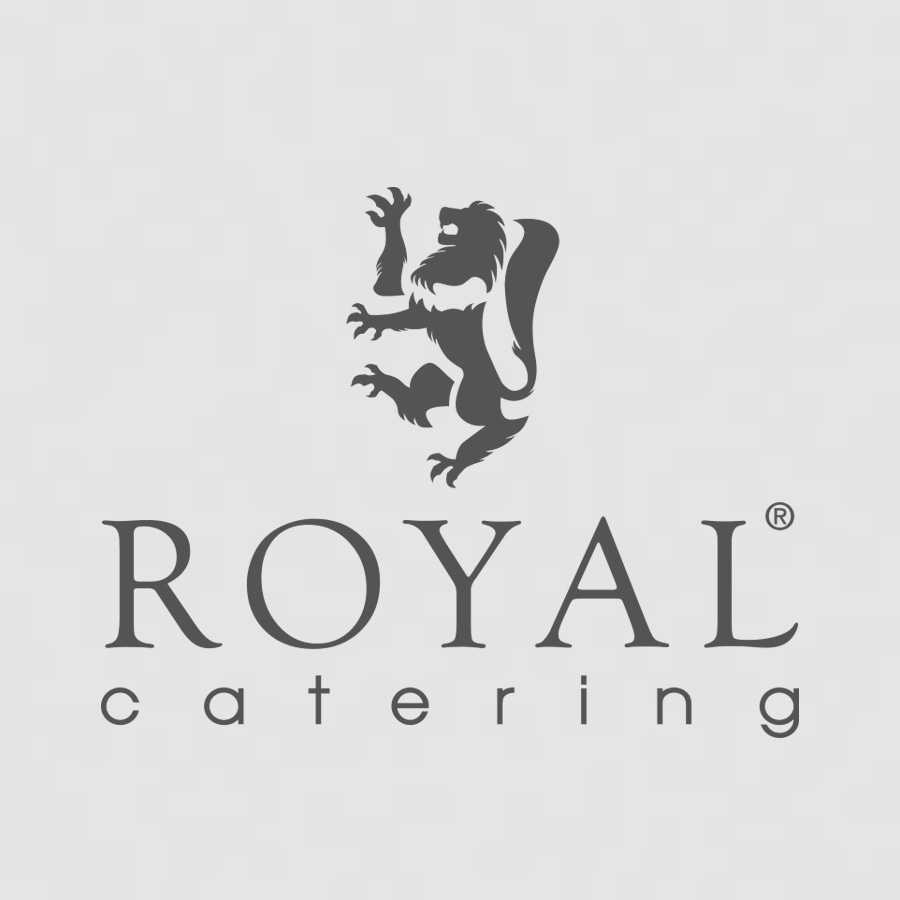 practical air vents for reducing excess warm air
rapid cleaning thanks to the drain taps
robust doors protect your products and accessories inside the cabinet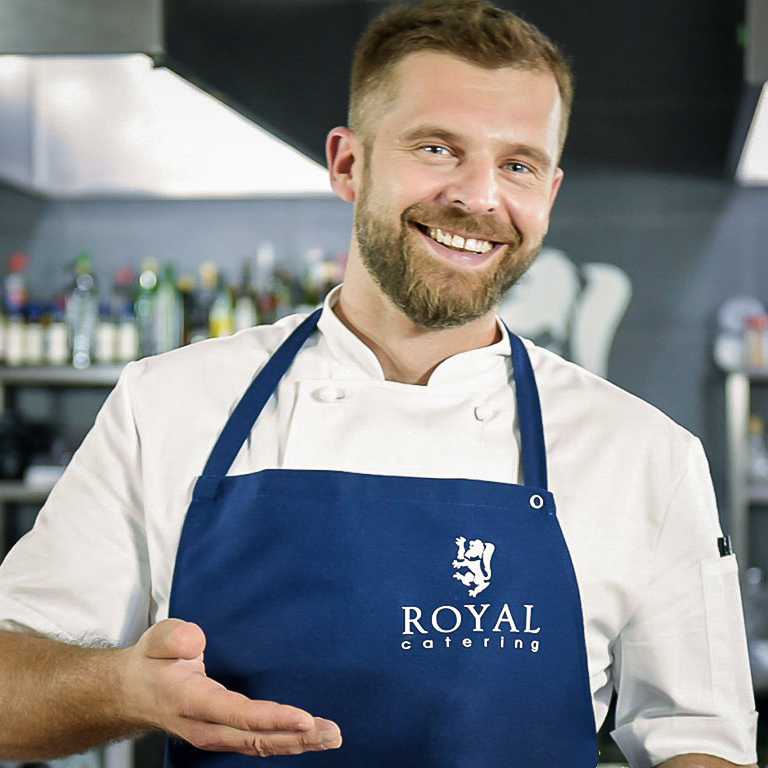 Review from Michal Orlowski Expondo Expert (2 Aug 2018)
For high demand
For high demand. In busy restaurants, speed is the most important factor. Today's guests have too many options to wait in line, and they quickly become impatient. To withstand the pressure, you need efficient equipment. That's what this deep fryer is for. Two spacious baskets and the power of the 6,000W heating element allow you to process large quantities of food in a short time. In addition, the integrated oil drain mechanism greatly influences the cleaning time of the unit during and after service. I would find such a device useful in many restaurants.
Head chef of prestigious restaurants in Sydney and Warsaw. An experienced and professional restaurateur
What is the advantage of a deep fryer with a cold zone?
Frying always produces food particles that collect on the bottom of the fryer. The cold zone prevents these particles from burning during frying. If the fryer is equipped with a drain tap, the contaminated oil in the cold zone can be removed from the container even during operation.
Is this device easy to clean?
Multiple factors make it easy to clean. The drain taps allow you to drain the oil from the containers in just a few seconds. The stainless-steel surfaces are smooth and easy to clean. The heating element and control panel can be completely removing, making it easy to reach all parts of the fryer.
What's the maximum amount of oil I can use for frying?
The fryer's heating element has markings to indicate the minimum and maximum amounts of oil. For a capacity of 16 litres, the maximum amount of oil is approx. 10 litres.
---
Sort by...
---
Evaluations will be activated after verification.
Reviews from Markus - Gastronom (6 Dec 2021)
Reviews from Markus - Gastronom (6 Dec 2021)
Top Friteuse zum günstigen Preis
Still not sure?
Our experts are ready to help!
Mon - Fri 09:30am - 04:30pm
Prices incl. VAT Shipping costs abroad not included
Power: 2 x 6,000 W

Total capacity 2 x 16 L / oil capacity 2 x 10 L

400 V high voltage current

With drain tap

2 power connections
Ready to ship today, Delivery time appr. 6-10 working days
Electrical fryer - 2 x 16 L - 400 V
Capacity: 16 litres

Power: 6000 Watts

400 V high voltage

Drain tap

Cabinet base
Ready to ship today, Delivery time appr. 6-10 working days
Electric Deep Fryer - 16 litres - Cabinet Base
Instead of: £489.00
£399.00
Output: 5,000 W

Capacity: 13 L

Temperature: 60 - 200 ° C

With base cabinet

Cold zone, drain tap
Ready to ship today, Delivery time appr. 6-10 working days
Deep Fat Fryer - 13 L - 5,000 W - drain tap - cold zone - with cabinet