Food vacuum sealer - 165 W - 32 cm - stainless steel/ABS
Manufacturer: Royal Catering | Item number: EX10010405 | Model: RCVG-32E
For airtight packaging of foods, cosmetics, electronics parts and other products
For applications in the bag, such as marinating meat or sous-vide cooking
Increases the shelf life and preserves the taste and the aroma of coffee, teas and spices
Built-in roller compartment with cutting device
Maximum bag width 32 cm
Sealed seam 3 mm
Housing made of stainless steel and ABS coated
Intuitive touchpad with LED display
6 functions: automatic vacuum packing, speed, type of food, containers vacuum packing, Manual vacuum sealing, welding
Food vacuum sealer - 165 W - 32 cm - stainless steel/ABS
Protect your food and prolong its shelf life with the Vacuum Unit RCVG-32E. Meat, vegetables, herbs and also sauces can be stored air-tight, allowing their freshness and taste to form the basis of which you can produce your desired tasty meals within your restaurants, hotels or catering event. Not only package food, but also other products, such as cosmetics or electronical parts, these can all be stored and in doing so creating space and allowing for said items to remain safe from dust, dirt and bacteria.
The RCVG-32E food vacuum sealer from Royal Catering completely sucks the air out of the plastic bag in which the goods are placed. The closing mechanism ensures that the bag is not damaged and that air can escape. The bag size of the packaging film can be selected individually with of up to a width of 32 cm. When the vacuum is reached, the opening of the bag is securely closed with 3 mm seal As a result, the decay processes of oxidation which allows fungi or bacteria to form is prevented, therefore protecting and prolonging the vacuumed sealed foodstuffs. Foods remain fresh for longer and can be stored in the freezer which prolongs the shelf life for months.
The housing of the vacuum unit is made of stainless steel as well as ABS coated so that the appliance meets the highest hygienic requirements. A in the device is practical roll cover, in which you can store rolls of foil, to varying lengths cut to vacuum bag to vacuuming. The vacuum device is intuitively operated via a digital touchpad with LED indicator, which allows accurate and repeatable results.
The vacuum sealer unit offers a wide range of functions which all allow you to safely pack your goods and prolong their shelf life. With the vacuum function, the vacuuming and closing of the goods is carried out automatically in one simple operation. If necessary, the vacuum process stops once when the button is pressed again. The speed function offers the choice between a lowor high Vacuum speed. With the canister function, a container connected via a hose can also be vacuumed.
The food function allows the vacuuming process to be adapted to dry or wet food. The presets for the speed of vacuuming and the sealing temperature correspond to the respective states of the food. The pulse function makes it possible to manually control the settings for vacuuming by individually adjusting the pressure and duration of the vacuuming needed. This is of great advantage especially for pressure-sensitive foodstuffs. It is also possible to simply perform the seal function , in which the packaging film is simply only sealed.
The air-tight sealed foodstuffs need not only be stored or frozen, but are also suitable for the gentle Sous-Vide cooking process. The sealed foods can be prepared at of 55 to 60 ° C via the Sous-Vide cooking processes. This uniform method of cooking preserves the nutrients in the food and in doing so release the full taste.
Material
Stainless steel, ABS
Vacuum pressure
0.6 to 0.8 bar
Functions
Vacuum/speed/food/canister/pulse/seal
Dimensions (LxWxH)
20.00 x 39.00 x 10.50 cm
Shipping dimensions (LxWxH)
43.00 x 16.00 x 26.00 cm
Download PDF
Download PDF
Food vacuum sealer RCVG-32E
User manual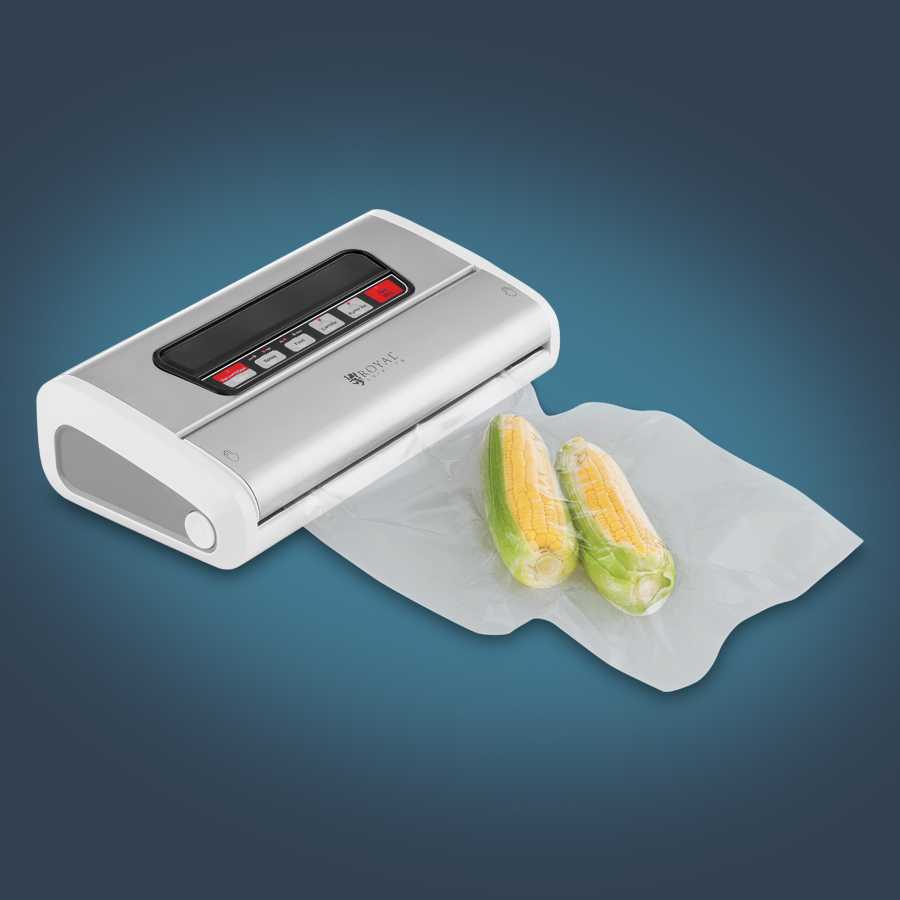 Package large quantities of product quickly (16 L/min)
Vacuum packing increases the shelf life of foods
Ideal for sous-vide cooking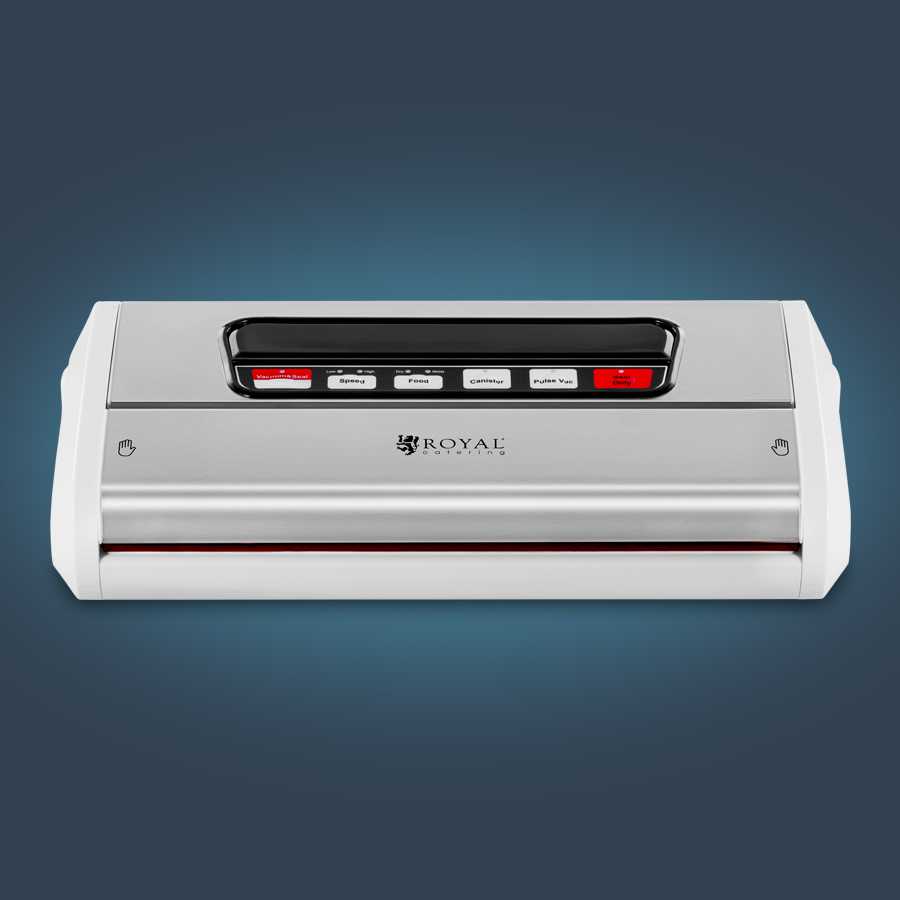 Suited for mobile use thanks to light weight and compact dimensions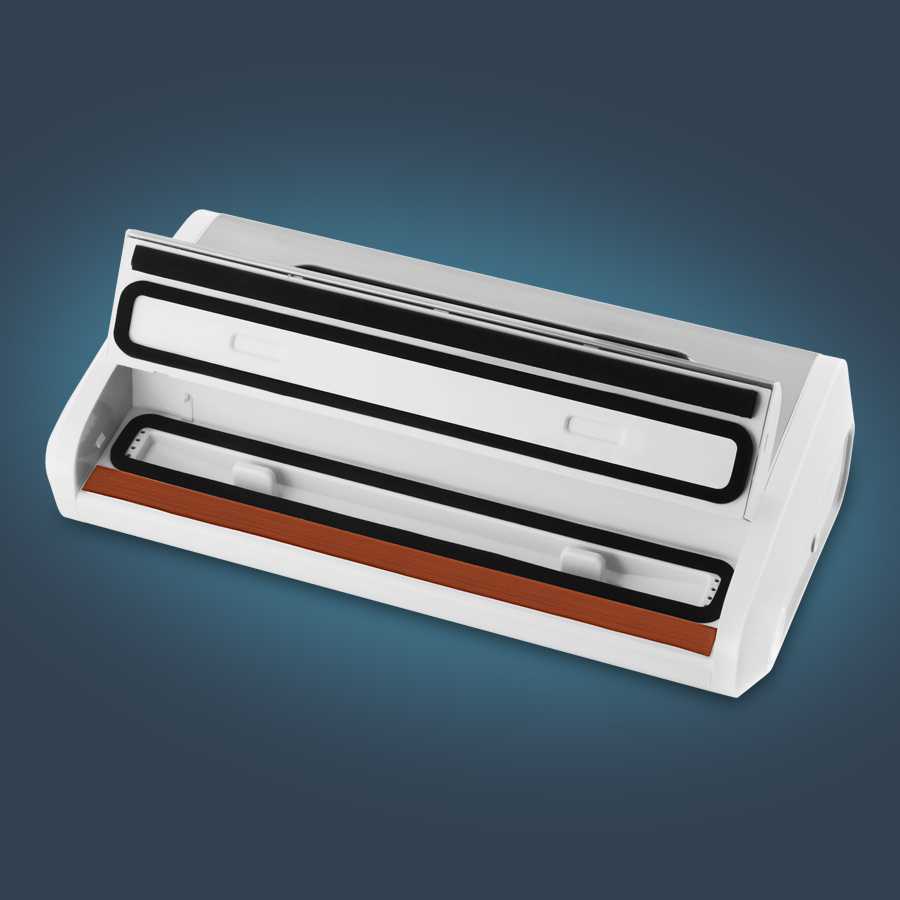 Practical roll chamber for safely storing vacuum bags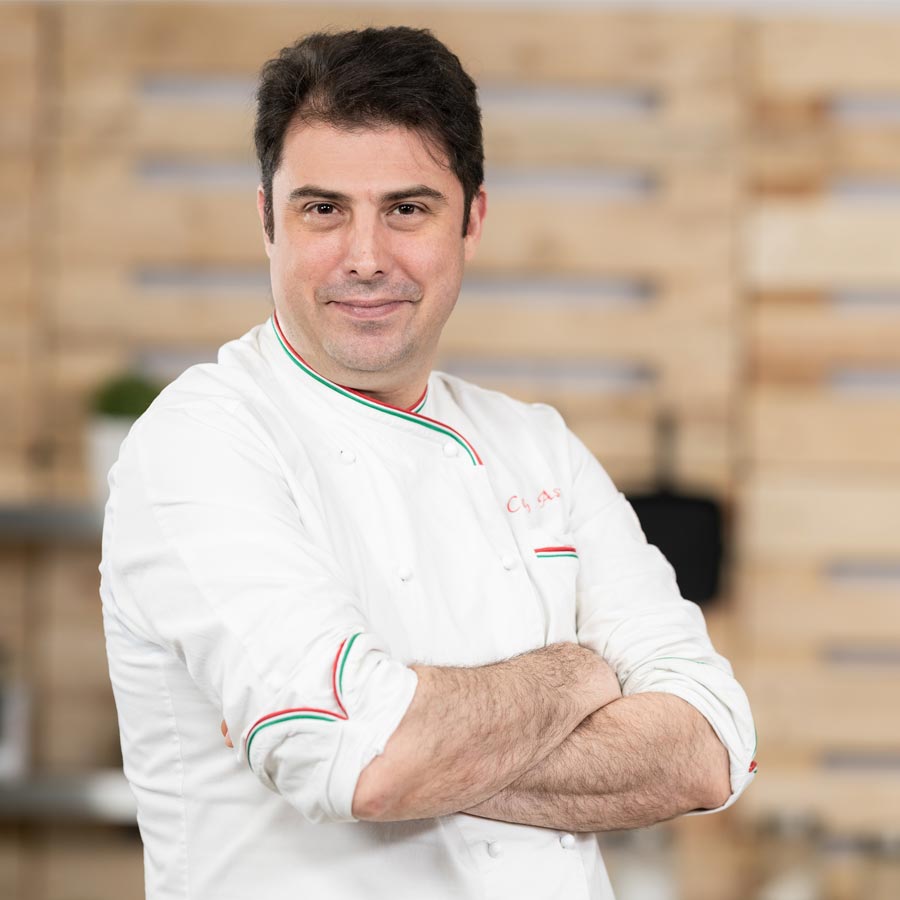 Tested by Michał Orłowski, head chef of prestigious restaurants in Sydney and Warsaw. An experienced and professional restaurateur, just like our customers.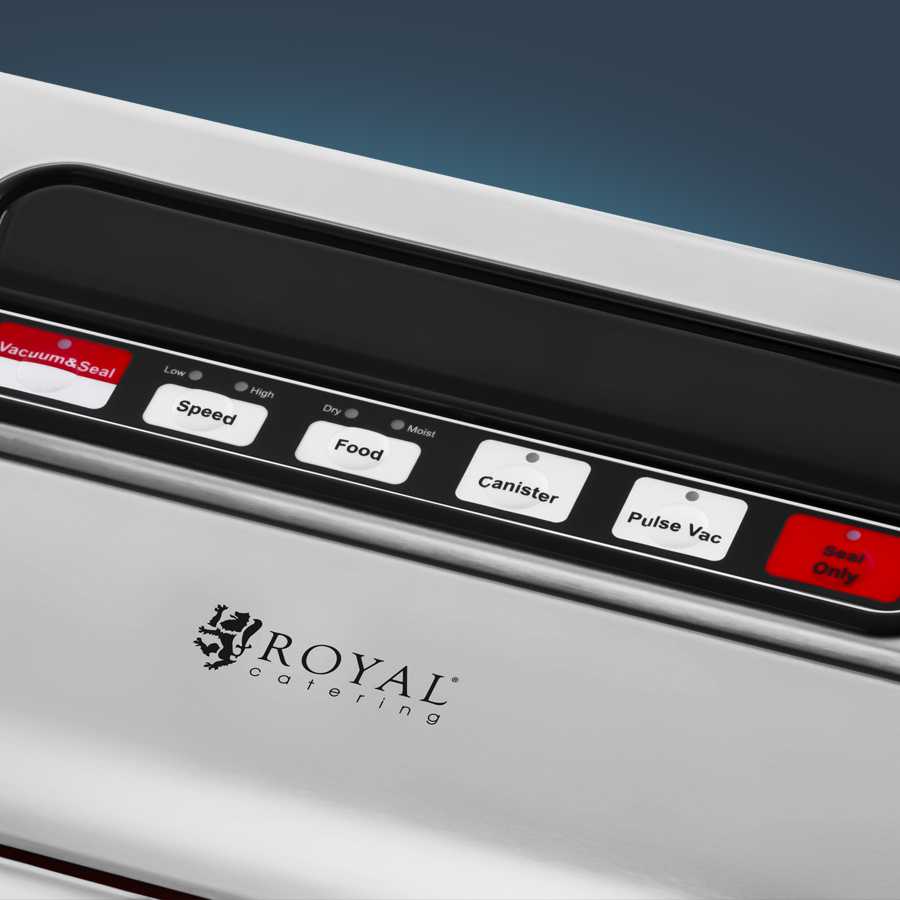 Quick and easy to use thanks to clear buttons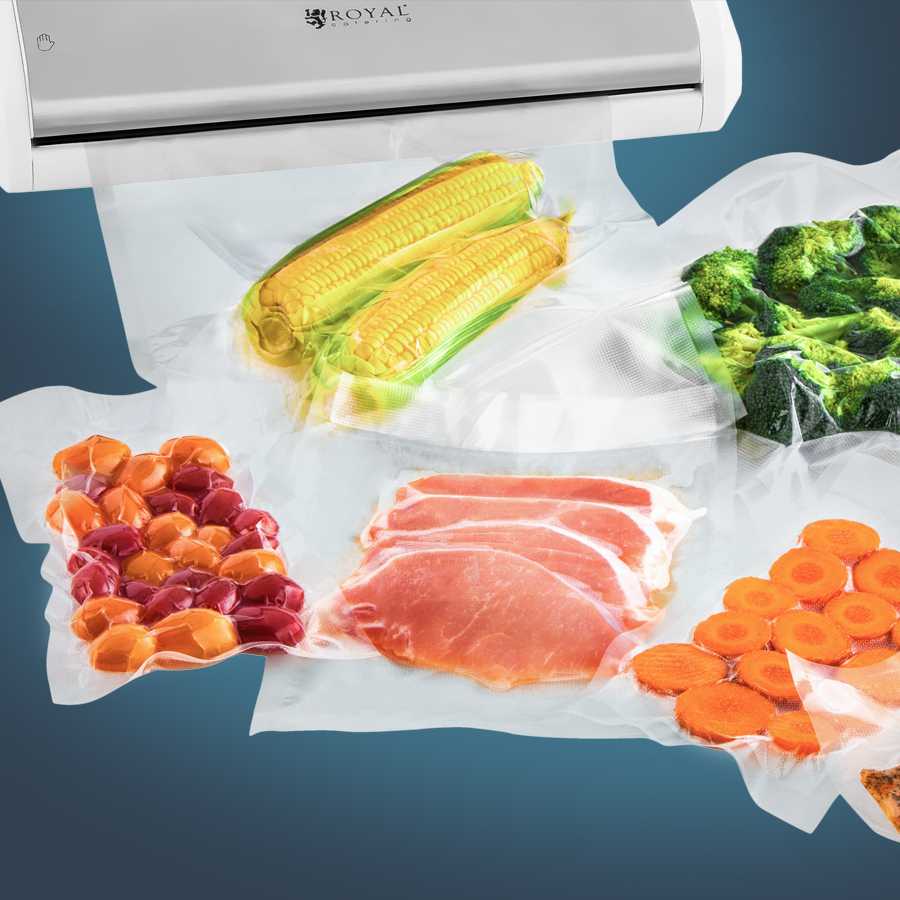 Robust stainless steel and ABS plastic housing
Vacuum sealing saves space
Hermetically-sealed bags provide excellent protection from external influences
PRO TIP
If the bag needs to be tightly sealed, then it's important to make sure that the plastic film is neither greasy nor moist.
Vacuum sealing increases the shelf life of your food, saves space and preserves the flavour.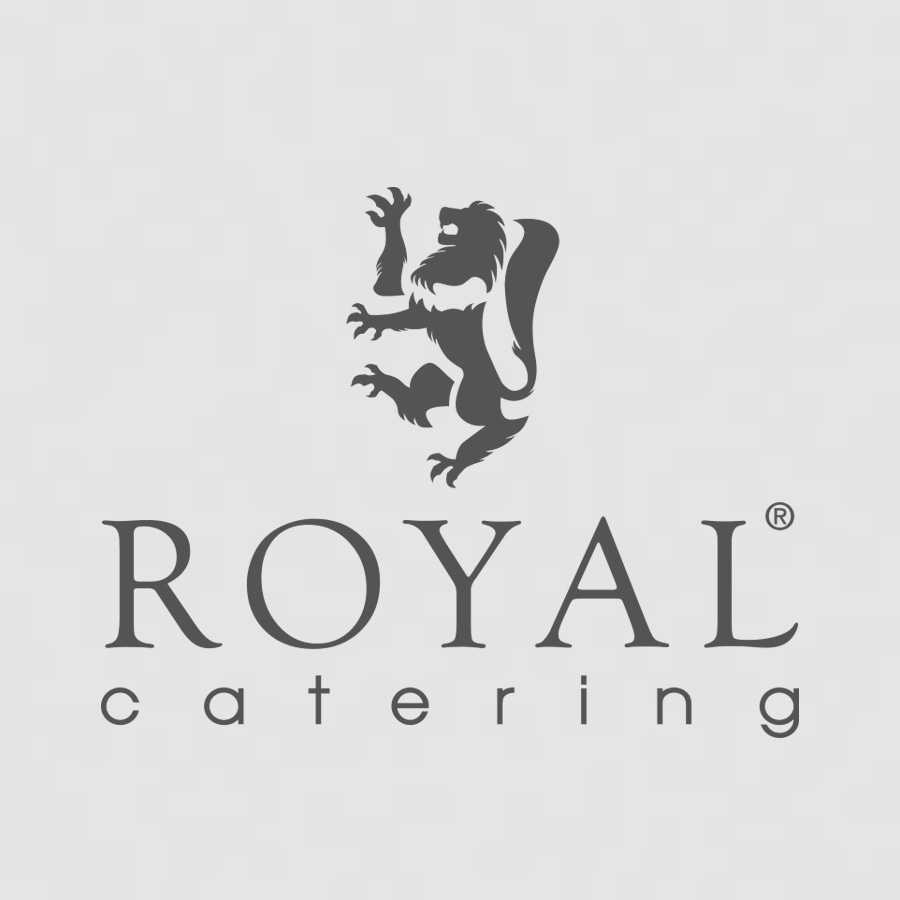 Versatile device for moist and dry foods
Suitable for bag rolls up to 32 cm in width
Functions: Seal, vacuum, speed, auto/manual, dry mode/moist mode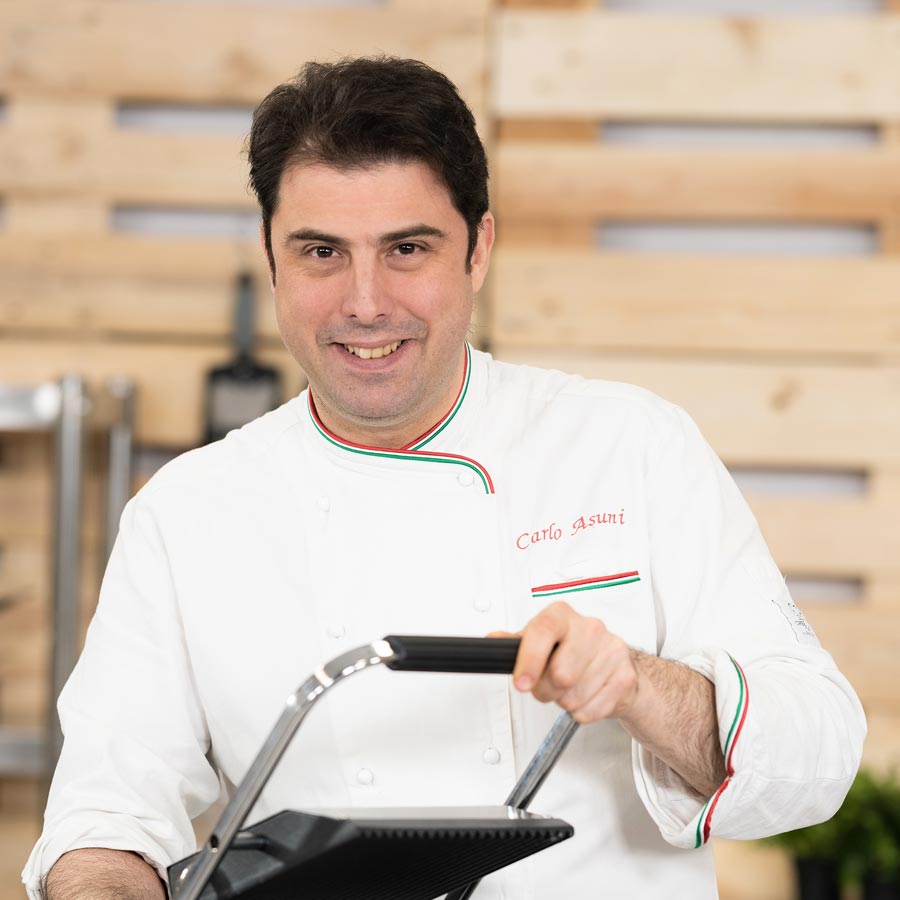 I work with professional products every day. For this video, I made sure to test the device thoroughly. You can take a close look at how this product works and then decide which model is best for your business. I hope my video and tips will help to make your business even more successful.
Head chef of prestigious restaurants in Sydney and Warsaw. An experienced and professional restaurateur
★
★
★
★
★
Write the first review for this product
---
---
Leave a review (5 stars is highest, 1 is lowest)
★
★
★
★
★
Click on the link sent to your e-mail address and confirm your opinion! It will be published after verification.
Still not sure?
Our experts are ready to help!
Mon - Fri 09:00am - 04:00pm
This product
Power 165 W

Vacuum speed 16 l/min

Max. Bag width: 32 cm

With roll compartment and cutter

Material Stainless steel, ABS
Ready to ship today, Delivery time appr. 6-10 working days
Food vacuum sealer - 165 W - 32 cm - stainless steel/ABS
Ready to ship today, Delivery time appr. 6-10 working days
Power 165 W

Vacuum speed 16 l/min

Max. Bag width: 32 cm

With roll compartment and cutter

Material Stainless steel, ABS
Power 175 W

Vacuum speed 16 l/min

Max. Bag width: 28 cm

Features: automatic, manual,

Stopping, sealing
Ready to ship today, Delivery time appr. 6-10 working days
Food Vacuum Sealer - 175 W - 28 cm - Stainless Steel/ABS
Ready to ship today, Delivery time appr. 6-10 working days
Power 175 W

Vacuum speed 16 l/min

Max. Bag width: 28 cm

Features: automatic, manual,

Stopping, sealing